This post is sponsored by Coles
I am thrilled to share some exciting news with you all.  I have partnered with a brand that fits perfectly with the content of the blog, I am proud to announce I am a Coles Ambassador.  Nothing will change for you, I will continue to bring you the same type of posts, sharing family friendly meals and recipes as well as meal options available from Coles, as I have done in the past when working with them, I get to choose what I write and share which is really exciting!

We often have friends over for a BBQ lunch or dinner before Christmas, to give the kids their Christmas gifts or just for good company.  I really enjoy entertaining and cooking up a storm for our guests.  However if you don't plan ahead you can get stuck in the kitchen preparing food instead of spending quality time with your guests.  I have to admit I have been caught a few times.  The key is all in the planning and preparing as much as you can before your guests arrive.  Here is a checklist that helps me to get the house and food ready before guests arrive.
Below I will share a meal plan idea for a pre-christmas gathering, we usually BBQ meals and next week I will share an easy Christmas Day menu.
Create your meal plan
When creating your meal plan for the party don't over do it with too many fancy recipes. Stick within your budget and keep it simple so you can enjoy the time with your friends.  However, simple and budget don't mean you sacrifice good tasty food, it just means recipes that don't take up too much time or use too many ingredients.
Taste have a really great Christmas Menu Planner.  This is a really cool tool that will take so much thinking out of what to make all your guests.  Simply choose what meal you are planning for – let's say dinner, the type of theme – casual is the way to go just before Christmas, and then choose do you want it healthy, vegetarian, budget, seasonal ingredients – budget friendly is key when having many guests over.
You can also find a range of recipes on my blog, as well as magazines, catalogues and online.  Look through the latest Coles catalogue and see what meats, fruit, vegetables and shelf ingredients are on special and base your meal plan around the cheapest options to keep within your budget.  You can also download the free Coles Magazine onto your iPad for more inspiration and recipe ideas, this is handy to read through when you're waiting at the kids sporting events or during your lunch break.
Preparing the Food
This is a menu we had from one of our recent gatherings which was at the end of a week that I was really sick so didn't have a lot of energy to cook from scratch, so I made our menu really simple, but still very delicious!  I used some of Coles great products and recipes I have found on Taste.com.au by Curtis Stone.
Remembering planning and preparing as much of your food prior to your guests arriving is key.  I have shared my plan with you below and indicate when to prepare each item.
Snacks
I like to have a snack on the table for when the guests arrive, so they can nibble on this and have a drink in hand before lunch or dinner is served.
Prepare:  The dip can be made the day before and stored in an airtight container.  Vegetable sticks only take a few minutes to slice, this can be done just before your guests arrive.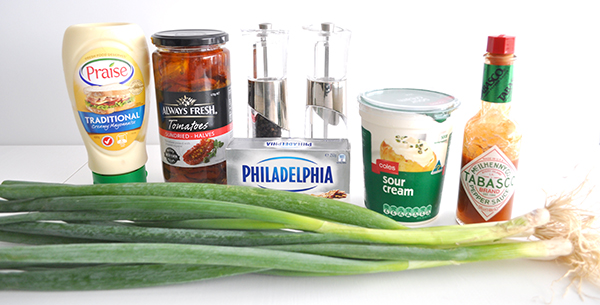 I usually like to serve a dip and vegetable sticks, making my sons favourite creamy Tomato & Onion Dip.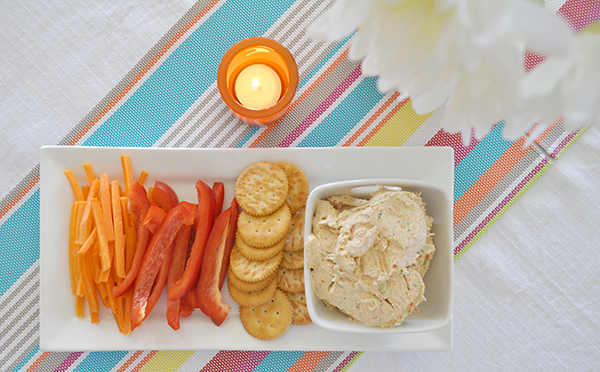 Another finger food option which would be lovely for an evening snack would be the Coles Brand Steamed Pork Buns and Mini Prawn Taco's, the prawn taco's were really delicious with a hint of spice!
Prepare: They are fuss free, heat and serve.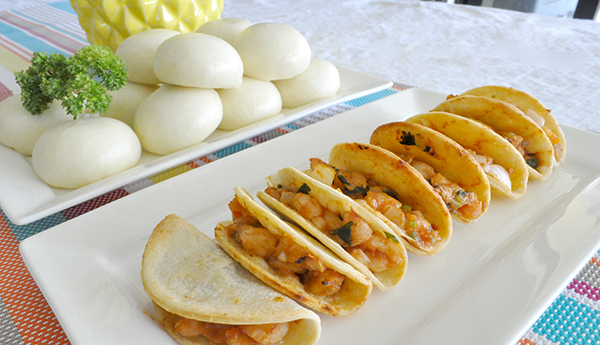 Other starter recipe ideas: mini quiche – tomato, spinach & cashew dip – barbecued oysters with chilli butter
Salad
Just about any salad is suitable for a BBQ, homemade coleslaw being one of our favourites, however when I found this Bacon Lettuce and Tomato Salad by Curtis Stone my mouth started to water.  View recipe here.
Prepare:  Fry the bacon crumb mixture and slice up all fresh ingredients (except the avocado) before the guests arrive, then prepare vinaigrette and pour into a small glass jar.  Just before your ready to serve, assemble all ingredients into a salad bowl.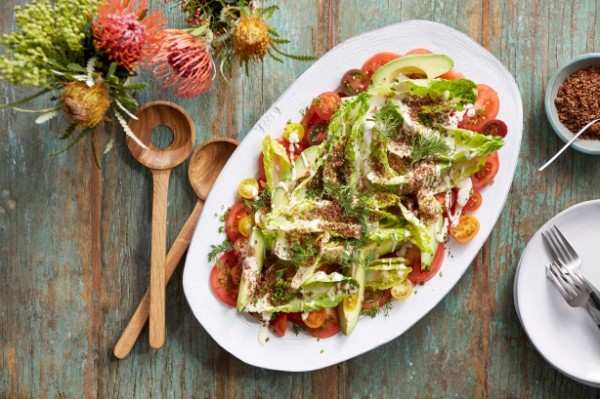 Other salad recipe ideas: Shaved Vegetable Salad – Barbecued Asparagus Salad – Roast Pumpkin Salad
Potato Bake
My husbands favourite accompaniment to a BBQ is good creamy potato bake.
Prepare:  Make potato bake the morning of your get together, prepare to the stage of covering with foil, then leave in the fridge.  Place potato bake into oven an hour and a half before lunch is ready to be served.  When an hour is up, remove the foil, sprinkle on your cheese and continue to cook.  This is about the time that the BBQ should be turned on and start to cook the meat.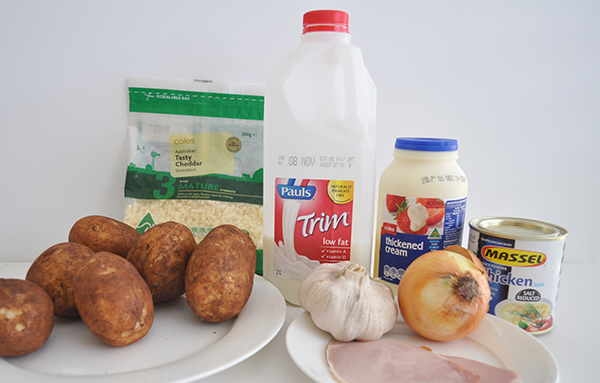 You could serve the potato bake warm or hot, it's up to you, just as delicious either way.  View step by step instructions and recipe here.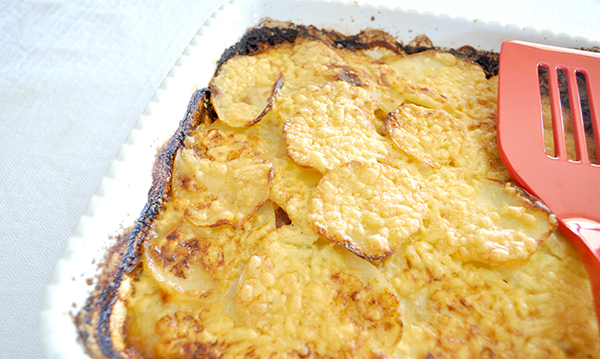 Other side recipe ideas: Charred Capsicum and Zucchini – Green Beans with vinaigrette
Meat
We usually have a selection of different meats for BBQ's like rissoles, sausages, drumsticks, steaks or kebabs.  For this meal I have used the Coles Grill Tandoori Drumsticks, Coles Made Easy seafood (prawns) along with some BBQ Sausages cause you can't have a BBQ without sausages.
Prepare:  this is why I love bbq's, for the drumsticks and prawns they come marinated so there is no preparation at all, place all meat onto the BBQ grill and cook.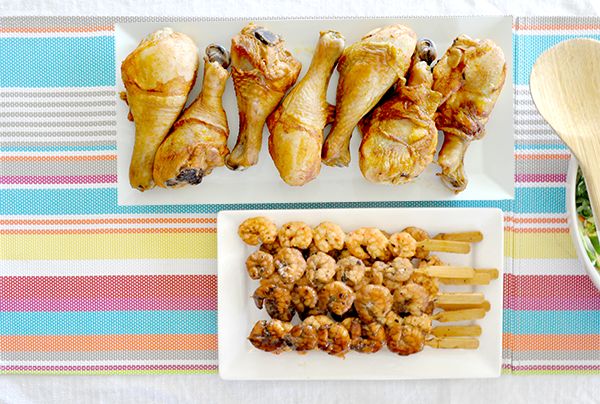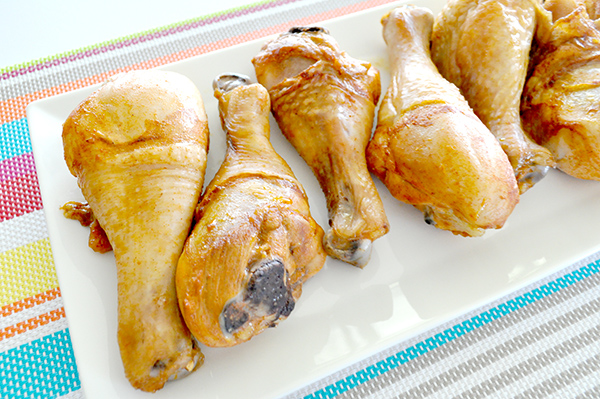 Drinks
We usually have an esky filled with drinks for the adults, but I like to have some non alcoholic drinks available too.  Punch is always a hit with the kids.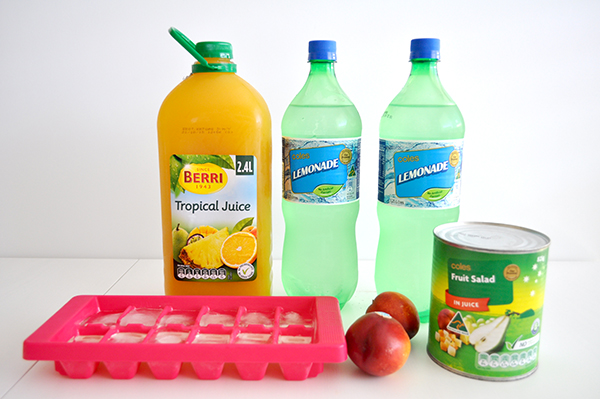 You can use a punch bowl, but sometimes I find they make such a mess.  I use a glass dispenser filled with juice, lemonade, fruit and ice.  At the end of the day I pour any unused punch into the blender blitz up and make icy poles for the kids.  View step by step instructions and recipe here.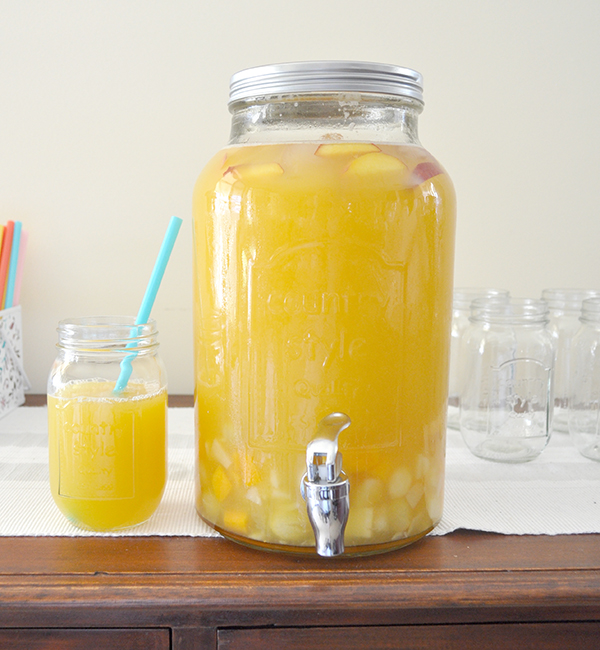 other drink recipe ideas: Pink Lemonade – Cranberry and Strawberry Crush
The Table
Before our guests arrive I set up one of our buffet units with drinks, crockery, cutlery, sauces, salt and pepper.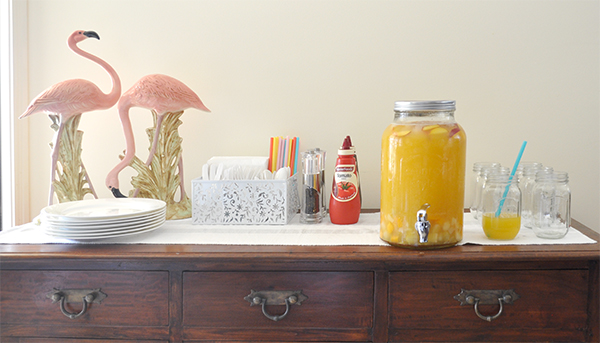 With the food on the table there usually isn't enough room for anything else.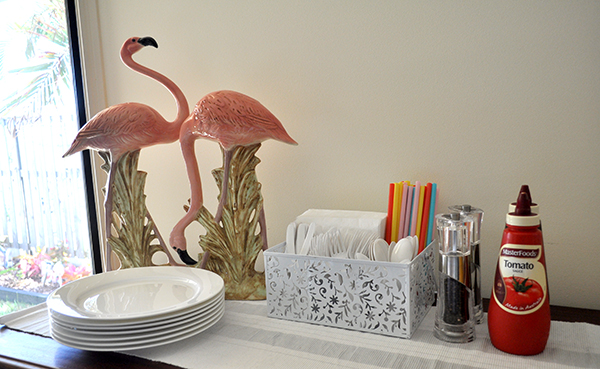 I usually call the kids to serve themselves first, then everybody can gather around the table and serve up their desired amount.

I hope this plan has helped you to create a gathering that you can sit down, relax and enjoy with your guests!
What do you usually serve at your BBQ gatherings?