This post is sponsored by Vileda
If you are trying to watch your pennies, you may notice how quickly cleaning products can eat into your budget. With reusable supplies and few common household ingredients, you can effectively clean your home AND save money! Homemade floor cleaner would have to be one of the simplest DIY cleaning recipes.  It's important to keep your floors clean with people walking from inside to out, babies or pets crawling around or having the doors and windows open to let in the fresh air. These can all spread dust particles and dirt throughout the house. Continue reading for my 2 Budget Friendly Floor Cleaners for all floor types!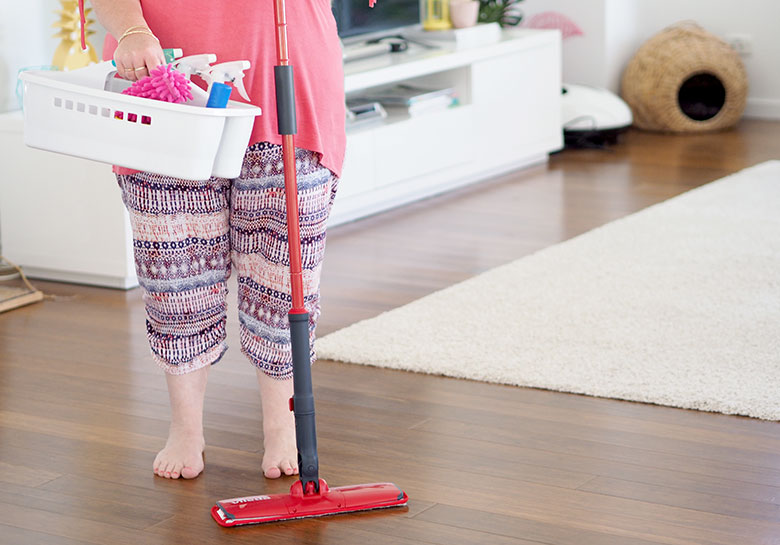 It is worth knowing that all floors are different and each has a different technique or DIY cleaning recipe.
I first fell in love with my Vileda mop (yes that sounds a little kooky, BUT I am The Organised Housewife and it can make complete sense how cleaning supplies and storage tickle my fancy LOL) shortly after we built our first home over 10 years ago.  It was a huge tiled house and I had 2 toddlers and a new baby.  I was using a mop with a sponge that I found left dirt smears. I then got a steam mop, thinking it was my solution to a hygienic floor with a crawling baby. Boy, I was wrong. I felt like I was putting my back out each time I pushed it around the floor. It was so heavy and I just found the whole process really slow. So, I purchased a new mop – a Vileda UltraMax. Hallelujah, it was a game changer! It made cleaning the floors easier due to it effortlessly gliding across the floor. From that day forward, I haven't actually minded cleaning the floors.
Vileda have just recently released a new revolutionary wringing mechanism mop, the Vileda UltraMax Easy Twist. They sent me one to trial. Put simply: cleaning the floors has never been so easy… just clean, twist and release!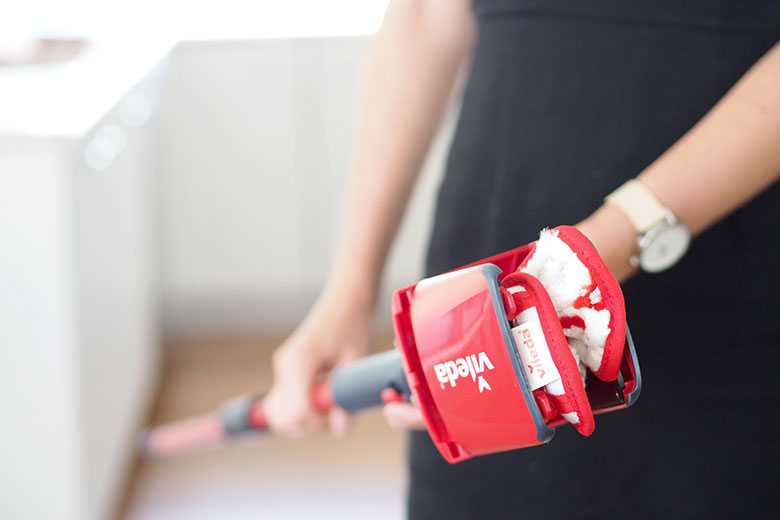 I like the twist and ring feature as I now have laminate flooring (looks and feels like real wood). They aren't meant to be wet, so this allows me to wring out the microfibre head really well before wiping over the floors. For quick spills, it's really easy to dampen and wring the head over the sink (no need for a bucket). For a big clean, I usually use a bucket to have water handy.
The features of the Vileda UltraMax Easy Twist:
Revolutionary wringing mechanism wrings out most of the water and helps your floors dry faster. There is no need to hand-wring wet and dirty pads. Twist from the soft grip.
Fast and glides so easily across the floor and makes mopping effortless.
Hygienic, budget friendly and durable as the microfibre cleaning pad is machine washable and extremely durable so it's hygienic, convenient and cost effective. Machine wash at 40-60C and hang on the line to dry. Do not use fabric softener, do not tumble dry and do not iron.
Fast Release button easily puts the head from wringing position back to flat.
Powerful cleaning head contains PowerZone fibres (pictured below) for extra thorough cleaning which helps remove stains and picks up dust particles and hair.
Flexibility allows you to move the handle around to get into hard to reach places (i.e. under furniture).
Suitable for all hard floors such as vinyl, linoleum, wood, laminate, ceramic tiles, slate and stone floors.
Soft bumpers protect your furniture, architraves and/or appliances.
Ultimately, you won't be needing a new mop for years and this one will save you money as you won't have to keep on buying the easy to break ones which need replacing regularly.
The UltraMax Easy Twist is available nationally at Woolworths and is currently on special until 29th March.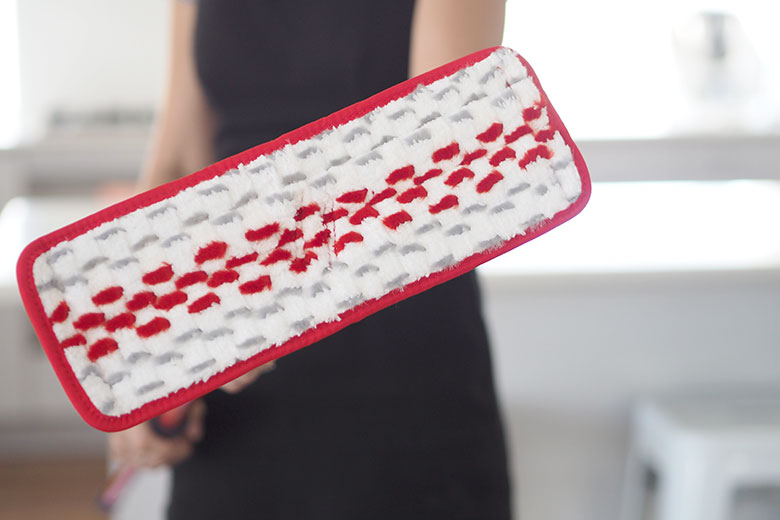 Here is a video to show you how it works:
Switching from commercial to homemade cleaning products may seem like hard work but, as you can see below, these homemade floor cleaning recipes are really quite simple. You will soon see you're saving dollars and removing unnecessary chemicals from your home.
Armed with the right cleaning tools, it doesn't take too much effort to keep the floors spotless.  I always start at the furtherest point of the house and either finish in the laundry, where I potter around for a few minutes until the floors are completely dry, or….. the lounge room, where I sit and relax with the TV for a few minutes.
HOMEMADE DIY FLOOR CLEANER RECIPES
It is best to follow floor manufacturers guidelines because there are many floor types that can't withstand vinegar, lemon juice, alcohol, oils or too much water. Please always spot test commercial and DIY cleaners.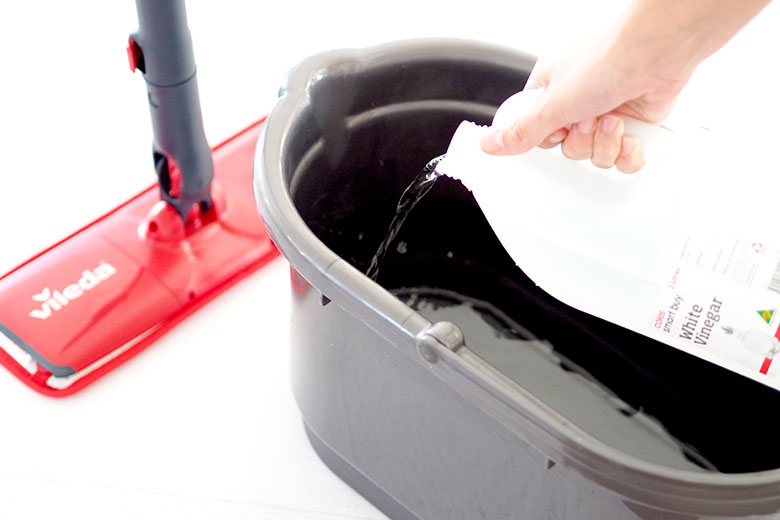 I have listed below why I use these ingredients:
VINEGAR – the natural acidic vinegar disinfects the floors. The vinegar smell dissipates within a few short minutes once the floors have dried. I use homebrand vinegar found in the salad dressing aisle at the grocery store.
DISHWASHING LIQUID – boosts the cleaning ability, breaks down dirt by cutting through the build up and helps make the floors shine. I like to use Earth brand detergent as it isn't coloured. Don't be afraid to open the bottle at the grocery store and check.
HOMEMADE DIY FLOOR CLEANER (WITHOUT VINEGAR)
This homemade floor cleaner without vinegar is best used on laminate, hardwood, bamboo, concrete and linoleum floors. Many hardwood floors are polished or sealed to protect them from stains and water damage. Using vinegar on these types will stain the polish or dull wooden floors over time.
Half fill bucket of water with warm water
Add 1/4 cup of mild dishwashing liquid, then gently stir.
When using on laminate, dip the mop into the solution and wring out as much excess water as you can as laminate floors can not get too wet (you don't want water to go under the planks and swell). Move your mop along the grain for the best result.
HOMEMADE DIY FLOOR CLEANER (WITH VINEGAR)
This homemade floor cleaner with vinegar is best used on vinyl, tile and cork.
Half fill bucket with warm water
Add 4 drops dishwashing liquid (approximately 1 tablespoon)
Add 1/2 cup white vinegar, then gently stir.
You can make this solution in a spray bottle for spot cleans around the house, then wipe with your Vileda UltraMax Easy Twist.
Read more: Tips on how to keep to keep the floors cleaner longer.

---