I know so quite a few members in our community are; or know someone who is a Vegetarian or Vegan. Whether it's for health purposes to help with a heart condition, diabetes or strictly animal orientated, many people these days choose to live a meat-free lifestyle. It must be hard to stay motivated to stick to this kind of diet, and inspiration must run low at times. But what about at Christmas? I have a family member visiting for Christmas Day whose Vegetarian, I'm going to have to edit my menu to make sure there are some delicious options for her.  So I have done some intense investigating to find some really delicious menu ideas for all you Vegetarians and Vegans out there that are struggling with your Christmas menu. My aim was to see if I could find some special recipes for you that would bring some life to your Christmas dinner table. Not only did I do that, I actually found some tasty recipes that I cannot wait to make myself. I've selected a wide variety of recipes to help make your Christmas Day fun and interesting. I also used recipes that I thought everyone would enjoy, even meat eaters. So for those of you who are Vegetarian or Vegan, I hope you love the selection of recipes I put together for you, including some of my own recipes too. All recipes that are included are Vegetarian-friendly with Vegan-friendly options. Enjoy!!!
If you have a favourite recipe, please leave it in the comments below!!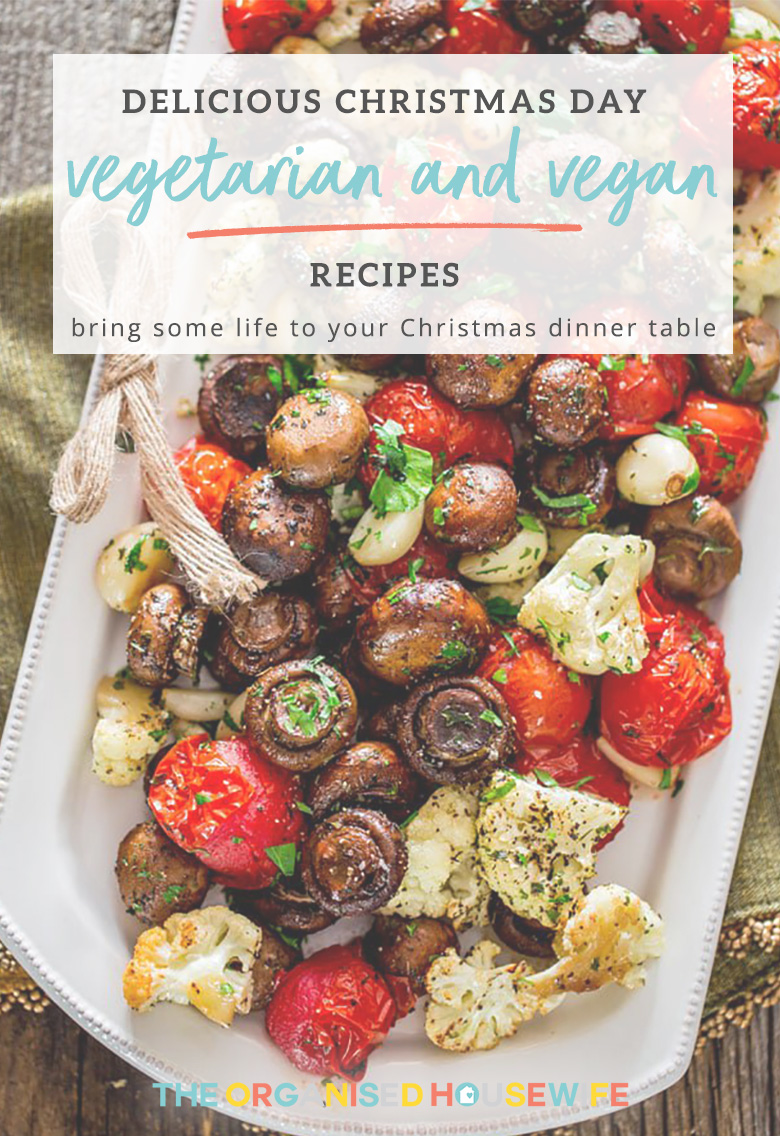 ---
MY CHRISTMAS DAY MENU I'M MAKING FOR MY FAMILY THIS YEAR – if you haven't seen my post on what I'm cooking for Christmas Lunch/Dinner and still need more ideas for your Christmas Day, check out my All Day Christmas Menu.

---
VEGETARIAN & VEGAN CHRISTMAS BREAKFAST MENU IDEAS
Isn't this Vegan Fig and Custard Tart so pretty!! What a lovely way to start Christmas Day with this sitting on your breakfast table. Imagine serving this up for the extended family that is staying with you, especially if any of them eat a Vegan or Vegetarian diet.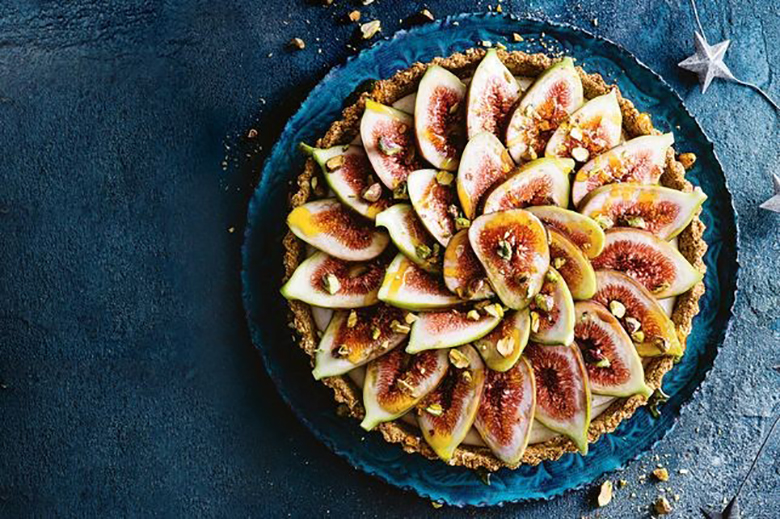 image credit taste.com
We all love banana bread. I thought that with pumpkin pie being such an American holiday tradition, this Vegan Pumpkin Bread would work perfectly at the breakfast table for your Vegan and Vegetarian guests. I bet that even the rest of your family and friends will enjoy this one too for breakfast.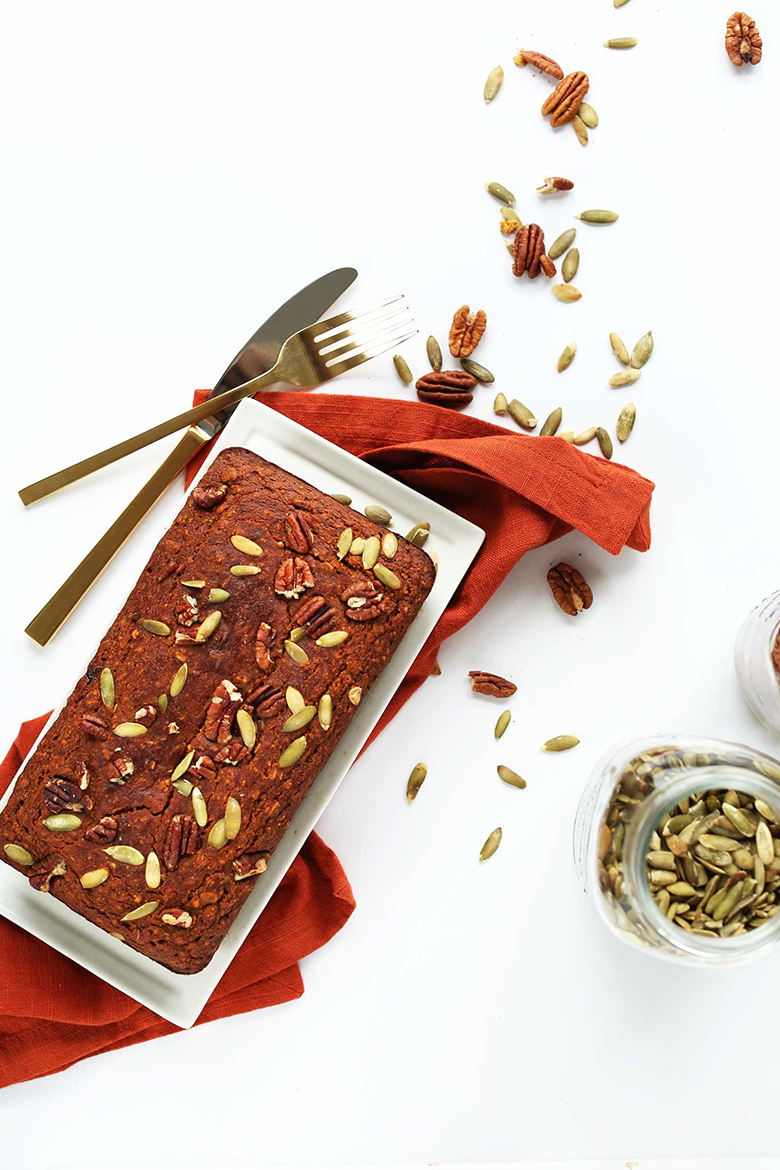 image credit minimalist baker
Did I say Vegan Tofu Quiche? Yes, you heard right. There are so many vegan alternatives to creating crusts and pastries. Vegan butter is one way and this recipe uses just that, making this quiche great for both vegans and vegetarians, and another lovely breakfast choice.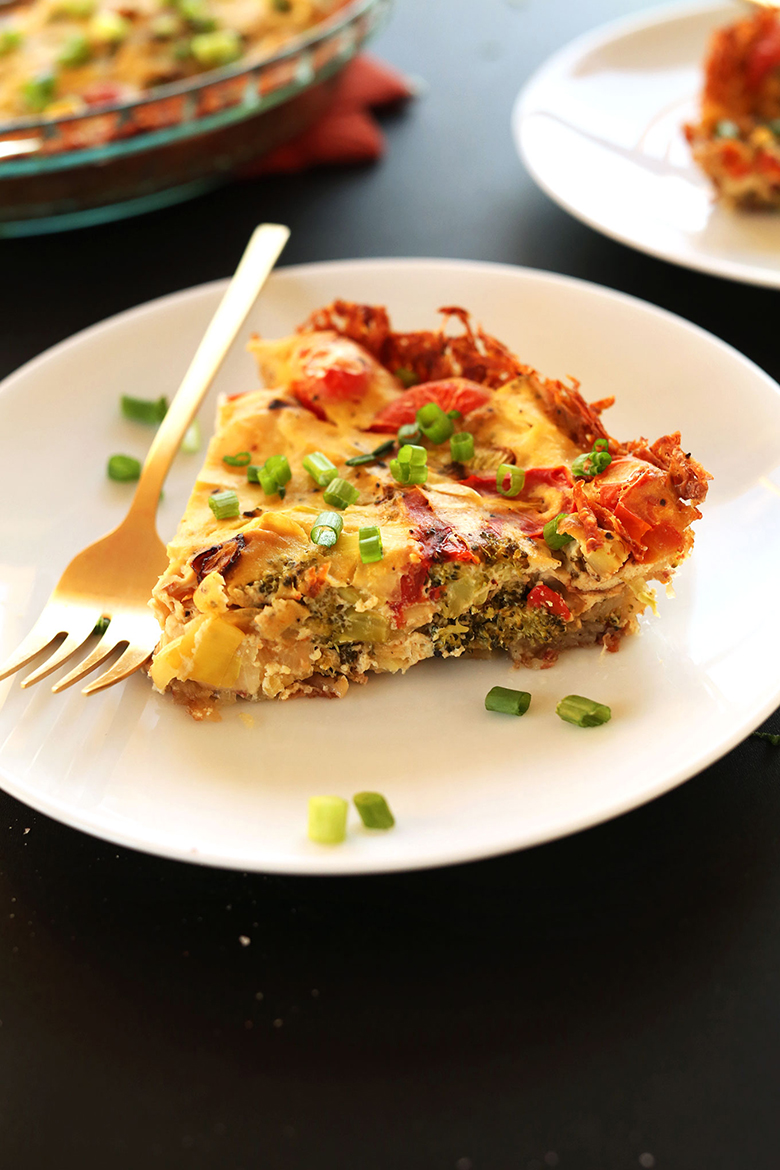 photo credit minimalist baker
---
VEGETARIAN & VEGAN CHRISTMAS LUNCH/DINNER MENU IDEAS
So I thought this just looked incredible. What a beautiful dish for Christmas if you're Vegan or Vegetarian. Once again, this recipe provides a version for Vegans too so you can all enjoy this delicious Vegetarian Christmas Wreath, plus it will look so lovely on the Christmas Dinner Table.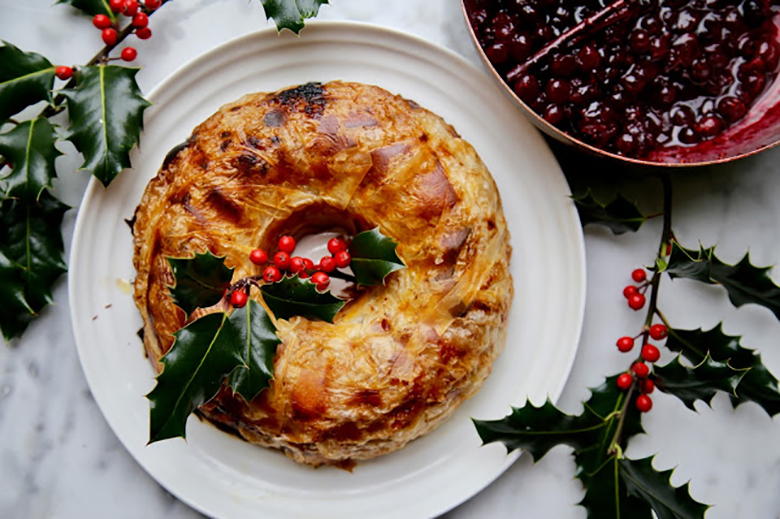 photo credit Ms Marmite Lover
Mmmm Roasted Mushrooms and Vegetables. What a lovely medley of colours here. Any meat eater, Vegetarian and Vegan would love these vegetables. In fact, any Flexitarian and Pescatarian would too. There's nothing better than roast vegetables, and this recipe just gives the Christmas dinner a bit more spark.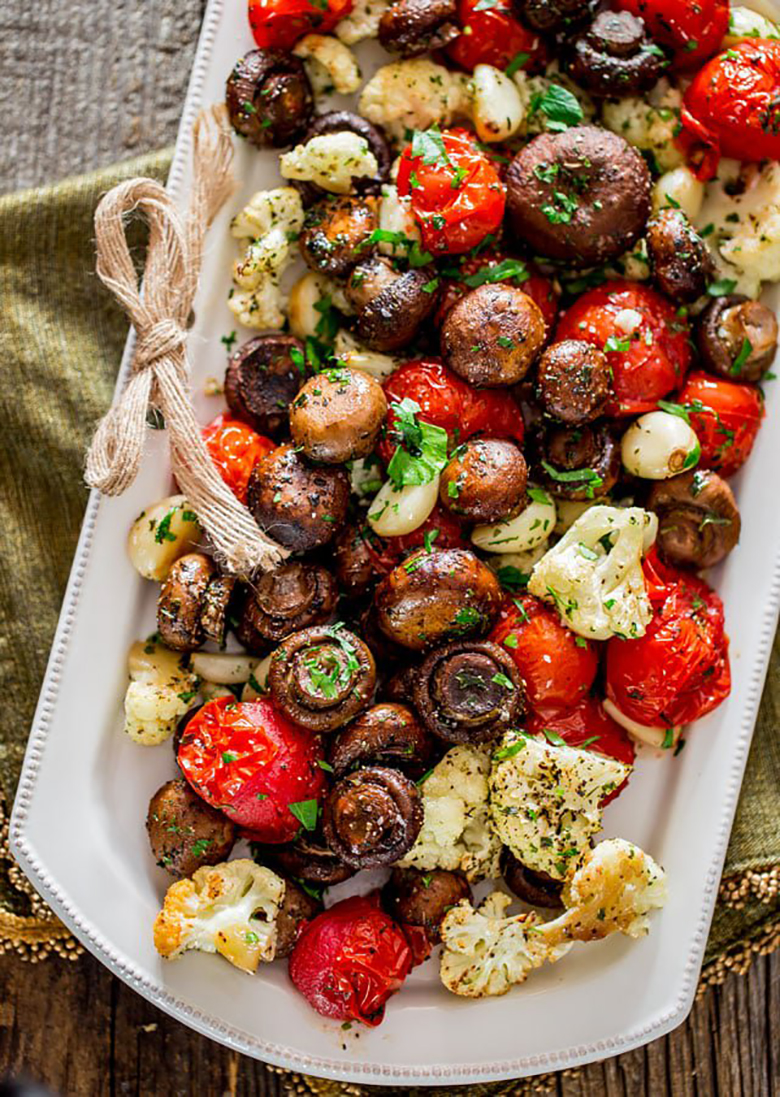 image credit Jo Cooks
I really loved the look of this dish and corn seems to be such an old tradition for Christmas dinner. Old stories always seem to mention cornbread and cornmeal, so I thought this would be a nice Vegan and Vegetarian-friendly dish to add here. What better way to serve corn than with this Easy Baked Corn Casserole.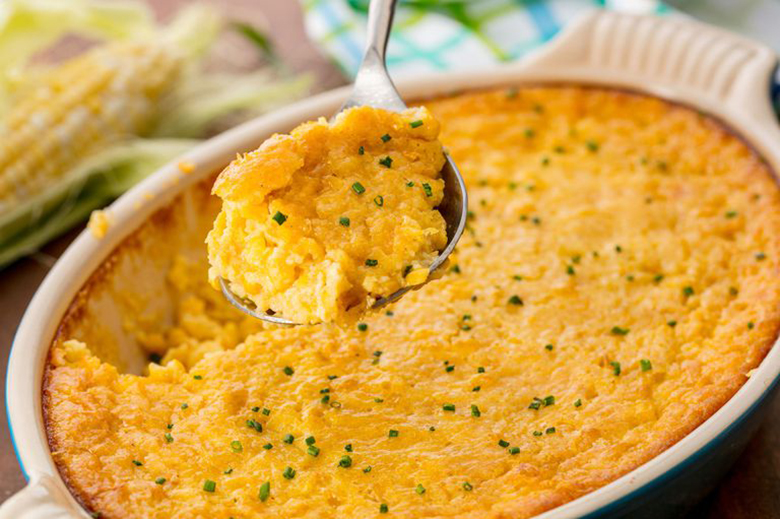 photo credit delish.com
This looks so much like meatloaf, that I found it hard to believe that it's a completely meat-free meal. This Glazed Lentil Walnut Apple Loaf is a perfect substitute for a traditional Christmas Turkey. Whether you're a Vegetarian or Vegan from birth or someone who once ate meat and has transitioned, I definitely think that this dish would satisfy and is a worthwhile Christmas dinner dish.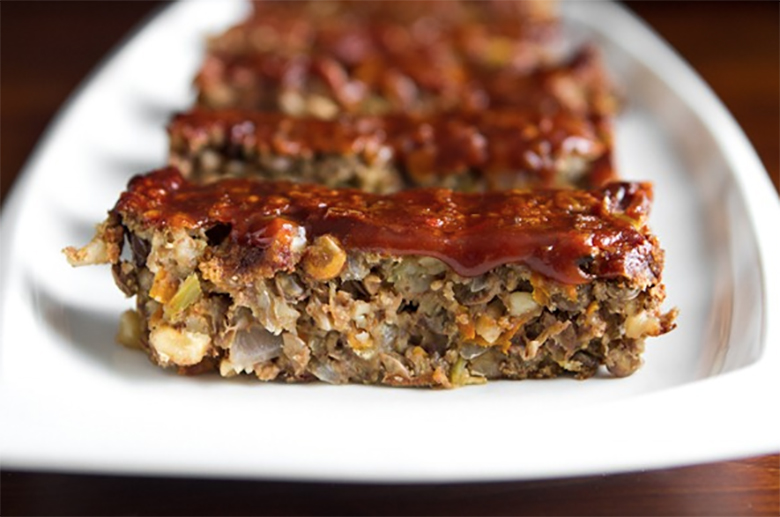 image credit Oh She Glows
My Roasted Cherry Tomato and Green Bean Salad ticks all the boxes and will also look lovely on the table. With us all celebrating Christmas in Australia, I think it's always good to have plenty of cold and refreshing dishes as part of your Christmas menu due to the summer heat.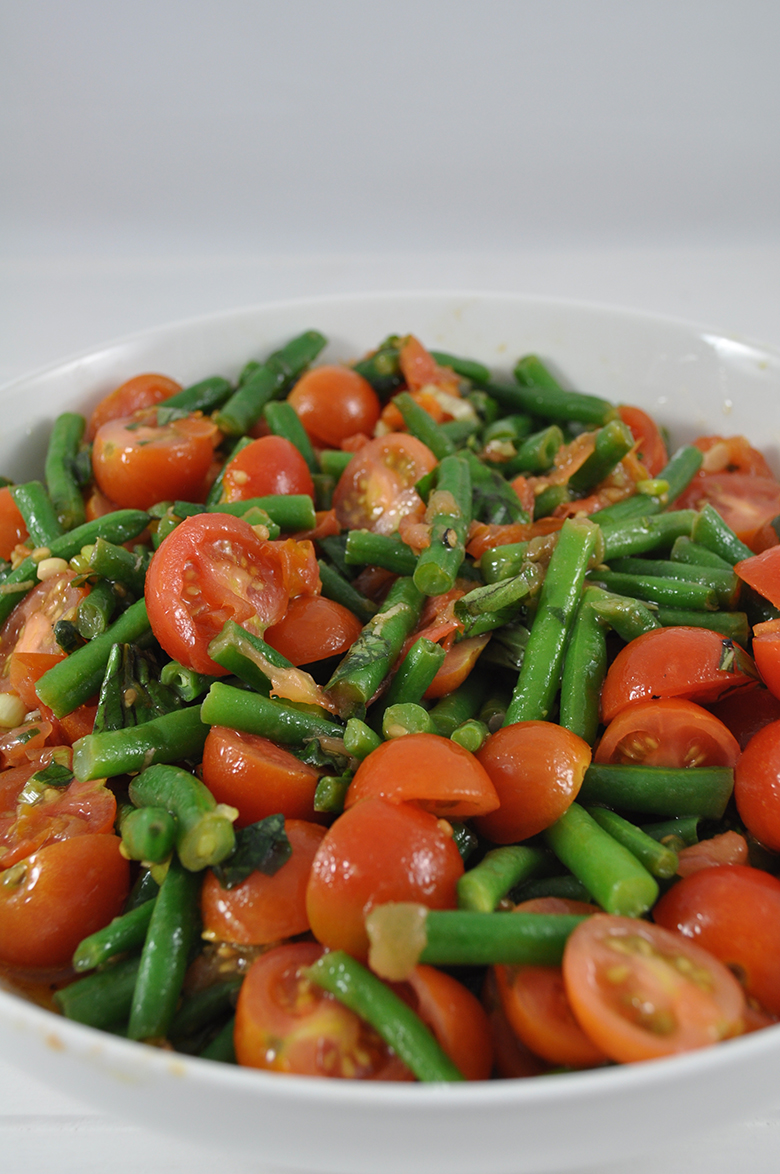 Jamie Oliver seems to always outdo himself with his Christmas recipes, but did you know that he also comes out the winner with his Vegan and Vegetarian Christmas options? Look at this Vegetarian Nut Loaf from his Christmas menu.  This recipe could also work with some Vegan substitutes like replacing the butter with Vegan butter and the cheese with a Vegan cheese option too.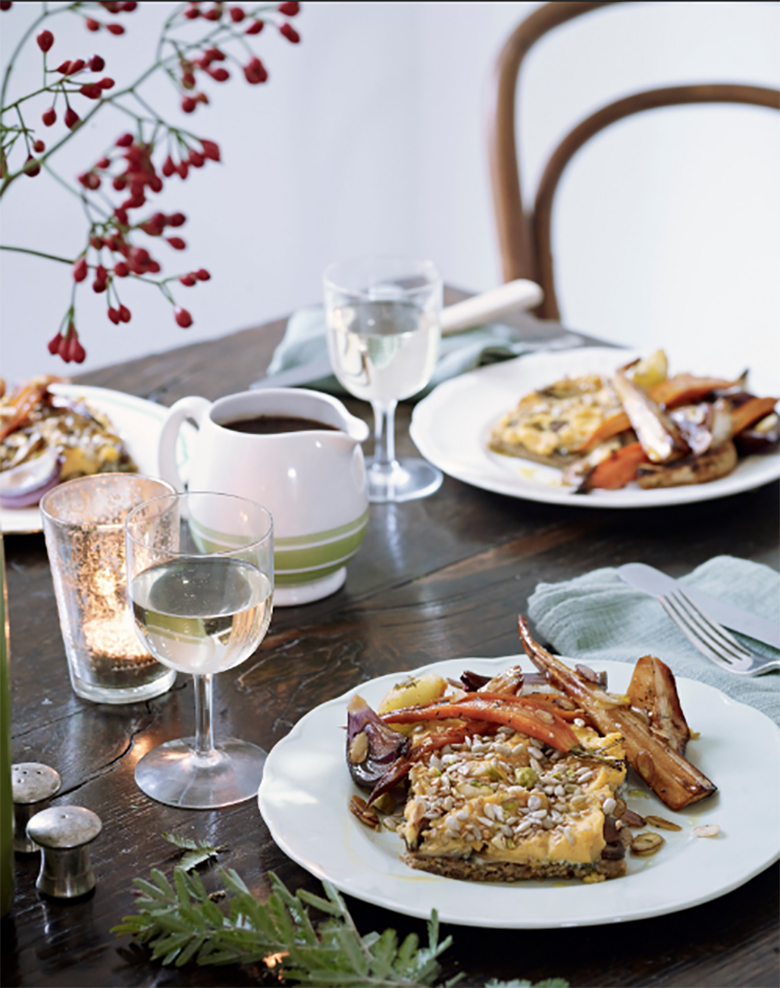 photo credit Jamie Oliver
 How amazing does this Garlicky Kale and Crispy Chickpea Salad look!! It doesn't matter if you're Vegan, Vegetarian or a carnivore, this salad looks so appetising and throws some vibrant colours out there. Definitely, an interesting salad to consider for your Christmas dinner table.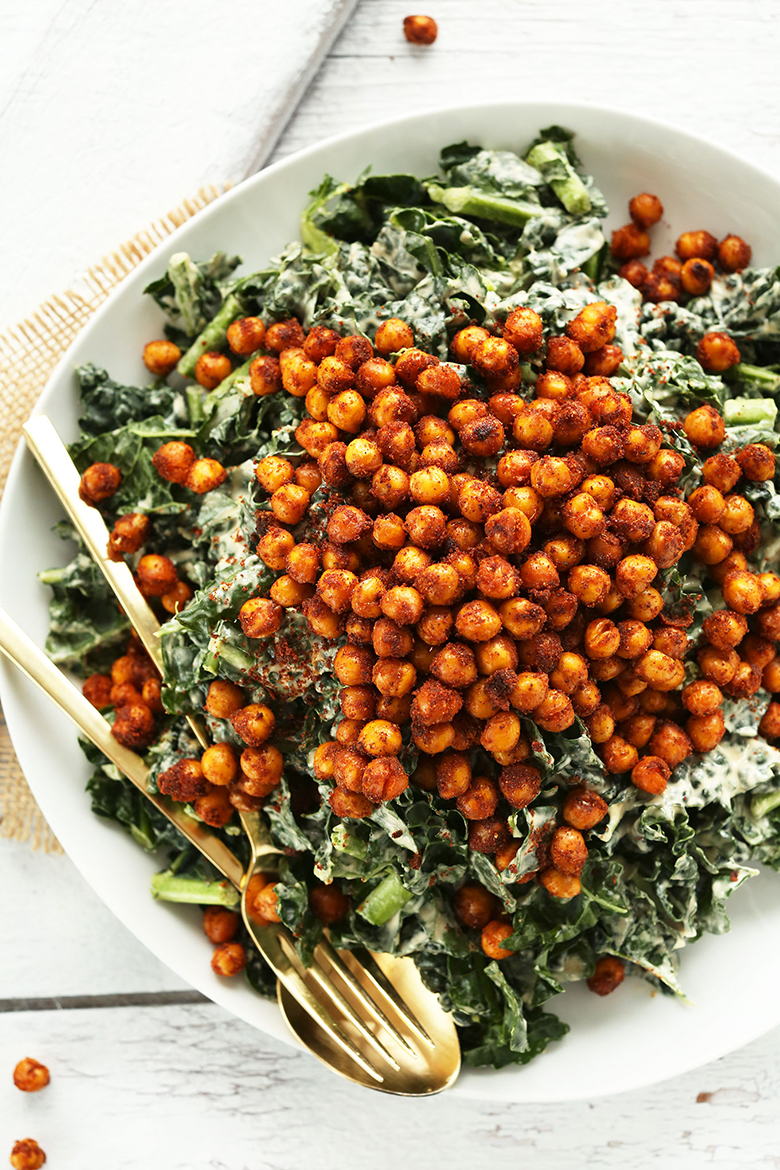 photo credit minimalist baker
Another Jamie Oliver vegan special. Roast Turkey? Why not try a Whole Roast Cauliflower instead. I have to say that Jamie's image looks so deliciously appetising that I have to keep reminding myself that it's a cauliflower and not a real roast. The secret is in the spices I guess. Thanks Jamie – you've done it again!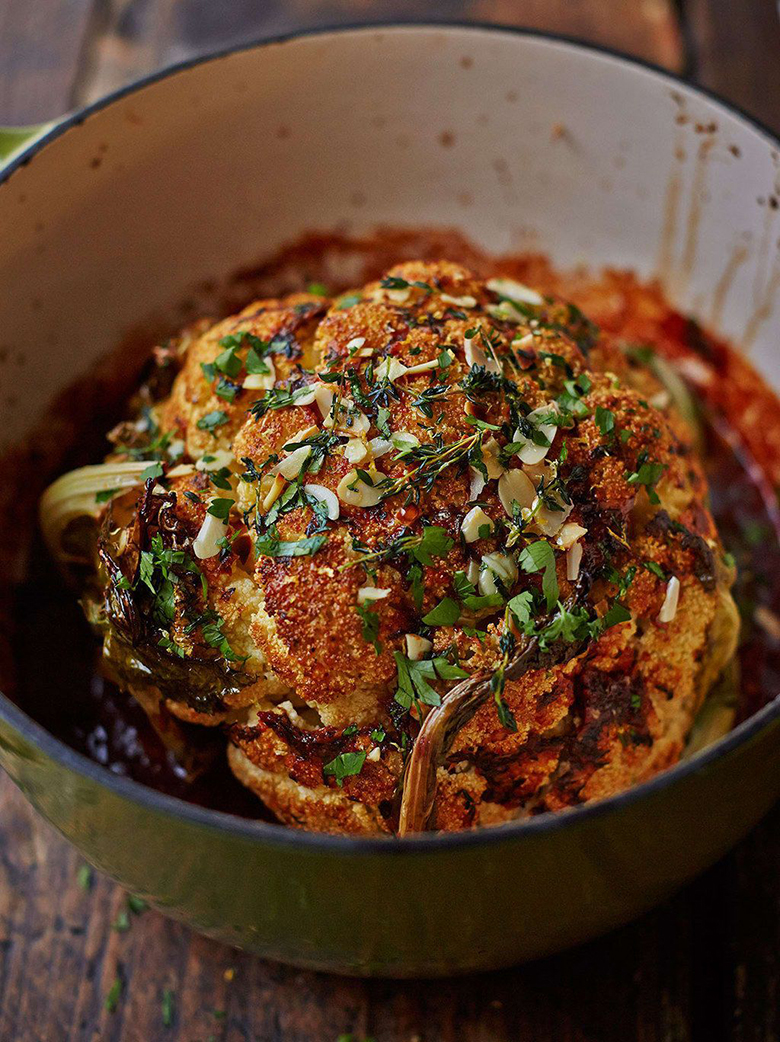 photo credit Jamie Oliver
You can count on Nigella to always provide us with some beautiful dishes. I was curious what she could offer Vegetarians and Vegans and found this lovely Pasta and Brussels Sprouts, Cheese and Potato Pasta Bake, which would be a delicious addition to the Christmas table for the non-meat eaters on the day.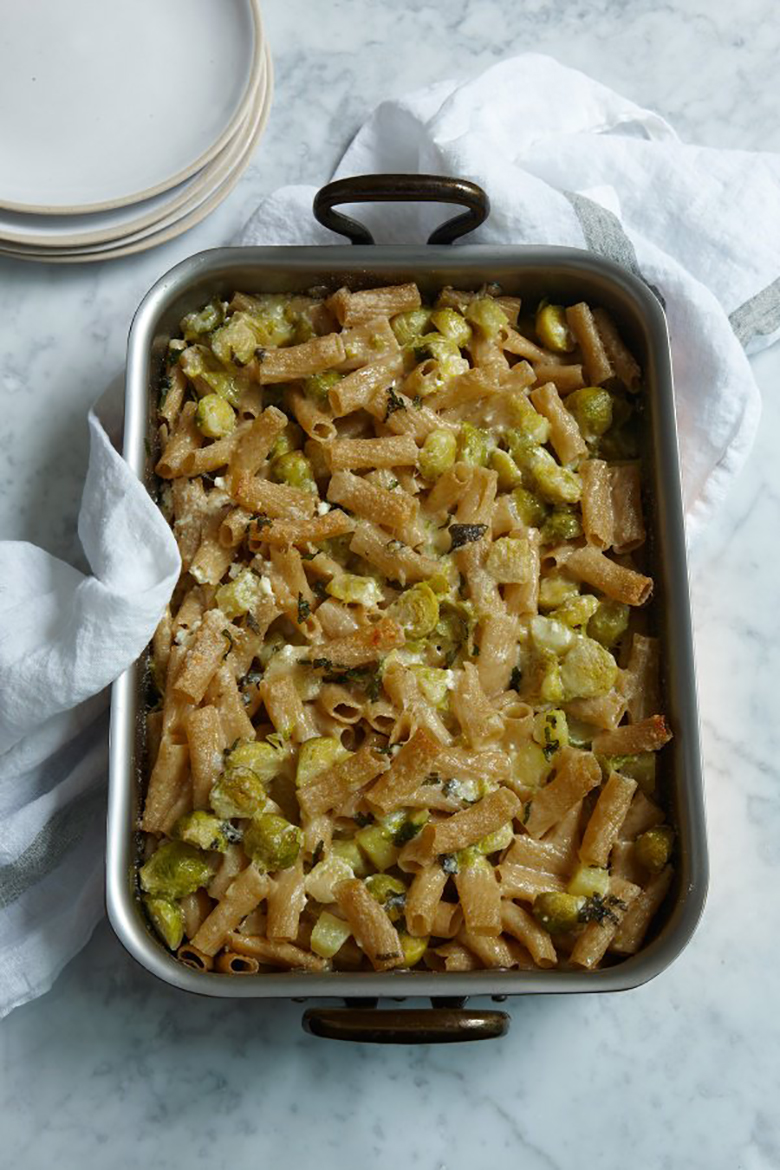 photo credit nigella.com
This dish reminds me of a vegetable hash. I love sweet potato and I know that I'm not alone, so I know that this recipe would satisfy everyone on Christmas Day if it was part of the food spread on the day. This Cheesy Sweet Potato Casserole is definitely worth a try if you are stuck with needing Vegan inspiration.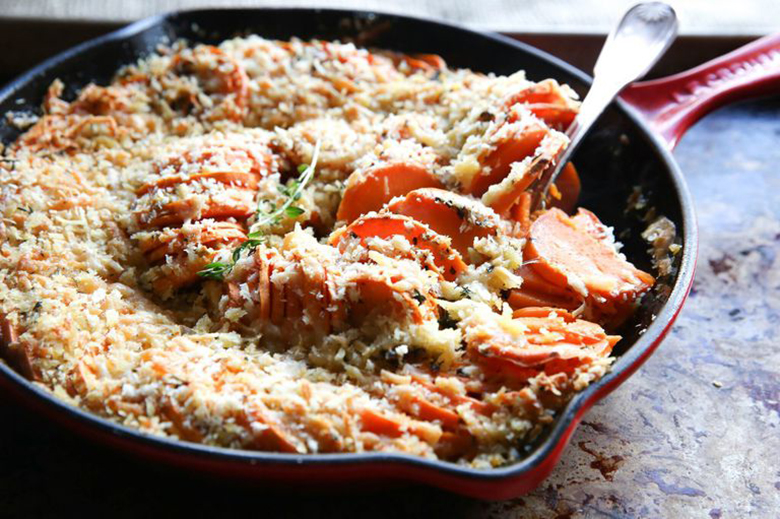 photo credit delish.com
---
VEGETARIAN & VEGAN CHRISTMAS DESSERT MENU IDEAS
Look how beautiful the colours are in this Vegan Tiffin. Desserts without the use of butter, eggs or milk are hard to achieve, but this recipe is all that and then some – no dairy and no eggs involved. This Vegan and Vegetarian-friendly dessert will be loved by all.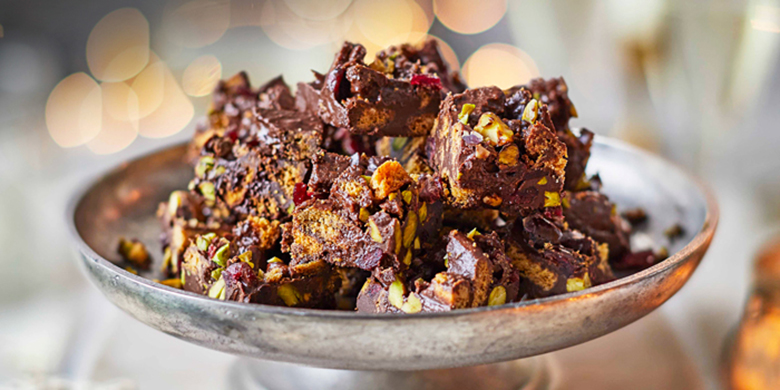 photo credit bbcgoodfood.com
This gorgeous Raw Strawberry Cheesecake was made with the help of my Thermomix, and would make such a lovely Christmas dessert edition on Christmas Day. It can be made without one, so whether you have a Thermomix or not, this dessert can be achieved and will definitely be admired on Christmas day.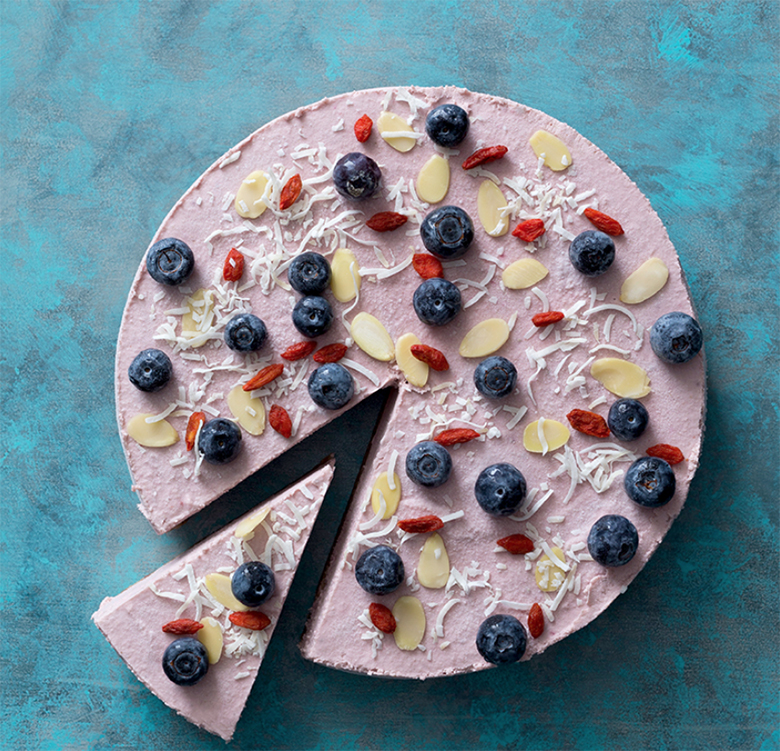 Who can resist fruit mince pies on Christmas Day!! I found these Raw Mince Pies that are totally Vegan and Vegetarian-friendly and would make anyone smile. Don't you just love the little star motives on top of the pies? They definitely create an 'Old England' Christmas feel to the pies.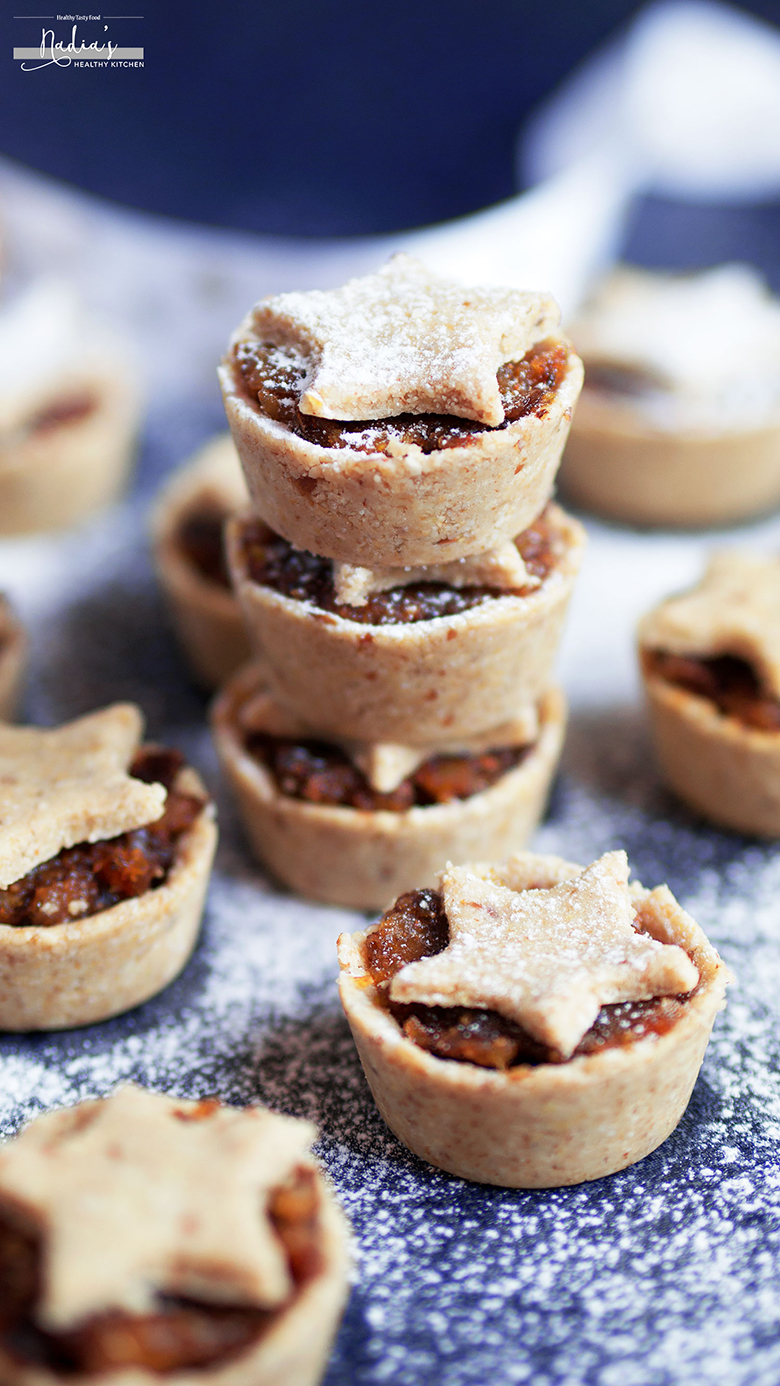 photo credit Nadia's Healthy Kitchen
So I was looking for a Vegan cake recipe for you that would be as close to traditional Christmas Cake as possibly and found this one, which doesn't look too bad. It's a Raw Vegan Fruit Cake recipe and seems to keep its moisture enough to satisfy the Vegetarians and Vegans, and it's super healthy too.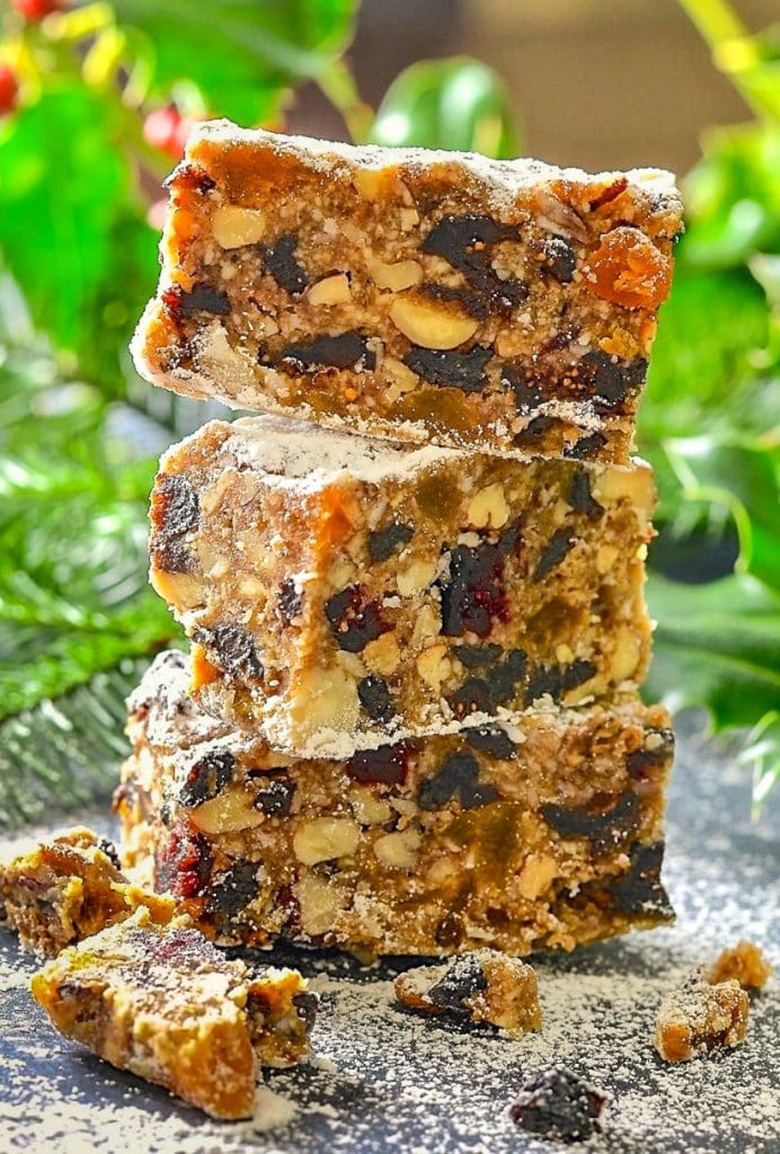 photo credit A Virtual Vegan
DO YOU HAVE ANY GREAT VEGAN OR VEGETARIAN RECIPES TO SHARE?