The Paleo and Keto diets are becoming more popular these days when it comes to a healthier a lifestyle. I got the help of one of the ladies in my office for this post who follows the Keto diet. We have put together a giant Christmas Day menu for both the Paleo diet and Keto diet. What many of you might not know, is that so many recipes with these two lifestyles actually cross over and what is classified as a Keto recipe, can also be a Paleo recipe and vice versa. The only difference is the rules of when you can eat on the Keto diet.  Something else that I find interesting, are the myths of these two diets. So that I don't offend anyone with recipes that might not meet your personal Paleo or Keto standards, I thought I'd cover some of the rules. Here's my list of things to remember when you look at these recipes:
Some people include cheese and dairy products when living a Paleo or Keto lifestyle, while others don't. I will add cheese, butter and ghee recipes in this recipe collection, so it's up to you which recipes suit your rules.
The great Quinoa debate. Is it or isn't it? I will go with accepted so if you see any quinoa recipes, it's up to you.
Potatoes, yes or no? I will go with yes since new rules have come in that small quantities are now accepted.
So without further ado, let's see how we went with finding recipes that would be great as part of your 2018 Christmas banquet, whether you're Paleo or Keto. For all you Palaeolithic and Ketogenic foodies out there, we hope that this post brings inspiration and smiles to your Christmas dinner table this year.
If you have a favourite recipe, please leave it in the comments below!!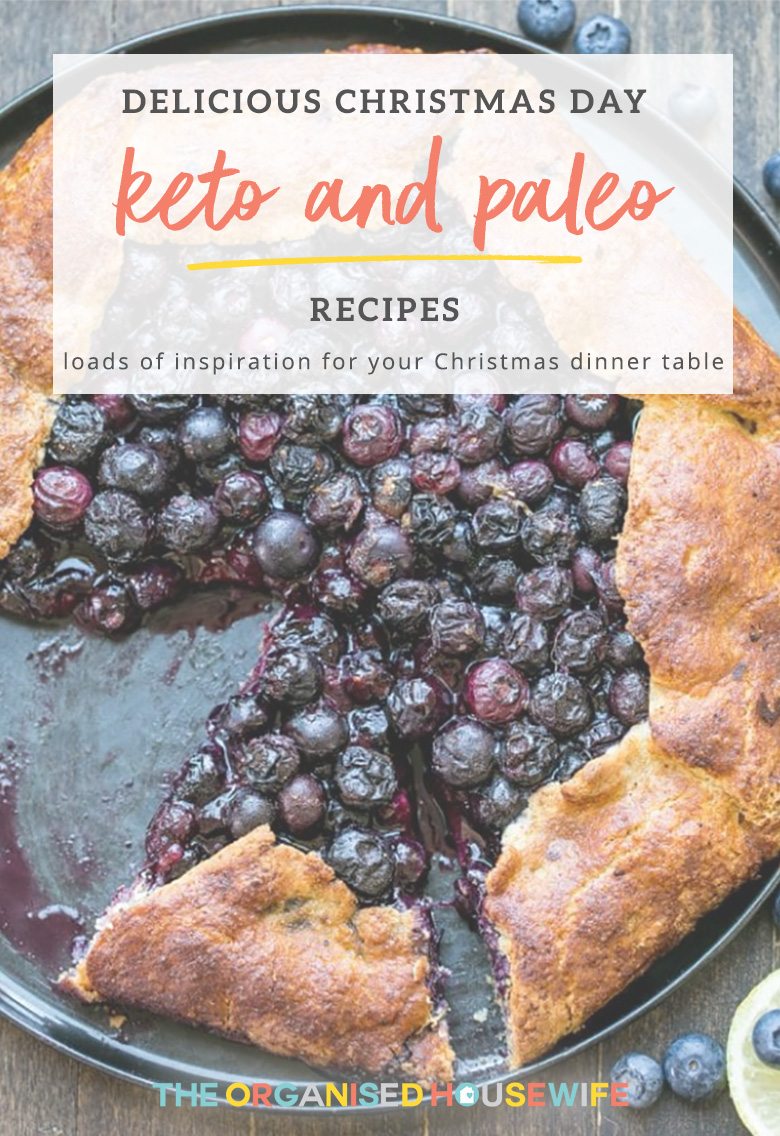 ---
MY CHRISTMAS DAY MENU I'M MAKING FOR MY FAMILY THIS YEAR – if you haven't seen my post on what I'm cooking for Christmas Lunch/Dinner and still need more ideas for your Christmas Day, check out my All Day Christmas Menu.

---
PALEO CHRISTMAS BREAKFAST MENU IDEAS
Loaded with lots of delicious ingredients, this Paleo Satay Avocado Prawn Omelette would be such a lovely Christmas breakfast feast for your family and guests. Christmas is a time for seafood, so why not eat prawns for breakfast or brunch on Christmas Day.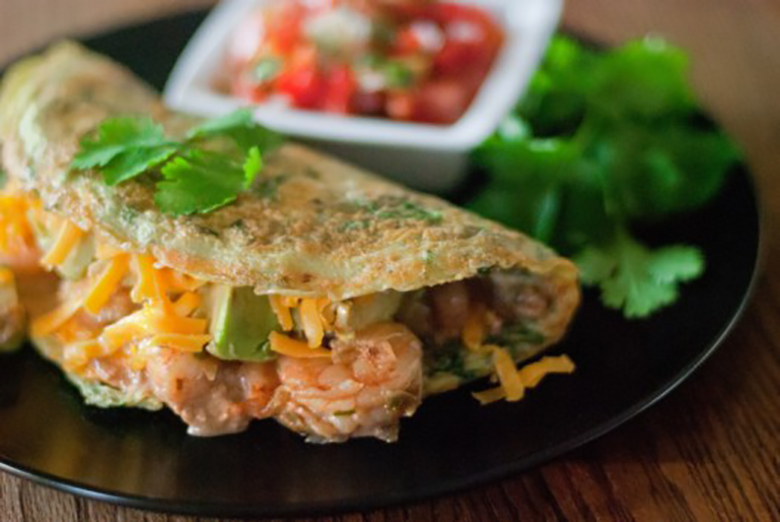 photo credit The Primal Desire
Such beautiful colours for the eyes and yummy ingredients for your taste buds in this Paleo Blueberry Coconut Souffle Bake. I really want to try this one. I already have my Christmas Menu sorted, but this could be one for Boxing Day morning. Whoever said that healthy food can't taste good too.

photo credit Cotter Crunch
I just love quiches and frittatas. Eggs are such a special staple food, and since so much more is known about them these days, they are quite healthy for you. Look at this yummy Dairy Free Frittata with Heirloom Tomatoes recipe. What a lovely Christmas Day breakfast this would make.

photo credit Bravo For Paleo
Honestly, you can't get more Christmassy than Cranberries. These Paleo Cranberry Bars remind me of a German strudel, and would not only look good at breakfast, but they would also taste good, and they're definitely healthy with the ingredients used.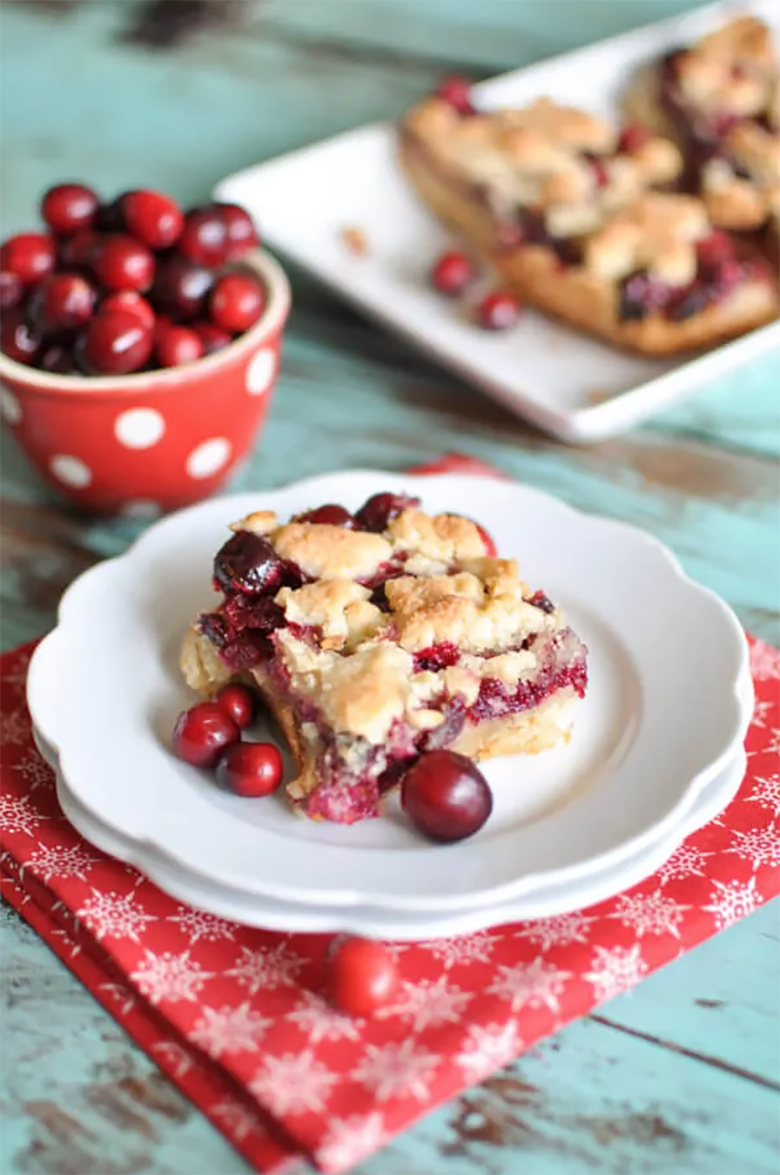 photo credit My Natural Family
How decadent do these Black Forest Paleo Pancakes look? Wow, my mouth waters just looking at this image. They almost look like edible Christmas trees stacked up like this with the cherries and cream on top. And if you're about to say that the cream is not healthy, it's actually made from coconut lol. How awesome is that!!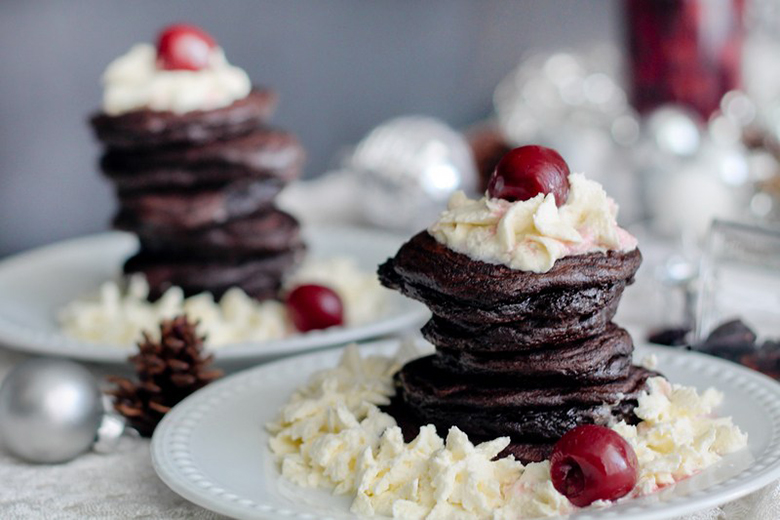 photo credit The Primal Desire
---
KETO CHRISTMAS BREAKFAST MENU IDEAS
So I was thinking that many of you may not want to eat too much for breakfast on Christmas Day, so how about a delicious and healthy Easy Green Smoothie instead? Would definitely be a healthy start to a big day filled with food overindulgence.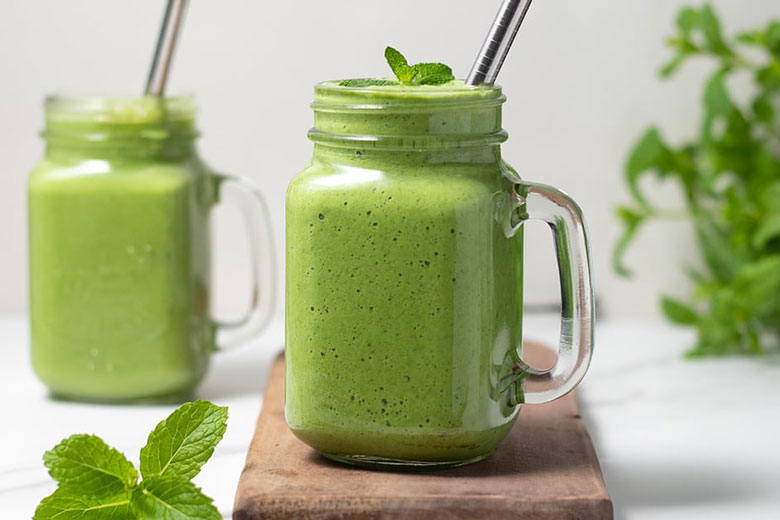 photo credit Diabetes Strong
I wanted to find a good substitute recipe for Christmas cookies that were either Paleo or Keto or both. I found these yummy Keto Pistachio Shortbread Cookies to make, for all you mums out there trying to be healthy this Christmas. They look delicious.

Photo credit I Breathe I'm Hungry
These just grabbed my attention as soon as I saw the photo. They reminded me of my Nuts n Bolts recipe, although my recipe isn't paleo or keto approved, which is why I thought that these Keto Candied Pecans could also be made for any guests following these diets. Why not make both to make everyone happy.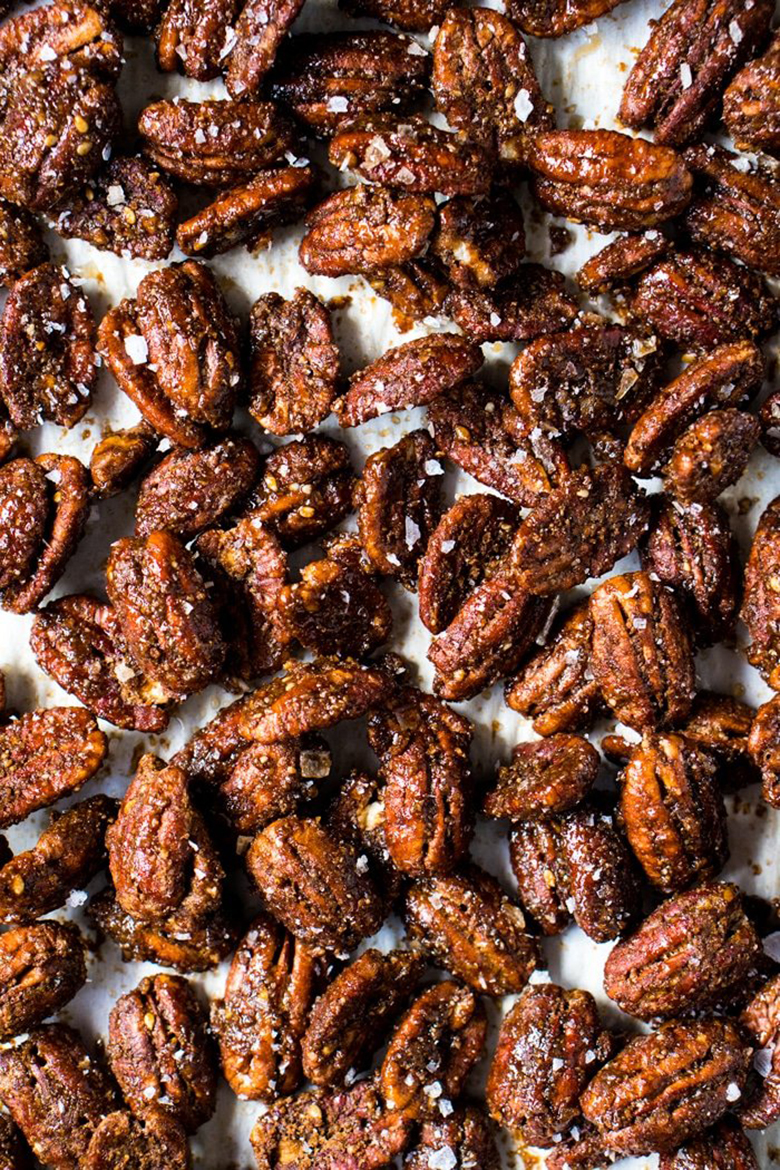 photo credit Gnom Gnom
Yum!!! Skillets and Hashes always provide you with a hearty breakfast and are very popular with both Paleo and Keto diets. Beef mince is usually used in this kind of recipe, but I found this particular recipe uses turkey. I thought that since turkey is a Christmas tradition, why not try this Turkey Egg Breakfast Skillet.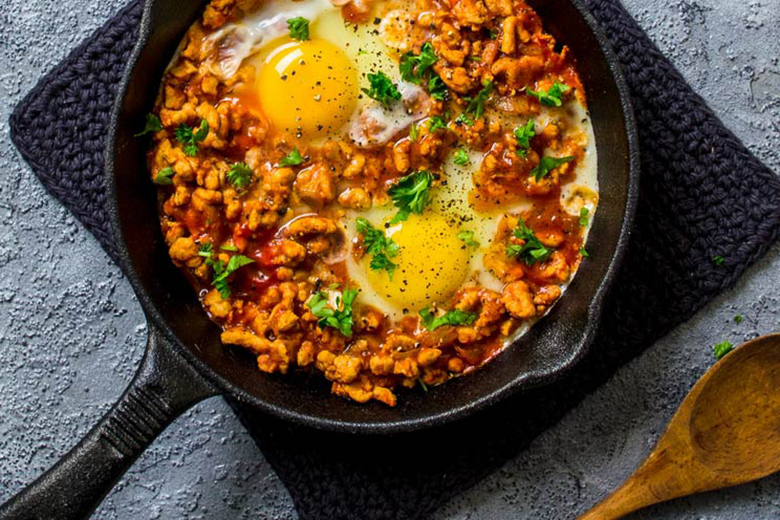 photo credit Paleohacks
---
PALEO CHRISTMAS LUNCH AND DINNER MENU IDEAS
It's turkey time again, and what an interesting concept it is to use turmeric to season your Christmas Turkey. I found this Paleo Turmeric and Honey Roast Turkey recipe, so if anyone is going to try it this year, please let me know how it goes because it looks absolutely delicious.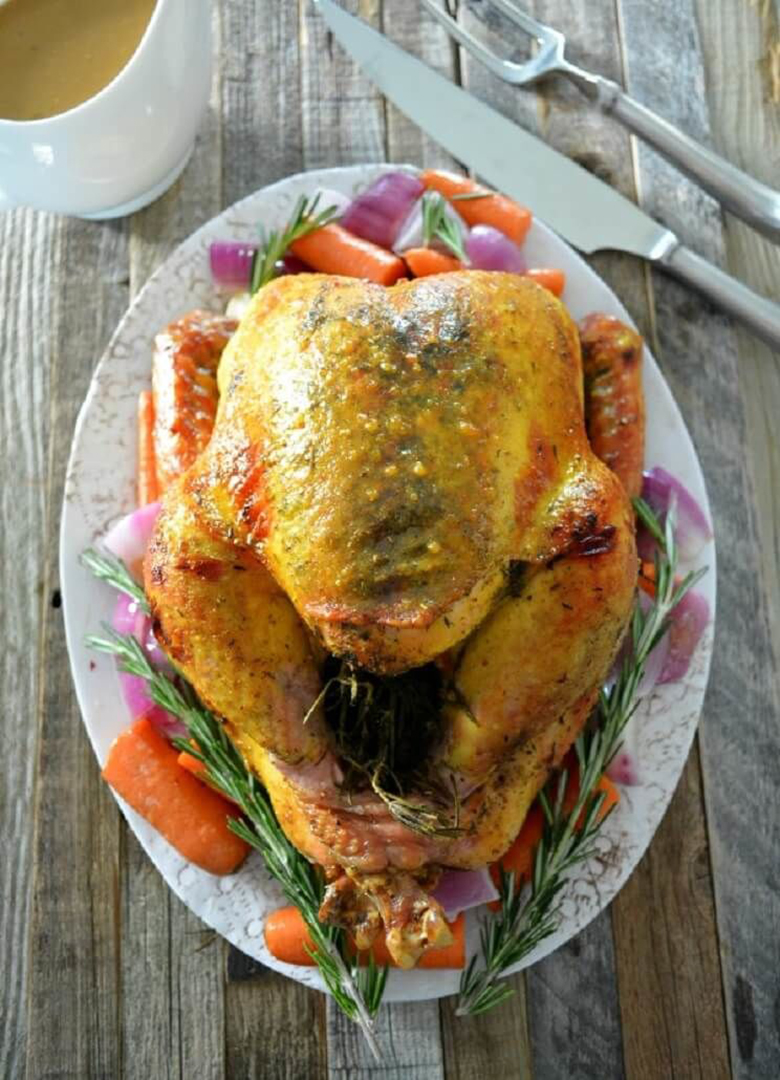 photo credit Paleohacks
Christmas and seafood is a true Aussie combination when it comes to a family Christmas dinner, and lots of you opt for a barbecue for grilling. It's why I just had to include these Kingfish Skewers with Chargrilled Tomatoes and Chillies. Add some spice to your Christmas Day with this dish.

photo credit Delicious
How yummy do these Grilled Prawns with Roasted Garlic and Cilantro Sauce look!!! I just want to pick one off the plate right now. Honestly, I'm loving this Paleo and Keto journey I've been on while finding all these fabulous recipes to add to this collection.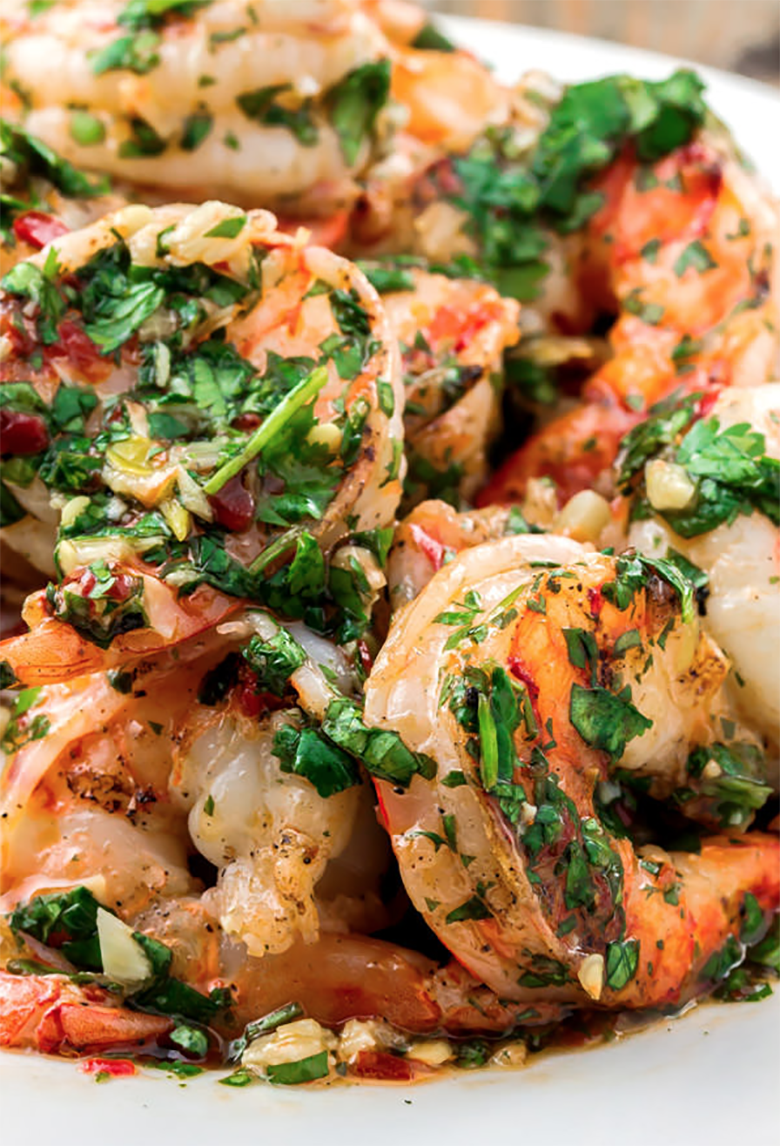 photo credit The Mediterranean Dish
I just love the colours in this Kale and Pomegranate Salad. It just looks so inviting to eat and would look amazing alongside a Christmas Turkey. Pomegranate might be hard to find right now, but you could substitute with slices of blood oranges that would also taste and look good.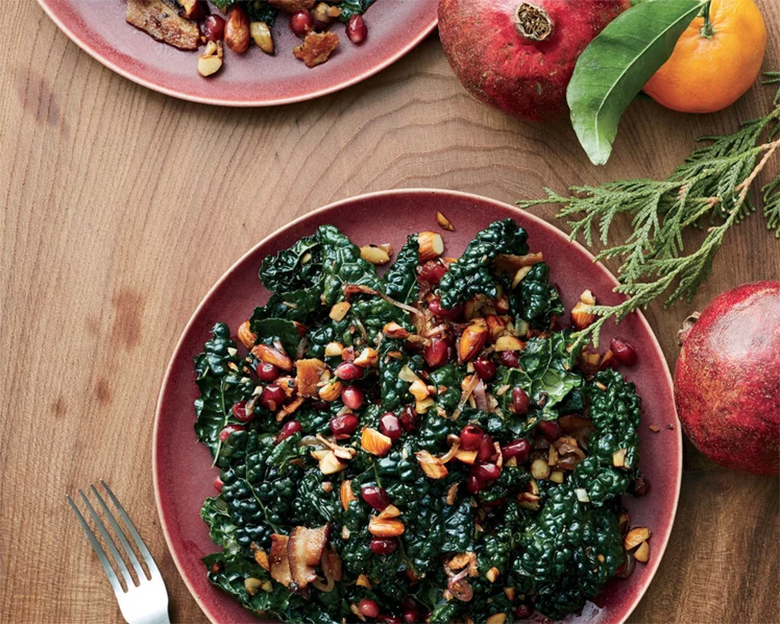 photo credit Cooking Light
The word "maple" hit me as soon as I found this recipe because anything that has maple syrup in it will be yummy. What a great side dish this Coconut Whipped Sweet Potatoes and Maple Pecan Drizzle dish would make on Christmas Day. Sweet potatoes are so underrated. This really looks delish!!

photo credit Kitchen Treaty
---
KETO CHRISTMAS LUNCH AND DINNER MENU IDEAS
Mmmm. The bacon really enticed me with this recipe. You can't beat a dish that's called a Bacon Roasted Chicken with Pan Gravy. I mean, how delicious does that sound!! This is also a great Keto recipe for anyone who really can't be bothered cooking a turkey for hours.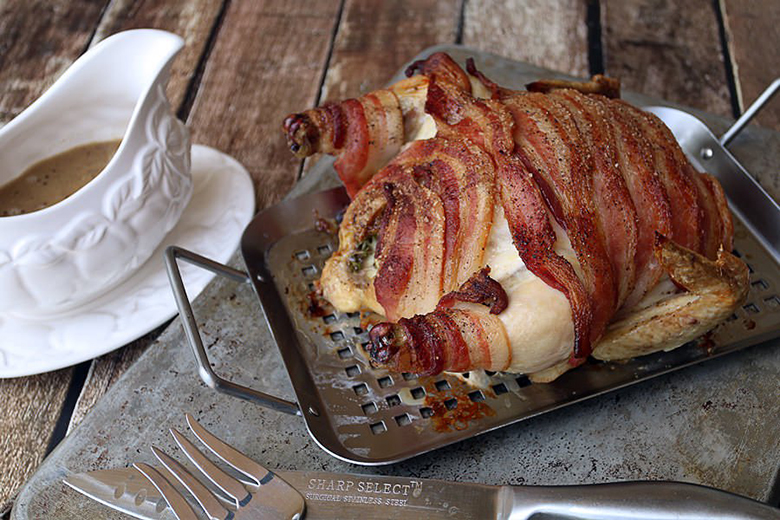 photo credit ruled.me
A Rosemary and Mustard Crusted Baked Ham. OMG, there is a heaven. Why haven't I thought of this combination before? This is another recipe I'm archiving for future Christmas dinner ideas. Look at the photo of the crispy glaze on the ham. I think that this ham would be so delicious.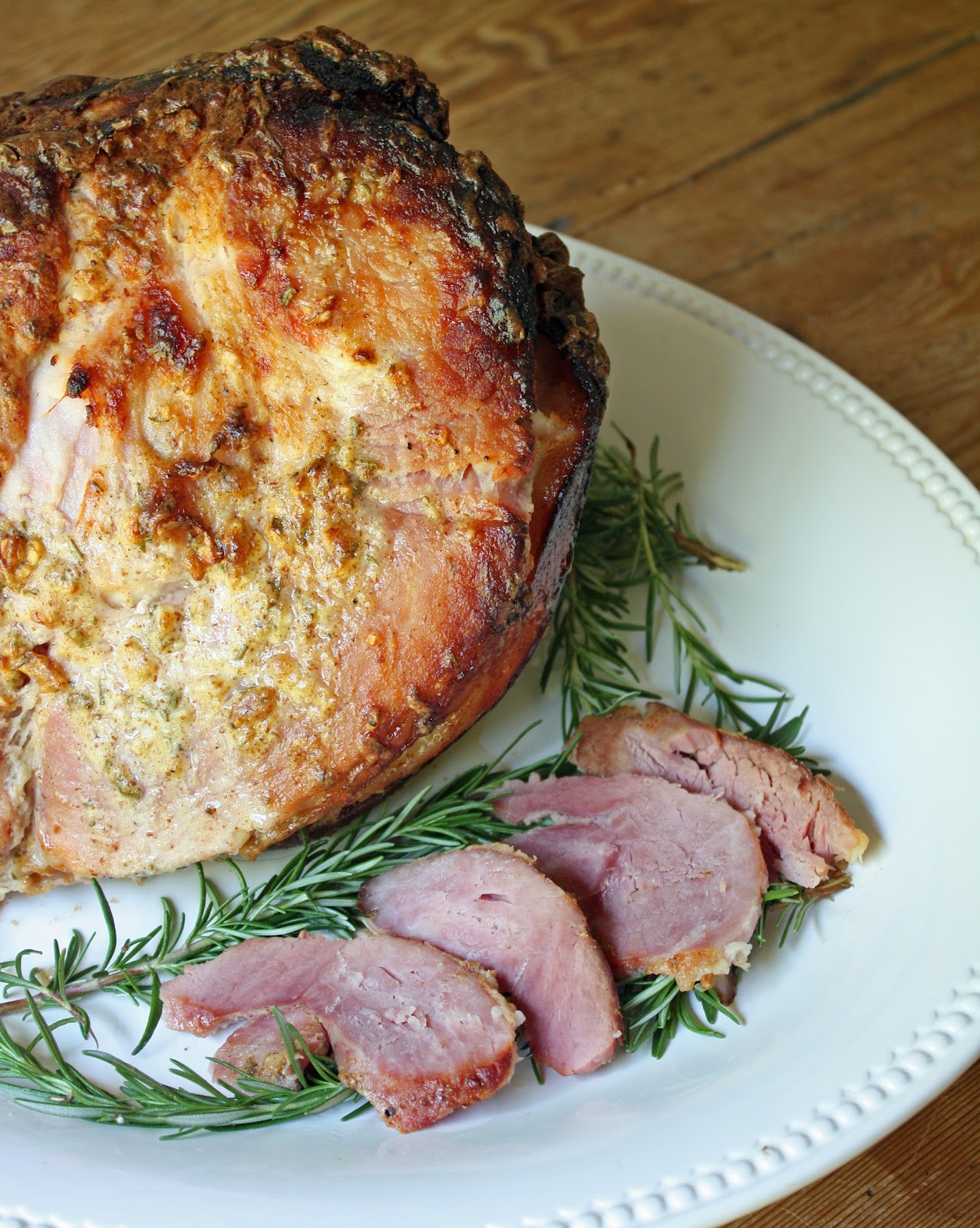 photo credit I Breathe I'm Hungry
Doesn't it look amazing all sliced up like this! I'm still trying to work out if I would consider it a side dish or part of the Mains Menu. Either way, I bet anyone following Keto or Paleo rules would be very excited to grab a slice of this 'Keto and Paleo approved' Smoked Salmon and Ricotta Pastry Roll-Up.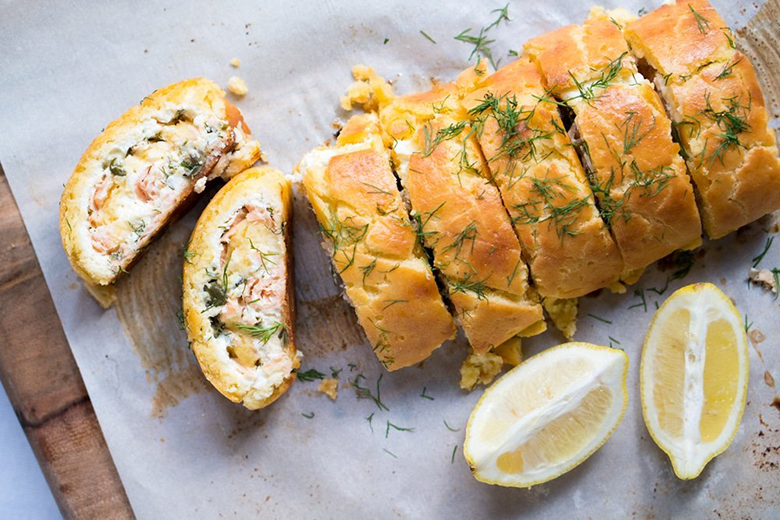 photo credit Gnom Gnom
Salads are such an important side on the Christmas table and this Keto Apple Slaw really looks so good. I feel that the apple in it would give the salad that sweet festive taste too. The best thing about this one is that being Keto, there is no sugar. I would also recommend making some homemade mayonnaise too.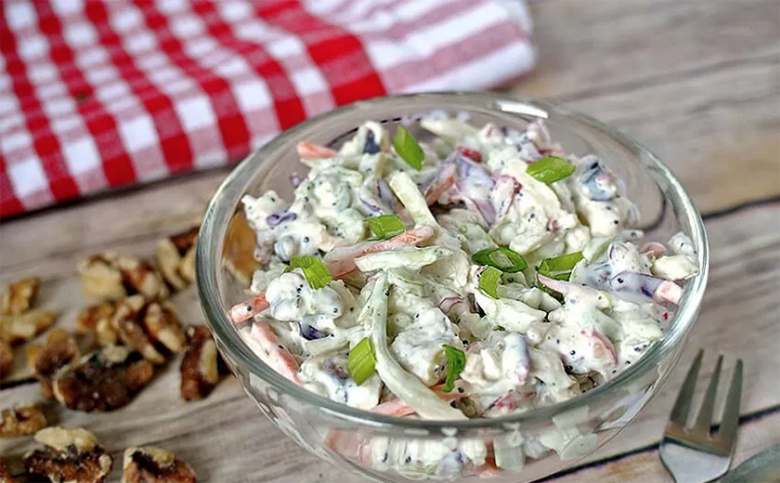 photo credit Tasteaholics
This another wonderful Keto side dish to consider for Christmas Day. Beans are such a staple vegetable and taste delicious when cooked to perfection. That's why I added this Roasted Pecan Green Beans recipe to the collection of Keto and Paleo-approved recipes.

photo credit Ruled.me
Lobster is such a decadent seafood and expensive I know, but doesn't this Lobster Bisque just look incredibly delicious? I think for special occasions it's ok to be a little over the top, and this dish would be such a special surprise on Christmas Day.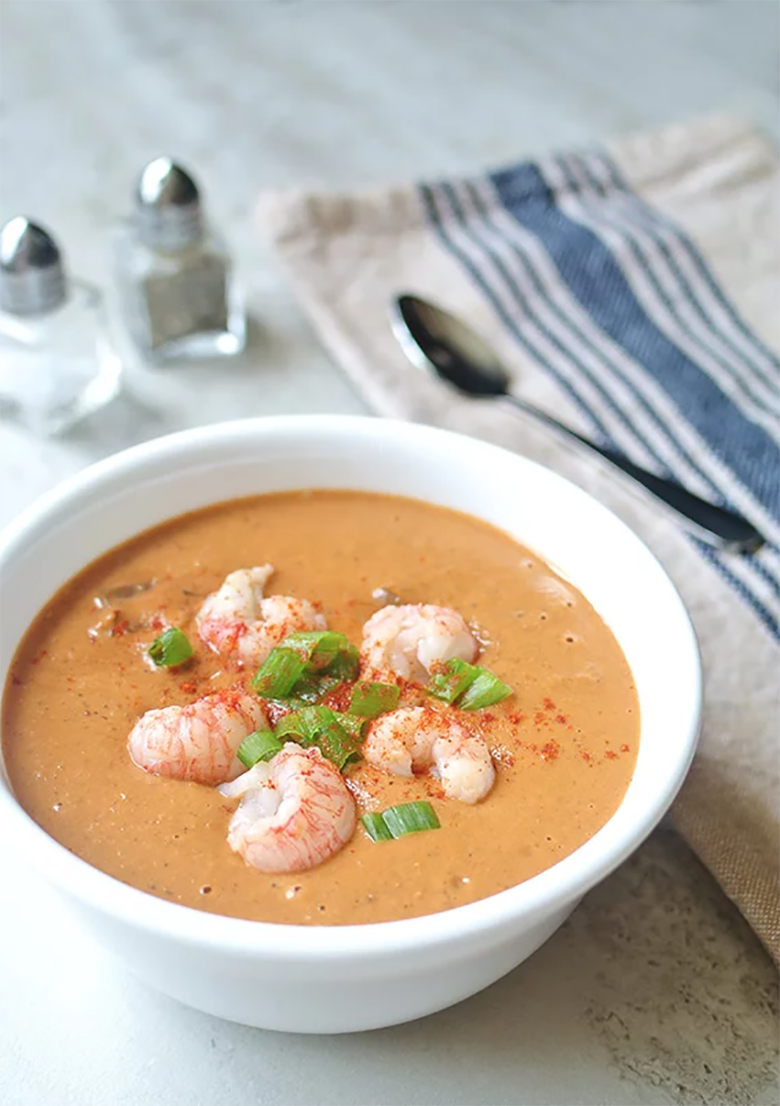 photo credit Tasteaholics
---
PALEO CHRISTMAS DESSERT MENU IDEAS
Christmas Pudding is so difficult to get right at the best of times, so when I found this Paleo Christmas Pudding recipe, I had to add it here just in case anyone is daring enough to give it a go this Christmas and see how it measures up compared to a traditional Christmas Pudding. Please share your thoughts on it with me if you do make it. For an easier, and a Keto and Paleo-approved recipe option, try this Raw Christmas Pudding recipe from Jessica Donovan from Energetic Mama she shared with us in the past.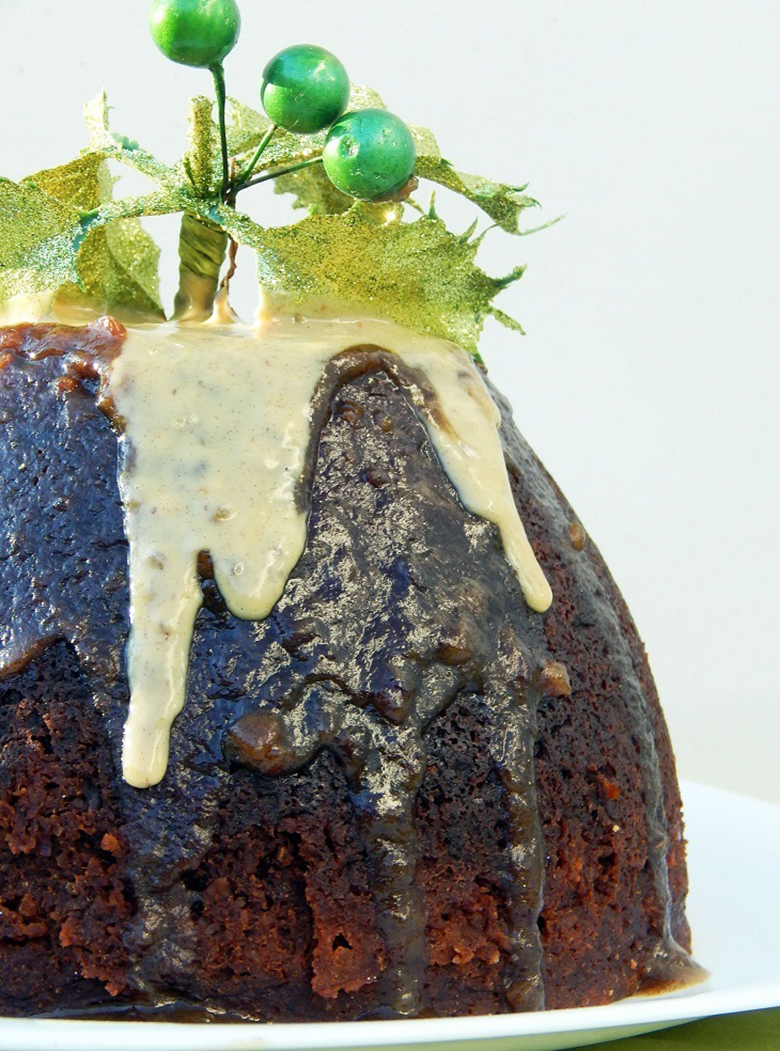 photo credit Paleo Flourish
I cannot believe that I found a Paleo Pumpkin Pie recipe. I've been meaning to try a pumpkin pie and I think that I will try to make this healthy version instead. It looks absolutely delicious. I know that this is more of a Thanksgiving tradition, but wouldn't this just look super good on the table at Christmas.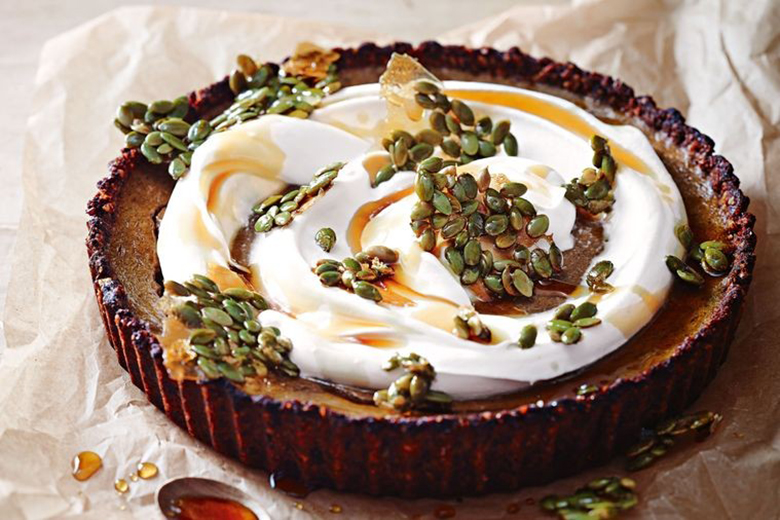 photo credit Delicious
Oh my goodness, what can I say about this recipe!!! Yummo right? I think we all have to try these Paleo Healthy Snickers Bars because they just look absolutely delectable. I can see everyone wanting a piece of this on Christmas Day, and again, it's a healthier alternative with it being Paleo-approved.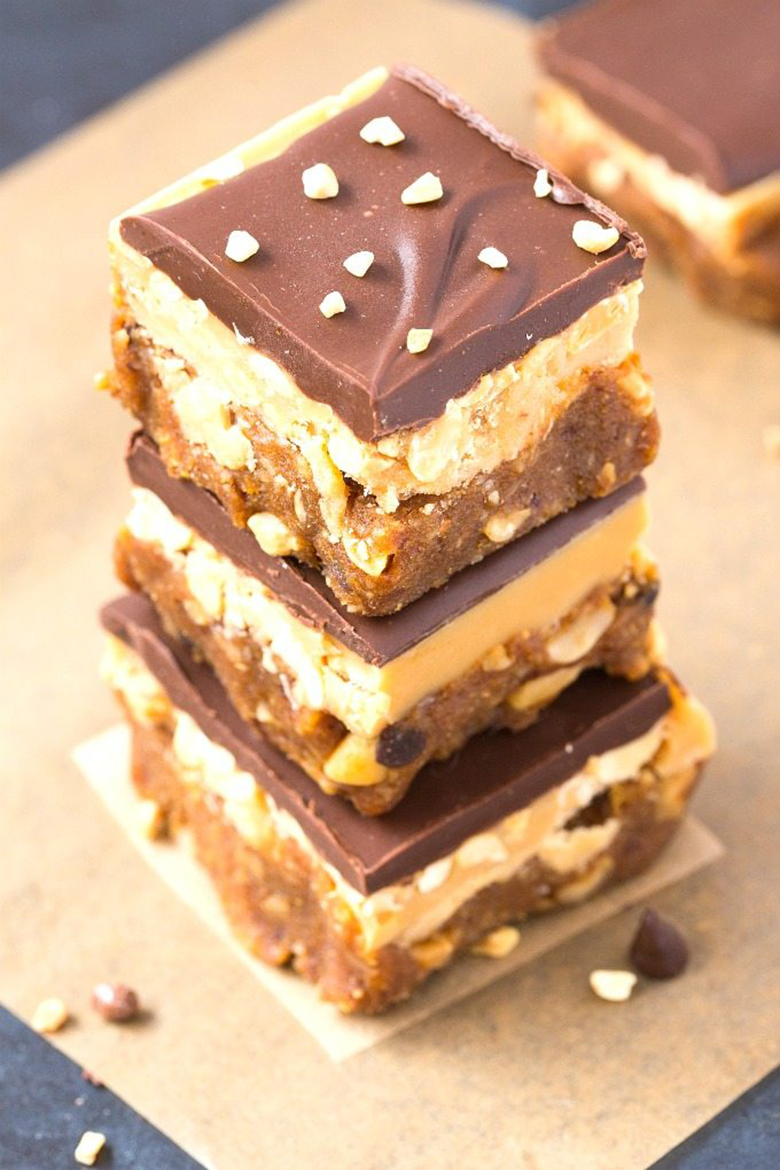 photo credit The Big Man's World
This recipe for Paleo Chocolate Peppermint Bark just looked so Christmassy to me. Honestly, I am just loving finding these amazing desserts that are a healthier way to go. I cannot see any kids complaining if these were sitting out on Christmas Day ready to be gobbled up.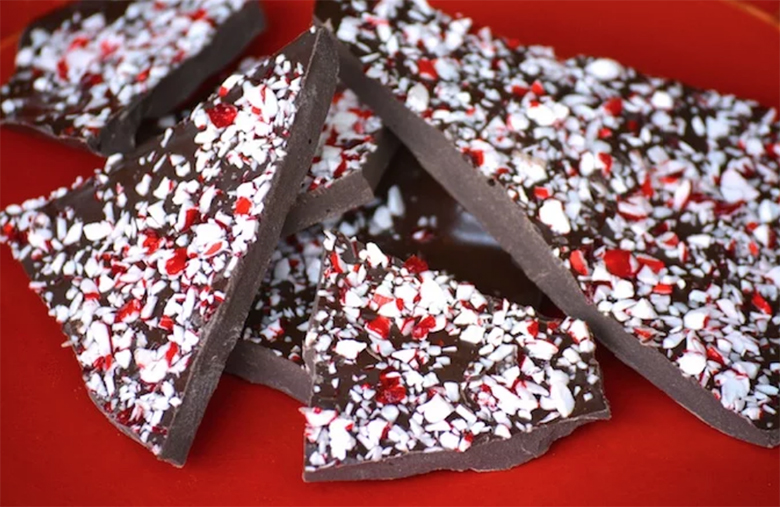 photo credit Primal Palate
I found this Paleo Clean Eating Christmas Cake recipe, so thought it makes another great addition to this recipe post. Baking without flour is difficult when you're trying to achieve the right consistency and texture in dessert recipes, so this is definitely one I would like to try.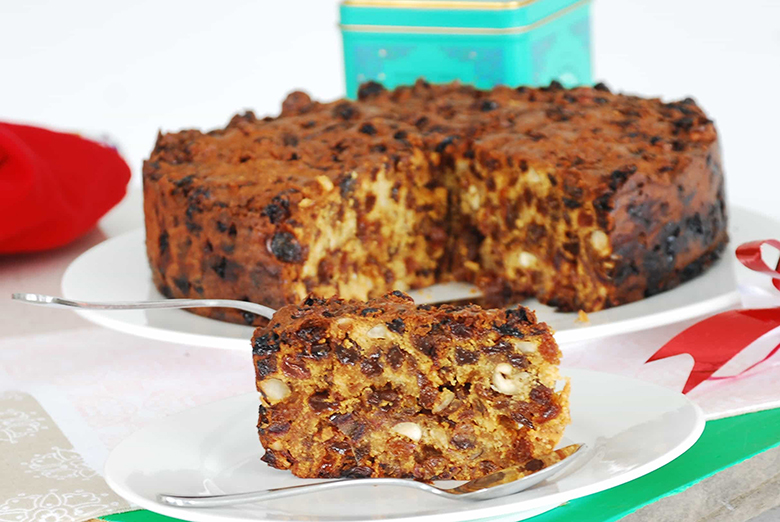 photo credit Forever Fit TV
I just love blueberries and this Blueberry Galette looks so yummy. The way the berries ooze out of the crust makes you want to grab a spoon and just go for it. Any kind of berries just make a Christmas, so I think that no one would be complaining if this was placed on the Christmas dinner table for dessert.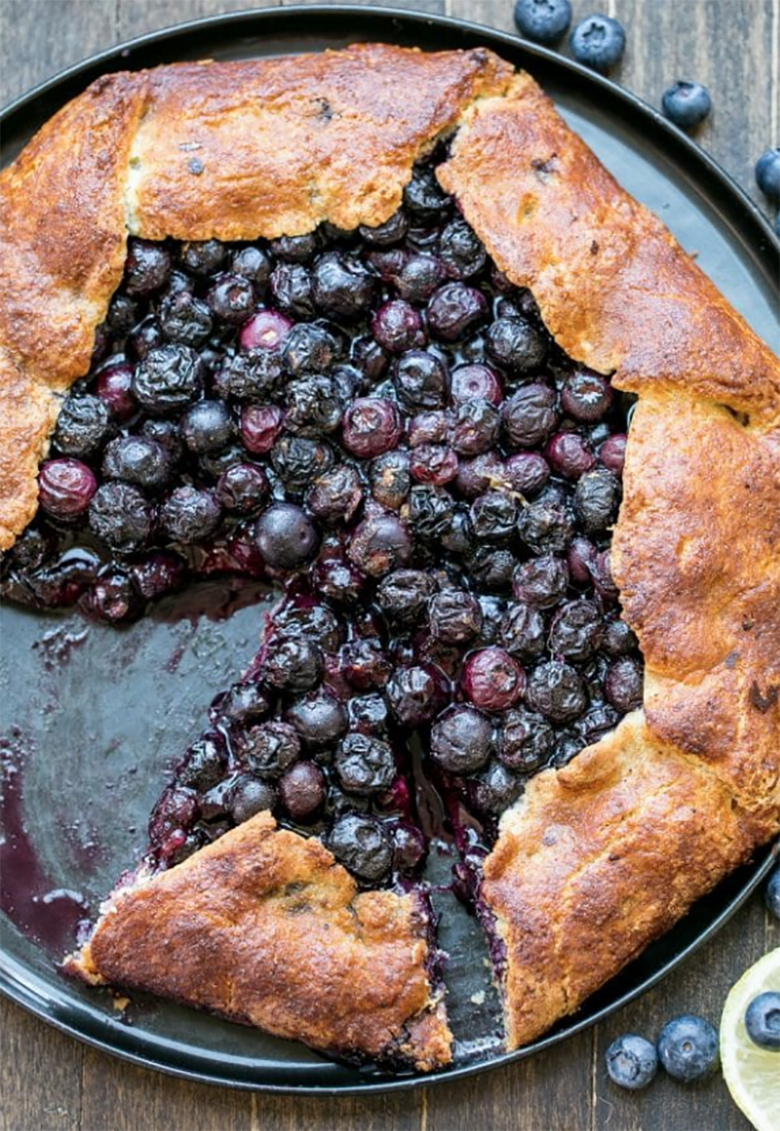 photo credit Bakerita
---
KETO CHRISTMAS DESSERT MENU IDEAS
OMG, who doesn't love chocolate fudge right? And when it's a healthier version that you can indulge on over Christmas, no one can argue with that. So for all you chocoholics out there, enjoy this Keto Chocolate Fudge recipe and let me know what you think.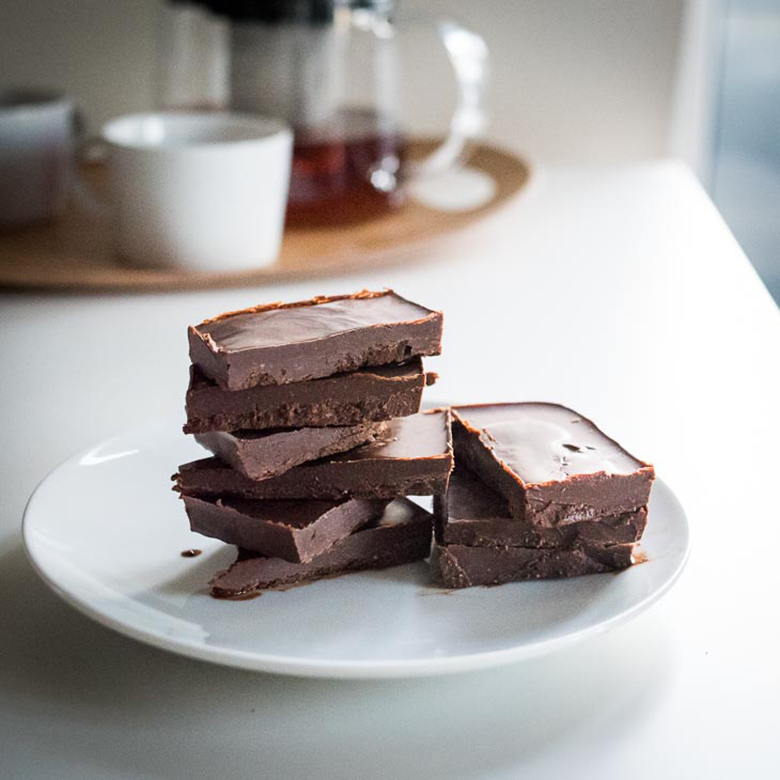 photo credit The Keto Summit
I make my mum's Summer Berry Trifle that isn't Keto or Paleo each year, but for those who have allergies to certain foods and can't eat it, I thought I would see if I could dig up a Keto-approved Trifle for you, and would you believe that I found one? Here's the Keto Trifle which looks pretty good and works well for anyone who has to follow a Keto diet.

photo credit fatforweightloss.com
I thought that these Low Carb Jelly Slices were such a fun and Christmassy looking dessert that would go down very well with the kids on Christmas Day. They would also go well with a coffee for the adults as a late evening dessert snack for anyone still wanting some food decadence.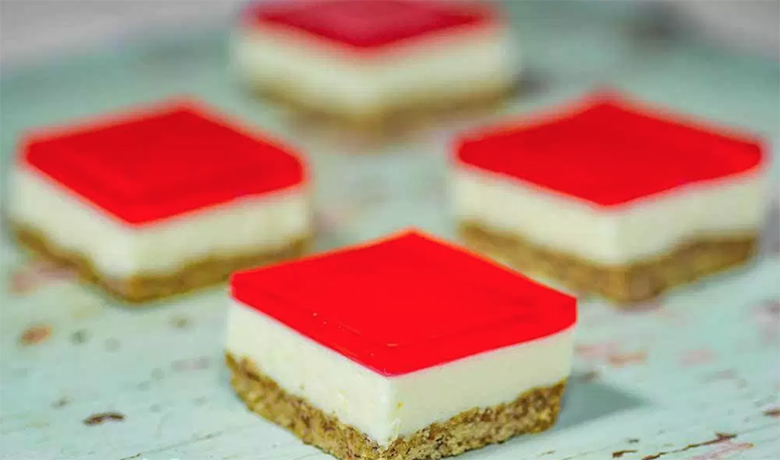 photo credit The Keto Kitchen
Another great recipe substitute for anyone with dairy and other kinds of allergies. For anyone who can't drink the traditional Eggnog that I make, try this recipe alternative and make this Keto-Approved Eggnog. It's a recipe that the kids can have too because there's no alcohol.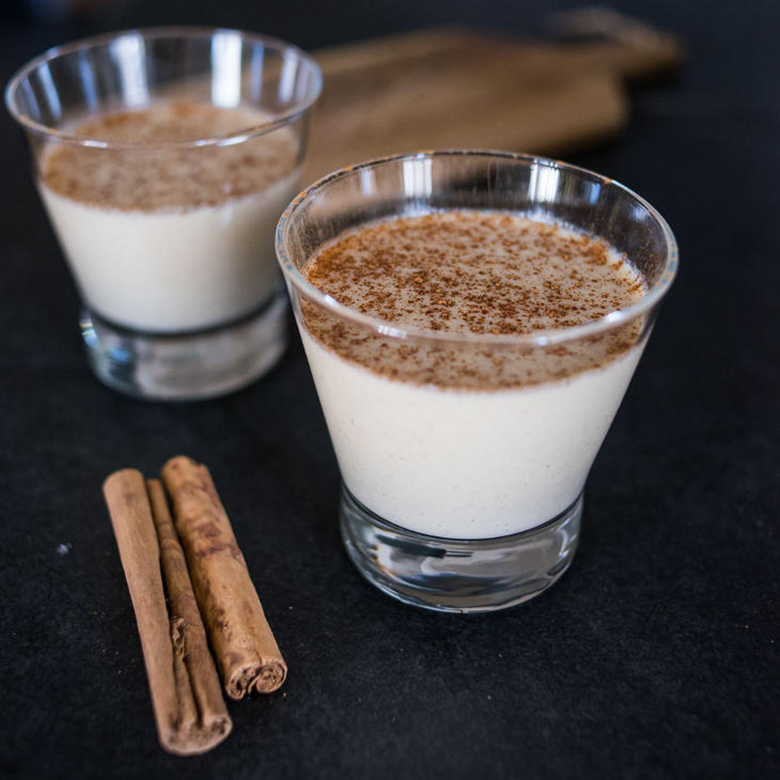 photo credit The Keto Summit
Don't these Baked Brie and Cranberry Festive Cups just look amazing. I think you could make these for any occasion really. I know that they are debatable as to whether these are a dessert or a savoury snack, but I would serve them as a dessert because they have a sweetness to them and just look like they should be a dessert.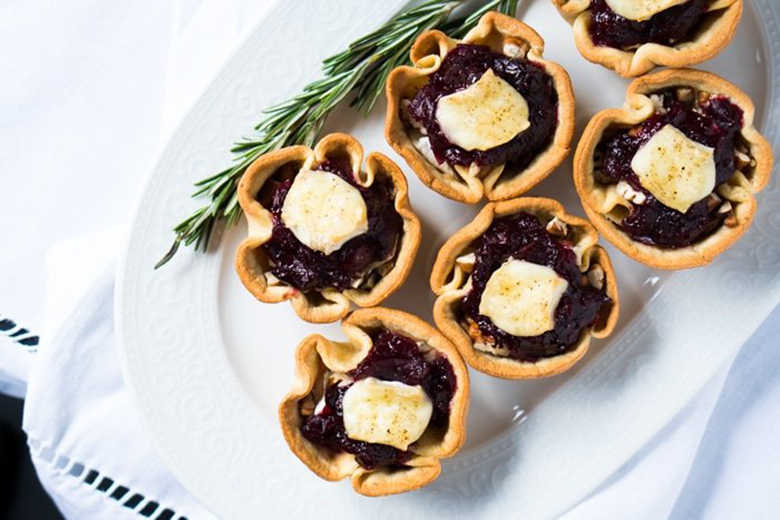 photo credit gnomgnom
---
MORE PALEO RECIPES FOR YOU TO CHECK OUT
For the following PALEO Recipes, Click here.
Instant Pot Curried Sausages
Sweet Potato Beef Nachos
Chicken Tenders
Slow Cooked Braised Steak
Hamburger Buns
Mexican Tuna Steaks
Roast Chicken and Vegetables
5 Ingredient Chocolate Cake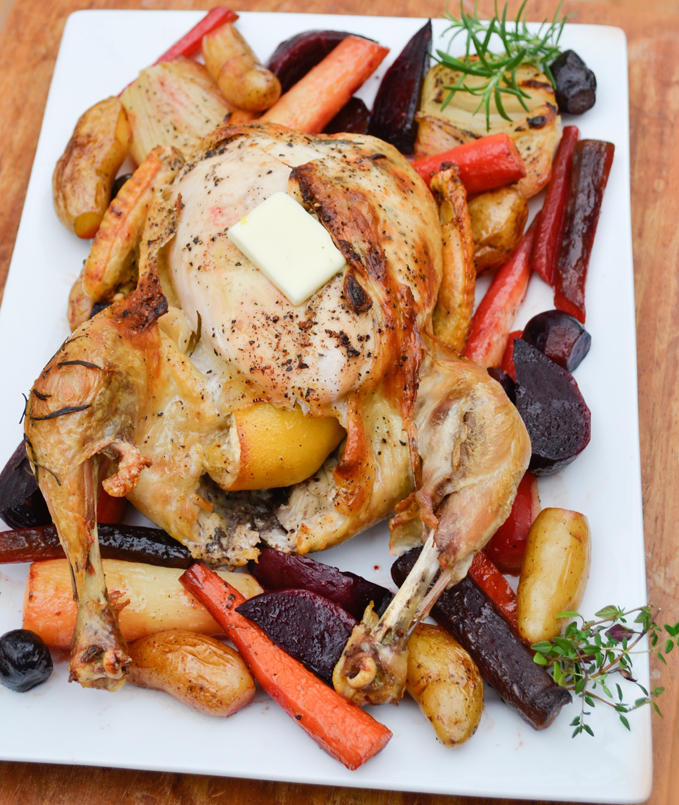 photo credit Going Cavewoman
For the following PALEO Recipes, Click here:
Zucchini & Carrot Spaghetti Bolognaise
Ground Turkey & Spinach Stuffed Mushrooms
Garlic & Chilli Chicken Rissoles with Mago Salsa
Fish Tacos
Pizza Soup
Dairy Free Frittata
Lemon Butter Chicken
Blueberry Muffins
photo credit Real Food With Jessica
---
MORE KETO RECIPES FOR YOU TO CHECK OUT
For the following KETO Recipes, Click here:
Chicken Enchilada Bowl
Lemon Butter Fish
Tomato Feta Soup
Lasagne
Zucchini Custed Pizza
Instant Pot Beef Bourguignon
Lemon Chicken
Chocolate Muffins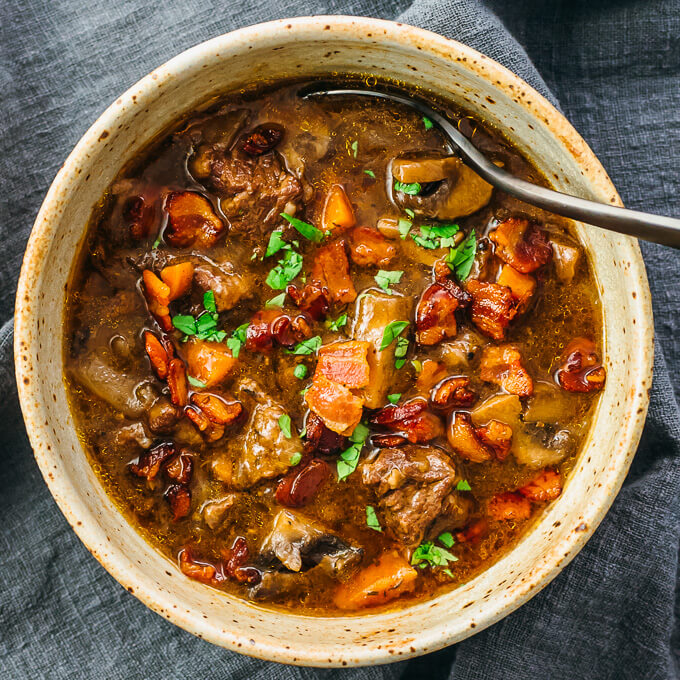 photo credit Savoury Tooth
For the following KETO Recipes, Click here:
Chicken Tomato Zoodles
Taco Cups
Garlic Butter Brazillian Steak
Turkey & Bell Peppers
Sheet Pan Burgers
Garlicky Shrimp Pasta
Sausage, Pepper & Cauliflower Fried Rice
Frozen Cookie Dough Bites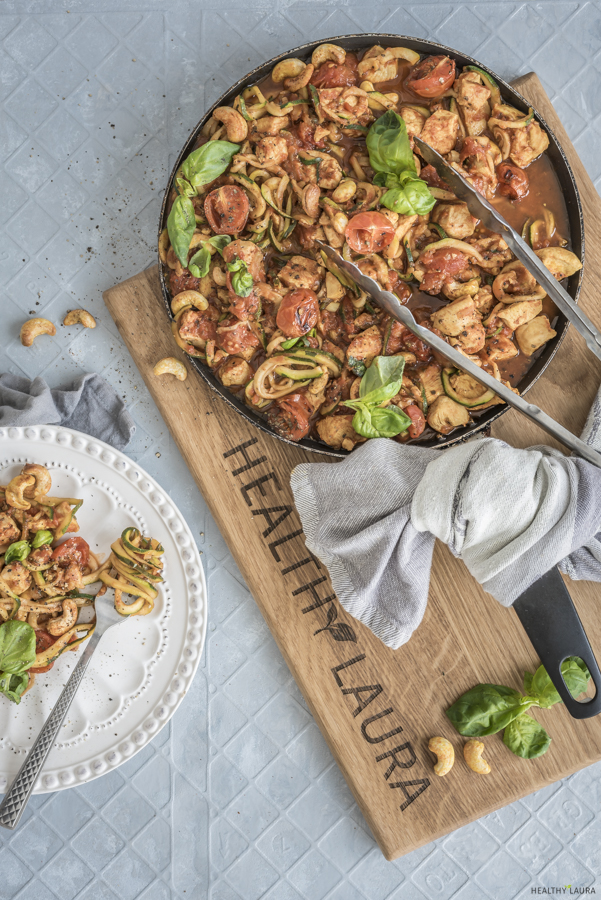 photo credit Health Laura
WHAT PALEO OR KETO RECIPE IS YOUR FAVOURITE FROM THIS POST?