Do you like a hot or cold Christmas lunch?  We have a cold lunch, purely because we are on the Gold Coast, Queensland and it's usually super hot.  I've put together some more recipe ideas with you that would be perfect for Christmas Day lunch. If you haven't planned your Christmas menu yet, you might be able to get some inspiration with a few of the recipes that I've included below. These are the lunch main dishes, I'll be sharing the side dishes with you in the next few days.
I have already planned out my full Christmas menu, but I enjoy finding new recipe inspirations too.  Sometimes I like to sneak in a surprise or two, so if I spot something super good, I might add something to my official Christmas Day Menu. The recipes below are definitely food for thought.
If you have a favourite recipe, please leave it in the comments below!!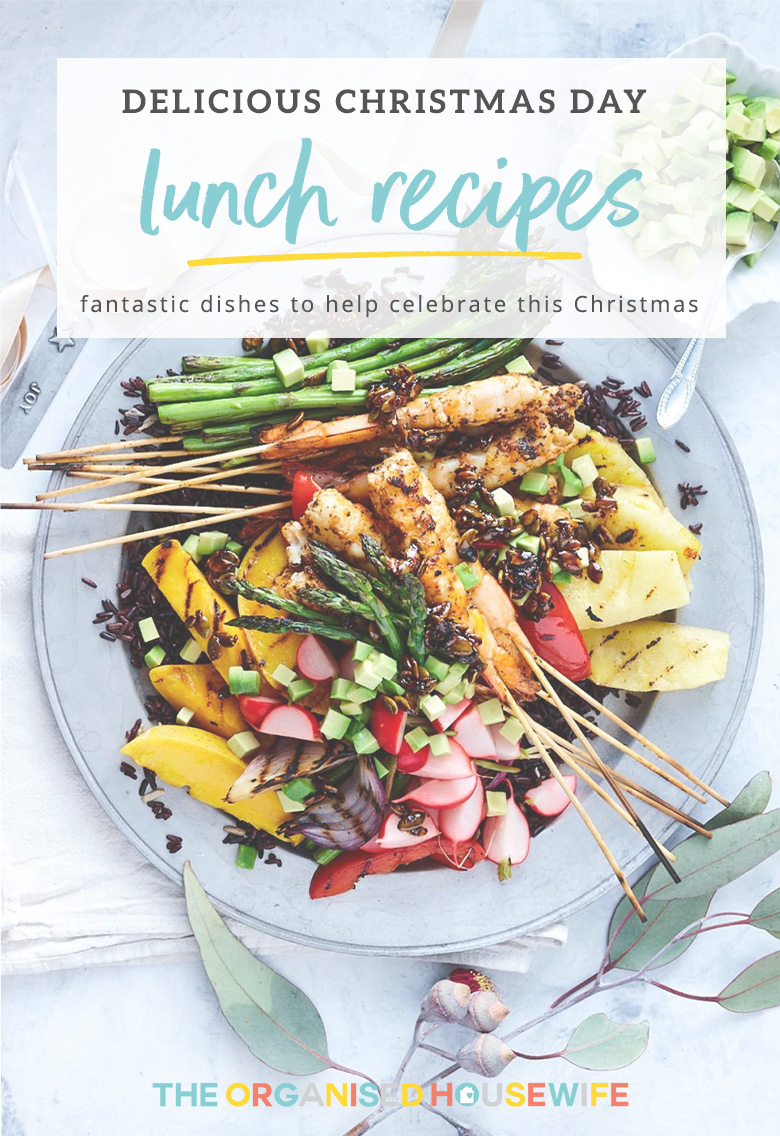 ---
MY CHRISTMAS DAY MENU I'M MAKING FOR MY FAMILY THIS YEAR – if you haven't seen my post on what I'm cooking for Christmas Lunch/Dinner and still need more ideas for your Christmas Day, check out my All Day Christmas Menu.

---
ENTICING CHRISTMAS LUNCH RECIPE IDEAS
It's hard work carving a turkey at the dinner table while everyone waits for it and stares at you because they're hungry. I pre-carve in the turkey to avoid that part but I also really like this Christmas Turkey With All The Trimmings recipe because it gives a turkey new life for the lunch banquet and is a little less work than a standard bird. It also looks absolutely delicious with the way it has been prepared. Yummo!!!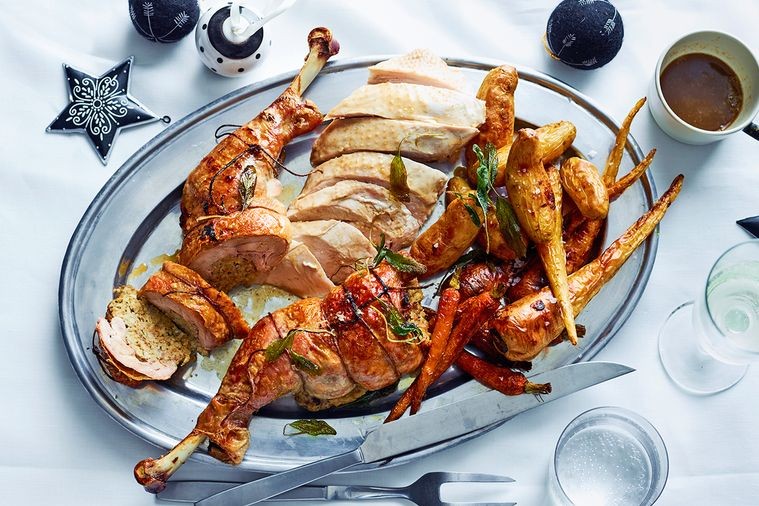 image credit delicious
This Brie, Walnut and Cranberry Stuffed Turley Breast is such a great way to alter the usual Christmas Turkey. You still have your stuffing and Turkey, but it's made into a roll which can be carved up easily and served fast, without the mess and hard work of the usual carving that takes place on Christmas Day.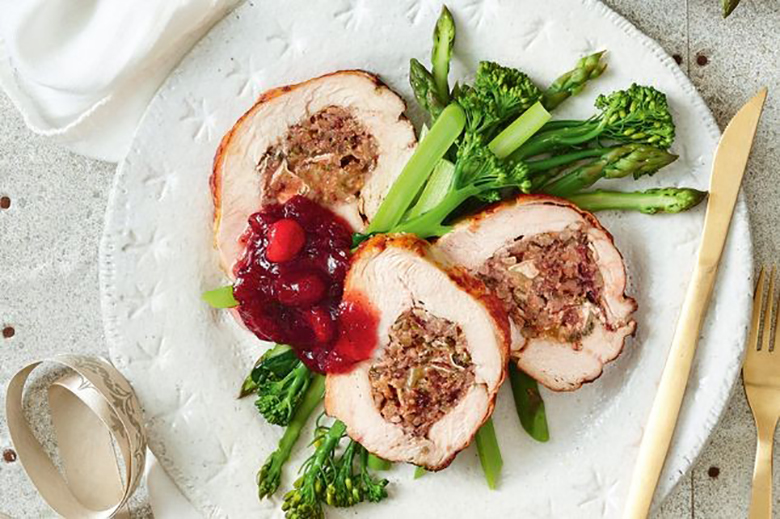 image credit Taste.com
Ok, so I keep finding more and more amazing Turkey recipes so I'm sorry for all the Turkey foodporn, but this one needs to be shared. Look how Delish this Peach Roast Turkey looks. It looks cooked to perfection and I bet the peach flavours come out beautifully.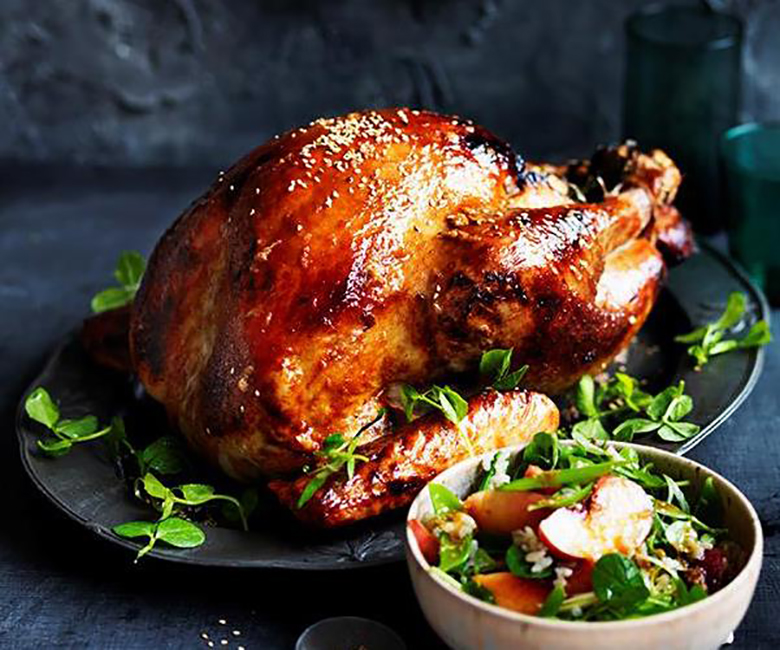 image credit Gourmet Traveller
Ok, last Turkey recipe in here, I promise, but this one looks pretty delicious too.!! The nuttiness of the macadamia and salty pancetta in this Stuffed Turkey Breast would make this Turkey dish pretty delectable on Christmas Day.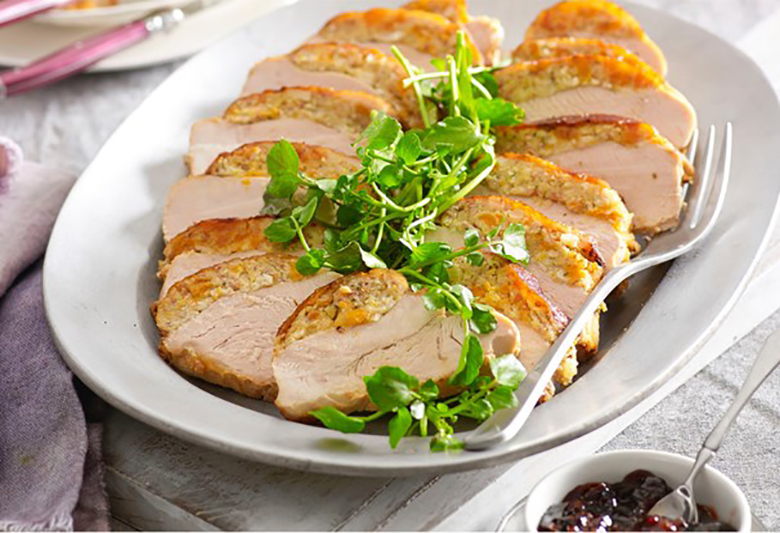 photo credit New Idea Food 
If you're doing a Christmas barbecue outside instead of the traditional style lunch or dinner, this Summer Barbecue Prawn Platter is a crowd pleaser. OMG, I just want to pinch one of those skewers right off that plate. Really considering adding this one to my All Day Christmas Menu because it just looks so pretty and Christmassy.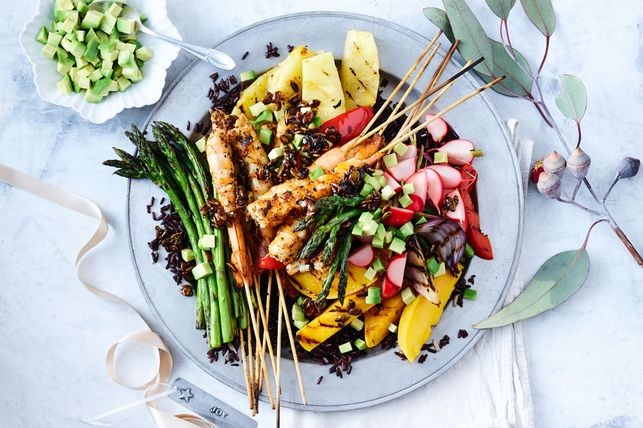 image credit taste.com
My Dad loves cold Roast pork for Christmas. Although it's not one of my go-to Christmas lunch ideas, he loves making it the day before Christmas and then serving it cold for a refreshings summer Christmas Day meal. Here's my recipe Roast Pork with Caramelised Apples and Onions.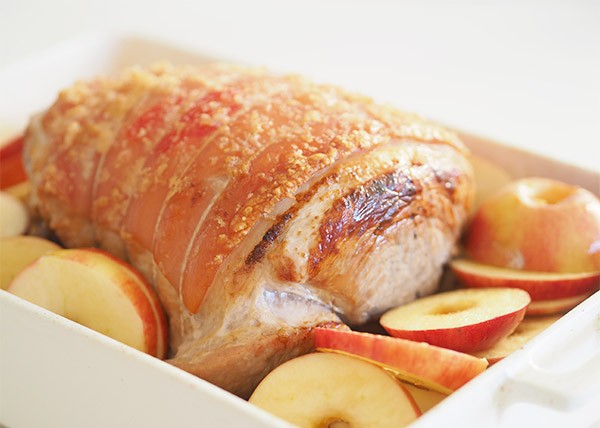 Gosh, I just love Lobster, don't you? It's such a delectable seafood. I know that it does put a strain on your Christmas food budget but sometimes it's just good to splurge on the good things in life. Look at this beautiful BBQ Lobster Tail, Lemon Drawn Butter & Corn-radish Salad recipe.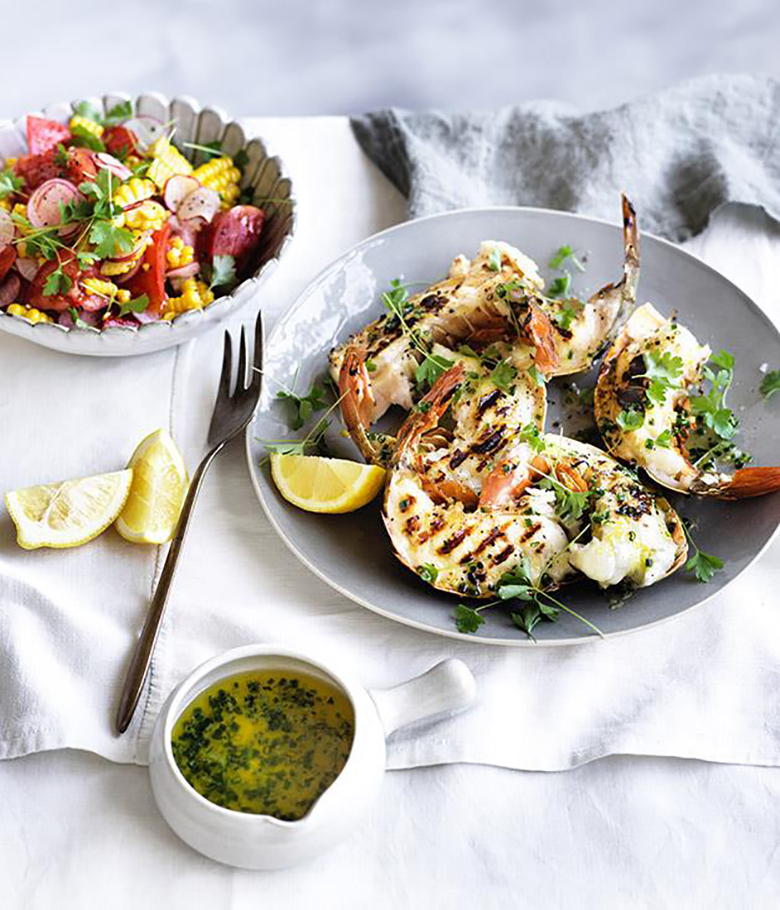 photo credit Gourmet Traveller
My Savoury Christmas Tart is a vegetarian alternative for guests who don't eat meat at Christmas. Don't let this special tart deceive you though, because it's absolutely delicious, tastes amazing and even the meat eaters on Christmas Day don't notice it's meatless! I am so proud of this recipe.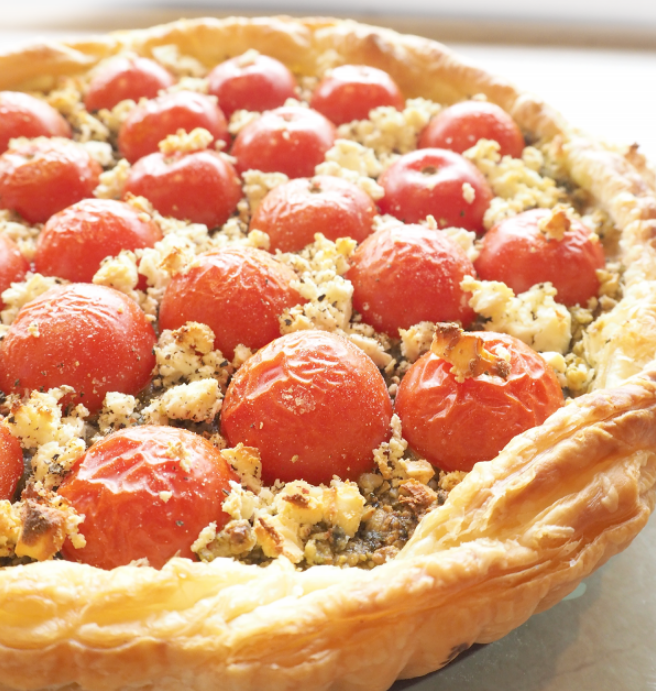 Seafood is such a favourite at Christmas, especially with us living in tropical Queensland. I just love fish, and this Prosciutto-wrapped Trout With Cured Zucchini Salad just looks so delicious and inviting. Don't you just want to take your fork and get into that fish belly?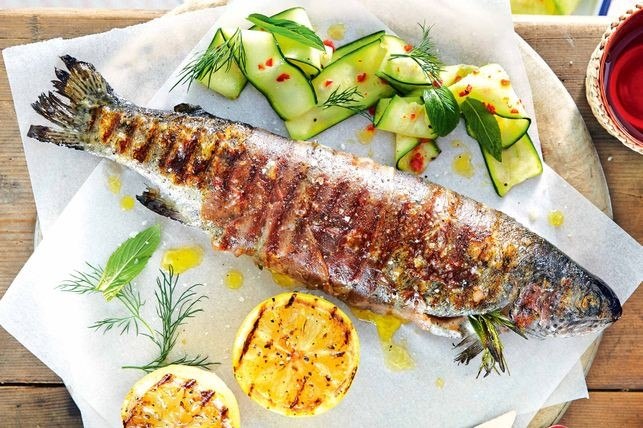 image credit taste.com
Another vegetarian alternative for those herbivores coming to your dinner table on Christmas Day. How pretty does this Layered Vegetable Pie look!! With a little organisation and pre-prepping work, you could serve this one as an all day Christmas Food option. It looks so yummy.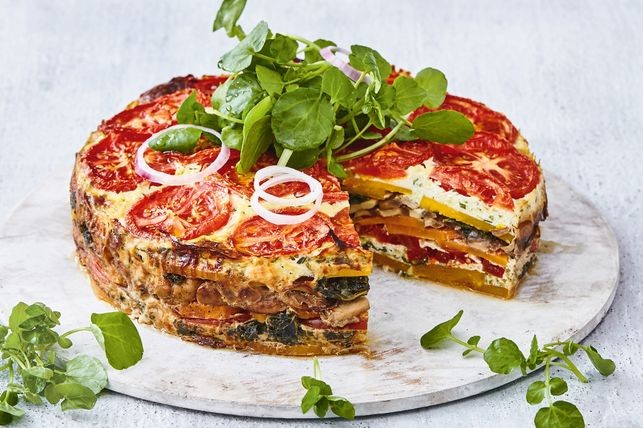 image credit taste.com
This recipe was shared on my blog by a guest called Pippa from Foodie Mum's Kitchen a few years back and was originally from Donna Hay. It's such a delicious soup that I thought I would add it here, because sometimes a soup at the Christmas table can be a great alternative for a light meal for those who mostly graze food, rather than eating a large amount at once. Have it sitting in a slow cooker on low so that it stays warm and guests can help themselves.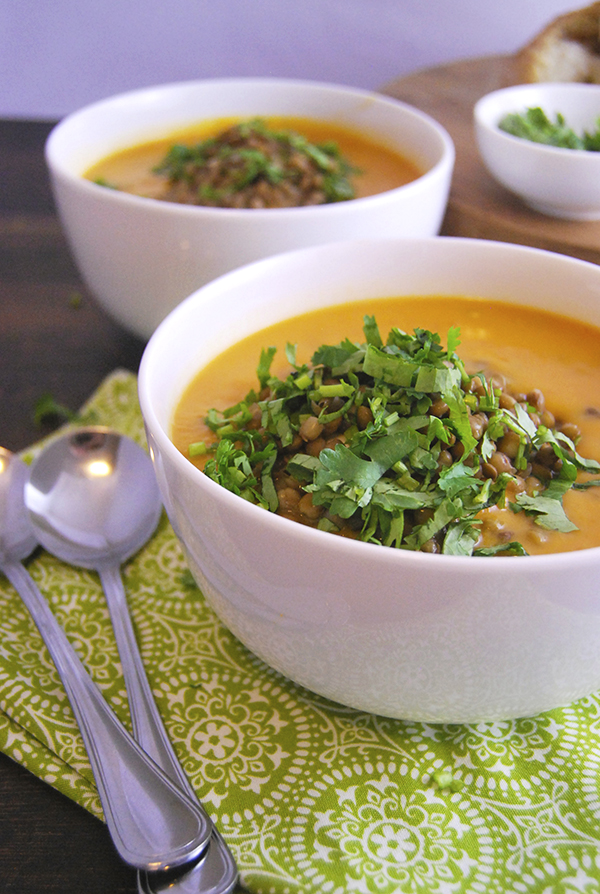 A friend of mine swears by this Baked Guinness Ham recipe and makes it every year. The Guinness, together with the maple syrup used in this recipe is apparently a wonderful combination, and the ham cooks to perfection with the meat tenderly falling off the bone.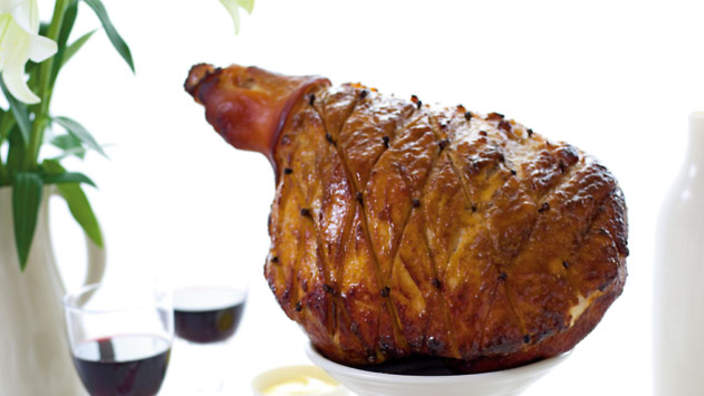 image credit sbs.com.au
I also found this Cola Glazed Ham with Fruits which I thought sounded really scrumptious as well. Whatever kind of flavouring you use for your ham this year, please share and let me know how it all tasted.
image credit New Idea Food
This Salmon and Spinach Quiche recipe is another one I created and I think it's perfect for an outdoor Christmas lunch if you're serving mostly cold foods. It's so yummy cold and served straight out of the fridge. What's best about this one, is that you can bake it the night before and have it as another extra side dish to provide your guests with food alternatives.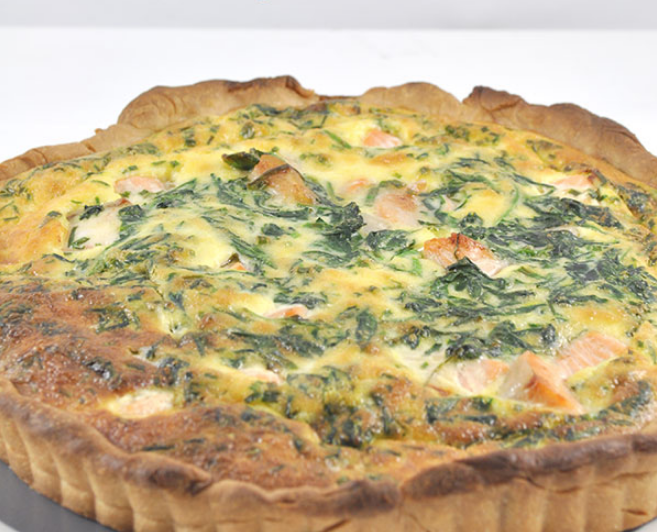 WHAT IS A CHRISTMAS LUNCH DISH THAT YOU CANNOT LIVE WITHOUT?