Are you super excited that there are only 12 days left before Santa comes? Not only that but in exactly 12 days, we have to become the most amazing organised housewives that we can be. Your goal is to be able to feed the whole family, extended family and friends on Christmas Day and still have leftovers for Boxing Day. So how do we do this and still be able to have a great time ourselves? We find great recipes that are delicious, yet will save us time on the day. I always precook whatever I can, so if you can cook dishes the day before, do it and make it easier for yourself. Christmas Dinner recipes can range from traditional turkeys and potato salads to some unique dishes too, so don't be afraid to make something out of the ordinary. No one ever said that we had to stick to the traditional dishes, so why not try something different and special this year. I couldn't help myself and thought I would see what Jamie Oliver is sharing, and also some other famous Chefs. I've added some special Christmas recipes that I found, and also included one of my own recipes in this collection as well. Enjoy today's foodporn spread, which I know will make your mouth water.
If you have a favourite recipe, please leave it in the comments below!!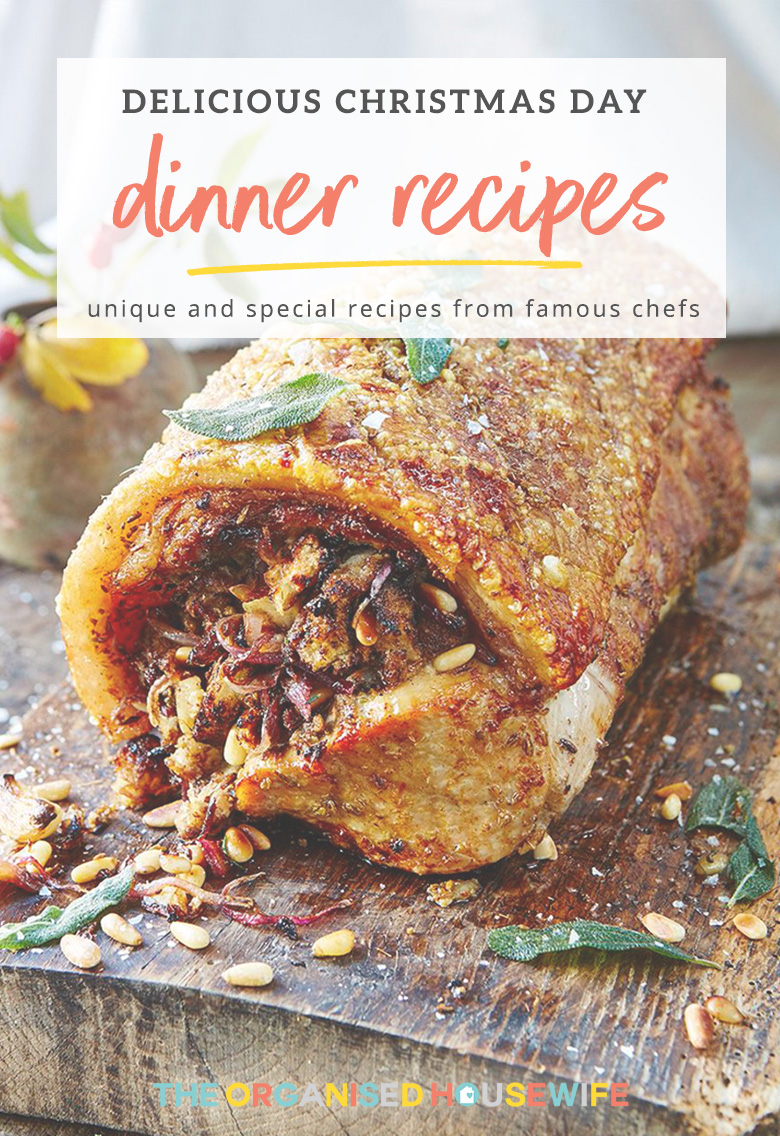 ---
MY CHRISTMAS DAY MENU I'M MAKING FOR MY FAMILY THIS YEAR – if you haven't seen my post on what I'm cooking for Christmas Lunch/Dinner and still need more ideas for your Christmas Day, check out my All Day Christmas Menu.


---
ENTICING CHRISTMAS DINNER RECIPE IDEAS
A plate of fresh oysters just looks so lovely as a centrepiece at the Christmas Dinner table. I know that not everyone loves oysters, but for those who do, Matt Moran has really outdone himself with these Christmas Oysters with Chardonnay Dressing. Very decadent and very summery. Yummo!!!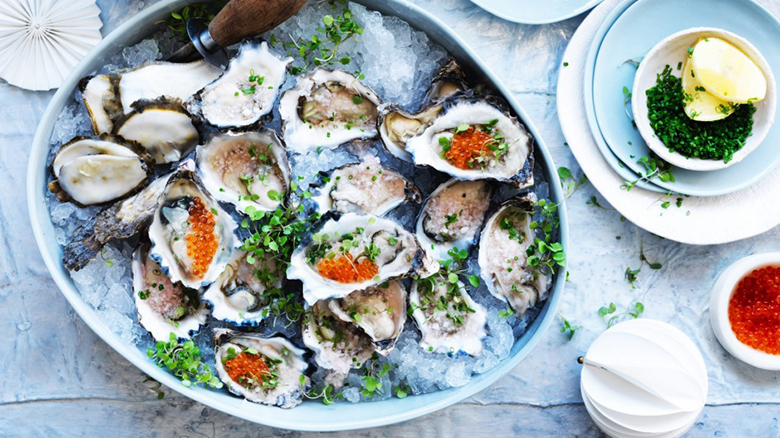 Serving some kind of pie on Christmas Day is a really smart idea because it creates more of a chance that you will be able to cater for everyone's taste buds. I found this yummy Egg and Bacon Pie from Nigella Lawson. This is a dish that could be baked the day before and served either hot or cold. Again it gives your guests different options of what to eat.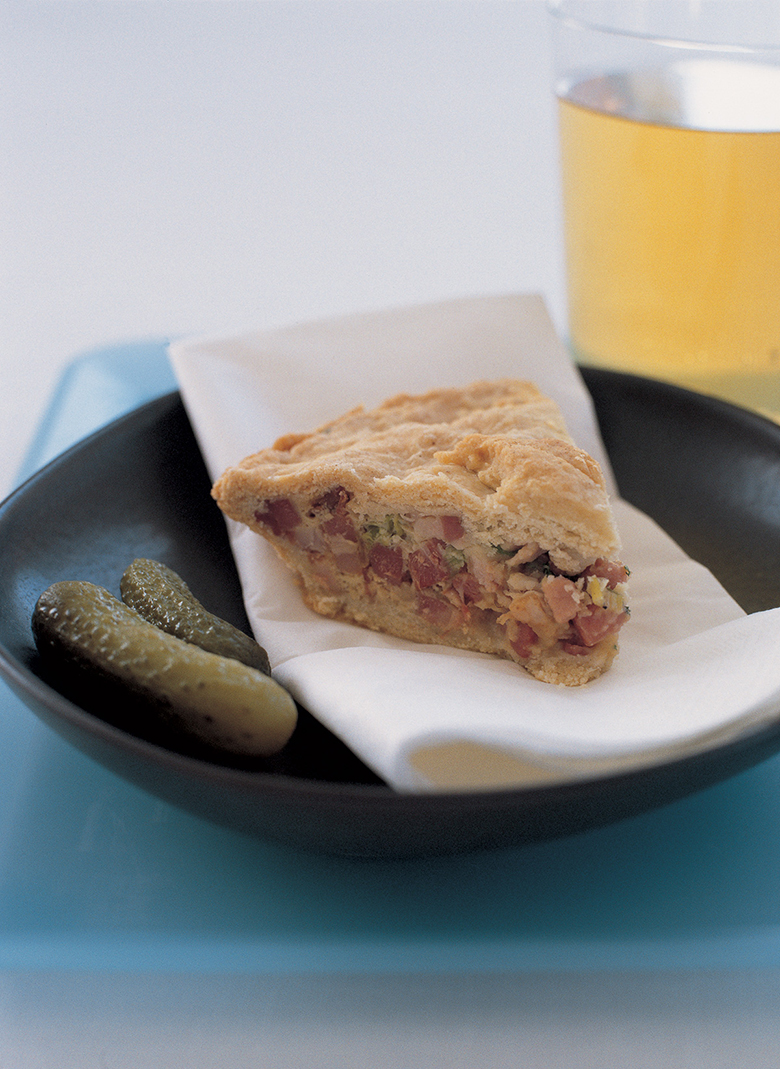 photo credit Nigella.com
Who doesn't eat prawns on Christmas Day! These Barbeque Prawns with Passionfruit Ponzu are from Curtis Stone. This is a great dish that could actually be cooked by some husbands who are sitting around with their drinks in hand, enjoying their stress-free Christmas Day while us wive's work super hard. Prepare and marinade the night before and see if you can encourage some of the men to throw these on the barbeque just before you're ready to serve everything. I'm sure the men won't mind too much.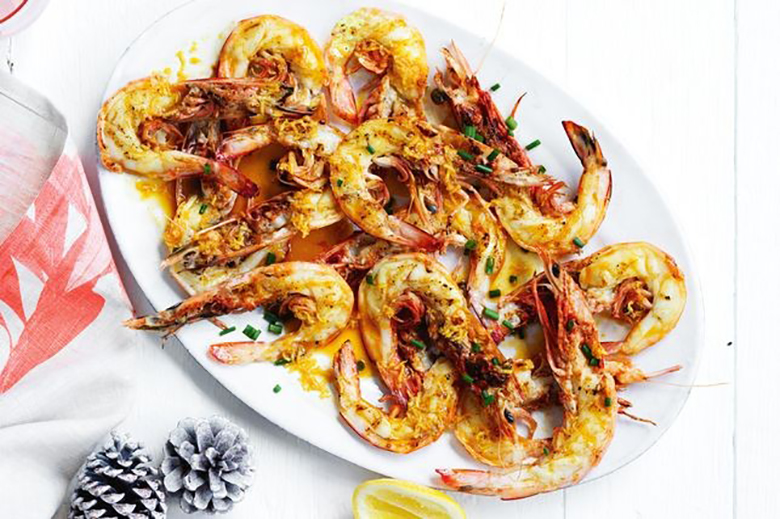 photo credit Taste.com
Whether you serve a potato bake or a potato salad at Christmas, as long as there is a potato dish, you can't go wrong. This dish is my Leeky Potato Bake and makes a great side dish on Christmas Day. It also pleases the vegetarians at my Christmas Dinner table, so everyone will be happy.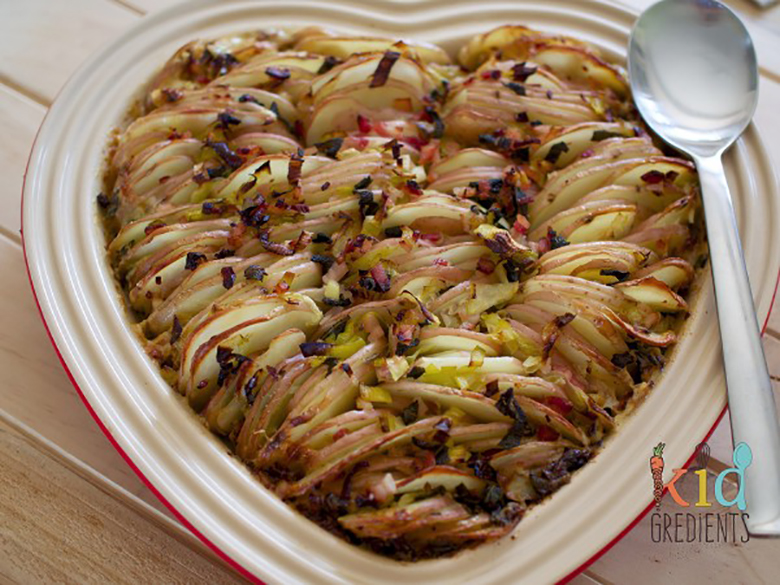 CHRISTMAS SCOTCH EGGS – HESTON BLUMENTHAL
Heston's Christmas Scotch Eggs enticed me to add this recipe to the Christmas Dinner ideas collection. Don't they just look deliciously good? Who wouldn't want to add one of these to their plate for Christmas Dinner? Again these could be cooked in advance and served cold on the day.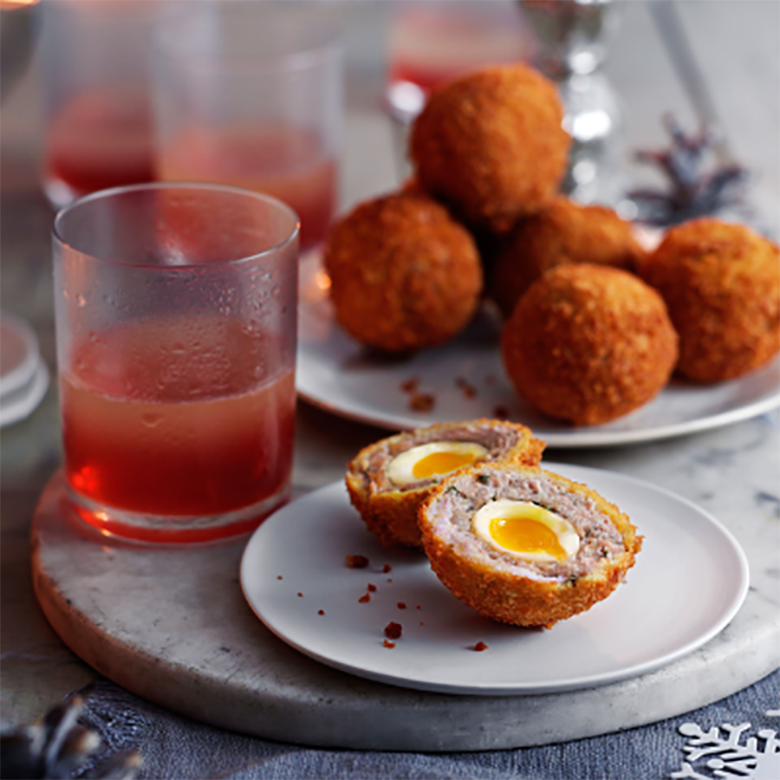 photo credit waitrose.com
Who can resist a Maggie Beer original dish!! Not only does this Capsicum and Eggplant Roulade look really pretty on the plate, it looks really yummy too. It's also something unique that you could serve and again, this could be prepared the day before and served cold. Delish!!!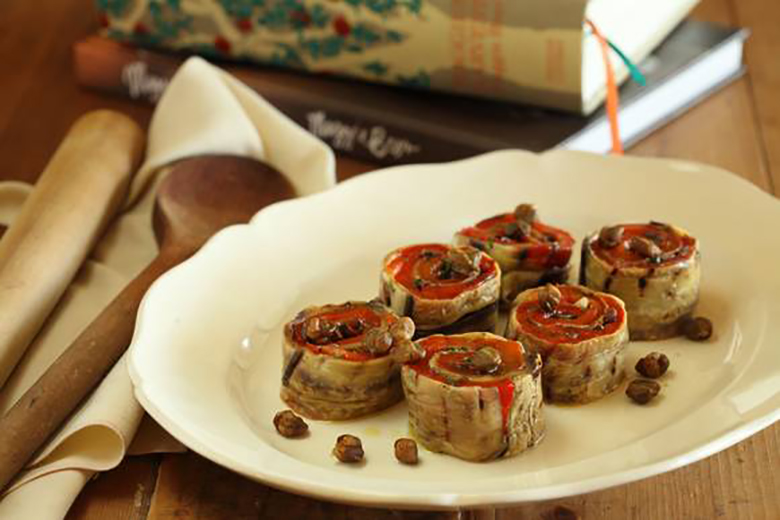 photo credit maggiebeer.com
You gotta love a good piece of fish and Gordon's recipe reminds me of a beef wellington, only it's like a salmon wellington. This dish of Salmon En Croute is bound to impress any pescetarians that drop in for Christmas Dinner. Actually, this one will impress practically anyone who eats at your table.  What a lovely alternative to usual Turkey.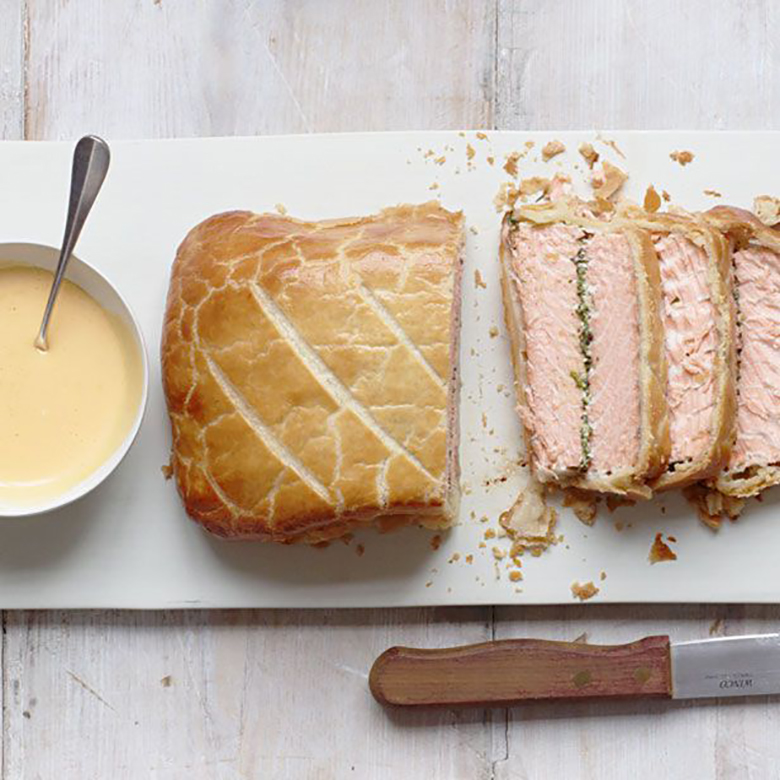 photo credit redonline.co.uk
Jamie Oliver has some incredible Christmas dishes out this year, but one that really tickled my fancy was this Pork Loin With Herby Stuffing because it only takes 1.5 hours from start to end and Jamie writes that it's not too tricky as a recipe. The crackling is seasoned with fennel and rosemary and the whole dish just looks delicious. Not everyone wants Turkey and Ham on Christmas Day, so this could be a great meat dish to sneak into your Christmas menu.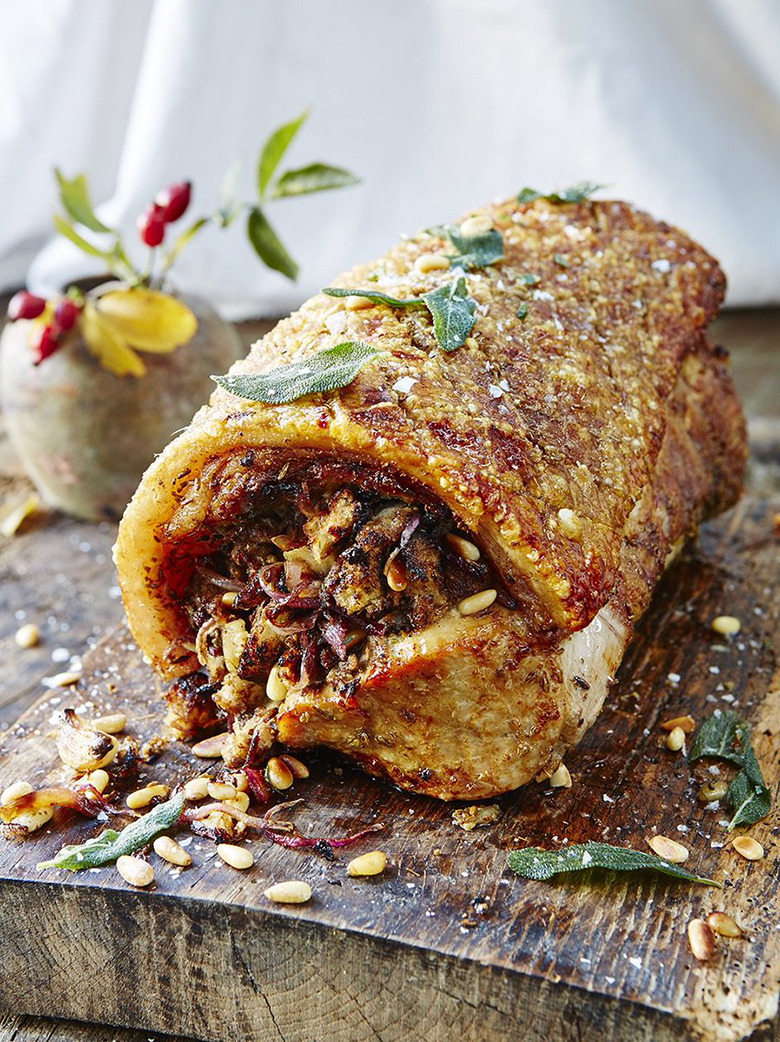 photo credit Jamie Oliver
WHAT'S YOUR FAVOURITE CHRISTMAS SEAFOOD DISH?