Five different Christmas cookie decoration and flavour ideas, all created from one quick and simple four-ingredient cookie dough mix!
With Christmas just around the corner, I decided to take my favourite four ingredient cookie recipe and try my hand at creating five fun, festive, and easy Christmas decorated cookies. These cookies were soft, buttery, and down-right delicious! It's one of my all-time favourite go-to recipes, plus the Christmas themed decorations make them perfect for gift-giving this time of year too!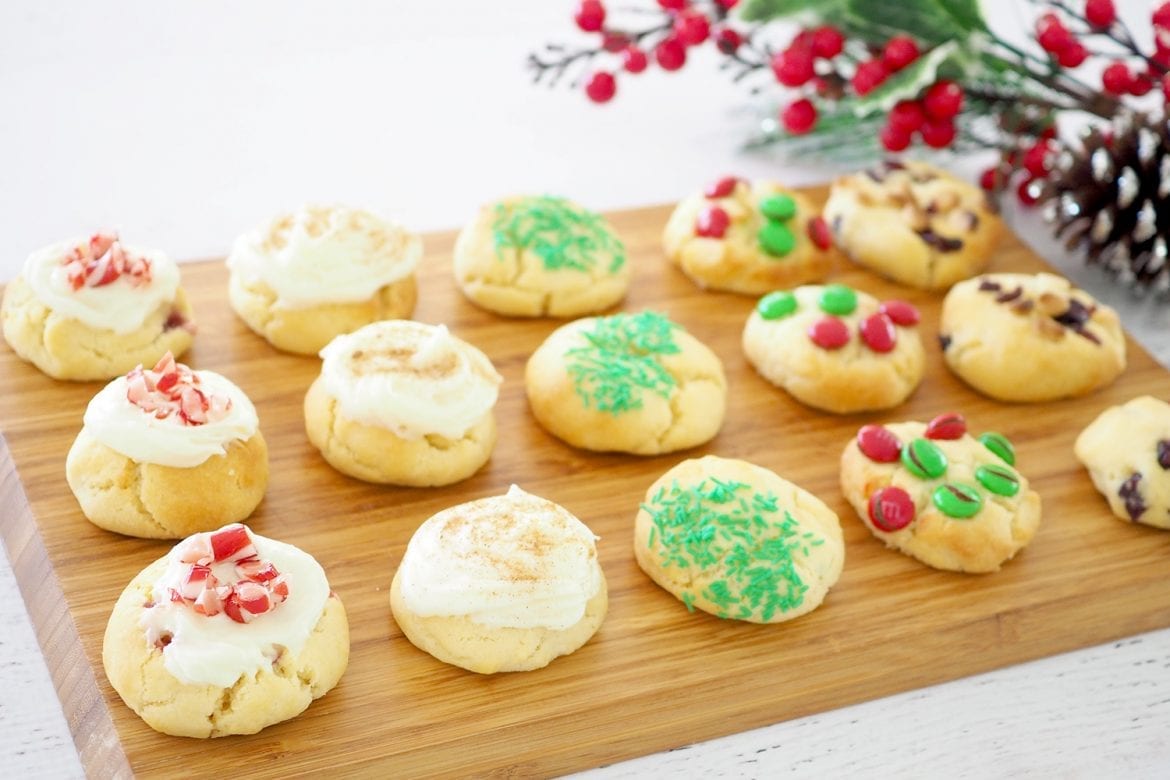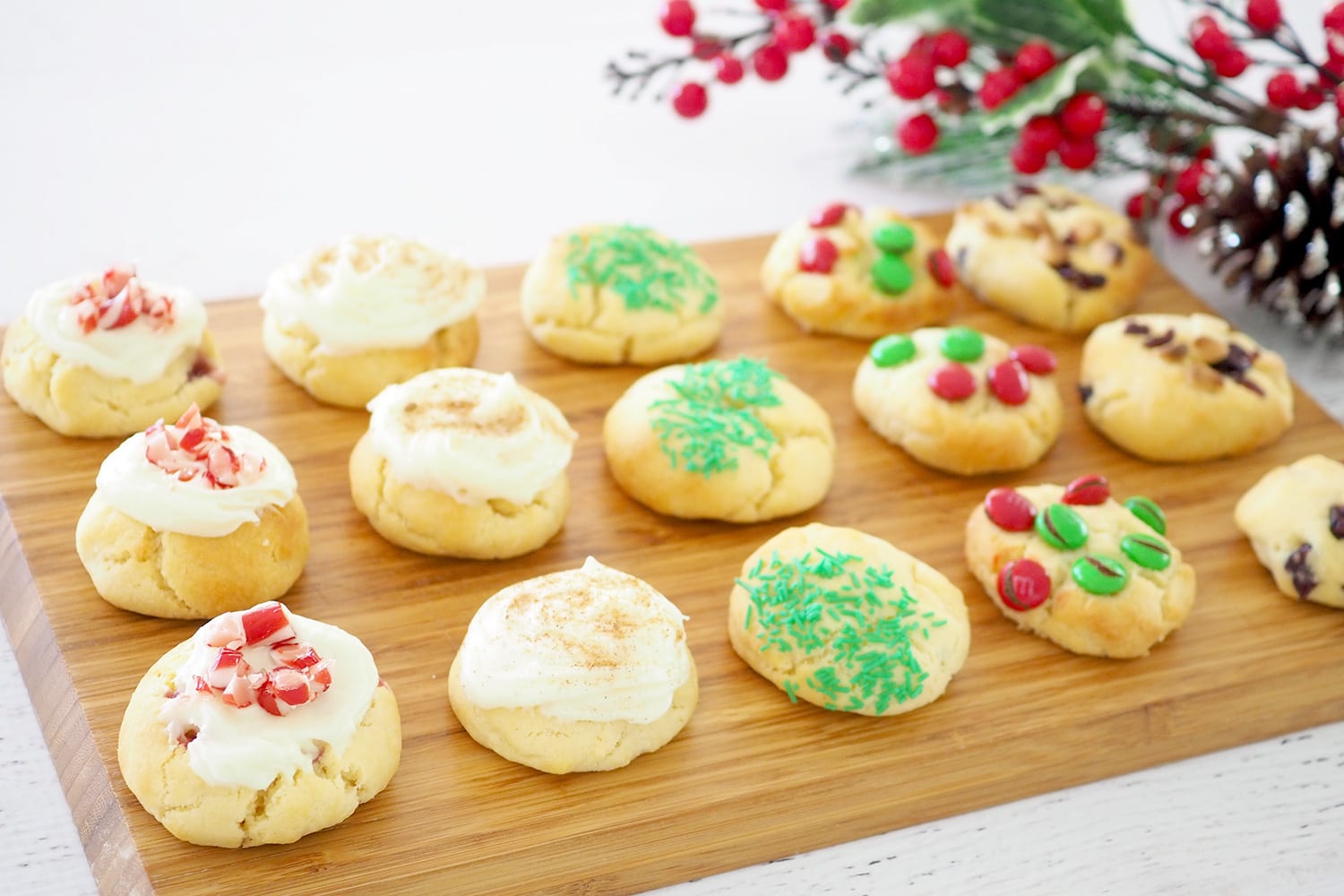 To make any of these cookies, you start with my quick and simple 100+ Cookies From 1 Mix recipe. The cookies only take 20 minutes to prepare and bake, and the options for decorating them are near endless! I love to get creative with my kids in the kitchen and come up with our own playful and unique decoration ideas.
We gathered some festive ingredients to add to the 100+ Cookies From 1 Mix recipe. Some ingredients we added to the mix, and some were added to the top after they were baked. I used approximately 3/4 cup of festive ingredients in each portion, then 1/4 cup leftover to decorate the top of the cookies.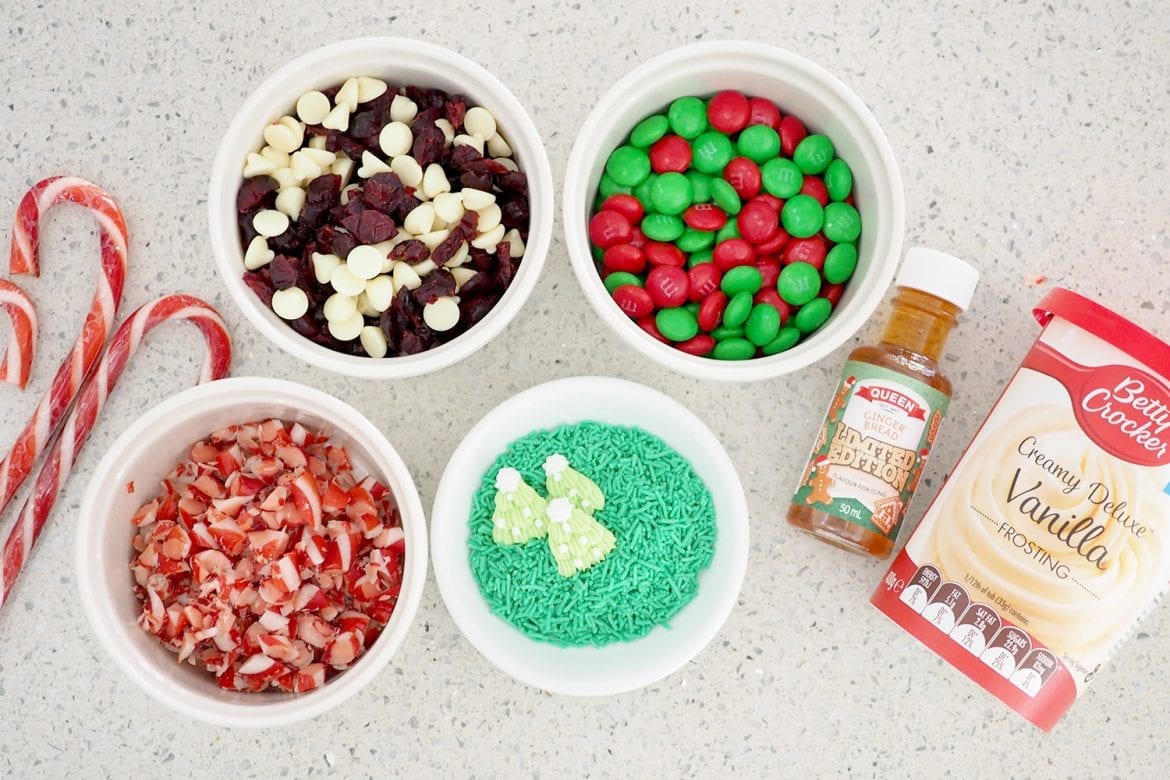 To start, divide your cookie mixture into five even portions, or if you only wish to try four of these options then simply divide into four portions.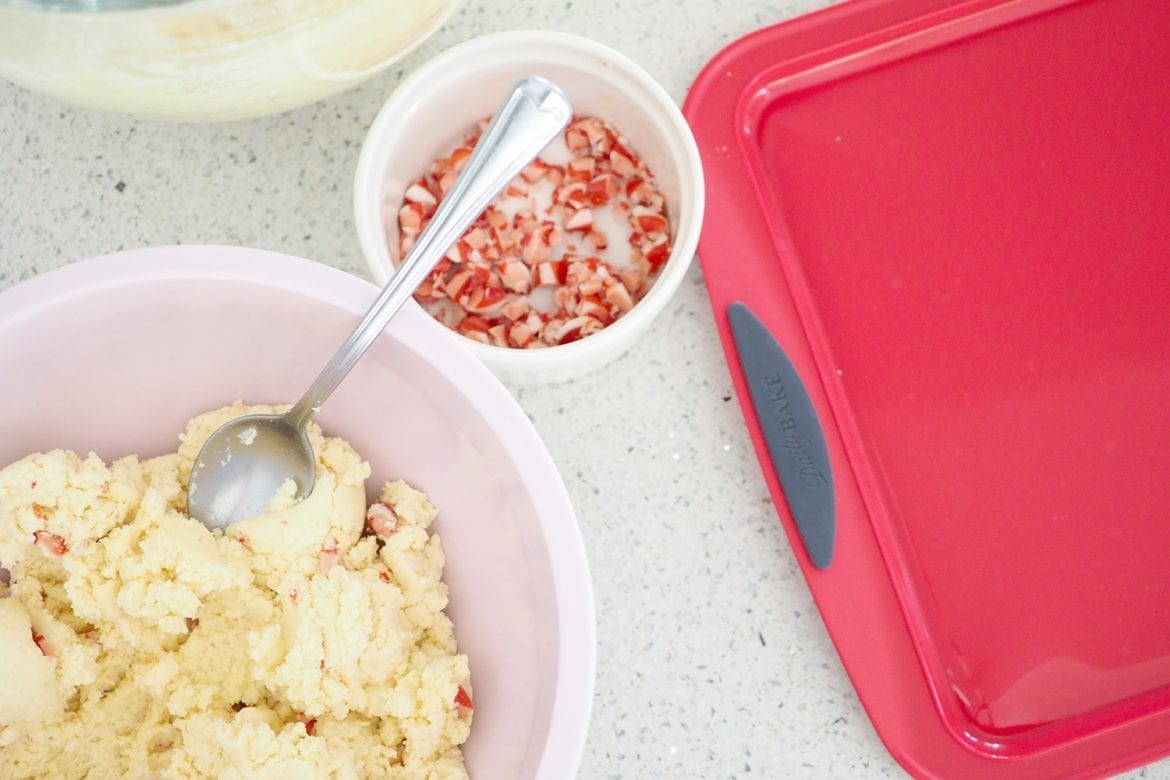 When it came to topping one batch of cookies with M&Ms, and another with cranberries and white chocolate, I dipped each rolled tablespoon of dough into the bowl of the topping ingredients. This was much easier than pressing the individual topping ingredients into the cookies whilst they were on the tray.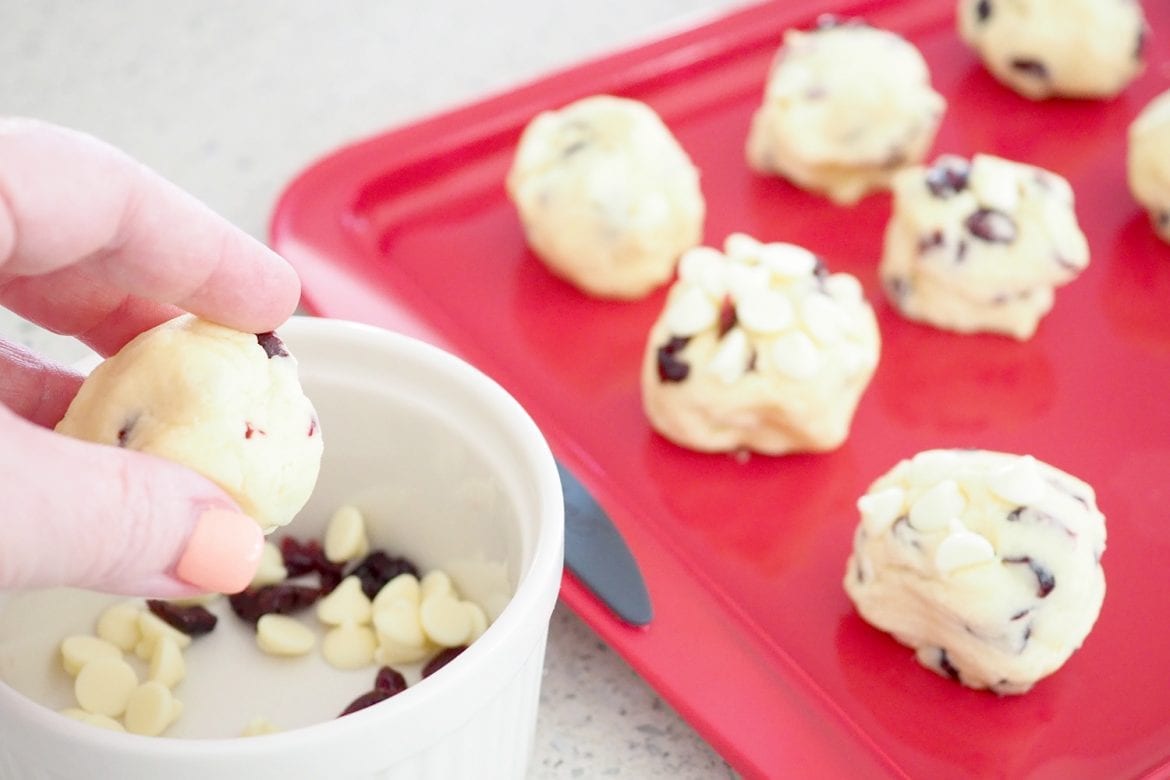 One of my genius ideas was to top some cookies with left over crushed candy canes, but little did I know they would actually melt everywhere and make a huge mess! I was pretty happy that I used my silicone baking tray (which I love!), because it made clean-up a breeze! Lets just say the cookies looked terrible, the candy canes made a mess, but my family thought they tasted delicious!
If you're wanting to try your hand at these delicious cookies, I suggest grabbing one of these silicone tray – it made clean-up so simple! I now stock these trays in my shop, see our range of Silicone Bakeware here.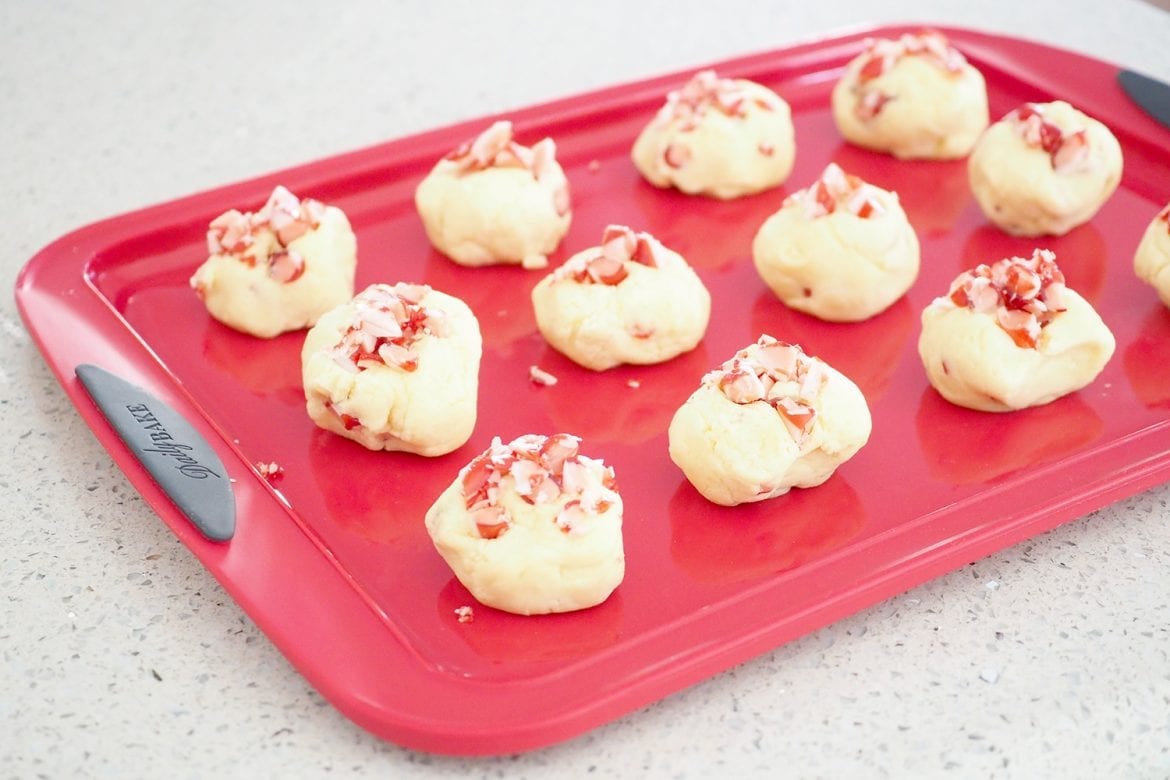 Five Different Christmas Cookie Flavours
Cranberry + White Chocolate – a yummy combination. I love chocolate and fruit together, it always reminds me of Christmas!
Green Sprinkles – These green sprinkle cookies remind me of The Grinch, and were so simple to make!
Coconut + Christmas M&Ms – I love M&Ms, and I especially love that we only included the red and green M&Ms in these cookies… which meant that we simply had to eat all the other colours – LOL!
Gingerbread + Iced Nutmeg –  I added gingerbread essence to the cookie mixture when making these cookies, and then added nutmeg to the pre-made icing that I used to ice them. Quick, simple, and oh-so-tasty!
Iced Candy Cane – looked terrible, messy to make, but the family loved them! Remember to use a silicone baking tray.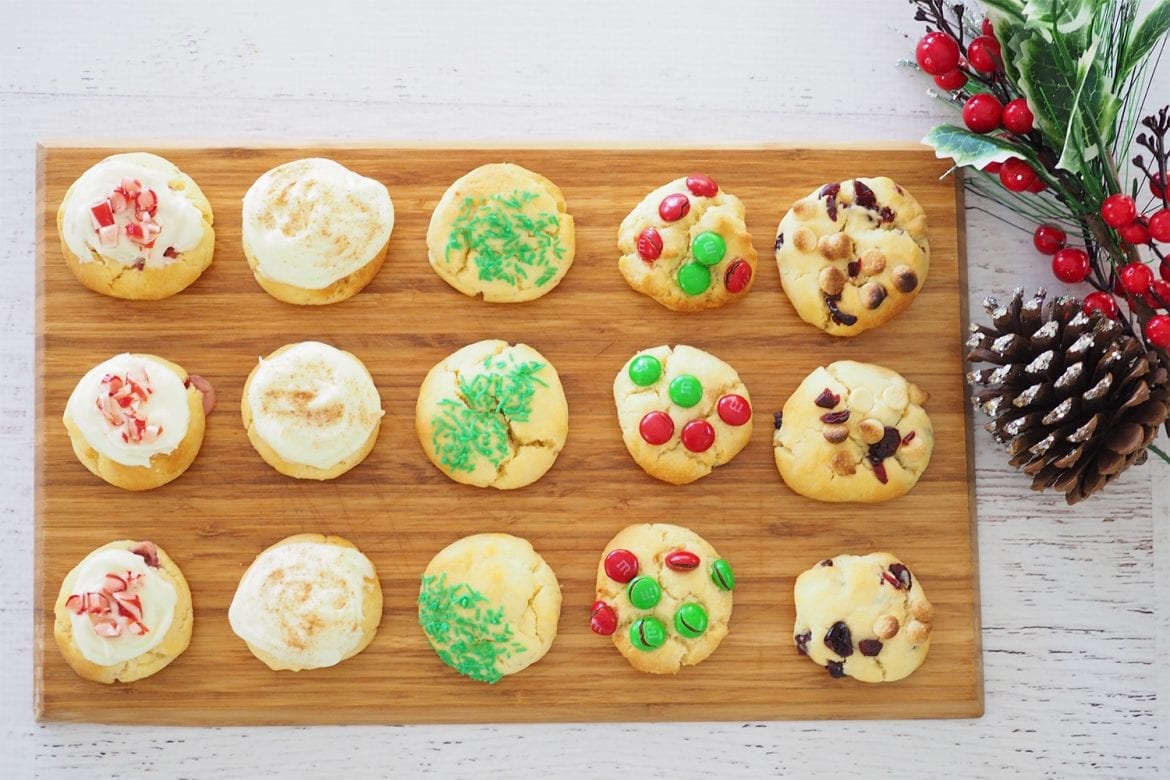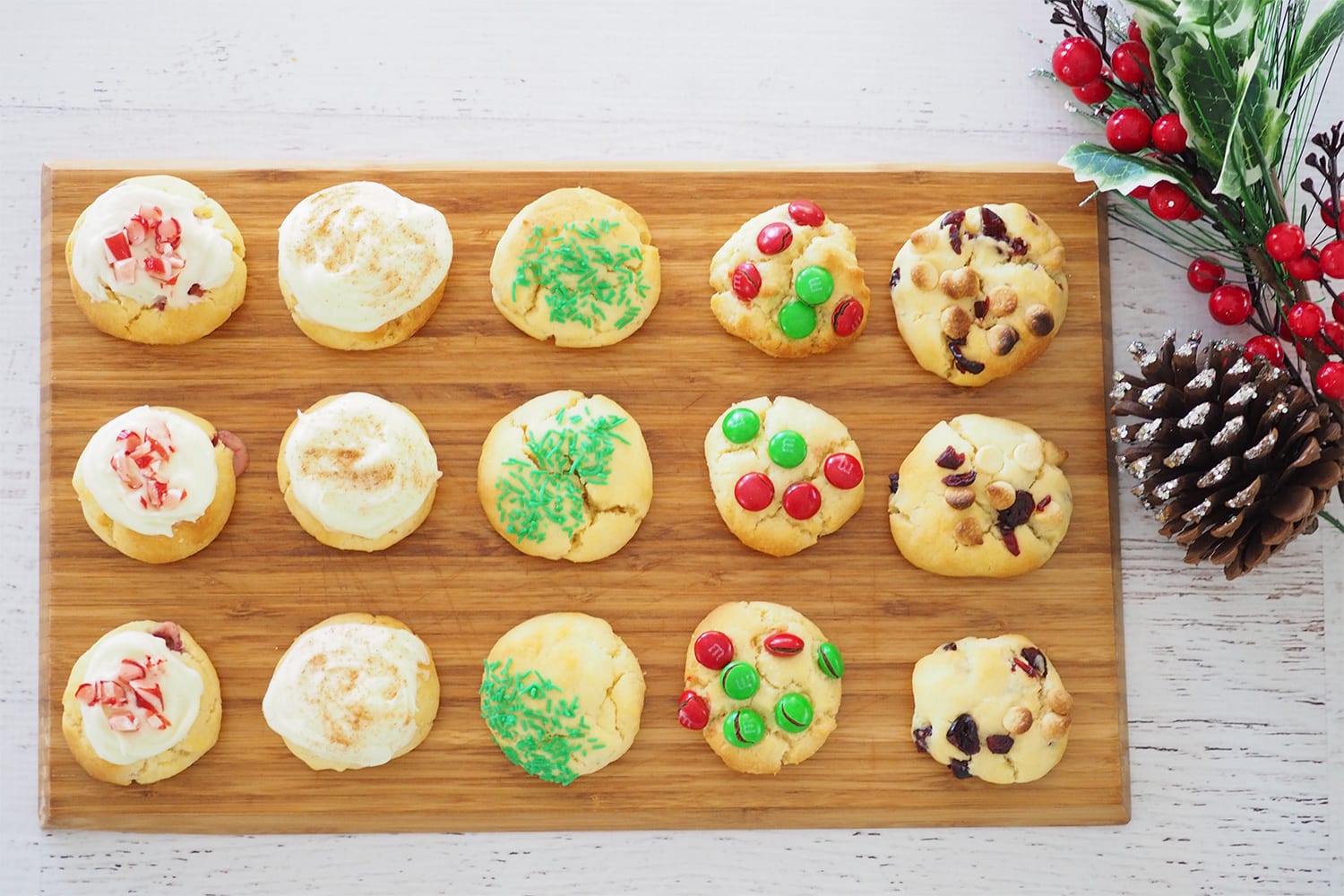 There wasn't one of these that my family didn't love, but having said that, the gingerbread with icing and a sprinkle of nutmeg was certainly the favourite!