This is a guest post by Lisa McInerney from Mummy Made It
Having a family member with allergies or food intolerances can make Christmas parties difficult. Often they go hungry, or are stuck eating carrot sticks whilst every one eats cake and pudding. The only one eating carrots at Christmas is Rudolph!
Sometimes a cupcake is all about the icing! These simple cupcakes are made super special with a big dollop of Cookie Dough Icing. There are 2 icing recipes available to suit all dietary needs.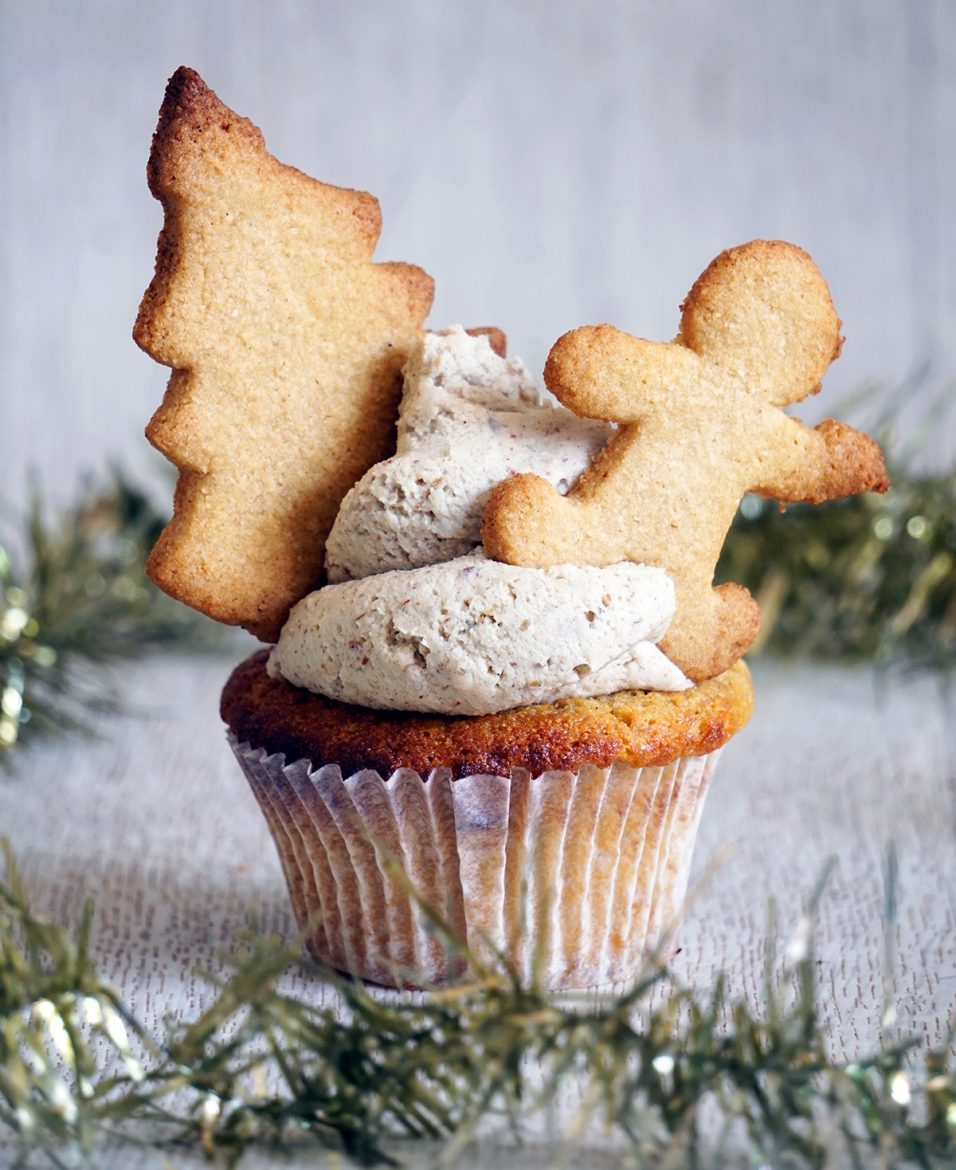 Coconut Flour is the Gluten Free Flour used to make these cupcakes. Coconut Flour is unlike any other type of flavor and cannot be swapped for regular flours. Coconut Flour is really absorbent, which is why you don't need to use much but you do need extra eggs and milk. The Cupcakes will not rise and dome like regular wheat flour but are really light and fluffy.
These Cupcakes are great for catering for many allergies and dietary needs. They are Gluten Free and Dairy Free if coconut milk is used. A liquid sweetener is used (this helps with the coconut flour) and the recipe is also Paleo friendly.
Print
Christmas Cupcakes with Cookie Dough Icing
CUPCAKES
4

Eggs, separated

1/2 Cup

Maple Syrup or Rice Malt Syrup or Honey

2 teaspoons

Vanilla Extract

1/2 Cup

Coconut Flour

3 teaspoons

Baking Powder

1/2 Cup

Milk (of choice) -try Coconut Milk for a dairy free option
Optional: 1 teaspoon ground ginger
ICING – Version 1 – DF, GF, P, V
1/4 Cup

Dates, chopped

1 1/2 Tablespoons

Boiling Water

1/4 Cup

Golden Syrup (or Mollases, Maple Syrup or Rice Malt Syrup)

1 Cup

plus 1 1/2 Tablespoons Almond Meal

3/4 Cup

Arrowroot

2 1/2 teaspoons

ground Ginger

1/2 teaspoon

Cinnamon
Dash Cloves
Dash Nutmeg

1/4 Cup

Coconut Oil, softened

1 1/2 Tablespoons

Coconut Milk/Cream

1 1/2 Cups

Coconut Cream (remove the lid from a tin of coconut cream/milk and place in the fridge overnight. Remove and use the thickened cream, discarding the watery remains. You may need 2 cans to make

1 1/2 cups

)

2 teaspoons

Vanilla Extract

2 teaspoons

Maple Syrup
ICING – Version 2 – DF, GF, P, NF, V, LF
1/4 Cup

Coconut Oil, slightly softened (not melted)

1/4 Cup

Golden Syrup/Maple Syrup/Rice Malt Syrup (I like to use a combination equal to

1/4 Cup

)

2 teaspoons

Vanilla Extract

1/2 Cup

plus 1 Tablespoon Arrowroot

1/3 Cup

plus 1 teaspoon Coconut Flour
Dash Salt

1

–

2

teaspoons of ground Ginger

1/4

to

1/2

Cup Coconut Cream/Milk (add more/less until you reach your perfect consistency)
Instructions
CUPCAKES
Preheat the oven to 175C/350F. Line a cupcake/muffin tray with 8 festive liners and lightly spray.
Place the egg whites in the clean bowl of a kitchen stand mixer and whisk on medium/high until soft peaks form. Add the maple syrup, 1 tablespoon at a time, until all incorporated and the egg white has increased in volume.
Whilst still whisking on med/high add the vanilla extract, egg yolks and then the milk.
In a separate bowl, sift the dry ingredients together. With the whisk on low add the dry
ingredients to the wet and whisk only until combined and airy.
Evenly pour the mixture amongst the cupcake liners. Bake for 17-20 minutes or until cooked through. Remove the cupcakes from the tray immediately and allow to cool.
Frost with Cookie Dough Icing (2 versions are available)
GINGERBREAD COOKIE DOUGH ICING
Version 1
Place the dates in a small bowl and cover with boiling water. Allow to sit for a minimum of 20 minutes (the longer the better). Place the dates in the blender and process on high until a paste forms.
Add the golden syrup and blend on high for 3 minutes. Add the dry ingredients to the wet and blend until combined. Add the coconut oil and blend on high until combined (1-2 minutes).
Add 1 Tablespoon of cream/milk and blend until fluffy.
Place the thickened cream, vanilla and maple syrup in the bowl of a kitchen stand mixture and whisk in high until thickened. Add the cookie dough and whisk until well combined.
Place the Cookie Dough icing in the fridge to thicken.
Version 2
Put all the ingredients (except the coconut cream) into a blender/mixer and process until combined. Scrape the edges down to ensure that all the ingredients are incorporated.
Alternatively use a bowl, a mixing spoon and some arm strength and mix until combined.
Add the cream until the right consistency is reached. If piping the icing will need to be
semi firm; if using as a dip/spread it will need to be softer. Use immediately.
The cookie dough icing needs to be stored in the fridge.