I had a complete blank recently when I was trying to think of what my husbands favourite dinner is.  He just generally loves anything I cook; lasagna, roasts, anything Mexican or with pasta.  I finally remembered I made this Chicken Pumpkin Tortilla Bake a while back and he said it's up there in his favourite dinners list, so I made it for his birthday dinner last week. Which also reminded me that I hadn't shared it on the blog, although it is one of the recipes I have in my 2018 calendar.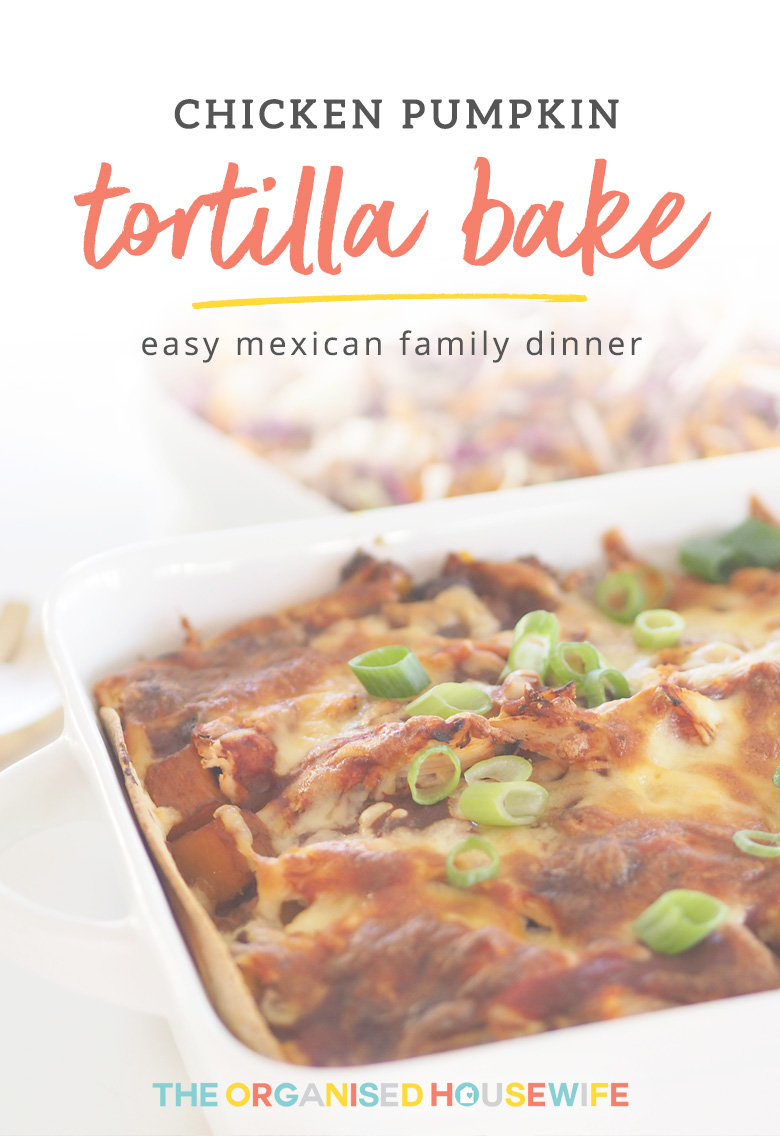 Chicken Pumpkin Tortilla Bake Recipe
It's super easy to make, you simply mix most of the ingredients in one pan on the stovetop until the pumpkin is soft.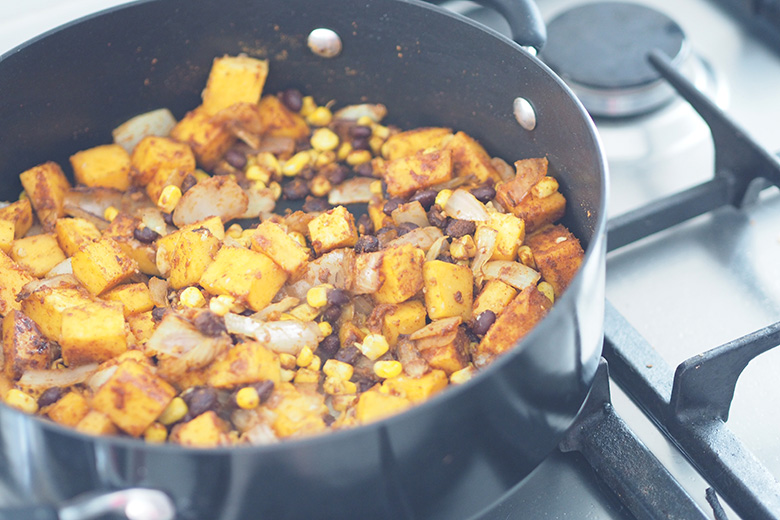 Then stir through the chicken, I used a BBQ Chook, however you can poach and shred your own chicken to save a few dollars.  I describe this bake much like a lasagna, but instead of pasta, you use tortillas.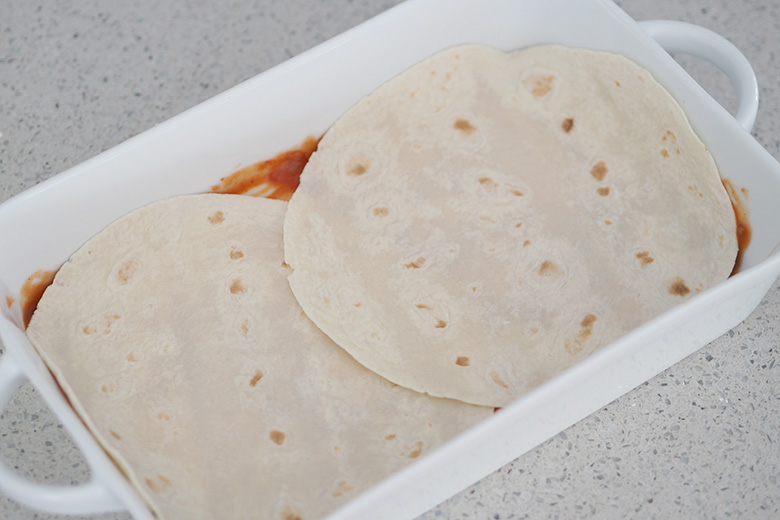 And instead of white sauce, you use enchilada sauce. Layer and repeat! Topping with cheese and baking in the oven until golden.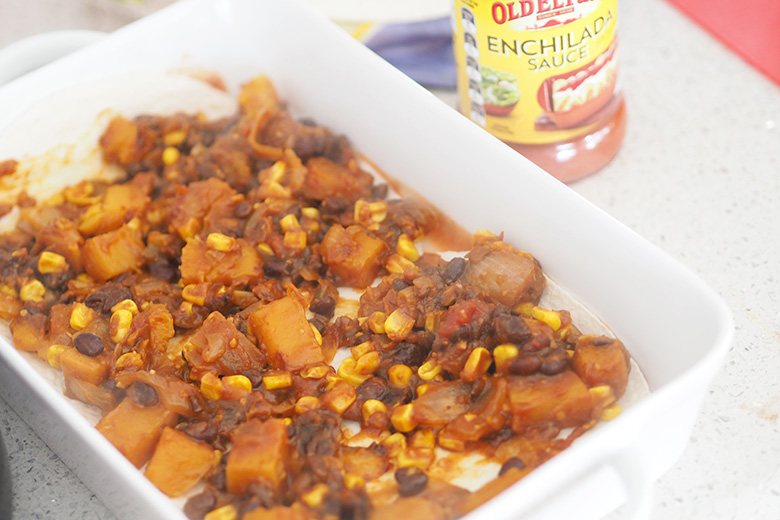 I serve this Chicken Pumpkin Tortilla Bake with a simple salad and some garlic bread.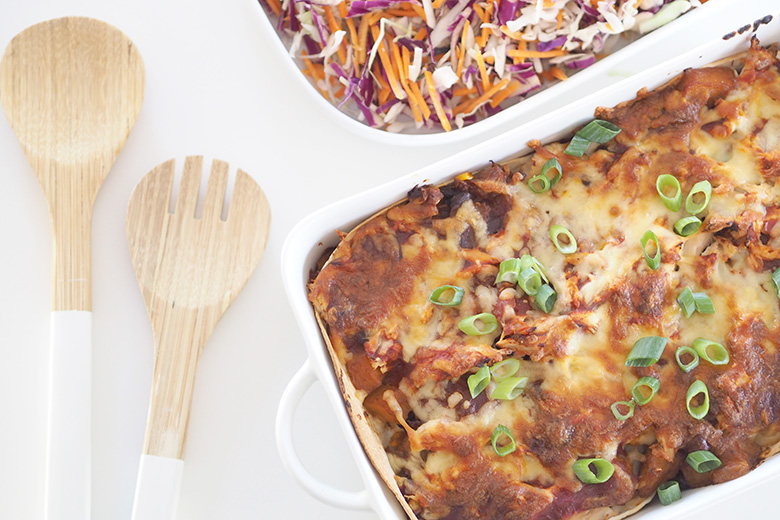 Chicken Pumpkin Tortilla Bake

| | | |
| --- | --- | --- |
| Prep Time | Cook Time | Total Time |
| 40 mins | 40 mins | 1 hour 20 mins |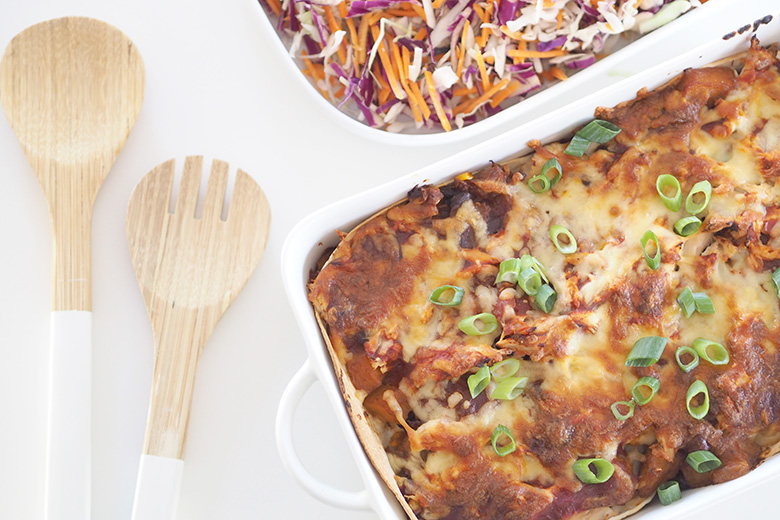 Ingredients
1 tablespoon extra virgin olive oil
1 onion, chopped
2 garlic cloves, minced
3 cups butternut pumpkin, peeled & cut into 1cm cubes
400g black beans, rinsed and drained
3/4 cup corn kernels
1 1/2 cups salsa
1/2 cup water
30g taco seasoning
1 BBQ Chicken, shredded
salt and pepper, to season
375g Enchilada Sauce
4 tortillas
2 cups Mexican cheese, shredded
spring onions and sour cream to serve
Instructions
Heat oven to 180°C, fan forced.
Heat oil over large deep frying pan over medium-high heat, cook the onions for 5-7 minutes or until soft and transparent.
Mix through garlic and cook for a further minute.
Add beans, corn, salsa, pumpkin, water and taco seasoning, stir to combine.
Simmer for 25-30 minutes or until the pumpkin is soft.
Add chicken, gently stir through to coat.
Season with salt and pepper.
Spread 4 tablespoons of enchilada sauce over the bottom of a 9×13-inch casserole dish.
Lay 2 tortillas over the sauce so they touch the ends of the dish, it's fine if they overlap each other in the middle.
Spread half of the pumpkin filling over the tortillas.
Pour half of the remaining enchilada sauce over mix, sprinkle with half the cheese, repeat the layers: tortilla, pumpkin filling, sauce, cheese.
Cover casserole dish with aluminium foil.
Bake in the oven for 30 minutes.
Uncover and continuing baking 8-10 minutes or until cheese is golden.
Serve sprinkled with sliced spring onions, sour cream and salad.
By Kat – The Organised Housewife
May 9, 2019

May 30, 2018

April 9, 2018