This post is sponsored by Coles
I like to plan our dinners and what the kids have for lunch, but I have to be honest when it comes to breakfast we are rather dull and boring, it's always a bowl of cereal and maybe on the weekends I'll make up some pancakes.

I've never really spent time to make anything more for breakfasts, but now that I have started going to bootcamp early two days a week and my body clock has changed (probably due to all the exercise) I am waking earlier and have the time to put a little more effort into a better meal for breakfast.
Breakfast is certainly a meal that I cannot miss I feel sick and tired if I don't have something to eat before I start my day.  As for the kids I like them starting the day on something healthy to boost their energy for a day at school.  Research shows that kids who skip breakfast are linked to poorer performance.  They say "Children who regularly eat breakfast cereal are also more likely to have a better diet overall, a healthier weight, and consume more essential nutrients. In the long-term, this important dietary habit may also reduce their risk of many lifestyle related diseases, such as heart disease and diabetes".
The 7 Day Breakfast Challenge
Next week from April 7th – 13th Coles will be running a 7 day breakfast challenge. They will have a range of different menus to choose from with recipes:
The breakfast challenge will run on the Coles Facebook page.  Follow the challenge for your chance to win a year's supply of breakfast for your family (awesome, that would be a huge saving for your family budget!).  All you have to do is pick which menu you will follow for the week and each day tick off that days recipe for an entry into the draw.  Enter here.
Do you and the kids eat breakfast everyday?
I'm going to take on the challenge, will you join me??!!  School holidays start here in Queensland next week, the kids are going to join me at bootcamp (their request) so they will certainly enjoy a wholesome breakfast afterwards.  I'm looking forward to this challenge as I routinely have served cereal each day I'm curious to see how it changes or improves the kids and my energy levels… I'll let you know!
Follow along – I'll share my breakfasts with you each day on Instagram and I would love to see your breakfast ideas too please tag me @organised _house and use the hashtag #7DayBreakfast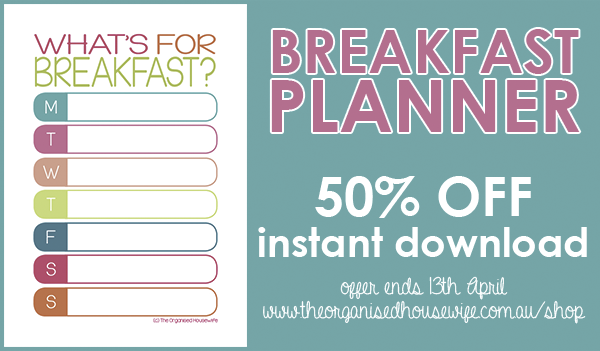 Use the 'What's for Breakfast' chart to help plan your breakfast meals for the week.  You know me I'm a big chart lover and find the benefits in planning, particularly if you are prepared you will have all the ingredients on hand and can prep the night before if need be.  This chart is available as an instant download in my shop.

This post was coordinated by The Remarkables Group and run in accordance with my disclosure policy