This post is sponsored by Coles
I've been following along with the Coles 7 Day Breakfast challenge, I was away for a few days during the week so I started the challenge a little earlier.  As I mentioned before the challenge started the kids and I typically have cereal for breakfast and only have something hot on special occasions, so this was a definate change to our regular routine.
I must admit it was nice to have a variety of different meals for breakfast.  The meals we chose weren't too filling and were just enough to give us a boost of energy for our day.  The benefits to eating a good balance breakfast are:
give you the energy and nutrients your body needs to start the day
increased concentration and helps focused thinking
healthy breakfast will help maintain a healthy body weight
eating breakfast will help prevent unhealthy snacking before lunch
Here was our 7 Day Breakfast Meal Plan
Banana Pikelets
These pikelets were really easy to make, simply make the batter, then place a spoonful of the batter into the frying pan, top with a slice or two of banana, then flip and serve!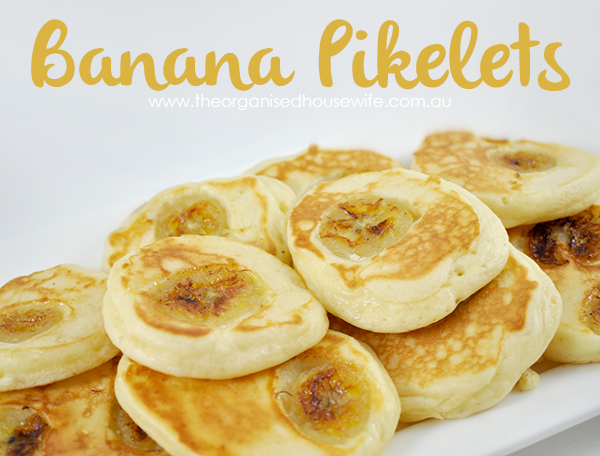 Coconut Porridge
We always enjoy porridge in the cooler months, this recipe had a delicious coconut flavour and we topped it with banana and brown sugar… noms!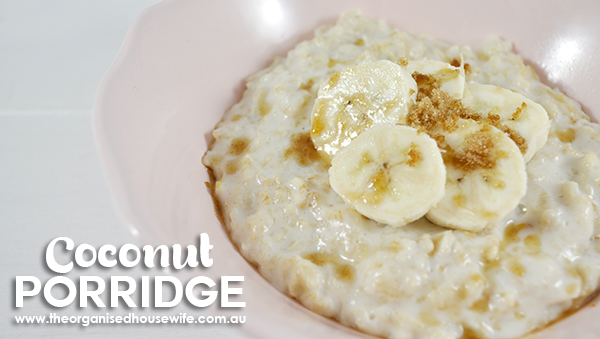 Ham, Vegetable and Haloumi Frittata 
Simple add in some vegetables left over from dinner the night before, some ham and egg.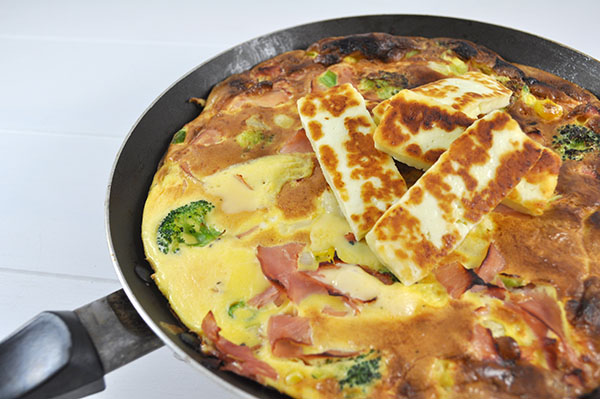 Scrambled Egg Toasties
We love scrambled eggs for breakfast, lunch and dinner.  So it's always nice to come up with a different variation.  The toastie is a great alternative for an on-the-go breakfast.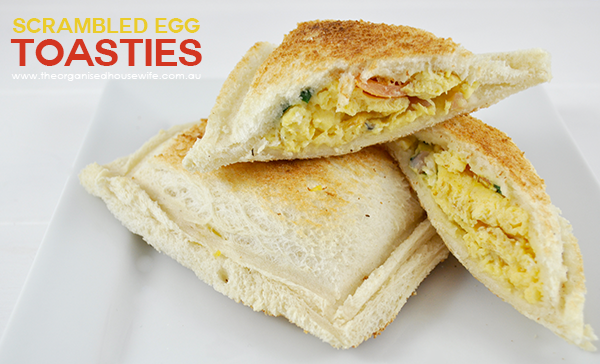 Scrambled Egg Toasties

| | | |
| --- | --- | --- |
| Prep Time | Cook Time | Total Time |
| 20 mins | 10 mins | 30 mins |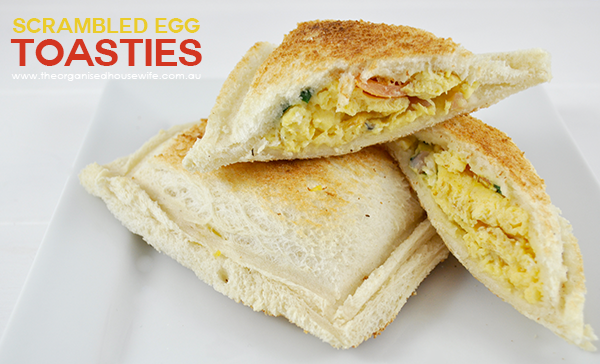 Ingredients
10-14 slices of bread
6 eggs
4 slices shortcut bacon, finely diced
1/4 cup milk
Salt and pepper, to taste
Instructions
Add eggs and milk to a bowl, season eggs with salt and pepper and lightly whisk
Heat a nonstick frying pan to medium-high heat
Brown bacon in a nonstick frying pan to your liking
Reduce frying pan to medium heat and add in eggs, with a wooden spoon gently stir for 2 minutes or until eggs are just set
Remove eggs from pan
Remove crusts from bread
Add in 1/4 cup of scrambled egg into the centre of 1/2 the slices
Top with a piece of bread and seal (I used the edge of a small chopping board to squish the slices together).
Place under griller for 2-3 minutes or until browned
By Kat – The Organised Housewife

Banana and Blueberry Breakfast muffins
Another great breakfast for when you are on the go, these muffins can be made the day before or fresh for breakfast.  Delicious flavours of banana, blueberry, coconut oil, maple syrup instead of sugar and some oats!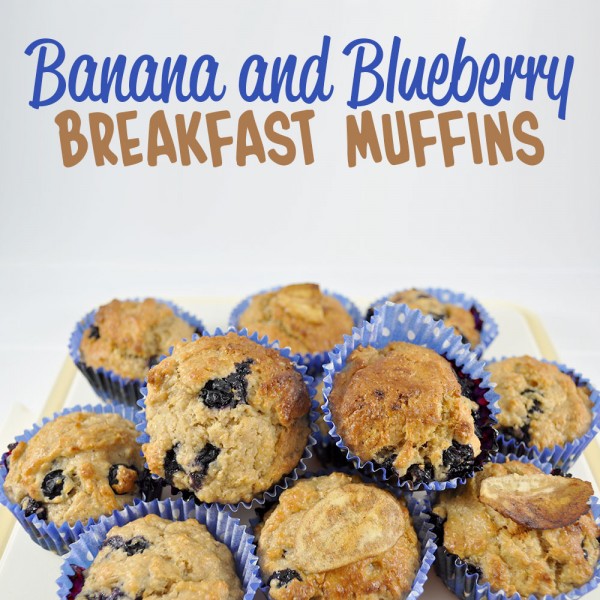 Banana & Blueberry Breakfast Muffins

| | | |
| --- | --- | --- |
| Prep Time | Cook Time | Total Time |
| 10 mins | 15 mins | 25 mins |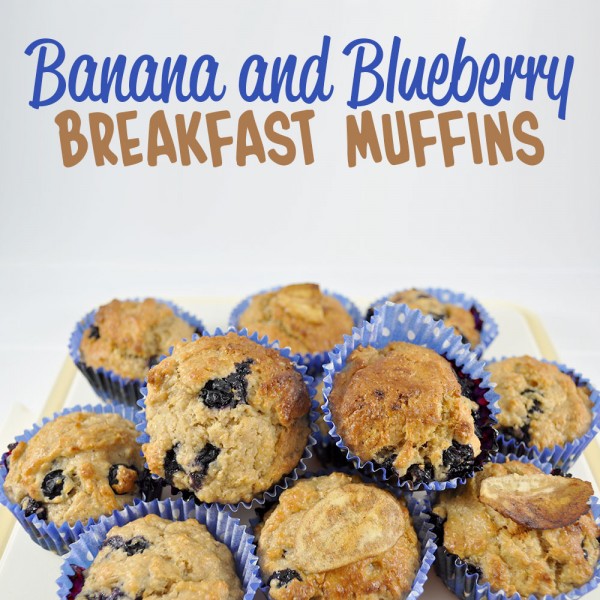 Ingredients
1/4 cup maple syrup
3 tablespoons coconut oil
1 egg
1/3 cup milk
1/2 cup rolled oats
1 1/2 cups Self Raising Wholemeal Flour
1 teaspoon ground cinnamon
1/2 teaspoon lemon zest
2 overripe bananas, mashed
1 cup blueberries
Instructions
Preheat oven to 180C fan forced
Line 12 cup muffin tray with muffin cases
In a mixing bowl add maple syrup, coconut oil, egg and milk, stir well
Add in oats, flour, cinnamon, lemon zest and banana, mix to combine, but do not overmix
Gentle fold in blueberries
Spoon batter evenly between muffin holes
Bake for 15 minutes or until golden
By Kat – The Organised Housewife

Strawberry Jam on toast with Milk
A very simple breakfast that we don't have often, mainly because the kids have bread for lunch I don't want them having it for breakfast as well.  But during school holidays it's much easier to balance.  My little Miss always enjoys some toast and milk.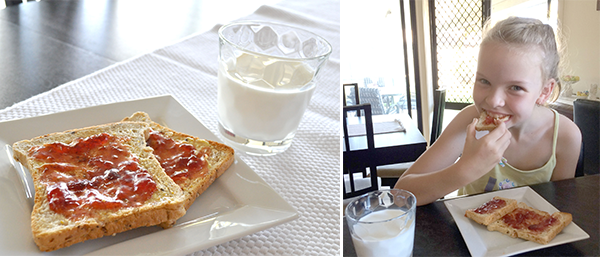 Raspberry Yoghurt Smoothie
A deliciously refreshing and easy fruity smoothly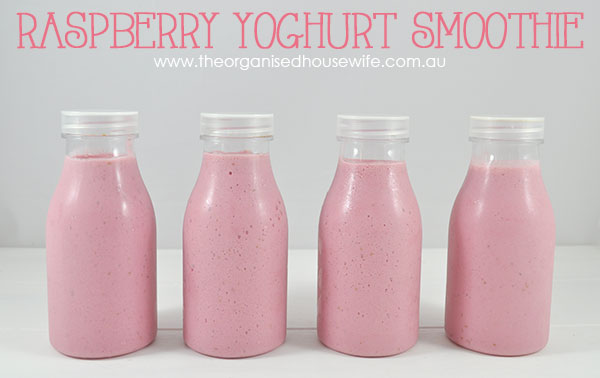 Raspberry Yoghurt Smoothie

| | | |
| --- | --- | --- |
| Prep Time | | Total Time |
| 5 mins | | 5 mins |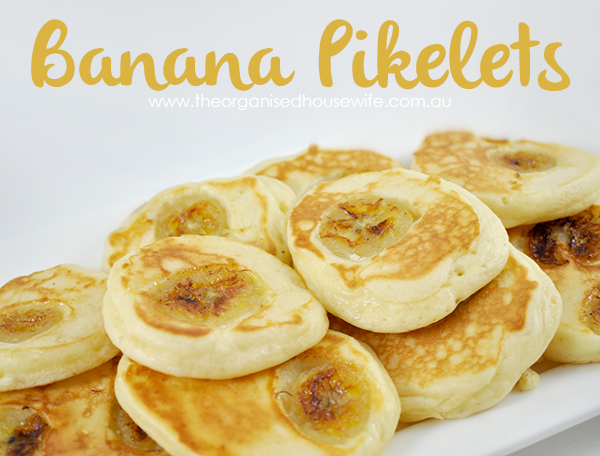 Ingredients
300g frozen raspberries
200g vanilla yoghurt
2 cups milk
8 ice cubes
extra raspberries to serve
Instructions
Combine raspberries, yoghurt, milk and ice into food processor, blend until smooth
Pour into glasses and serve.
By Kat – The Organised Housewife
What is your child's favourite breakfast apart from cereal?
This post was coordinated by The Remarkables Group and run in accordance with my disclosure policy