I was chatting to my friend Maria from Roar Living recently and she told me about the Berry Punch she just made, it sounded so good so I cheekily asked her if she could photograph it and send me details so I can share it with you all.  She happily obliged, over to Maria.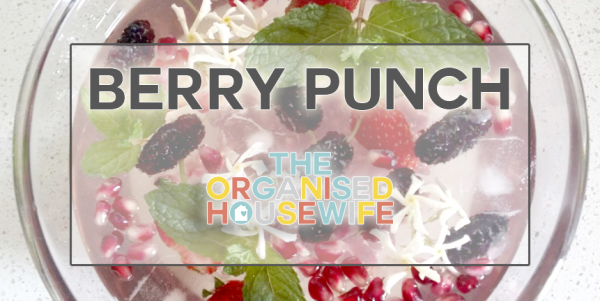 Today I have created a simple raspberry Jam cordial with still water…..no sparkling in the house!!!! I hide it for times like this and boom it's gooooone.  The fruits I used were pomegrantes, mulberries and strawberries garnished with pretty jasmine and mint leaves.  I think it looks so pretty and yes you can eat the Jasmine….I love edible flowers makes food and drinks so appetising.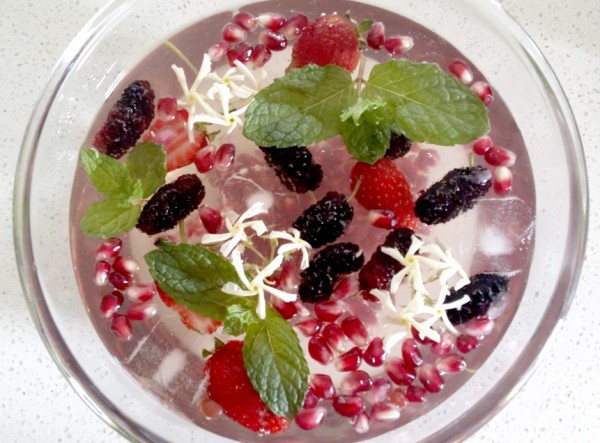 I diluted the cordial to taste….a little less sweet as the fruits are beautiful and sweet.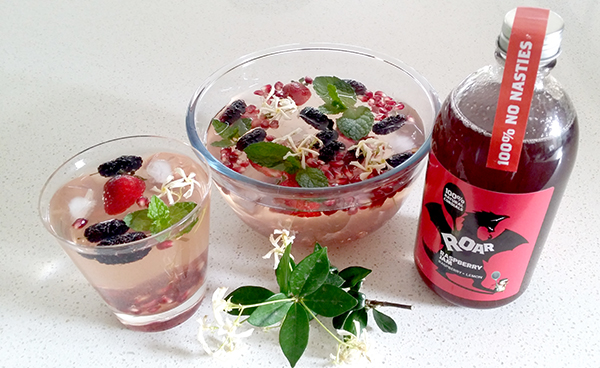 About Roar Living
Founder of Roar Living Maria Assatourian found her passion with food at the age of 4. Maria began life in Iran where the kitchen was, and still is, the soul of the home and most ingredients came straight from the garden. By age 7 Maria was baking cakes, Lamingtons to be precise.
Maria turned her passion into a career: an apprenticeship with Neil Perry at The Rockpool, and with Damian Pignolet at Bistro Moncur.  She worked for later with Colin Holt and Matthew Flemming, ending up as Sous Chef of the White Horse Inn in historic Berrima.
Since then she's run the family cafe, a catering business and started a family. Still her love and passion for food shines through and gives Maria her vision and determination.
By having first hand experience in the importance of supporting small businesses, the concept had to resonate with Maria's high values. The industry needed a change. Maria was inspired to offer consumers a healthy, fabulous and affordable product for health of our children and future products.
Roar Living 100% Natural Cordial No Nasties, all manufactured in Australia using Australian produce, without any additives nor preservatives.
Find Roar Living:  Website  –  Facebook  –   Instagram