A delicious Beef and Bacon Pasta Bake recipe that is a family favourite dinner. This pasta bake is quick and easy to make, and the combination of beef and bacon is always a winner!
This pasta bake recipe is always a big hit with my family, and is one of my son's favourites. I love it because it is so quick and easy to make, which is great for those nights you need dinner to be fuss free and simple to prepare. The pairing of beef and bacon in a pasta bake is really is such a delicious flavour combination. I do love a good pasta bake,  if you like the recipe below, make sure to check out favourites like my creamy chicken pasta bake, and all my other pasta bake recipes here.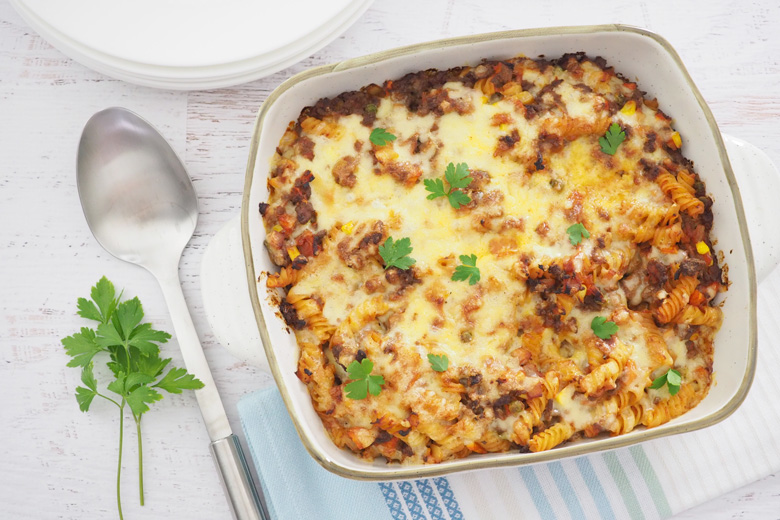 I get the beef, bacon and veggie mixture going in the frypan while the pasta is cooking.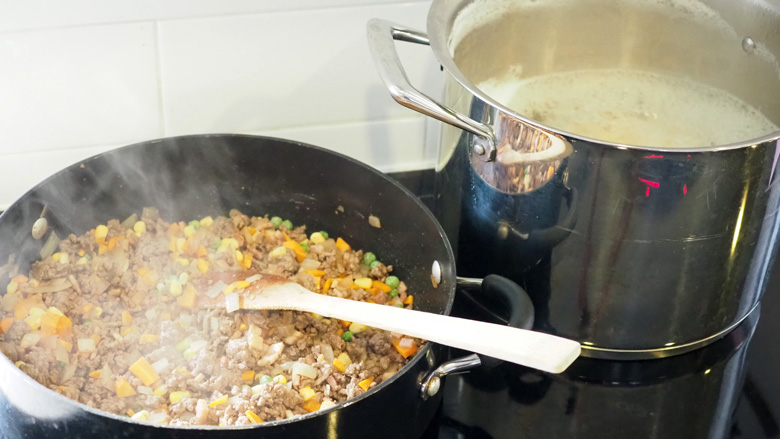 Once the beef and bacon sauce is ready, I then mix through the cooked pasta. Place into an oven-proof dish and top with cheese.
Sometimes I will make this pasta bake ahead of time, and then pop it into the oven to heat through before serving.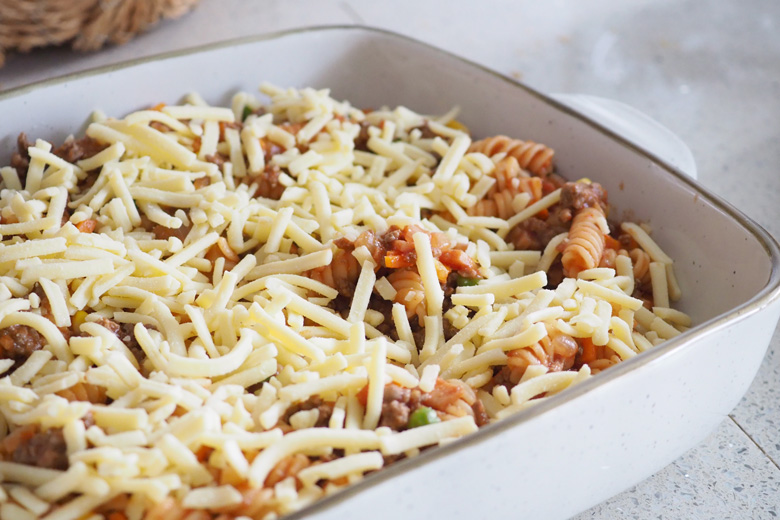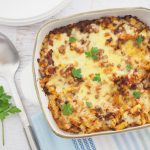 YOU WILL NEED
2 cups small spiral pasta
1 tablespoon olive oil
4 short cut bacon rashers, diced
1 brown onion, diced
2 garlic cloves, minced
500g lean beef mince
500g passata (tomato pasta sauce)
1 carrot, peeled and chopped
1/4 cup frozen peas
1/4 cup frozen corn
1 cup tasty cheese, grated
Salt and pepper, to season
Instructions
Preheat oven to 180°C, fan forced.
Cook pasta following packet directions, drain and return to saucepan.
In a large frying pan, heat oil over medium-high heat.
Add bacon, onion and garlic to pan. Cook for 3-5 minutes or until browned.
Add mince, cook and stir for 5 minutes or until browned.
Add passata sauce, carrot, peas and corn. Stir and bring to the boil.
Simmer uncovered for 5 minutes or until liquid has reduced.
Combine mince mixture and cooked pasta. Toss to stir through. Season with salt and pepper.
Spoon pasta mixture into a 12-cup (3L) oven-proof dish.
Sprinkle with cheese.
Bake pasta bake in oven for 20-30 minutes or until golden. Serve.
I like to serve this with a side salad or steamed vegetables. Garlic bread is always a great side to a pasta bake meal too.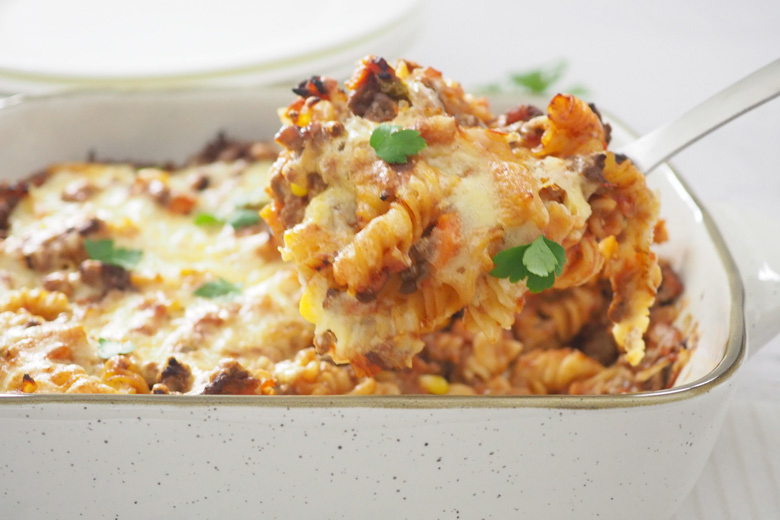 LET ME KNOW WHAT YOU THINK OF THIS RECIPE! – If you've tried this Beef and Bacon Pasta Bake recipe, please leave me a comment below. I love to hear from people who've made my recipes! You can SUBSCRIBE to receive my newsletters with the latest recipes or FOLLOW ME on FACEBOOK, INSTAGRAM and PINTEREST for even more delicious food.
ARE YOU ON INSTAGRAM? –If you make this recipe, please share a photo, tag @theorganisedhousewife and add hashtag it #TOHRecipes  – I'd love to see what you're cooking!
HOW TO ORGANISE YOUR PANTRY
A step by step guide on how to organise your pantry so that you can optimise your space, find items that you need and prevent food wastage. Continue Reading
KAT'S Hearty Dinners recipe cookbook
A 128-page cookbook is bursting with hearty, home-cooked meals that the whole family will enjoy!
50 simple, fuss-free and easy-to-follow dinner recipes range from pasta to oven bakes, and slow cookers to soups. They aren't fancy, but they are laced with love, and each one is intended to not just make a meal, but a memory too.