These super yummy Peach Buttermilk Muffins were such a hit with the kids.  This recipe made quite a few.  12 regular sized muffins and 18 mini muffins. Perfect for freezing for kids lunch boxes.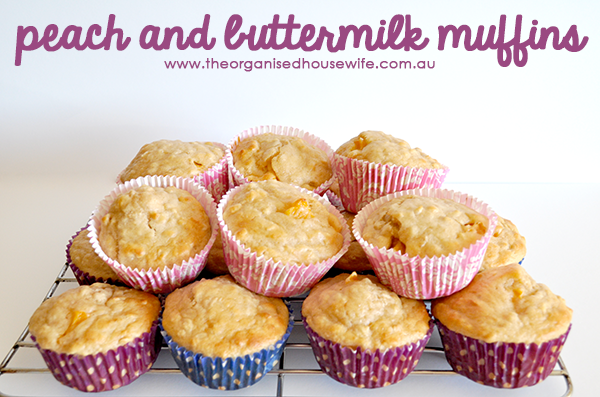 Peach buttermilk muffins
Serves: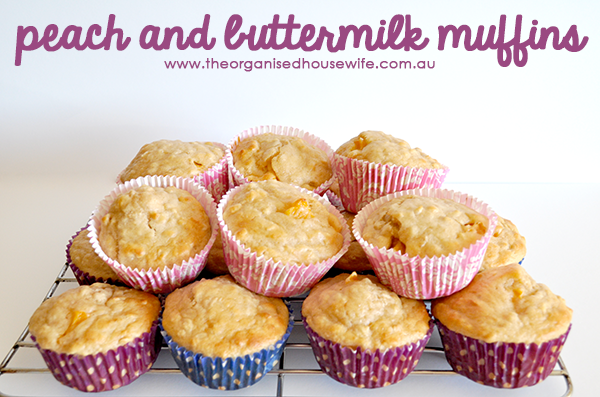 Ingredients
2 cups rolled oats
2 cups buttermilk
1/2 cup vegetable oil
4 eggs
2 1/4 cups self-raising flour, sifted
2 teaspoons ground cinnamon
2/3 cup brown sugar
415g can peach slices in natural juice, drained
Instructions
Preheat oven to 180C
Grease one mini muffin tin and and line a regular muffin pan with patty cases
Place oats, buttermilk, oil and eggs into bowl and mix
Stir flour, cinnamon and sugar
Dice peaches and gently fold through mixture
Evenly spoon into muffin pans
Bake for 18 minutes for mini muffins and 25-30 minutes for regular or until browned and skewer comes out clean
Allow to cool in pan for 5 minutes then transfer to a wire rack.
By Kat – The Organised Housewife