Pikelets are one of those awesomely easy recipes that can be whipped up in a matter of minutes, cooked and eaten straight away, no fuss.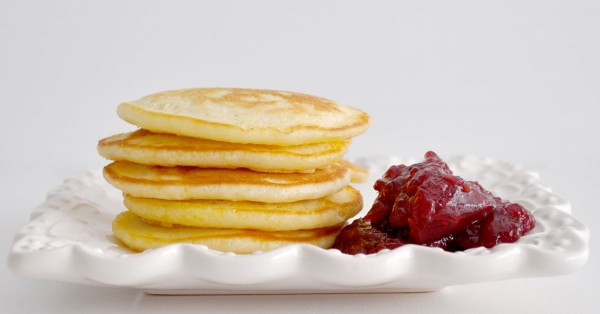 I make the batter before I pick up the kids from school, let it sit while I go get them (letting the batter sit is not necessary though), while they are unpacking their school bag and getting changed I spoon the mixture into the frying pan.
For our family, one batch is enough for afternoon tea, but sometimes I make a double batch to have enough for afternoon tea and snack for lunch boxes the next day.  Find lunchbox ideas here.
Hope you enjoy my easy pikelet recipe!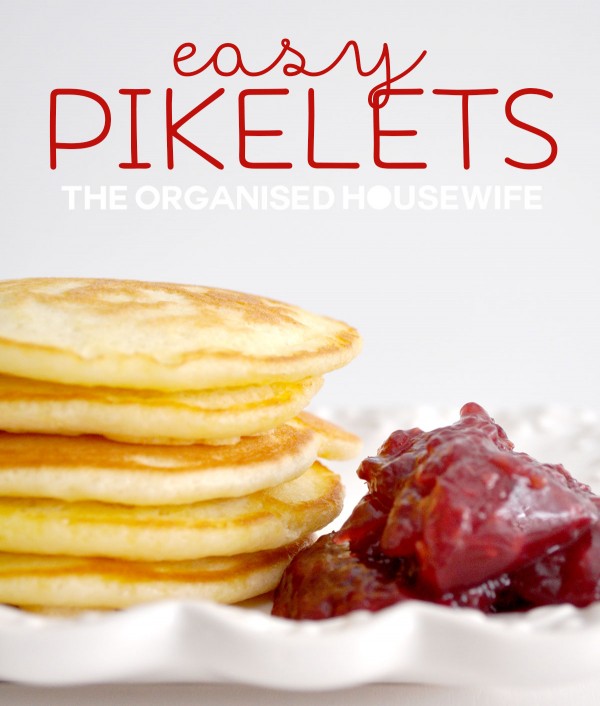 Easy Pikelets

| | | |
| --- | --- | --- |
| Prep Time | Cook Time | Total Time |
| 3 mins | 20 mins | 23 mins |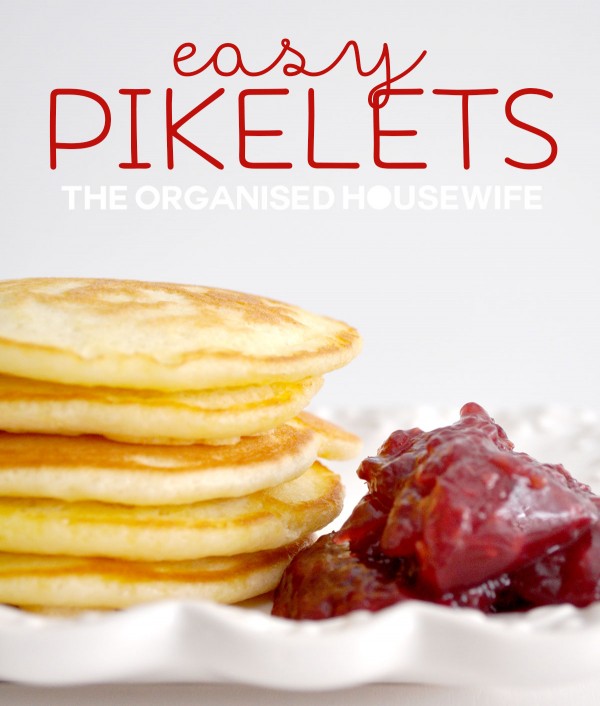 Ingredients
1 cup self raising flour
1 large egg
1/2 cup of milk
1 teaspoon of vinegar or lemon juice
3 tablespoons sugar
2 teaspoons of melted butter
Extra butter for your frypan
Instructions
Add the vinegar or lemon juice to the milk to sour it, and set aside.
Sift the flour and sugar into a large bowl.
Add eggs and whisk.
Slowly add in milk and butter, stirring gently with wooden spoon to incorporate the dry ingredients. Then mix well until the mixture is thick and creamy.
Let the batter sit for 10 minutes to thicken further.
Heat a large non-stick frying pan over medium heat and brush with a little melted butter.
Spoon tablespoons of batter into frying pan, cook for 1 to 2 minutes or until small bubbles appear on the surface. Carefully turn, cooking for a further 1-2 minutes or until cooked through. Transfer to a plate and repeat with remaining mixture.
By Kat – The Organised Housewife