This Chocolate Sprinkle Cookie recipe is a delicious chocolatey sweet treat. Perfect for afternoon tea or as a little lunchbox treat.
These chocolate sprinkle cookies are soooo good. They are nice and soft, and the dollop of white chocolate on top gives them a bit of a crunch. The recipe makes up a good quantity of cookies, which is a wonderful thing, considering how yummy they are.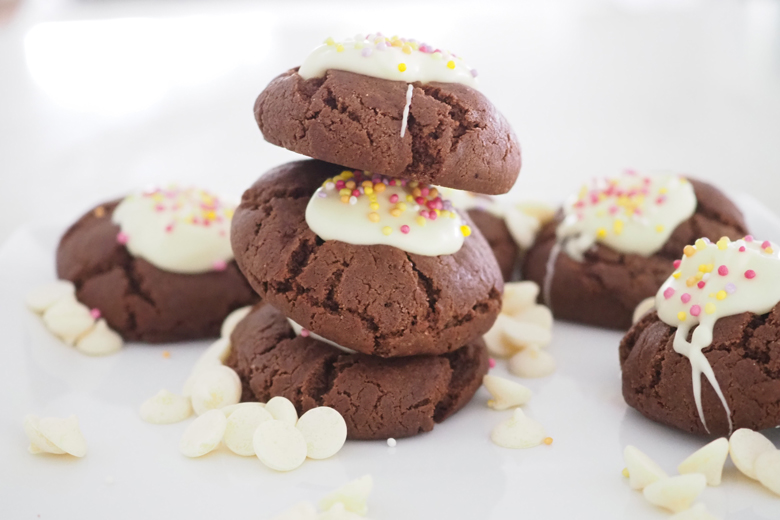 The batch of these choc sprinkle cookies didn't last very long in my household, and I bet that they will be a hit in yours too. If you love this recipe, you will also like my rocky road cookies recipe! Enjoy!
YOU WILL NEED
200g Butter at room temperature
1/3 cup Caster Sugar
1 tin Condensed Milk
1 tsp Vanilla Essence
1 1/2 cups SR Flour
1/2 cup Plain Flour
1/2 cup Cocoa
1 1/2 cups White Choc Melts
Hundreds and Thousands
Instructions
Preheat oven to 160C, fan forced.
Use a silicone baking tray or line a baking tray with baking paper or a silicone mat.
With an electric mixer, beat butter and sugar for 1-2 minutes, until light and fluffy.
Add condensed milk and vanilla. Beat until combined.
Stir in flours and cocoa.
Roll tablespoons of mixture into balls, place on tray.
Bake for approximately 15 minutes.
Rest on tray for 5 minutes, before transferring to a wire rack to cool completely
Melt chocolate uncovered in microwave safe bowl on medium until melted approx. 2-3min.
Spoon a teaspoon chocolate onto each cookie. Sprinkle with hundreds and thousands.
Stand until chocolate is set.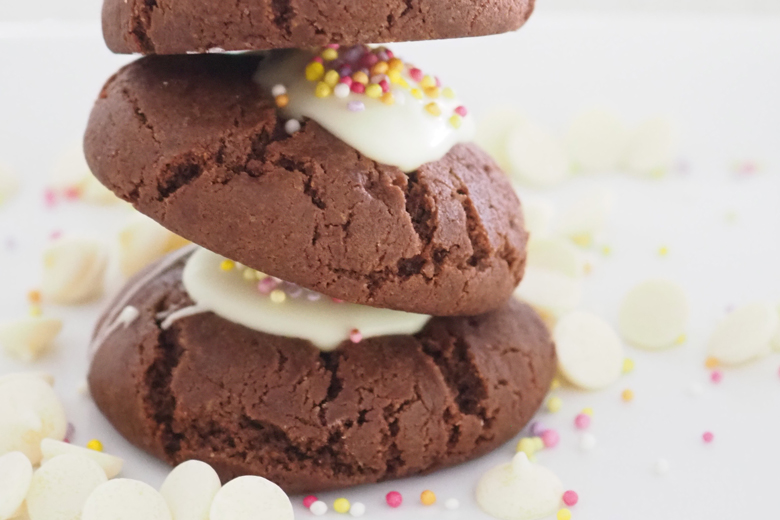 LET ME KNOW WHAT YOU THINK OF THIS RECIPE! – If you've tried this Choc Sprinkle Cookie recipe, please leave me a comment below. I love to hear from people who've made my recipes! You can SUBSCRIBE to receive my newsletters with the latest recipes or FOLLOW ME on FACEBOOK, INSTAGRAM and PINTEREST for even more delicious food.
KAT'S lunchbox recipe cookbook
50 freezer friendly recipes that make for perfect no-fridge, no-heat lunches ideal for school, work, or even picnics!
The easy to follow recipes with full colour photos, and my how-to guide at the beginning of the book, means both experienced bakers and those a little newer to the kitchen, will have all the help they need.