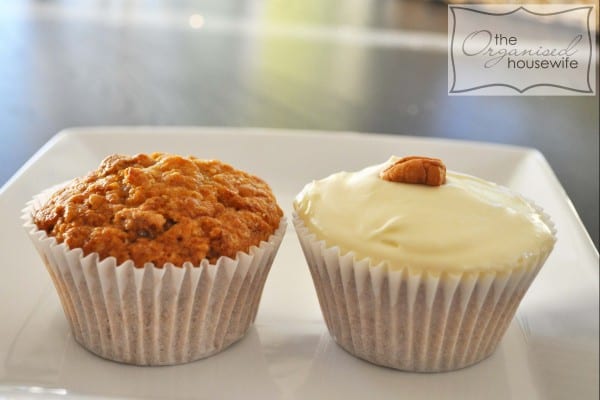 Print
Carrot Muffins / Carrot Cake
This is my Nan's Carrot Cake recipe, I made muffins from it for the kids.
3 cups

grated carrot

1 cup

peanut or sunflower oil

2 cups

raw sugar

1 cup

pecan nuts, chopped

4

eggs

1 teaspoon

vanilla essence

2 cups

wholemeal flour

1 ½ teaspoons

cinnamon

1 teaspoon

salt

2 teaspoons

baking soda
Icing

1

packet cream cheese,

1/2 cup

icing sugar
juice

2

lemons
shredded lemon zest for garnish.
Instructions
Preheat oven o 160C
In one bowl mix toghether oil, sugar, eggs and vanilla essence.
In a large bowl mix wholemeal flour, cinnamon, salt, carrot and baking soda.
Add the oil mixture and stir until all ingredients are incorporated.
Pour the mixture into a greased muffin tin.
Bake for 25-30 minutes, or until golden (remember that this is a very moist cake.)
Remove from tin after 5 min. Allow to Cool.
Ice with a cream cheese and lemon topping. Alternatively, shake icing sugar over the cake.
Beat all ingredients well and spread over the cooled cake.
Scatter the shredded lemon zest on the top for garnish.
Notes
To make cake: Pour the cake mixture into a greased and floured cake tin.
Bake for 55 minutes, test and remember that this is a very moist cake. Icing:
Add more icing sugar to your icing mixture if desired