Boost your family's immunity during the cold winter months with these 9 flu-fighting chicken soup recipes.
Chicken soup is my immune boosting go-to dish for winter days when anyone in our household isn't feeling well. It's like a medicine bomb that helps soothe the throat, relieve the chest, and clear up any congestion. It's a brilliant flu-fighting dish for sick kids as it's packed with nutrients, is simple to swallow, easy to stomach, and feels like a big comforting hug from mum (although I like to give these too).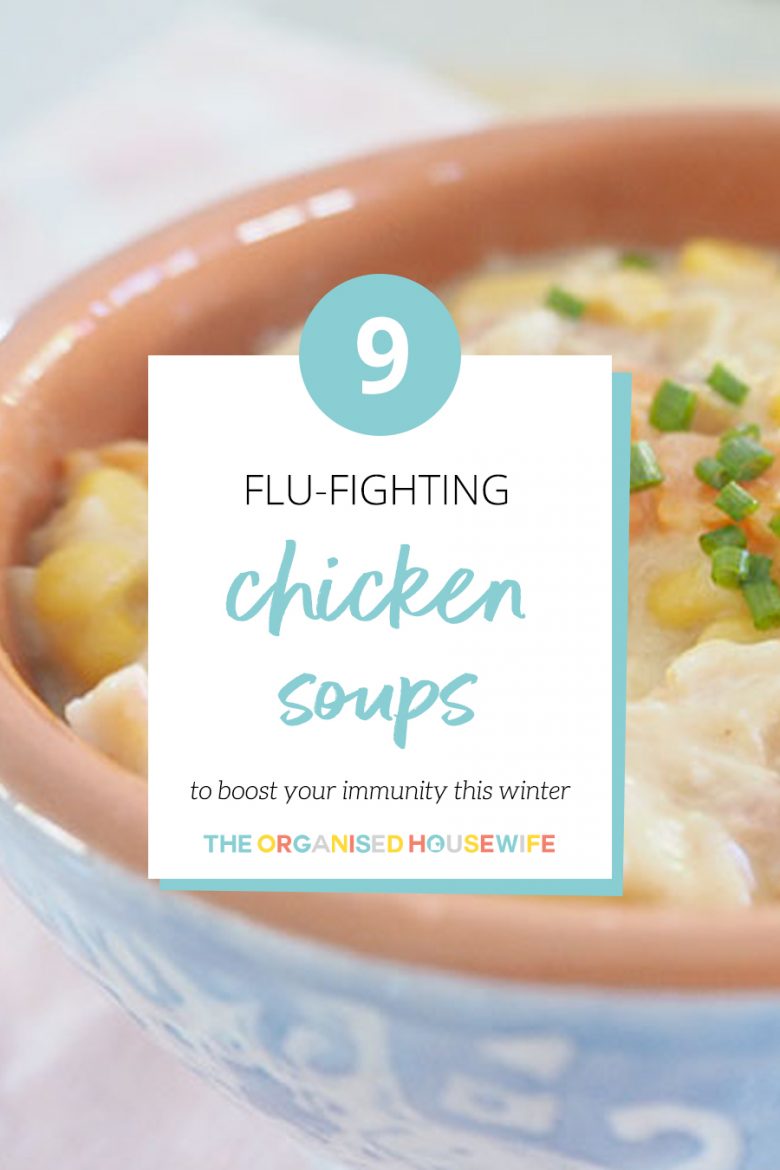 Whenever I'm unwell, a big bowl of chicken soup is always on the cards – followed closely by Easy Air and On Guard in my oil diffuser, a big snuggly blanket, and a good Netflix series.
It's also a great dish to freeze, and have on hand for when you aren't well and don't feel like cooking. But which chicken soup should you eat? Glad you asked! Here's my pick of the bunch when it comes to the best tasty immune boosting chicken soup recipes to fend off those winter nasties.
CHICKEN AND NOODLE SOUP – I find this the best bread dipping soup! It's filled with loads of vegetables including carrot, onion, celery and corn – but you could add in whatever veggies you desired. All the nutrients you need to help improve your health.
View my Chicken and Noodle Soup recipe here.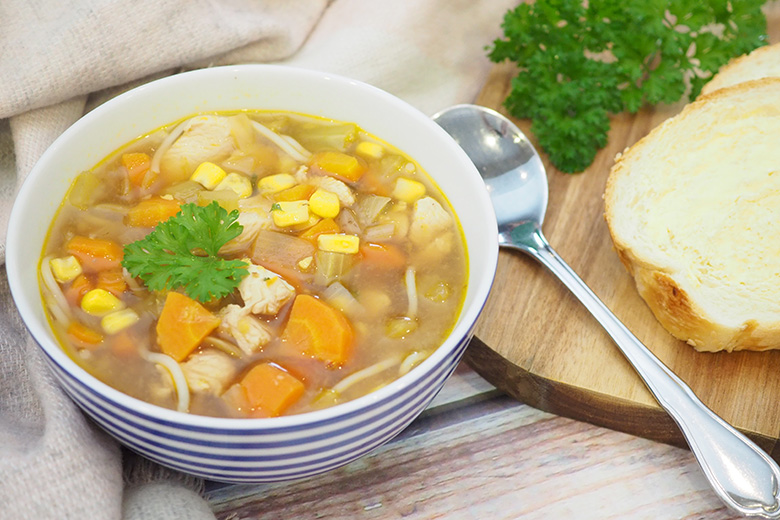 CREAMY CHICKEN TORTILLA SOUP – the addition of corn tortillas and raisins give this soup a subtle sweetness which I think would make it a hit with young kids.
View this Creamy Chicken Tortilla Soup recipe here.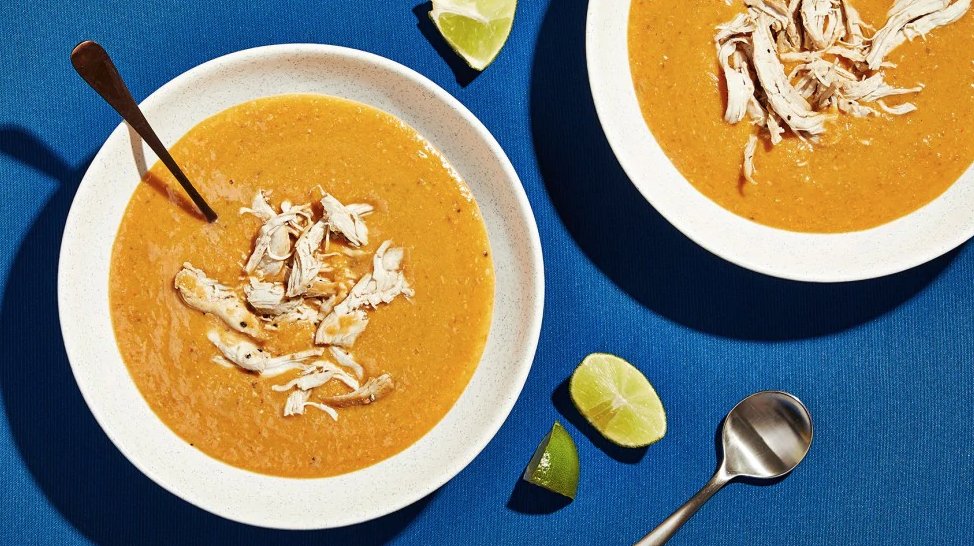 ULTIMATE CHICKEN NOODLE SOUP – this simple soup recipe is a hearty pick-me-up for when you have the winter blues, and is particularly great for children who prefer a few noodles in their soup (which in my experience is most kids!).
View this Ultimate Chicken Noodle Soup recipe here.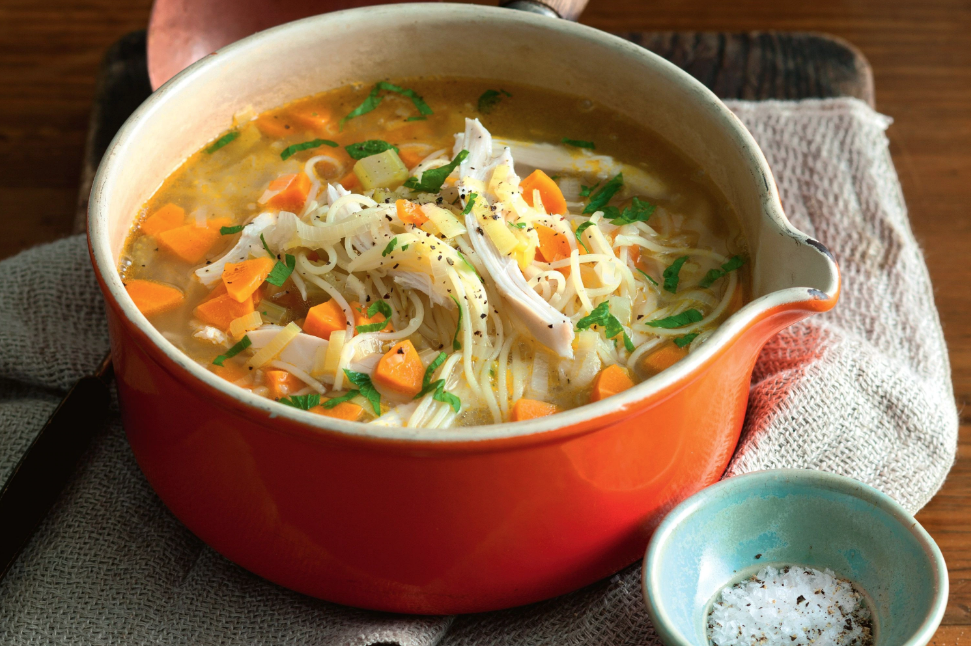 CHICKEN AND CORN CHOWDER – this would have to be my all time favourite chicken soup recipe! It's a thick, creamy and chunky and is my go-to and favourite chicken soup.
View my Chicken and Corn Chowder recipe here.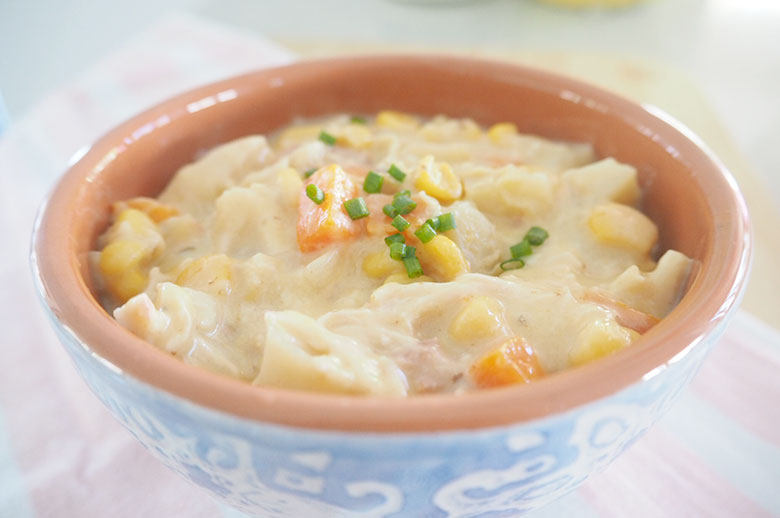 FLU-FIGHTER CHICKEN AND TURMERIC SOUP – for those that like a soup that packs more of a punch, the ginger, turmeric, and chilli in this one certainly doesn't fail to deliver. This soup is an ultimate germ deterring flu-fighter!
View this Flu-Fighter Chicken and Turmeric Soup recipe here.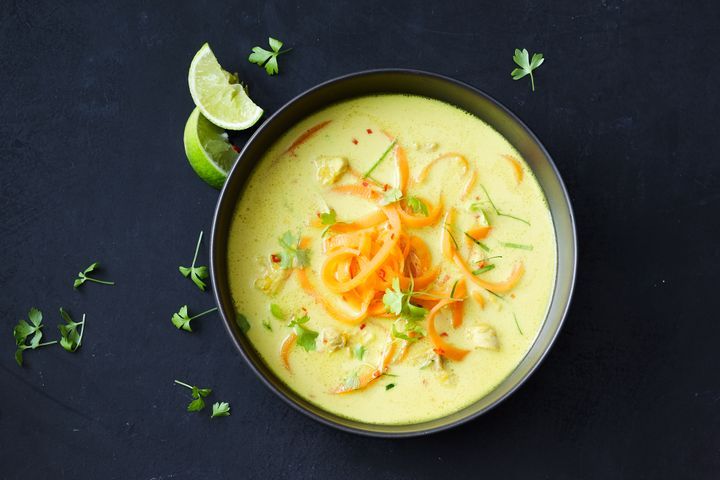 THERMOMIX CHICKEN AND CORN SOUP – if you have a Thermomix, make sure you utilise it to make yourself a delicious flu-fighting winter warmer like this Chicken and Corn Soup – you can go from prep to the dinner table in under half an hour!
View my Thermomix Chicken and Corn Soup recipe here.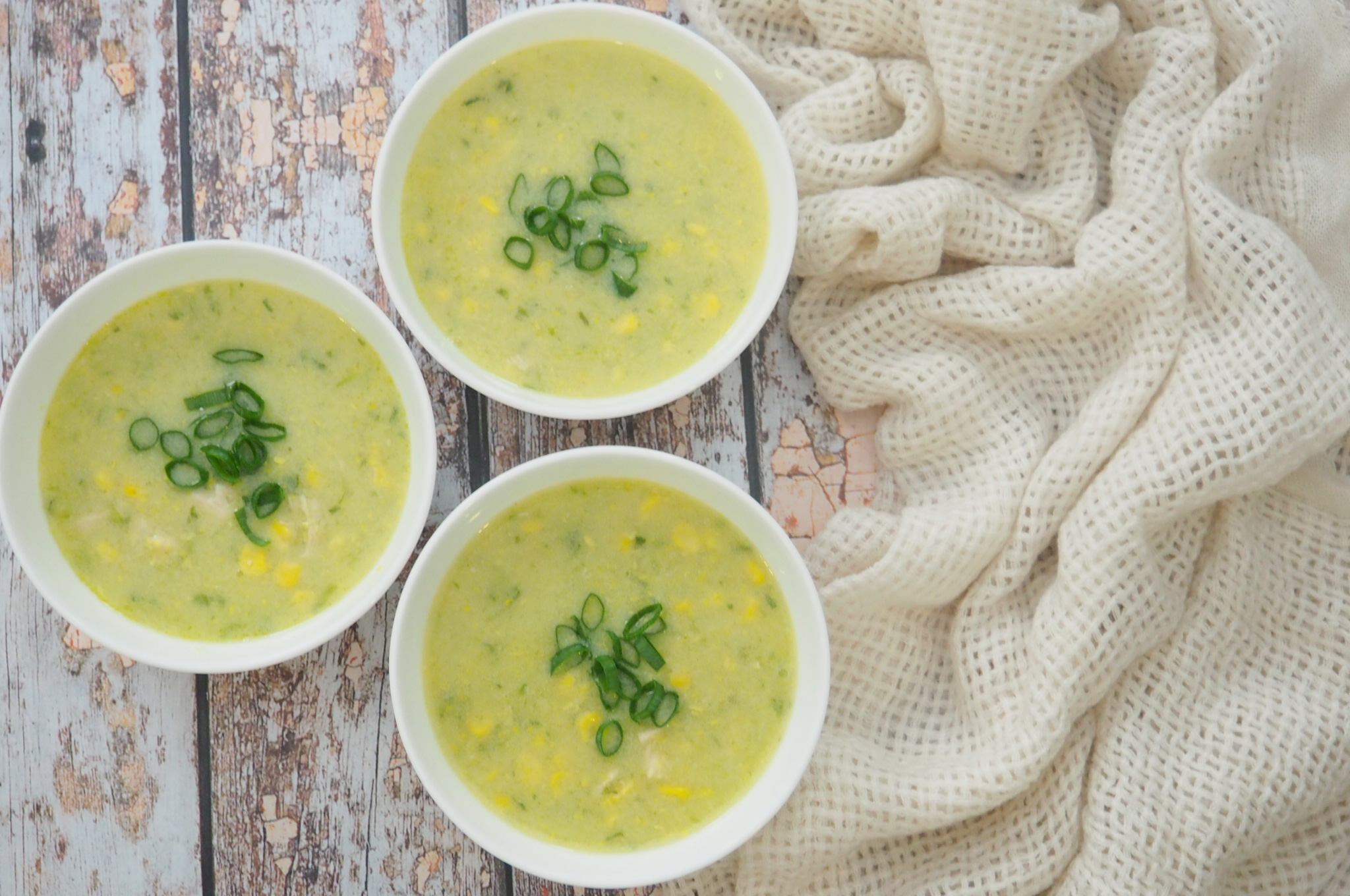 SLOW COOKER CHICKEN NOODLE SOUP – slow cooker recipes are great if you're looking after small kids that are sick! You simply need 10 minutes to prep this meal in the morning, and then dinnertime is sorted.
View this Slow Cooker Chicken Noodle Soup recipe here.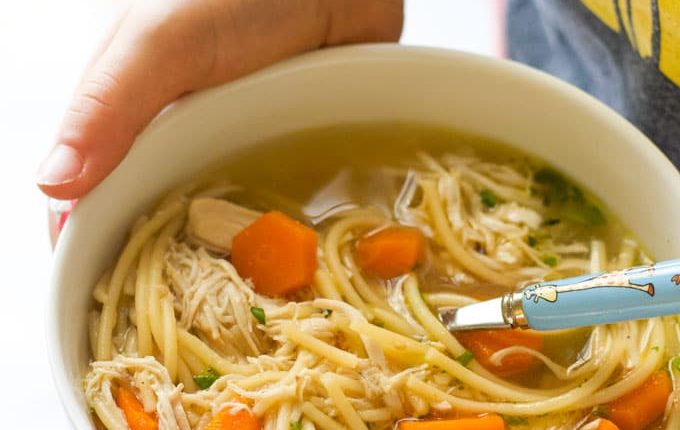 EASY CHICKEN NOODLE SOUP – a simple, easy, and fail proof chicken soup recipe that will give you and your family an instant pick-me-up.
View this Easy Chicken Noodle Soup recipe here.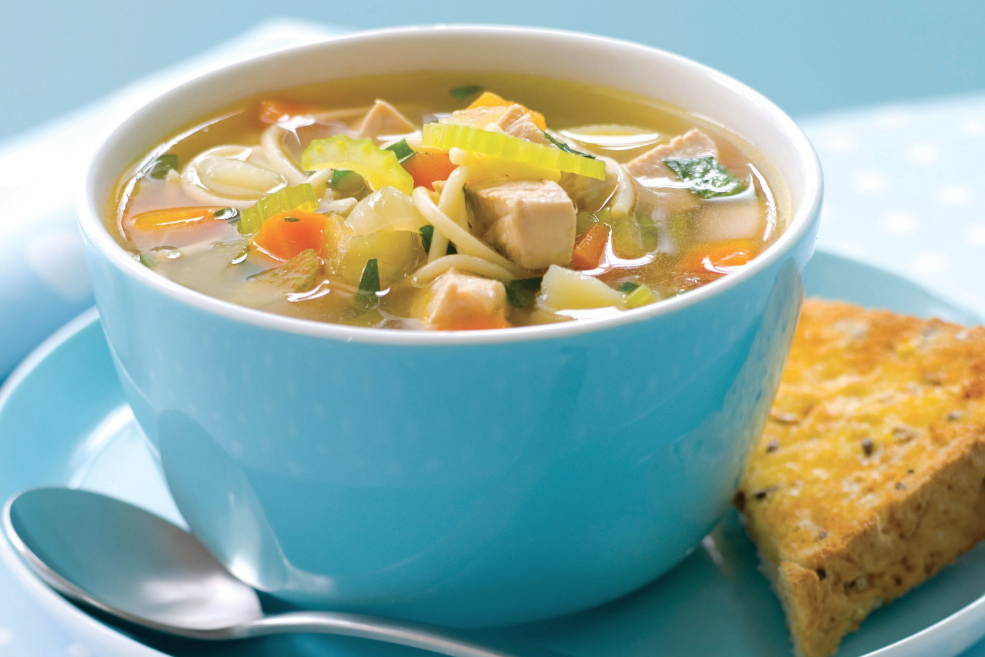 CREAMY CHICKEN SOUP – this recipe is perfect for those with the time to put in a little more effort, who want something slightly fancier, and who love a bowl of creamy and aromatic chicken soup.
View this Creamy Chicken Soup recipe here.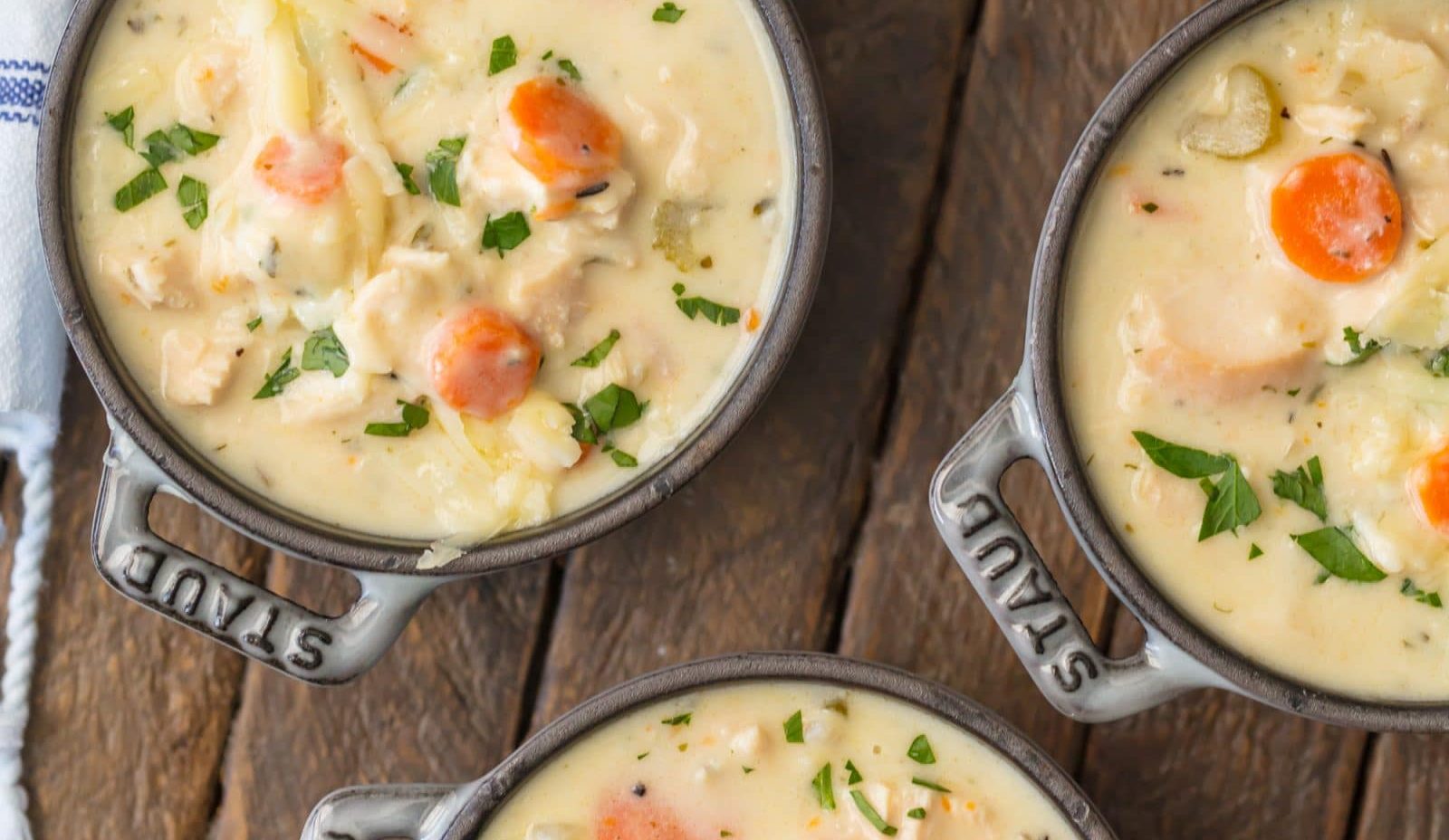 WHICH CHICKEN SOUP RECIPE ARE YOU GOING TO TRY?