A friend of mine recently had her second baby, another girl, naw I love babies they are so cute, I easily get clucky!!  My friend had everything she needed for the new bub as she already had a little girl, so I didn't want to buy her another baby gift to add to everything she already had.  Instead, I gave her a gift of food.  I spent a few hours recently cooking up a storm to fill her freezer.  This will give her nights off having to make dinner and have snacks ready for her and her toddler.  I have shared some helpful meal ideas for new mums below.
Please share in the comments:  What meals do you think are great for a new mum?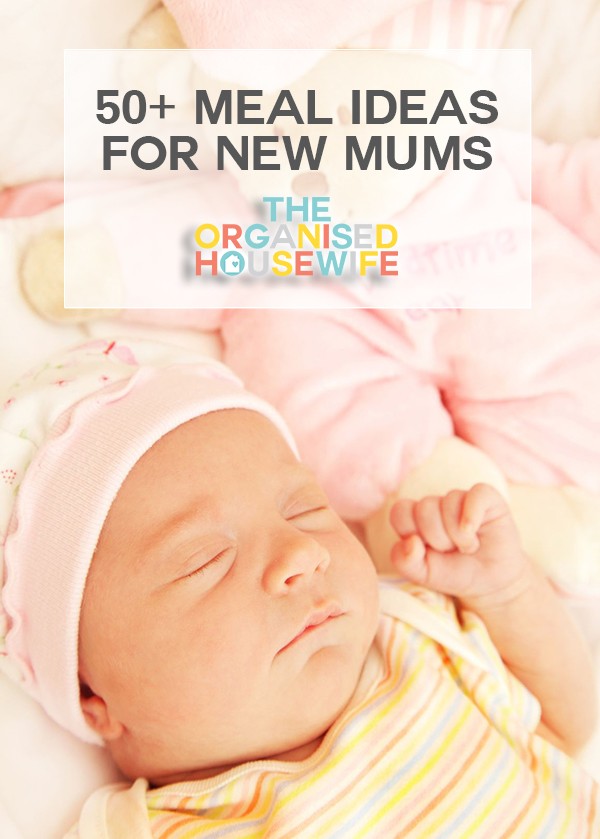 This is also a fabulous idea for pregnant mums, when in their nesting stage, to do a cook up and fill your freezer for those days after bub is born, the last thing you want to do is cook.
Freezer Meal ideas for new mums
I put all the food I was giving to my friend into zip lock bags.  They don't take up much room in the freezer and she doesn't have to worry about returning any containers back to me.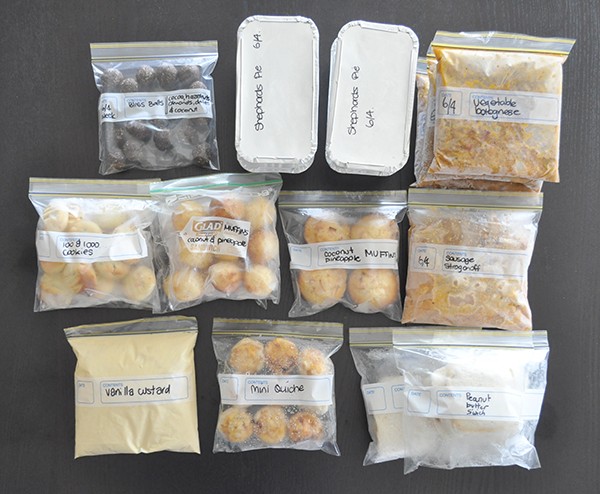 Vegetable Packed bolognese
I made a double batch of bolognese which included some hidden vegetables, onion, carrot, zucchini and mushrooms.  I do have another vege packed bolognese recipe which I use frequently here, but as it has red wine in it I didn't think the flavour would be suitable for a toddler.   View toddler friendly bolognese recipe here.
There are many different options on how to use the bolognese, on toast, with spaghetti, top with mashed potato for a cottage/shepherds pie, meat pie filling etc.
How to store: allow the mixture to cool then spoon small servings into zip lock bags. I used regular sized bags which holds enough for 2 servings. Write name of recipe, ingredients and date cooked onto bag.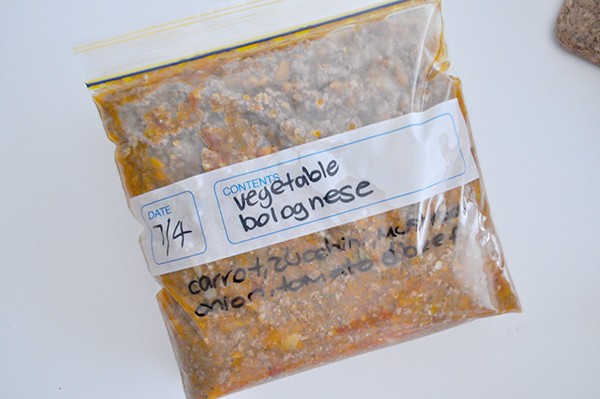 I place the zip lock bag into something with height (below I am using my sifter) to help it stand up which makes it easier to spoon mixture into.  Fill till 2/3 full, get out as much air as you can before sealing.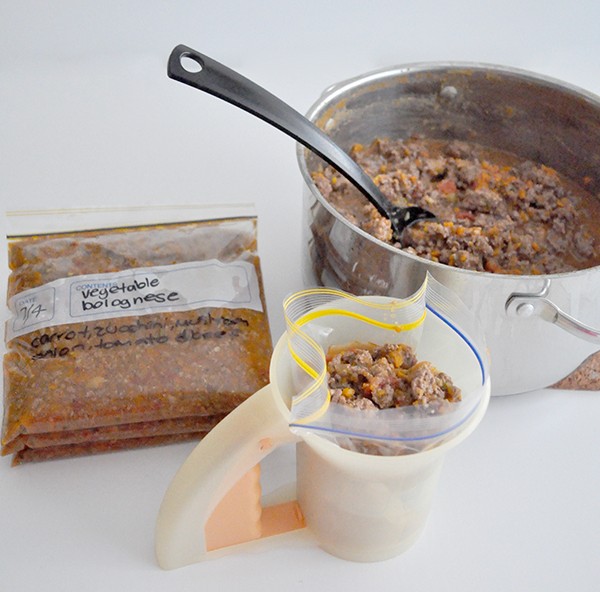 Sausage Strogonoff
Knowing that I wanted to make her a few meals I used cuts of meat that were inexpensive.  Sausage strogonoff is another great meal that can be served on toast, with mashed potato or vegetables.  Click here to view sausage stroganoff recipe.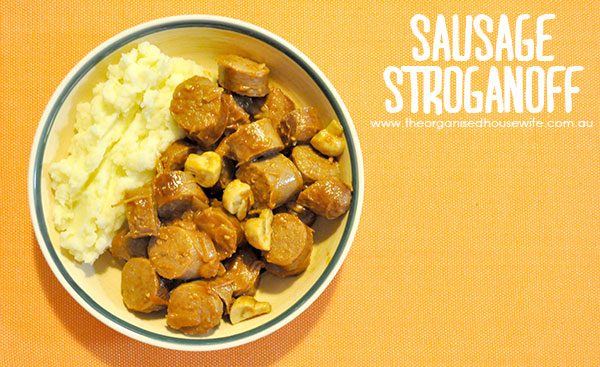 Quick Shepherds Pie
Comfort food at it's finest.  I purchased some foil trays from the local dollar store (they are also sold at most supermarkets) I divided the mixture into two trays and topped with potato and a sprinkle of cheese, then placed in the freezer.  All she needs to do is pop it in the oven (from frozen) until the cheese has melted, approximately 1 hour, or if thawed 30 minutes is enough. See quick shepherds pie recipe here.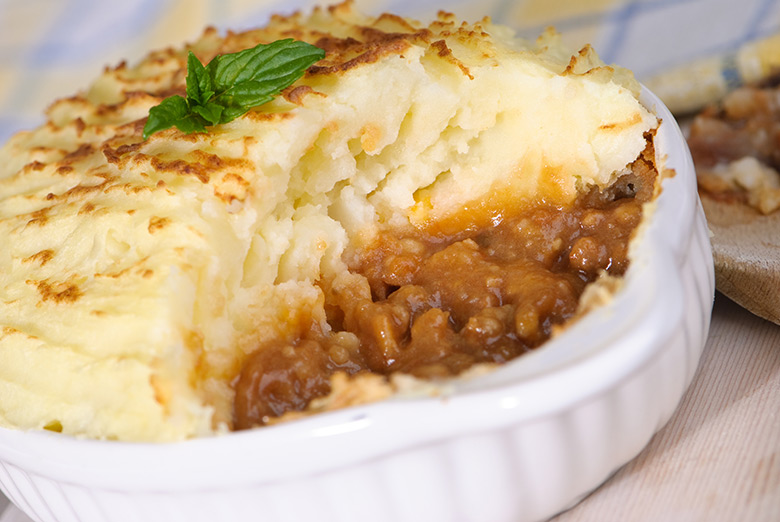 Mini Quiche
A chose to make her some mini quichese for the moment where she is hungry for lunch and doesn't have time to prepare herself anything.  Pop them frozen in the microwave on high for 1 minute and they are ready to eat. View quiche recipe here.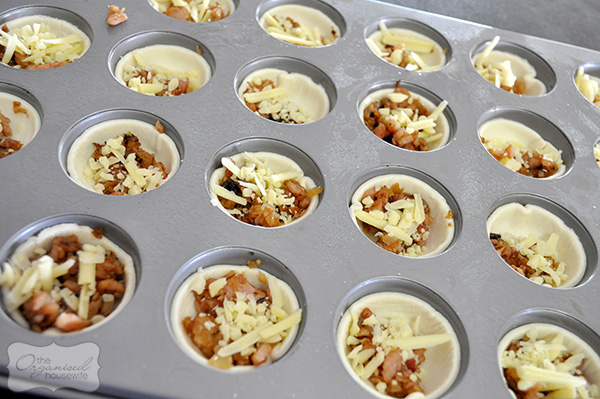 Bliss balls
A great snack to have in the fridge, these can be kept in the fridge for up to a week.  They can be frozen, take some out at the beginning of the day, they don't take long to defrost.  I have many bliss ball recipes here, I made my friend these Chocolate Coconut Bliss Balls.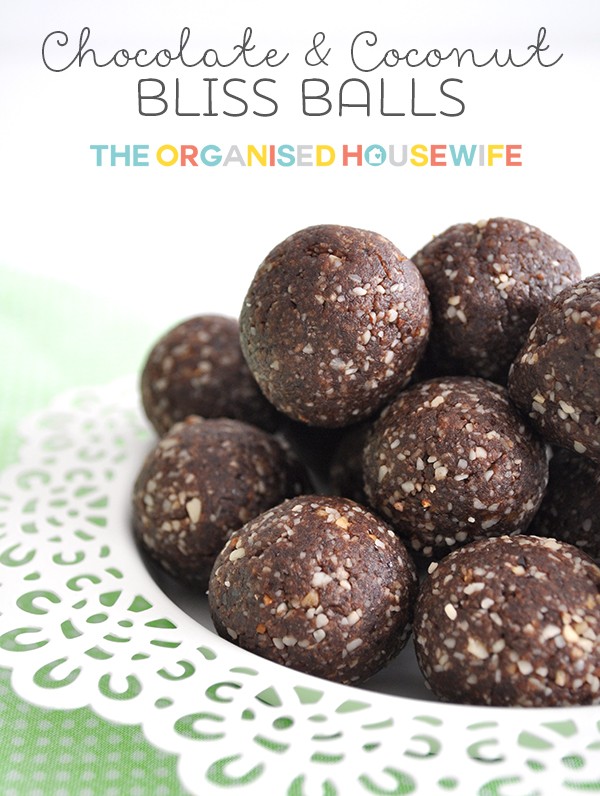 Loads of biscuits
I made her a big batch of my go-to cookies, 100+ cookies from 1 mix.  I could have separated the mixture and made her a variety of different flavours, but I was cooking so much it was easier to make the whole batch the same.  I added 100 & 1000s to the mix as I knew her daughter would love the sprinkles!  View 100+ cookies from 1 mix recipe here.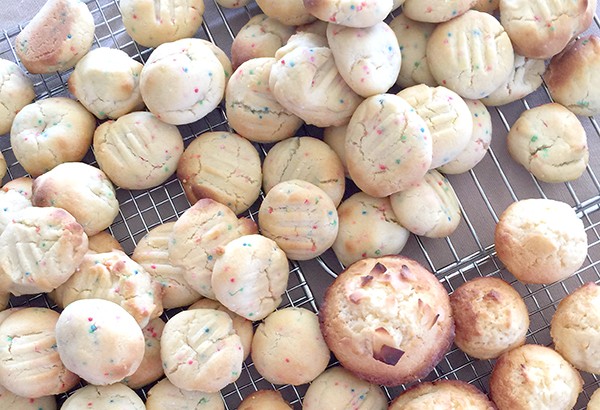 Pineapple and Coconut Muffins
These muffins are a deliciously fruity flavour one both Mum and toddler will enjoy.  I made them as mini muffins, easier for a toddler to eat.  They freeze really well, when defrosted they taste as fresh as the day they were made (if the were frozen the same day as being baked).  View Pineapple and Coconut Muffins here.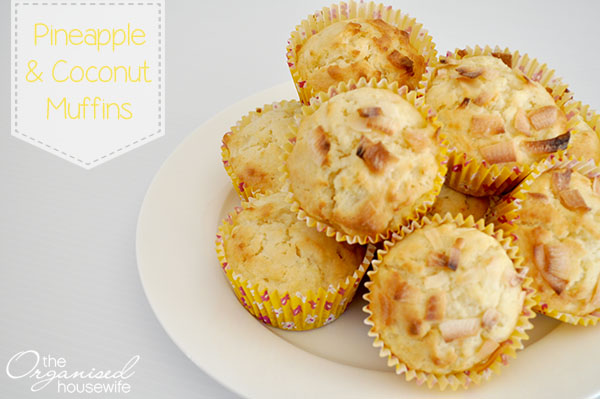 Vanilla Custard
A little something for her toddler to have for dessert. I gave this to her to put in her fridge serve with some tinned fruit.  View vanilla custard recipe here.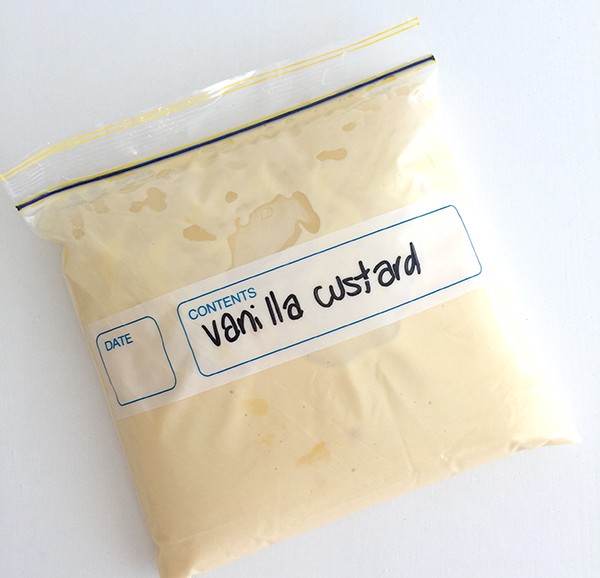 Crustless sandwiches
There are times when mum may need to quickly run out the door or simply know at the beginning of the day it's going to be a tiring one.  I wanted to make some little sandwiches up for Miss Toddler, which can be placed in the freezer.  My youngest helped me make these.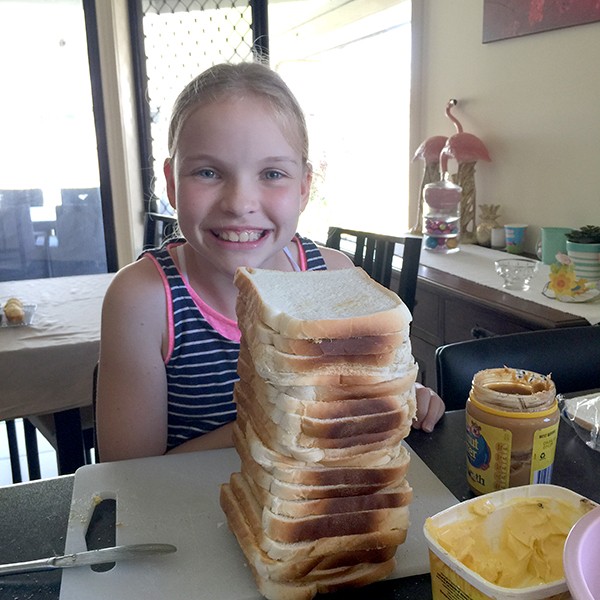 I asked my friend before making these what her daughters favourite spread was… it was peanut butter.  I used the clever gadget to take the crusts off, apparently Miss prefers crustless sandwiches!!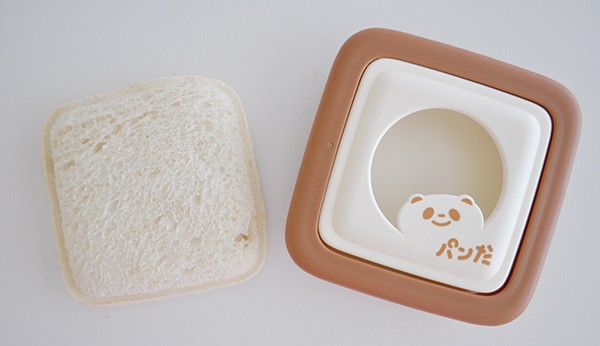 They usually defrost within 15 minutes.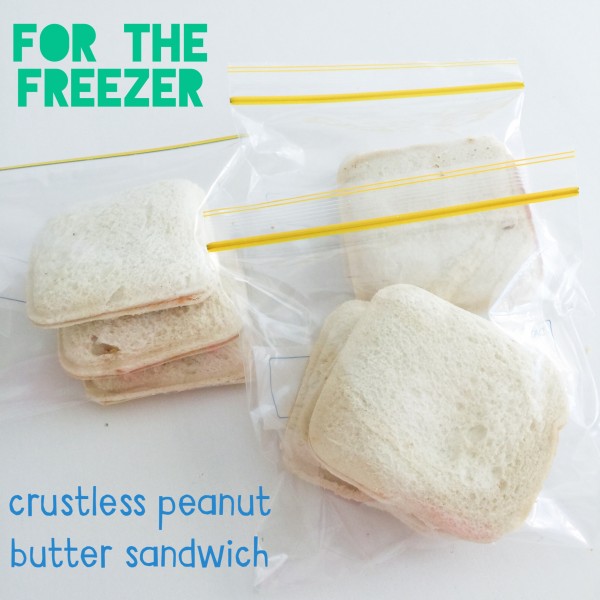 ---
Pregnancy and Baby Planner
This planner is designed to keep everything pregnancy and after baby is born related in one folder. This will save you losing pieces of paper such as a new favourite baby name and you can keep track of your medication and kicks so if you become ill and doctor asks you a question you will have everything recorded. It also has checklists galore to help you remember everything for the nursery, clothes, hospital and more. Plus a full section to keep track of baby's milestones.
INSTANT DOWNLOAD – AVAILABLE IN MY SHOP
---
More Meal Ideas for a New Mum
With the help from our facebook community here is a lists of more fabulous meal ideas you can make a new mum.
Dinner ideas: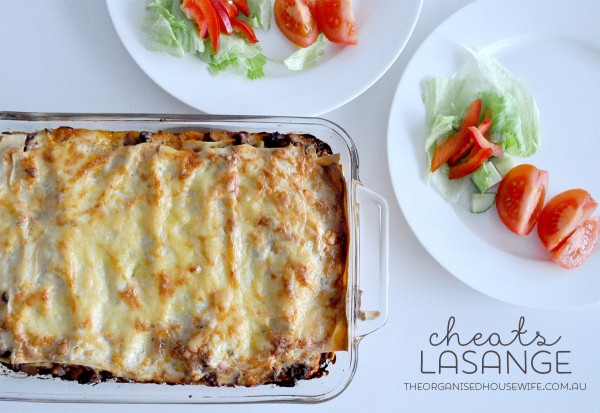 Lunch ideas: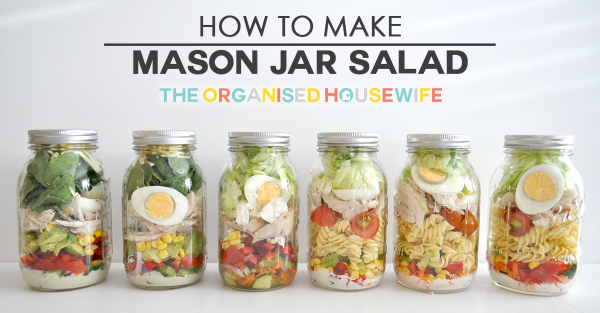 Baking ideas: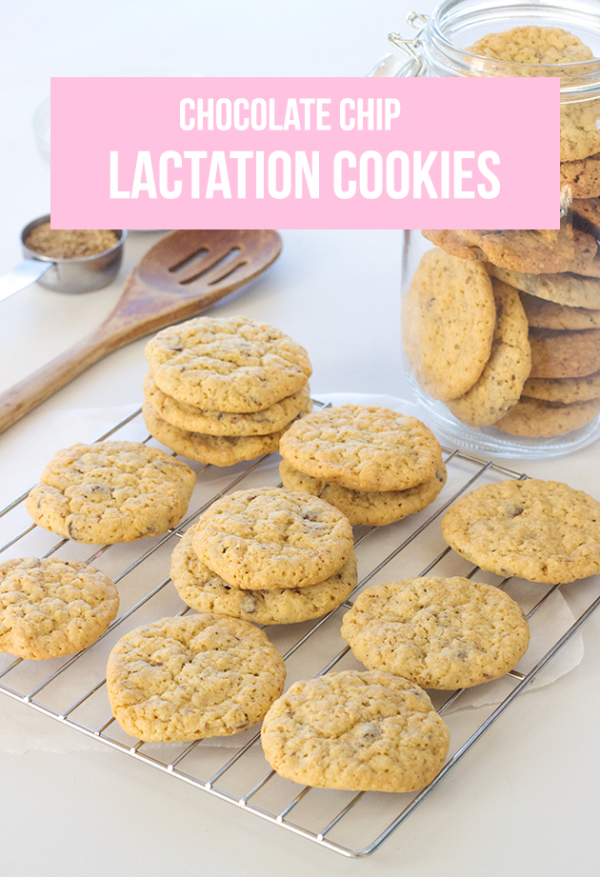 Dessert ideas: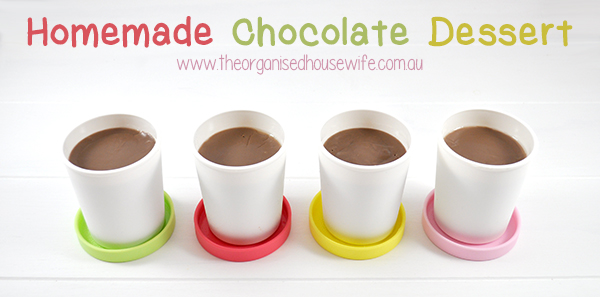 Other snack ideas:
What meals do you think are great for a new mum?