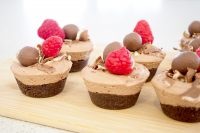 This delicious No-Bake Dairy Milk Marble Cheesecake recipe is super easy to make. These cheesecakes are very creamy, chocolatey and indulgent.
Read More »
SUBMIT YOUR RECIPE SUGGESTION!
We've organised these family friendly recipes to help you easily find what you are looking for. You are sure to find just what you were looking for.