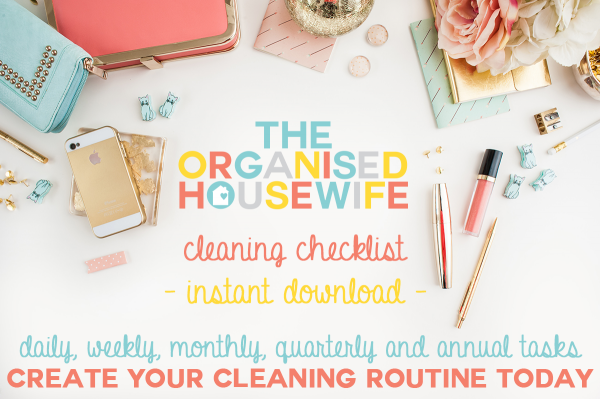 After many requests I have finally put together aah, it could have so many names:
Cleaning Checklist
Cleaning Chores List
Cleaning Schedule
Cleaning Maintenance List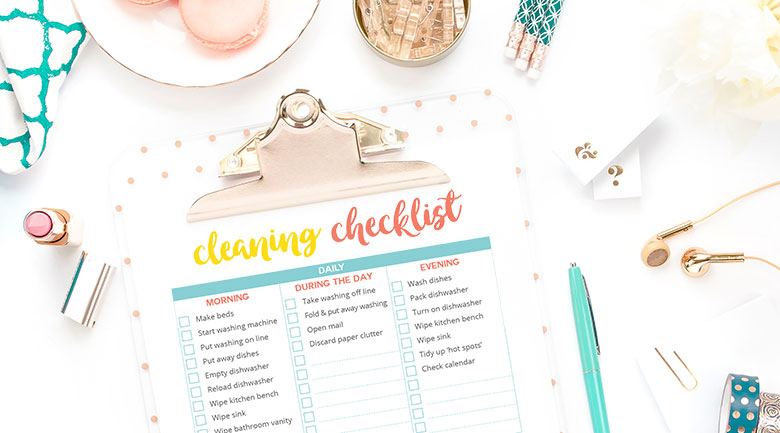 Let's go with THE ORGANISED HOUSEWIFE CLEANING CHECKLIST
This checklist is separated between 3 pages with the following categories:
Daily Tasks (1st page)
Weekly Tasks (1st page)
Monthly Tasks (2nd page)
Quarterly Tasks (2nd page)
Annual Tasks (2nd page)
PLUS a bonus 3rd page to write your own weekly routine
It is very detailed and from weekly – annually it is split into room categories which allows for easy viewing.  Each task has a checkbox, as we all love to put a big tick next to tasks we have accomplished!  Laminate list pages to use like a whiteboard, rub off with a tissue to start again next week.
Extra spaces are available for you to write in your own personal tasks.
This checklist is available for a small price of $4.95 available in my SHOP, click HERE.