Each weekday on facebook I share with you a quote of the day, I have loved finding these quotes just as much as sharing them with you, some make me cry, laugh and really think.  This year each month on the blog  I will share with you a quote of the month, a quote that will motivate and inspire you in your everyday life.  I will design these quotes into an image which you can then print and frame.
View January 2013 print  |  View February 2013 print
This month's quote was inspired by the study I'm currently doing
'Start before you're ready' Marie Forleo
Do you ever say to yourself "ooh I'll get to that when I have time", or "I'd love to do that one day"?
The past 9 months have been emotional, stressful and exhausting, if your new to the blog you can read the reason why here and here.  I recently heard about this fabulous program about how to improve your skills of running a website through a blogging friend.  I read about it and it sounded great, but timing of it was so poor, just as my Dad was moving and needed my help with unpacking, it will run over the kid's school holidays and how am I going to run the household, the family, the blog and study.  But…. after a lot of consideration of the negatives, there are so many positive reasons to do it.  This program is only run once a year, I am in a great place right now feeling happier and more myself, Dad has just settled into his new home and at the end of this month my hubby is off contract with his old employer and working full time on his own business Virtual CFO Solutions (just in case you need a new accountant for your business, shameless plug).   It just made sense to take the leap and start before I was ready.  One week in studying, I am so very pleased I did, I have learnt more in the first week than I could have imagined and I managed to keep in control of the family, the blog and somehow the house is cleaner than normal.
Ultimately if you really do set your mind to it is can be possible and you may have really been ready all along.
What are you wanting to start but are not ready for?
Perhaps some of these links may help you:
Creating Routines – Morning and Evening
The Organised Housewife Cleaning Checklist
How to meal plan and the benefits
Subscribe to receive Daily Tasks, simple cleaning and decluttering tasks sent to your inbox each day
Ideas to organise each room of the house
March 2013 Quote of the Month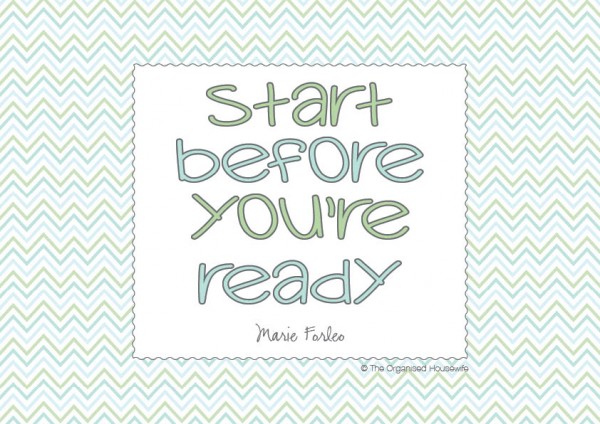 This quote is available for free during March 2013