A super quick post from me today, October has started and I haven't shared this months goal sheet yet, sorry for the delay. I've been super busy and then not so much.  Busy busy with sending my 2017 calendar off to print and then I have been really knocked with this bug going around and have tried to take time out to rest and get better.  I have been feeling really flat and tired, this really agitates me, I hope it passes really soon.
October 2016 Monthly planner page
Use this October 2016 Monthly planner page to help you organise your goals for the month. It has a little quote for some inspiration for you:
if opportunity doesn't knock build a door – milton berle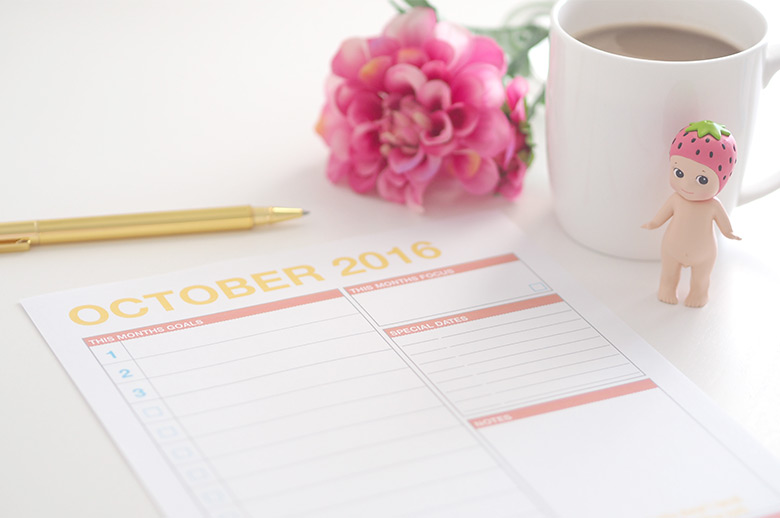 COLLECTIBLE DOLLS: Adorably cute, sweet and fun to collect, minifigure dolls are a rage all over!! With their unique and fun headgear, the dolls will make life brighter for everyone! Available online here.
TO DOWNLOAD: Enter your details in the form below to unlock the buttons to download this fun pineapple wallpaper download for your devices. If you already subscribe to the newsletter, please enter your details again, promise I won't send you the email twice!
[thrive_lead_lock id='53317′]

[/thrive_lead_lock]
Free Monthly Calendar
Use the 2016 free monthly calendar, Weekly Planner or Daily Planner to help you plan your days through the month.
Plan your month
Ideas to add the following to your calendar:
 

Dentist checkups
Health checkups
Time to sit down and meal plan
Plan an upcoming holiday
Immunisation for kids and pets
Time out for YOU!
Date night
Girls night out
Family fun day
October Birthstone is: Opal
What goals do you have this month, personally or around the home? Share them with me in the comments.
How did you go with your goals last month?