During the school holidays we realised my youngest needed a new bike, her big sister has nearly outgrown her bike so we handed Miss 9's bike down to Miss 7.  This meant Miss 9 had to buy herself a new bike (Miss 7 is helping contribute some money).  Unfortunately she didn't have enough money in her piggy bank so she has borrowed some money from Mummy and Daddy to help purchase the bike.  Miss 9 is now saving her pocket money and earning extra money by doing extra chores around the home.
We are trying to teach our kids about the value of money, how to save and return when you borrow.  We grown up's get regular bank statements to keep us on track, but our little kidlets keep adding their money to their money boxes and every week or so I find them trying to count it all up.  My kids get a little muddled up with counting money, so I created the 'Kids Money Saving Pack' to help my Miss 9 keep track of how much she has borrowed and how much she still owes.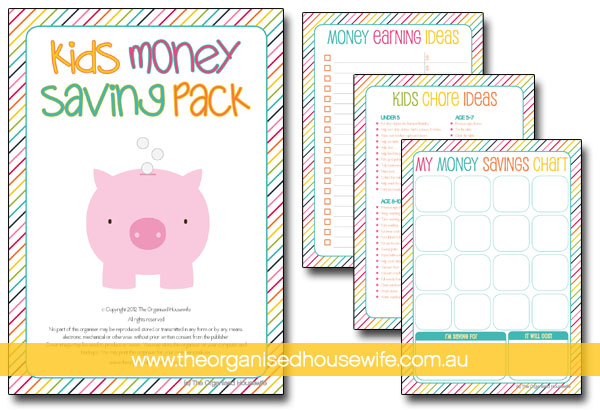 Here is an example on how the pack works: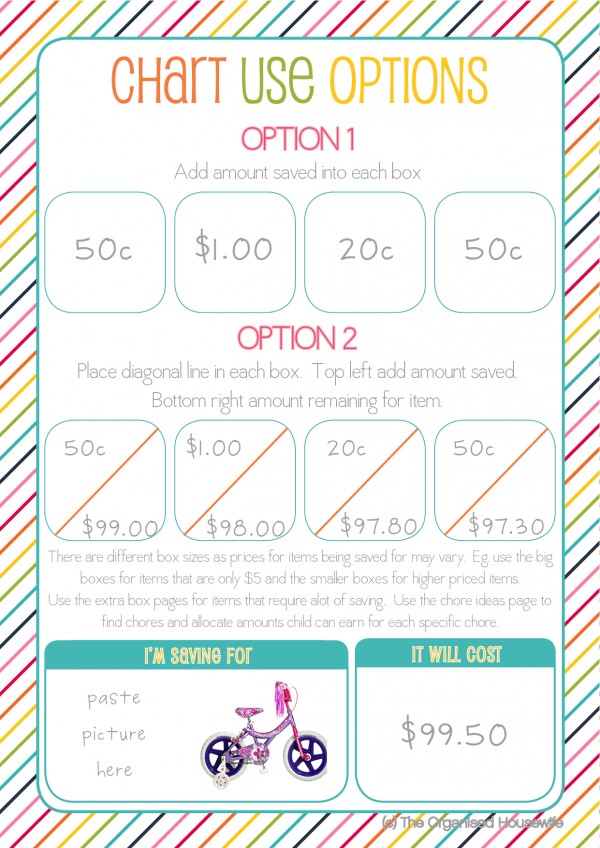 Miss 9 is usually a wonderful helper already at home, but this chart is seeing her do tasks she normally wouldn't do, she is thrilled to be helping me and earning some money. I am happy to have somebody else dust the furniture!!   These charts are also great because there are days that I don't have the money she has earned so this is noted on her chart as an IOU.
Each of the 'kids money saving packs' includes:
Instructions on how to use the charts
4 charts with different sized boxes, as some kids may only need to save for $10 and others perhaps $100
4 extra pages, as they may save more money than allocated boxes
A list of age appropriate chores ideas
A list you can add chores your happy for them to do and the $ value you are prepared to pay for each chore.  eg. sweep floor $0.50
I have made these charts available in the shop in a variety of colours.  You can save, print and use the chart as many times as you need.

 Other colours available: