As always school holiday dates vary around the country, however Queensland kids are now on school holidays with quite a few other states starting next week.  You can view all the school holiday dates by state here.  Today I want to share with you how we organise the school holidays, using my School Holiday Planner and Mums School Holiday Checklist.

Typically every school holiday I plan what we are getting up to with my kids, what they would like to do through the holidays, which friends they would like to catch up with, plan sleep overs, play dates etc.  I use my school holiday planner to do this and place it on the fridge so the kids can read it and know what we are doing.
You are welcome to download the School Holiday planner, it's FREE!
Add in the dates of your holidays and start planning!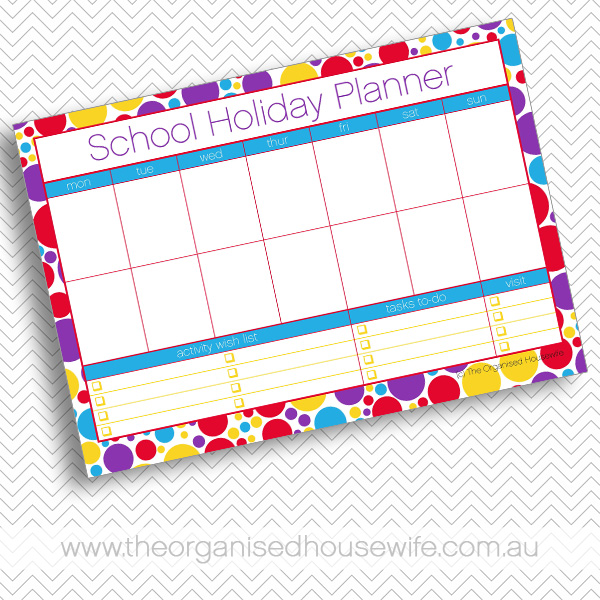 Every school holidays I also have a checklist of items that I need to do before the kids go back to school:
Vacuum out school bags with the brush attachment
Give school bags a wipe down with liquid detergent and warm water, hang on the line to dry
Wash lunch bags, brush through the zipper area to get all the trapped food, hang on the line to dry
Give the ice bricks a good wash
Give the drink bottles a good scrub inside and out
Wash shoes with a damp cloth, allow to dry, sprinkle with bicarb to remove any smells, then polish
Soak their school socks (they are white) in nappy san for a day, then wash.  This will get them back to a crisp white removing a lot of dirt that doesn't come out in the normal wash
Mend uniforms
Tidy up their hair ties, see organising hair ties HERE
Tidy up the homework area, see organising school papers HERE
Try and use up as much pantry food as I can
Restock the freezer with more baking for lunchboxes
Is there a task that you do that's not on the list?
I've put this list above into a checklist just in case you want to print it off to be prepared for the kids to return back to school.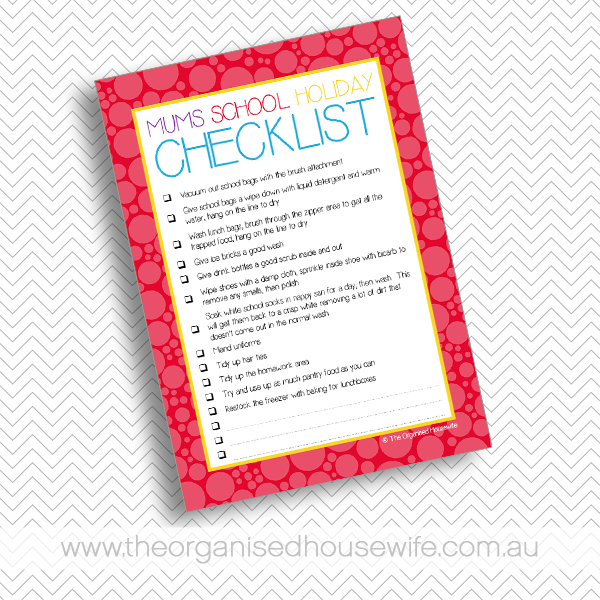 Click on images to see recipe, I'll share some more great lunchbox recipes this week