Decluttering my suitcase so I only take the necessities
This Friday I am flying down to Melbourne for the Nuffnang Blogopolis. I am really looking forward to spending time with some of the lovely people I have met online. I am travelling down with Tamara from Tarisota and rooming with the delightful Fiona from Inner Pickle. It will be lovely to meet some of my readers, so please if you see me come and say hello.
I'm not great with crowds, only going down there knowing a handful of people is terrifying. But I will overcome this and enjoy the weekend and the chats about blogging. I'm also worried that I am going to be cold. I have travelled to Sydney, Cairns, Whitsundays and Fiji, plus I have lived on the beautiful warm and sunny Gold Coast all my life, I don't really know what it's like to be really cold. I have tried to find boots to keep my feet warm, sadly, can't find boots to fit my calves 🙁 I have a jacket which I hope will do it's job well and keep me warm. But if you see me shivering please come and give me a hug to warm me up 🙂
I have been really busy the last few weeks and this week won't be any different, so I created packing checklist to make sure I take everything I need on my trip. I only need to take the necessities, and I have to remember to leave enough room 'just in case' we get goodie bags to bring home. If you are attending Blogopolis, please feel free to download the checklist to help you organise for the weekend too. Click image to download.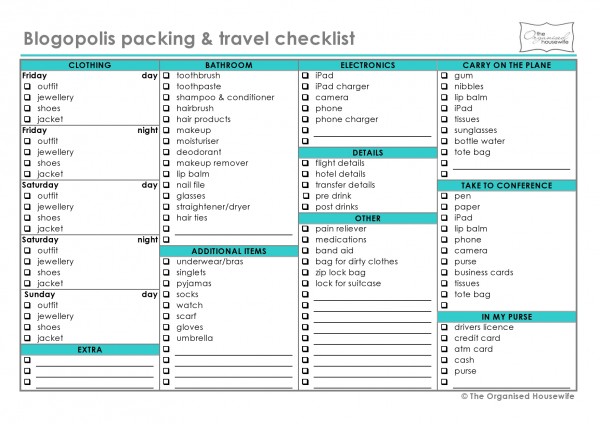 Overall:
Smile, be confident and enjoy the weekend
Write a list of questions you may have. I'm sure there will be Q&A time at the conference, but even so I am sure that other attendees can help answer some of your questions
Take time to look up some of the speakers blogs, familiarise yourself with them
If you have time, look up some attendees blogs as well
Consider how you would introduce yourself and your blog to others. How you will explain what your blog is about. eg. "Hi, I'm Katrina from The Organised Housewife". "My blog gives daily tips and ideas to help motivate and inspire people to enjoy their homes". Short, simple and sweet.
Look forward to seeing you there!!! If you are attending the conference, please link up below as I would really love to pop onto your page and have a look.