Do you love sending Christmas cards? Here are some tips for writing Christmas cards and keeping in contact with friends and family.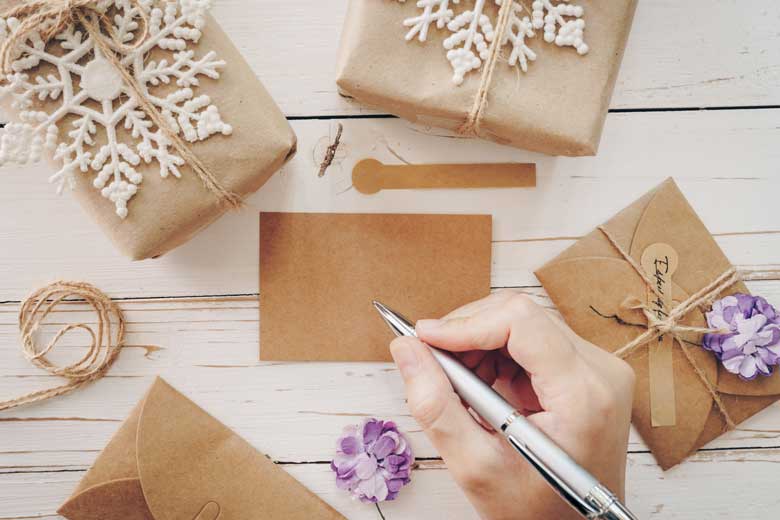 To be honest, I haven't sent Christmas Cards every year, however this year it is on my to do list.  Christmas cards are great for keeping in contact with friends and family you haven't seen or spoken to in a while.  It reminds them they are on your mind and thinking of them while spreading the spirit of Christmas. 
Print the Christmas Card List found in The Organised Housewife Christmas Planner
Start writing names of people you want to send cards to on the list
Organise family photo
Print required number of family photo's
Purchase Christmas cards
Purchase Christmas stamps
Print Christmas Card List
The Christams Card printable list can be found in The Organised Housewife Christmas Planner.
This list will help you keep track of who you have to write cards to and who's cards you want to add family photo's to.  At the bottom is a reminder of tasks that need to be done to complete this project.
I typically write the same sentiment in each card.  However if it is written down to refer to next year I know not to write the same sentiment, to change it up abit.
The received column is for you to refer to next year.  When it is time to pack away the cards after Christmas update the list with who sent you a card.  You may find that somebody sent you a card that wasn't on your list, this will allow you to not forget them next year, I will talk about this in more detail in a later post.
Suggestions who to send Christmas cards to:
Mum
Dad
Brothers
Sisters
Grandparents
Aunts
Uncles
Cousins
Friends
Work colleagues
Business contacts
Clients
Neighbours
Family Photo
Prior to children I never sent photo's with my Christmas cards, however since having kids I have always sent a photo of each of the children in the cards or gifts for great-grandparents, grandparents, aunts, uncles, our brothers/sisters etc. As they say, a picture is worth a thousand words and family just adore seeing pictures of the kids.
Family photo's don't need to be professional shots, however if you have them all the better.  I usually take photo's of my kids using my camera at home with a black backdrop or amongst the plants in the garden.  You could also arrange for all the family/kids to be dressed in the same colour for an effective shot, red is a great splash of colour for a Christmas photo. Arrange to get the photo's printed prior to starting writing the Christmas cards.
When sending cards to business contacts, clients and friends you don't know very well, send 'Season's Greetings' cards so you don't offend if they have a different religion.
THE ORGANISED HOUSEWIFE CHRISTMAS PLANNER
Tackle Christmas like a boss – and a very calm stress-free boss at that – with a Christmas Planner that puts you back in control of gift giving, budgeting, meal prep, Christmas events, and SO MUCH MORE!
Now that you have purchased all your Christmas card supplies, it's time to start writing out the cards.  Take your time, perhaps start with a handful each day until you are finished.
SUPPLIES NEEDED:
Christmas Cards
Envelopes
Christmas card list
Pen
Stamps
Return address labels
Address Book
Photo's
WRITING CARDS:
It's hard to decide what to write in cards.  While it may be tempting to just write 'Merry Christmas', take the time to to write a personal message (see below)
For cards to friends and family keep it personal there is no need to sign your last name.
Remember you are not writing a letter, it's more like a note.
Include a photo of the family, newest baby, pet, latest holiday or your house in the card for close family.  I'm sure they will appreciate something extra.
ADDRESS ENVELOPES:
Don't forget to put your return details on the back.  This is handy if mail has be to returned, and so the recipient has your address if they need.
Whilst it maybe easier to type out addresses and print on a label, I love the old fashioned handwritten envelopes.  Christmas is a rustic tradition, no need to put a modern spin on it!!
Decorate the envelope using 1 christmas sticker or place a sticker on the back to seal the envelope.
Don't add the glittery sprinkles to your envelopes, while you may think they are cute, I ensure your friends maynot after they have sprinkled over the floor creating a mess.
Remember to write 'card only' on the envelope to receive your postage holiday discount
I like to post my Christmas cards towards the end of the first week in December.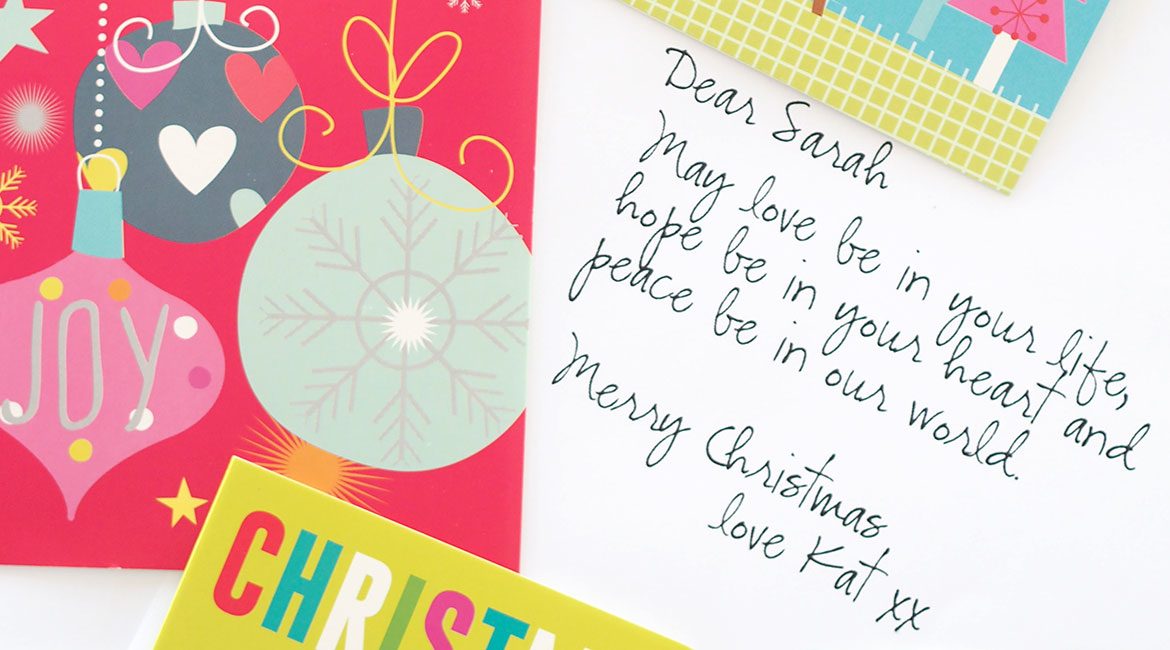 CHRISTMAS MESSAGES
Here are some possible messages you could use in your cards.  Remember you can replace 'Merry Christmas' with 'Happy Holidays' and 'you' with 'you and your family'.
---
May the Christmas season
fill your home with joy,
your heart with love
and your life with laughter.
---
Merry Christmas and Best Wishes
for a Happy New Year
---
May this Christmas end the present year on a cheerful note
and make way for a fresh and bright New Year.
Here's wishing you a Merry Christmas and a Happy New Year!
---
With much love at Christmas time, and always.
---
May love be in your life, May hope be in your heart, May peace be in our world.
---
May your Christmas sparkle with moments of love, laughter and goodwill,
And may the year ahead be full of contentment and joy.
Have a Merry Christmas.
---
 A wish for peace and happiness
at Christmas and throughout the New Year.
---
May the miracle of Christmas fill your heart with warmth and love.
Merry Christmas!
---
May the peace and blessings
of Christmas be yours;
And may the coming year
be filled with happiness.
---
The gift of love.
The gift of peace.
The gift of happiness.
May all these be yours at Christmas.