Christmas Cards
To be honest, I haven't sent Christmas Cards every year, however this year it is on my to do list.  Christmas cards are great for keeping in contact with friends and family you haven't seen or spoken to in a while.  It reminds them they are on your mind and thinking of them while spreading the spirit of Christmas.  
Print the Christmas Card List found in The Organised Housewife Christmas Planner.
Start writing names of people you want to send cards to on the list. 
Organise family photo.
Print required number of family photo's.
Purchase christmas cards.
Purchase christmas stamps.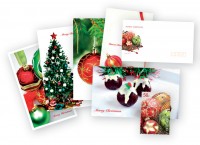 Print Christmas Card List
The Christams Card printable list can be found in The Organised Housewife Christmas Planner.
This list will help you keep track of who you have to write cards to and who's cards you want to add family photo's to.  At the bottom is a reminder of tasks that need to be done to complete this project.
I typically write the same sentiment in each card.  However if it is written down to refer to next year I know not to write the same sentiment, to change it up abit.
The received column is for you to refer to next year.  When it is time to pack away the cards after Christmas update the list with who sent you a card.  You may find that somebody sent you a card that wasn't on your list, this will allow you to not forget them next year, I will talk about this in more detail in a later post.
Suggestions who to send Christmas cards to:
Mum
Dad
Brothers
Sisters
Grandparents
Aunts
Uncles
Cousins
Friends
Work colleagues
Business contacts
Clients
Neighbours
Family Photo
Prior to children I never sent photo's with my christmas cards, however since having kids I have always sent a photo of each of the children in the cards or gifts for great-grandparents, grandparents, aunts, uncles, our brothers/sisters etc. As they say, a picture is worth a thousand words and family just adore seeing pictures of the kids.
Family photo's don't need to be professional shots, however if you have them all the better.  I usually take photo's of my kids using my camera at home with a black backdrop or amongst the plants in the garden.  You could also arrange for all the family/kids to be dressed in the same colour for an effective shot, red is a great splash of colour for a christmas photo.
Arrange to get the photo's printed prior to starting writing the christmas cards.
Christmas Cards and postage stamps
There are so many cute Christmas cards in all different shapes and sizes.  Remember to think about postage when choosing which cards you will buy.  Thankfully during the Christmas season Australia Post reduces the price of greeting card stamps to $0.55 if endorsed with CARD ONLY on the envelope. (prices have now increased, please check the Australia Post website for accurate postage costs). However this price is for standard envelopes only:
no larger than 130mm x 240mm
no thicker than 5mm
maximum weight 250g.
If you are purchasing cards that are larger than this size
rectangular in shape
no larger than 260mm x 360mm
no thicker than 20mm
does not weigh more than 125g.
postage will cost you $1.10 again when endorsed with CARD ONLY on the envelope. (prices have now increased, please check the Australia Post website for accurate postage costs).
When sending cards to business contacts, clients and friends you don't know very well, send 'Season's Greetings' cards so you don't offend if they have a different religion.