Can you believe it, 6 weeks till Christmas.  Time is just flying.  Like I posted HERE we use a gorgeous wooden advent tree which we place small inexpensive gifts, each day leading up until Christmas.  While looking through the current Big W catalogue I found this reasonably priced advent box which would work great for these ideas.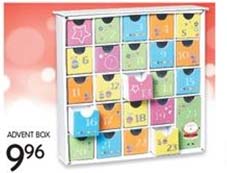 Create an advent gift list to help you plan the gifts for your advent calendar, make sure you have a little something for each day.  An advent gift list can be found in The Organised Housewife Christmas Planner.  
Another great idea instead of gifts is Christmas activities.  Thankyou to reader Alicia for sharing her list of activities she places notes in her advent countdown:
Decorate Tree
Sing Carols (Usually fits in with Carols By Candle Light)
Make Gingerbread houses
Bake cookies
Make bonbons
Santa Photos
Christmas Lights
Christmas Windows and Giant Tree in city
Christmas Story (Visit to Library)
Taste Testing Game
Christmas Craft – Foam Picture Frame Kits
Write Letters to Santa
Take donations to Salvos, Kmart Wishing tree and Church
Wrap Pressies
Make Badges (We add a new one to our Santa sack each year)
Make Stainglass Windows (out of contact and coloured cellophane)
Christmas Craft 3D Snowman
Colour in Fuzzy Christmas Pictures 
Decorate a Gingerbread Man Notebook
Make Christmas Gifts for all service workers in our area (Hairdresser, doctor, postman)
Deliver Handmade Gifts
Make a Present Picture Frame
Bake – Christmas Tree Bark
Buy – Christmas Placemats
I'm loving these ideas Alicia, I haven't purchased all gifts yet for my advent, so I am going to add the rest as activites, thanks for this great idea!! 
 Do you have an activity that could be added to the list??