I have shared previously about how we get the chaos out of our morning routine and how having a evening routine keeps me sane.  I'd really like to share details with you again about this as we have had them in place since the twins started kindy, around 3 years old.  The twins are nearly 10, I still have the charts up, they don't need to refer to them everyday but there are day's they need a gentle reminder.  Over the years they have truly been a sanity saver.
I have 3 charts, a morning, afternoon and evening routine chart.  The morning and evening charts are on the wall in their toy room and I keep the afternoon chart on the wall above the school bag nook.
I created the charts because I found I was repeating myself everyday, have you brushed your teeth… hurry up and get dressed…. is your bag packed.  Be it the kids were 3 at the time and at this age I didn't expect them to remember, so I created a visual to help remind them.  It truly was the best thing I did.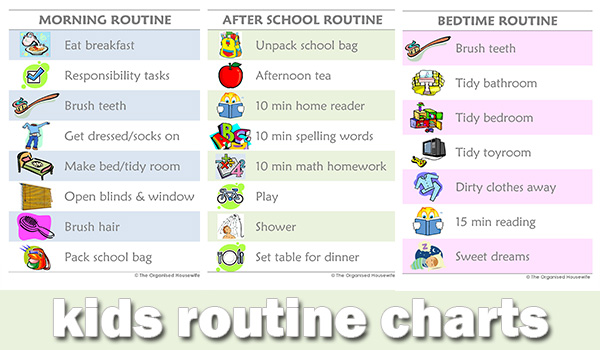 These routine charts are available in my shop at a very reasonable price.  You can purchase them individually, all 3 in a colour bundle  or there is an option to get them personalised with your own tasks
Morning Routine
I created these charts with the order of tasks in mind.  Kids eat breakfast first thing and while they are in the kitchen they are to do their responsibility tasks (which is usually empty dishwasher and rubbish bins).  Next I prefer them to brush their teeth before they put their school uniform on to prevent toothpaste from getting onto their clean clothes (because it happens).  They are responsible for keeping their bedrooms tidy and making their beds.  I also like them to open their blinds to let in the sunshine and if it's a clear day outside to open the window to let the fresh air in (I love having the house open and breezes flowing through).
My kids are now making their own lunches (brilliant, they like the independence), I'll share more about this in a post this week.  So I usually prepare hubby's lunch, do the laundry and then tidy the kitchen while the kids are getting ready.
Find morning routine chart here
Afternoon Routine
I had to enforce an afternoon routine when the kids started school as we had neighbourhood kids knock on the door as soon as we got home because they wanted the kids to go out and play.  I'm all for kids playing after school as they have had a long day at school, but their teachers want them to complete their homework each day and this needs to be done before they go out and play.
Find afternoon routine chart here
Evening Routine
I started this to get the kids to help me to keep their bathroom, bedroom and toy room tidy.  ie. wipe away toothpaste from the basin, towels hanging up properly etc.  The twins read a book for a minimum of 15 minutes and I read with Miss 8.  Having this reading routine has really helped the kids enjoy books and relax before lights out.
Find evening routine chart here
Bed times
Now the kids are older their bedtime has changed.  Ever since they were babies they used to go to bed at 7pm. However, over the past few months I've noticed that they don't need to go to bed so early.  We now have lights off at 8pm, so they usually start to get ready for bed around 7.30pm.
I recently asked on facebook what time your kids go to bed, there was a fantastic response, if your interested to read what time other kids go to bed you can read details here.