In the last few weeks I have had friends announce they are expecting and I have attended a few baby showers.  Now these little bundles of joy have graced us with their presence.  I'm not sure what the etiquette is with new babies and gifts? I gave a gift at the baby shower, then do you give a gift when the bub arrives, and if there is a welcoming celebration or christening do you give another gift?  I'm really unsure, that's a lot of gifts.
Now I can tell you the exact time and all the statistics for my first borns (twins) but when it comes to my youngest I truly have mummy brain and can't remember what time of day she was born.  So I wanted to create something for these new mum's to display in bubs room.
I made these myself, printed at Kmart and placed in a white frame.  It's a gorgeous little gift one these new mum's have loved!!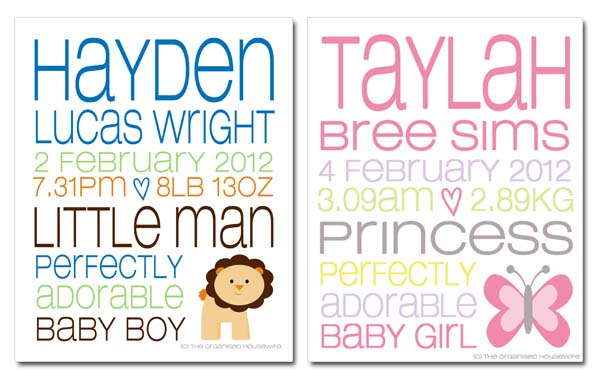 I will be placing these baby details prints in my shop.  $14.95 for one week only, then regular price $17.95.
Email the details to personalise so you can give one as a gift or have for your little cherub.