I must admit I struggle to come up with ideas for gifts for family members, with a gift for their birthday, christmas and then depending on the family member, a mother's day or fathers day gift as well.  There is only so many coffee mugs and slippers you can give a person.  This year I have created something a little special for the grandmothers in our lives, because it's sad to say they can become a little forgetful.
I created this print below for Granny to have to remember the names and dates of birth of her grandkids. Plus it will be a lovely print for the wall.  This would be a really sweet Birthday, Christmas or Mothers Day's gift for Grandma.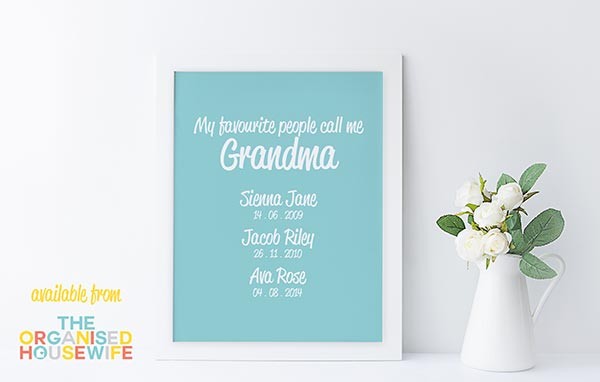 This print is available in my shop and can be personalised, your choice of word for Grandma (ie. Nan, Nannie etc) plus grandkids name and birth dates.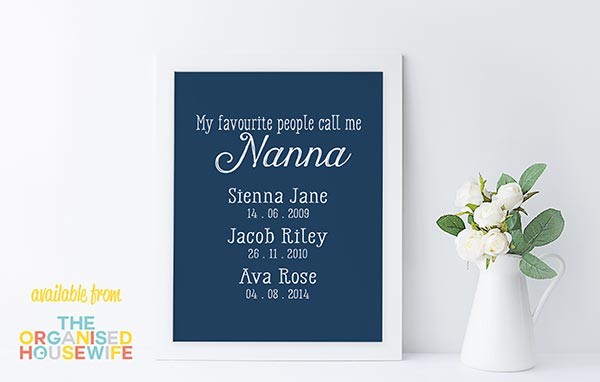 Available in 3 different designs and 21 colours options.
CLICK HERE TO ORDER Grandma's favourite people print – add your personalised details and I will create the print and email to you within 48 hours (sooner if I can).  In the meantime all you need to do is get a A4 or 8×10″ frame ready to place it in to.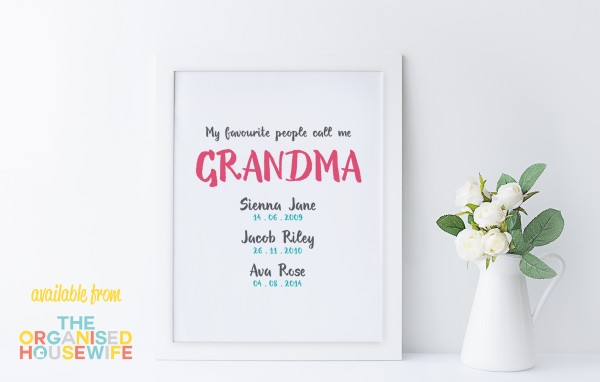 Here is another sweet print that can be given to a grandmother on Mothers Day. There are many different colours and name versions for Grandma available.  Find more details here.