The Organised Housewife's 2017 Daily Planner and printable Calendars are now available!!  When I was creating this I was in a colourful mood, hence the bright, fun, fresh new look and design.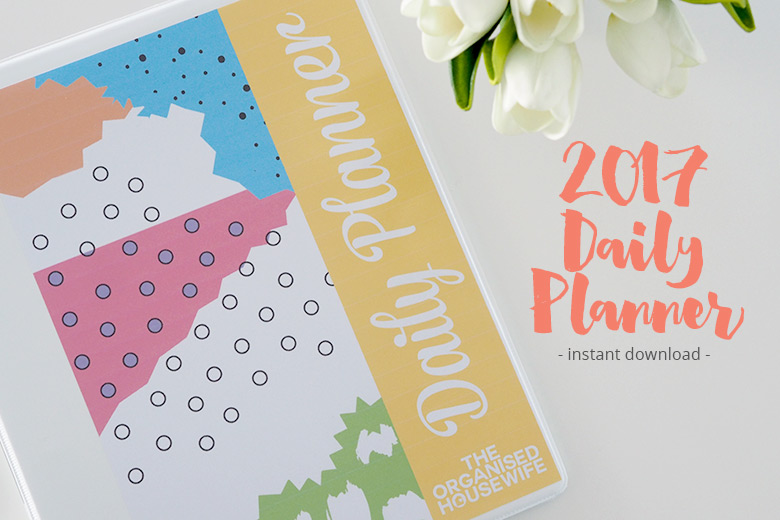 2017 Daily Planner – instant download!
The 2017 Daily Planner will help you plan each day efficiently.  Each day of the year has its own page, with day and dates, you can add in your appointments, focus task and list of more tasks. This is really helpful when planning in advance.  This is a digital product so you can simply download, print and start planning within minutes.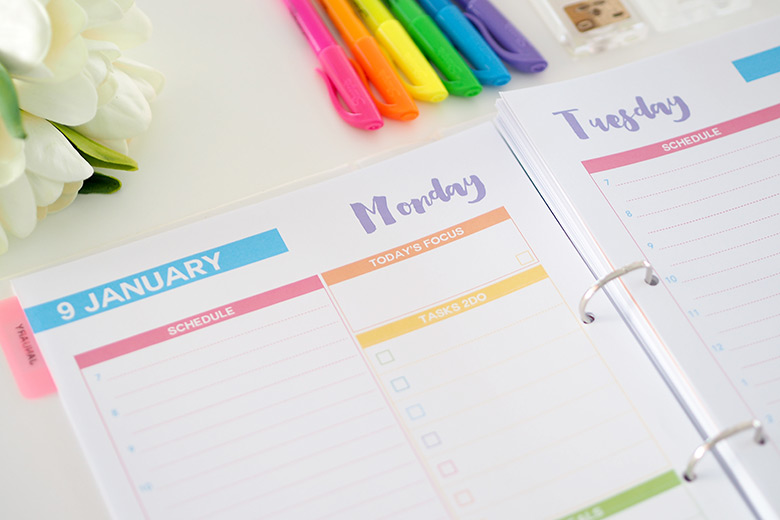 This colourful planner includes:
Cover page and various sized spine labels (to suit your desired folder size)
2017 year at a glance page
Month at a glance pages – January – December 2017
Monthly goals
One page for: each day of the year
Divider pages for each month
On sale $5 off until midnight Sunday 8th January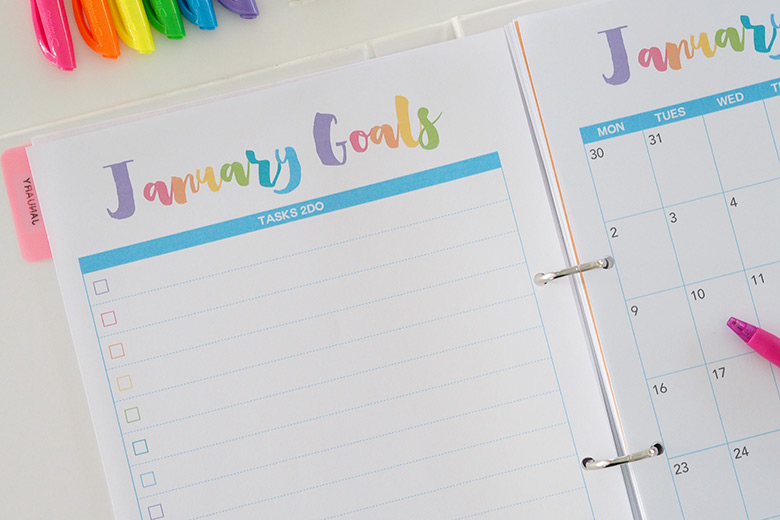 Below is the month at a glance page, which gives you more space to write and plan.
Also available in each monthly section is a month to a page calendar so you can use each page as you like, or choose to use one over the other.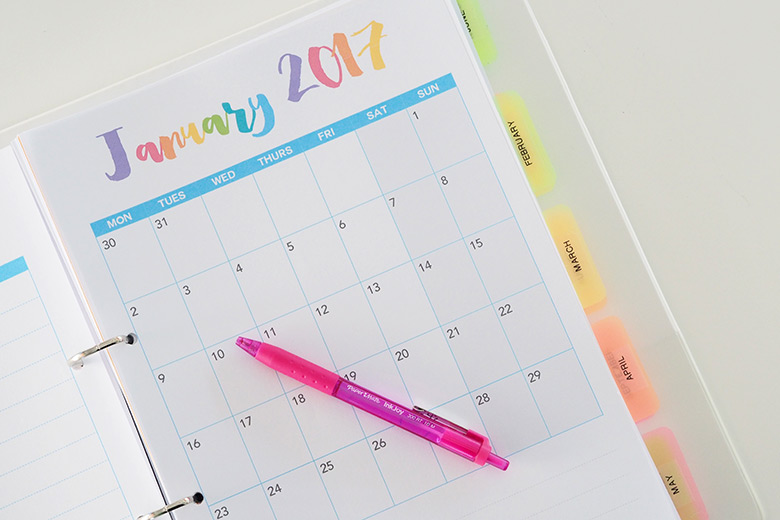 Each day of the year has its own page where you can add in your appointments and a focus task for that day.  Along with an area to write your tasks 2Do, which is really helpful when planning in advance eg. upcoming birthday on 30th March, place a to-do in your calendar for 15th March to purchase gift and 25th March to post gift.  This is perfect to see your day and tasks at a glance.
Areas within the daily sheet:
Schedule – add in your appointments so you don't forget them!
Today's focus – the must do task for the day
Tasks 2Do – additional daily tasks to do
Meals – Plan your breakfast, lunch and dinner
Healthy habits – write here the exercise you have done for the day, check you and the family have taken your vitamins and keep track of how much water you have drunk.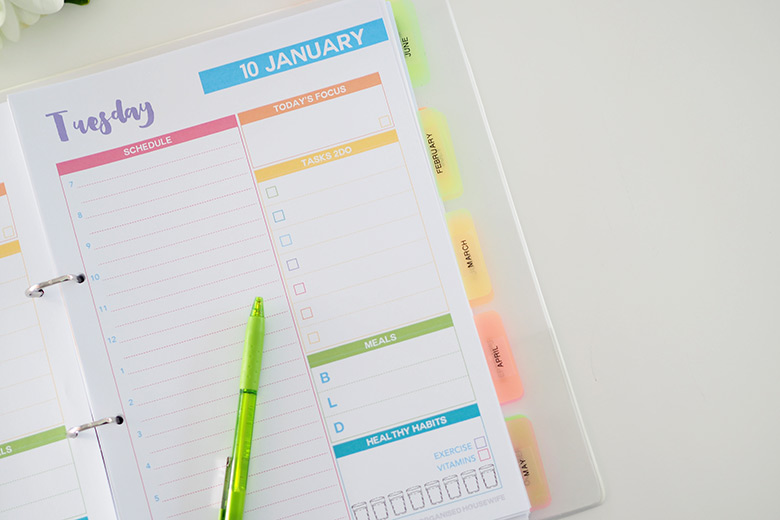 Each month has its own divider page which you can laminate, slip into a plastic sleeve or leave as is. Add a tab to the divider page to easily find the month you are looking for.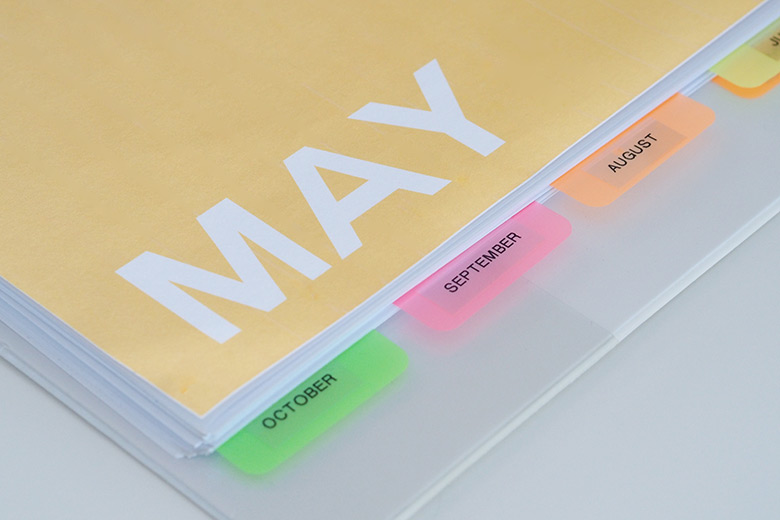 Printing
This planner is designed to print double sided, you will need to tick the following options when printing:
two-sided setting
shrink to fit to ensure it prints within your printers default margin settings
borderless if your printer has this option
print blank pages
I have intentionally left blank pages within the file, this is to ensure that the monthly divider pages are printed currently.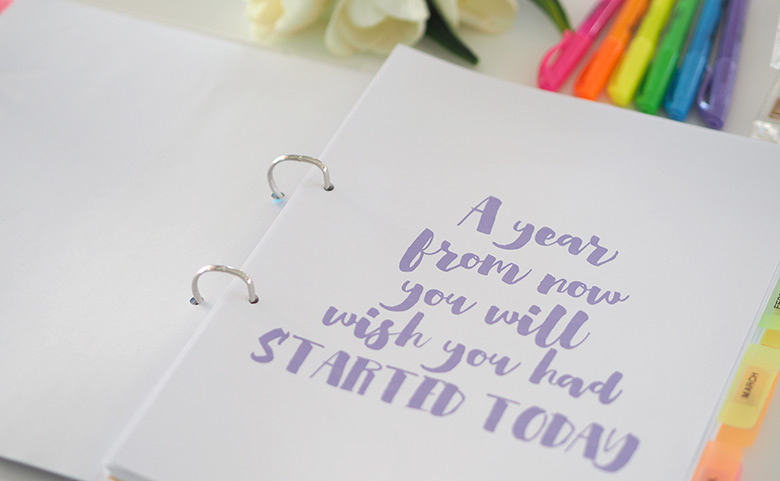 PLEASE NOTE: this product is an instant download file, you won't receive a physical product.
Print the cover page and place into an A4 ring binder (can be found at Officeworks and Kmart) that have clear pockets on the spine and front cover so you can slip in the planner cover and spine label.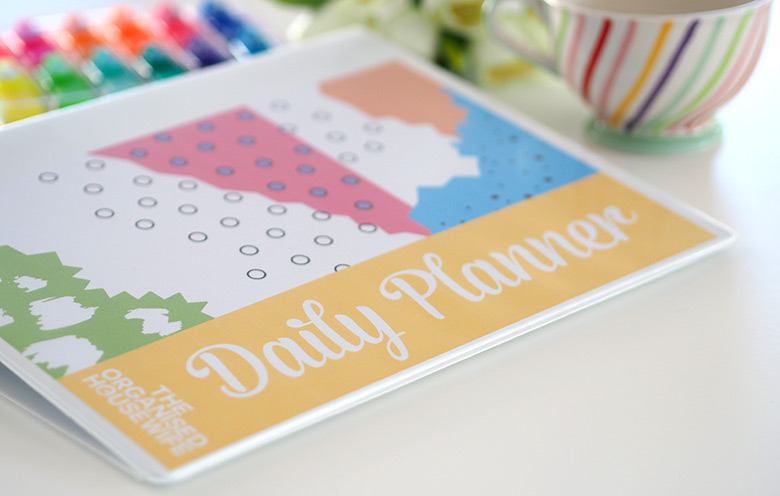 On sale $5 off until midnight Sunday 8th January


2017 Monthly Calendars
The very popular Calendars with to-do list on the side is also available in these fun bright colours. This file contains January – December 2017 calendars. Each monthly page includes dates, but do not include public holidays, to allow you to add in your own dates according to your state and country.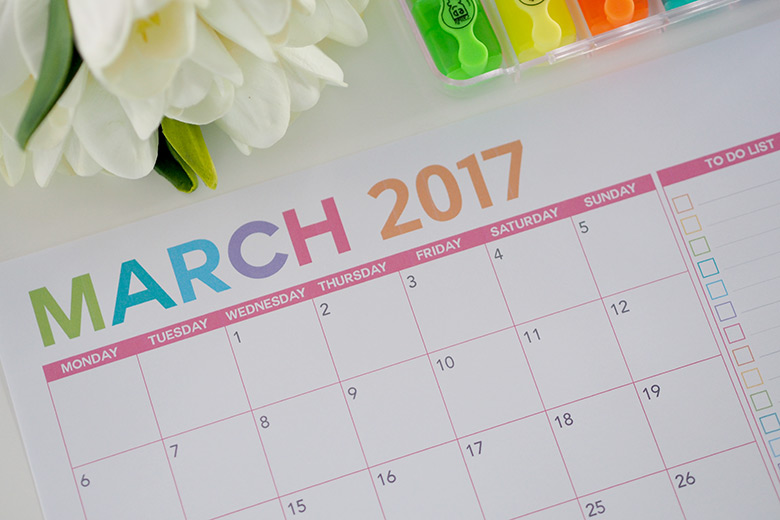 2017 Weekly Planner
Much to the dissapointment of many, I really struggled with this decision to not publish a 2017 planner this year.  Time has got the better of me and I haven't had enough time to produce one.  However, if you are eager for one, please leave me a message below and I will strive to create it before the end of the month, I do love designing them!
Physical 2017 Wall Calendar
My 2017 Calendar is the perfect way to stay organised, inspired and motivated.
This calendar is inspiring and vibrant, because being organised shouldn't be boring! Filled with bright and colourful designs to inspire and motivate you. I want you to look at the calendar and feel encouraged to achieve new things! Each month has a unique feel and features fun and quirky graphics.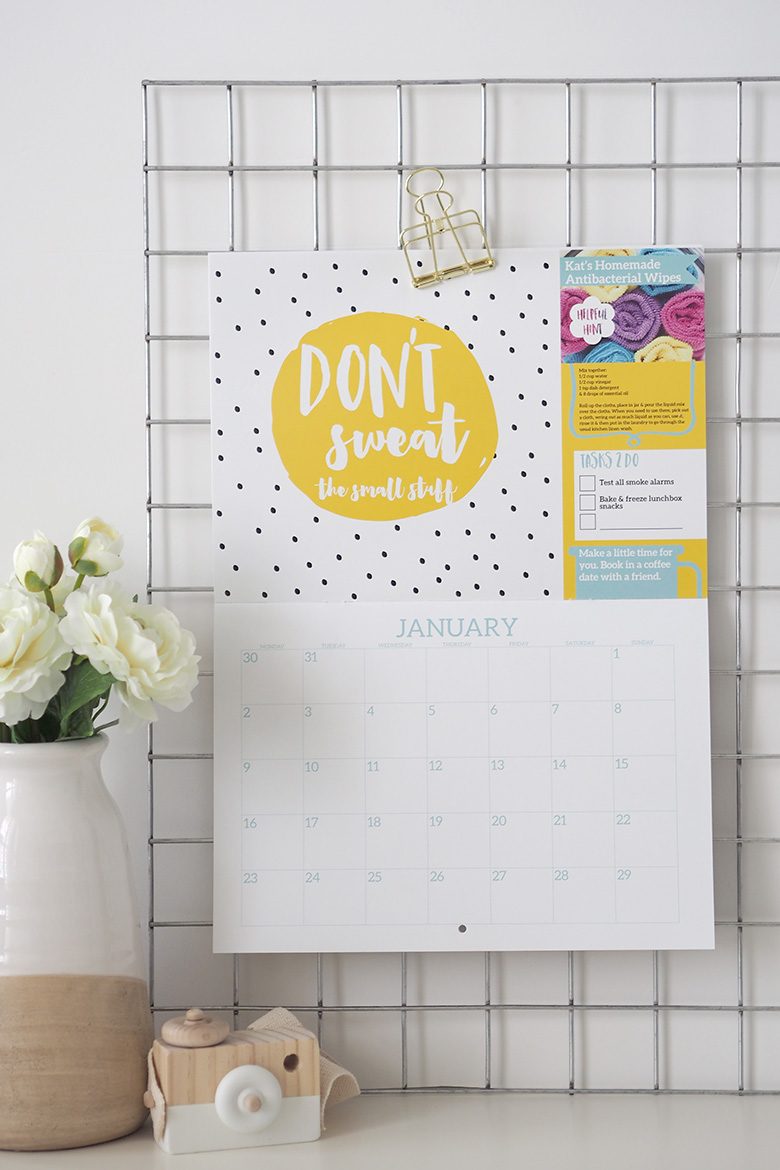 Weekly Planner Pad
My new weekly planner is the perfect tool in every home to help you stay organised throughout the week.
The weekly planner allows you enough space to include appointments and an area to pencil in  your dinner ideas. It also has section which you can personalise yourself. i.e. to call, to email, a shopping list, etc. It's up to you!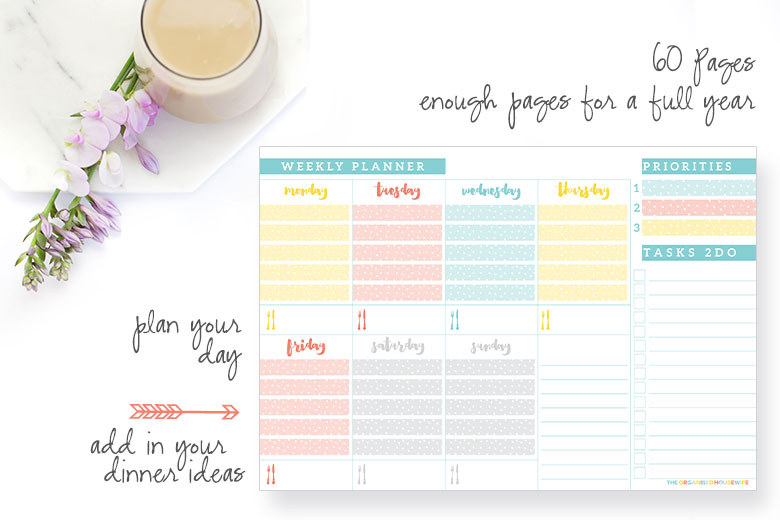 2017 Blog & Business Planner
This will be available very soon!
2017 Bill Organiser
Paperwork in the office can easily become a mess and get lost. Use the Bill Organiser to keep all your bills and receipts together in one place so you won't forget to pay your bills.  This Bill Organiser includes November 2016 – December 2017 calendars.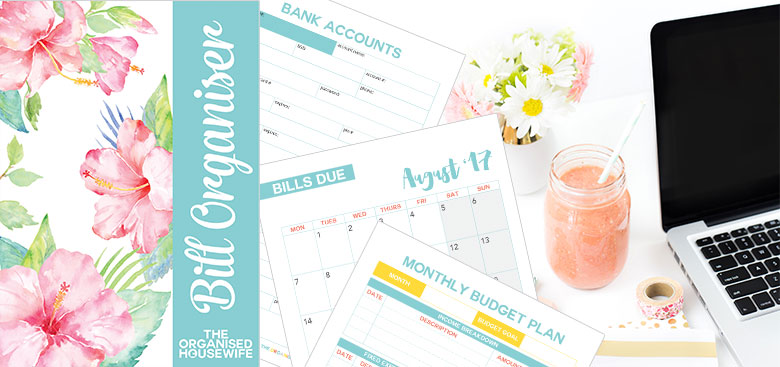 There you have it, my products to help you be organised for 2017!
Is there a 2017 product you would love to see, or perhaps even one I can start planning for 2018?