The 2015 Christmas Planner is now available!!
I can not believe we are half way through the year, toy sales have already started which makes us start to think about Christmas and gifts. Use this Christmas Planner to keep track of any gift purchases you have made, note down the item, how much it cost and where you have hidden it in the house. This will help your to keep track of you budget too!
This 59 page Christmas Planner will keep all your checklists, planners, budget, recipes ideas, travel information and more together in one folder. It is a digital download, received instantly after purchase so can start organising straight away! Purchase Christmas Planner here.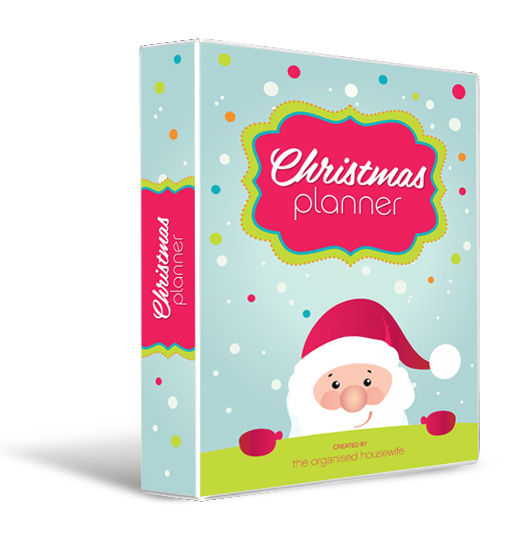 Please note this planner is the same as last years (2013 and 2014), but with updated 2015 calendars. You can purchase 2015 calendars to add to you previous years planner here.

It is never too early to start planning Christmas, in fact, when my kids where younger I was planning nearly after New Years!

This Christmas Planner will help you prepare and be organised this Christmas
Included in the planner is a full checklist to ensure that nothing will be forgotten, section to help you budget for gifts, food and more, write your list of who you are sending Christmas cards too, an area to note down your traditions and so much more. Remember you can print one particular page several times if you need multiple copies (eg, gift list for each of your kids). Print your planner and add the pages to a binder.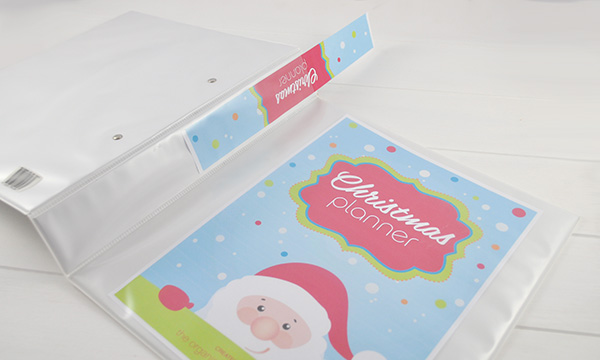 Laminate the divider pages making it easy for you to find pages within each section.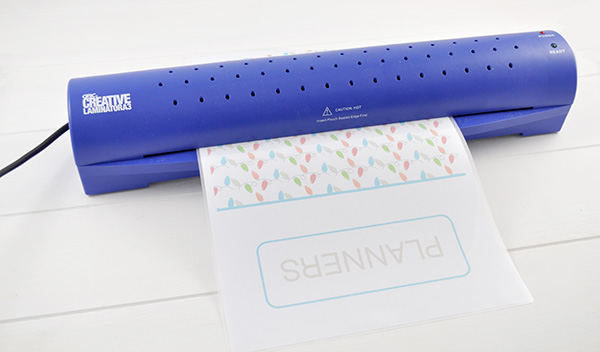 Add tabs to the divider pages. I used some tabs from Officeworks.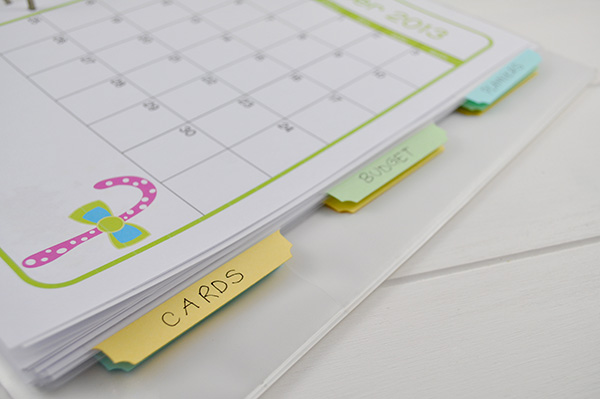 Planners
Plan your events and tasks using the September, October, November and December 2015 Calendars. Put the calendars on your fridge or keep in the planner for easy reference to upcoming Christmas events. The checklists will help you organise all there is to do and purchase, such as cards, gift wrapping, a reminder to mail items, a list of what items you need to decorate and help to meal plan.
In this section I also included a Christmas crafts page, an area for you to write down a fun craft idea, paste in a picture, note down where you found the idea in case you need to reference back as well as the supplies you need to complete it. This is especially handy to add to throughout the year to remind yourself of something to make during the Christmas season.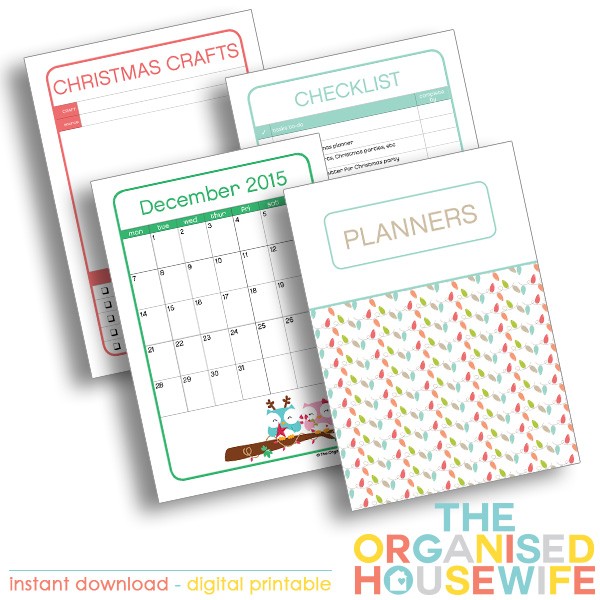 Budget
Lots of budget pages for gifts, food, events, cards, decoration and other items. Print as many of these pages as you need as you may need a few pages for gifts.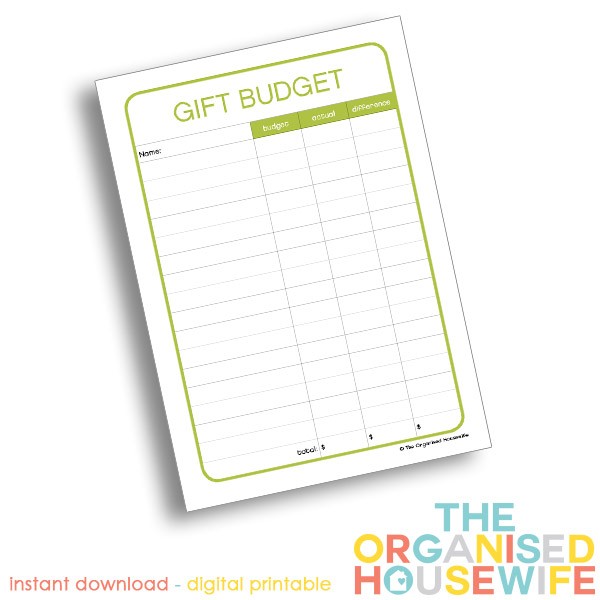 Cards
Use the sentiment section to write down the sentiment you are including in the cards this year, easy reference if you are writing cards over a few weeks. Use the list to write the names of people who you are writing cards too and if you want to add in a family photo. Tick off when you sent the card and you can also note if you received a card too (this is especially handy if you forget to send somebody a card, you can note down that they sent you one, so next year you won't forget). Included is a special little list for the kids to write cards to their friends, with words at the top to help them copy what to write. Address book pages are used for easy reference when addressing envelopes each year, print multiple pages if needed.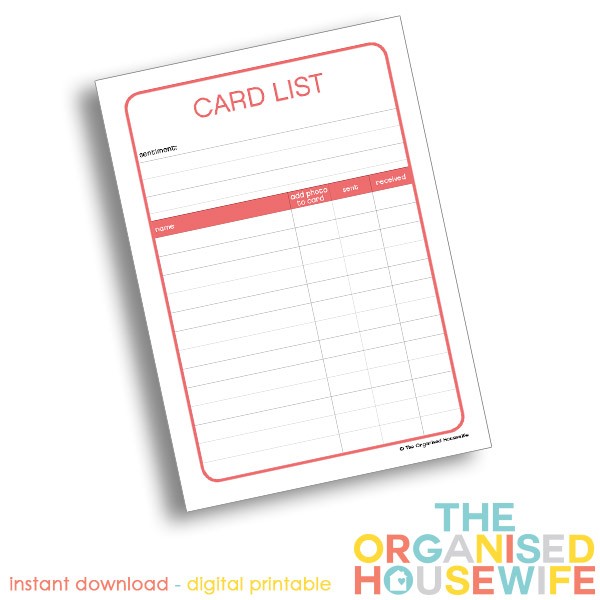 Gifts
Lots of gifts to buy, some for kids, family and friends. On the kids gift list page I have included an area for budget, this gives you the option to use either the page in the budget section or in the gift section, also I have split the page so you can put 2 kids on one page or use one page per child (you don't need to use both, I just wanted to give you a few options as all families are different).
There are also pages to keep track of your online orders, lay-by where you hide gifts in the home (so they don't get lost) and what gifts were received. As well as a page to keep track of the handmade gifts, writing down what you are making and what products you need to buy to complete the project.
Then there's the little gifts such as stocking stuffers and if you give a little gift in an advent calendar, there are pages to keep track of what you have purchased so you don't over buy. Use the shopping list to write down what you need to purchase and from what store and not forgetting mum she can write her own wish list and put it up on the fridge as a suttle hint.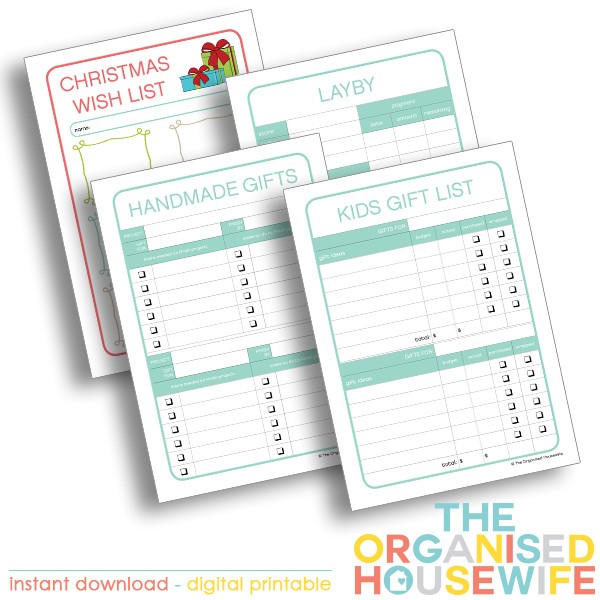 Meal Plan
I love Christmas baking and this section will help you organise what you would like to bake along with what supplies you will need and where to find the recipe. Keep track of your favourite Christmas recipes so you have a list ready of what to cook your family each year. Again I have included a few different versions of pages for Christmas baking, use the one that you find easiest to work with.
Plan what you are cooking on Christmas Day and this page allows you to plan with other family members on what they can bring/contribute. Use the Christmas Grocery list to ensure you remember all the items you need.
Traditions
Write down the fun traditions that you start each year to ensure that you remember to do the same next year as they are a wonderful memory to give your child.
Travel
A page to add all the details of your travel arrangements, flights, transfers, accommodation and car rental

Testimonials
"This year's Christmas Planner by The Organised Housewife is an absolute gift in itself! Every aspect of Christmas has been covered, from gift and card lists, travel arrangements, menu plans, and more, have been included. Christmas is always a hectic time in the Warren household, and I know the event planner alone will keep us organised. We'll know instantly where we've committed our time. My favourite part is the "hidden gift list"! Now I'll know exactly where I've hidden those presents I've bought throughout the year, and won't have to rebuy them again because they've been misplaced (yes, it's happened more than once). Thanks Katrina! Your Christmas Planner is amazing. ~ Lisa – Blossom and Bright
"The Organised Housewife's Christmas Planner is THE only planner you need for Christmas. Kat has included every list you can think of to help you plan a stress-free holiday season. The design is beautiful and I love that I can print it in a smaller size to fit into my day planner." ~ Tina Gray
"Imagine 59 pages full of incredible Christmas planning starting with calendars, checklists and monthly planners from September to December. I know the Checklist & Lists – Gift Lists, Advent list, stocking suffers and shopping list is going to save me time and stress. This year I will seriously be organised. I need all the help I can get and The Organised Housewife's Christmas planner nails it. Katrina has even thought of the online orders list and a hidden gift list …last year I forgot where I HID things and what I had". Trish – My Little Drummer Boys
"Our house is always hectic, and Christmas time is nothing short of chaos. With 7 children of our own and a large extended family, The Organised Housewife's Christmas Planner has made organising the Chrissy chaos so much easier for me. I used it last year and was amazed at how helpful it was, it covered everything, many things I would have forgotten about without it there to remind me! With invites to Christmas events coming in already, I can't wait to use the NEW look planner this year too!" Jac – Common Chaos Chronicle