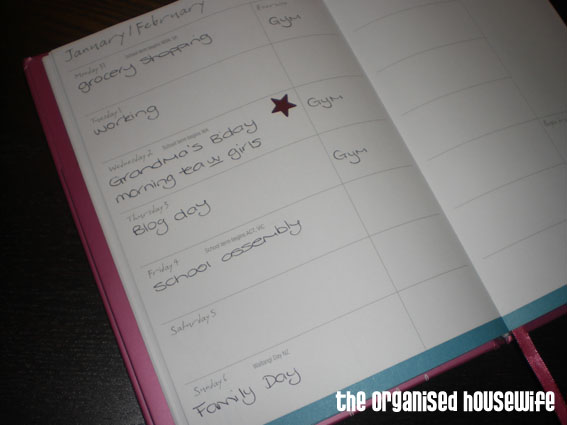 The new year is about to start, a great way to be organised is to start using a diary or calendar.  Something you can visually look at to view what you have planned for the week, have a glace to see who's birthday's are coming up so you can prepare presents, cards and postage if need be. 
The past few years I have used Outlook on my computer to stay ontop of all my appointments. 
My girls received calendars each for Christmas, so together we are all going to sit down and put birthdays (plus other appointments for me) in our new diaries and calendars.
A difficult task is to work out what to put in your diary.  I've put together a list below to help you, I'm sure I have forgotten something, if so, please let me know and I will add it onto the list.

Idea's of things to put in your diary or calendar
Personal:
Birthday's – I place a star next to birthday's so I don't miss them.
Birthday parties
Anniversary's
Holiday's
Family events
Friends/family visiting
Public Holidays
Kids:
After school activities (sporting, music etc)
After school care
Immunisation dates
Work:
Business trips
Social engagements
School:
School Term Dates
Pupil Free Days
School Events
Dates you are volunteering
Around the Home:
Annual Pest Control
Car servicing
Change smoke alarm batteries
Other:
Dentist Checkups, every six months
Hairdresser, schedule regular appointments every 2-3 months
Meal Planning
Last dates for overseas Christmas post
Pet Immunisations