In the hustle and bustle of our everyday lives, it can be almost impossible for us to find the time to get everything done. It seems our list of to-dos is constantly growing and sometimes it can be difficult to complete even the simplest of household tasks. In my online newsletter, I provide you with daily tasks called 'Todays 2 Do' (recently renamed thanks to some lovely ladies in our community) that will help motivate you to chip away at those nitty-gritty household chores!
I understand many of you are busy people, and that's where my newsletter can help. You will find a "Todays 2 Do", which sets you a new task to complete every day.  It could be as little as cleaning the stove or organising your linen cupboard.  They may not seem like much, but keeping up to date with basic household tasks can make a big difference to your home and happiness.
To receive these daily 'Todays 2 Do' tasks simply sign up to my newsletter. You can do this here. Every day, you will have an email in your inbox from The Organised Housewife. Open up my newsletter and Todays 2 Do will be in there for you to complete!
Don't forget to share photos of your completed task, hashtag #todays2do in your posts on Facebook, Instagram or email me so I can admire your day-to-day household accomplishments!
Subscribe to my newsletter and you will receive a free copy of my eBook, 7 things I do each day to keep them home clean and organised.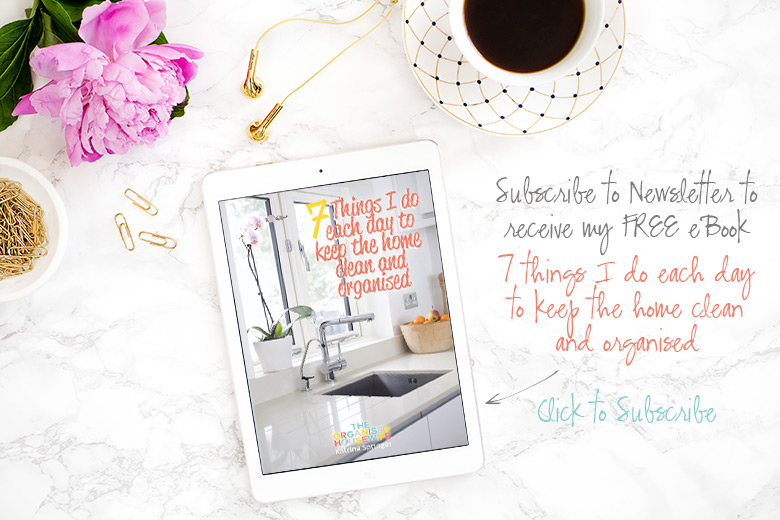 Here is an example of some recent Today's 2 Do
Remove lint from dryer and give it a good clean to remove built up dust.
Clean the ceiling fans
Clean and organise one kitchen shelf
Clear your office desk in-tray
Clean the remote control
I also link them up to posts I have shared with tips on how to complete the task.
Do you have a 'Today's 2 Do' task idea?
Leave it in the comments below and I will add it on to my list to share in the coming weeks.