This post is sponsored by Nuffnang and Baskin-Robbins
Hubby and I have been so busy the past few weeks.  Mr Organised is working a lot of extra hours as he is running his own Accounting business. As for me, I have had my 9 month old niece recently stay for 4 days, it was really lovely having her stay, I could easily play with her and watch her all day, she is a ray of sunshine. But I lost quite a few working hours whilst she was here and wasn't able to cross much off my blog to-do list.  I am going to be busy blogging away in my office over the next few weeks so I can catch up and hopefully have everything completed before the kids finish school… I have 2 weeks, wish me luck.
Working from home can be a challenge, but the key is to be disciplined with your time.  We always switch off our computers on Friday nights and have the night playing games or relaxing watching TV with the kids.  Saturdays for now Mr Organised has to work, but we ensure we have computer free days on Sundays and the best way to do this is to go out, enjoy the sunshine, walk, ride bikes, swim, laugh, have a picnic, browse local markets or go shopping.  
Sundays are always a family day for us which means just the 5 of us no extras. I think it's important to spend time together, be happy, enjoy each others company and enrich our relationships. Doing this now sets the foundation of my expectations of our kids when they are older.  I want my teenage kids to still enjoy a night home with us, grown adults to pop over for a cuppa and share their latest news and triumphs.  This is why spending time as a family is so important to us. 
 One of our favourite things to do on a Sunday is to spend time by the water with a packed picnic or have fish n chips when I'm feeling like having a real lazy Sunday. We usually take our own tables and chairs because the park is very busy.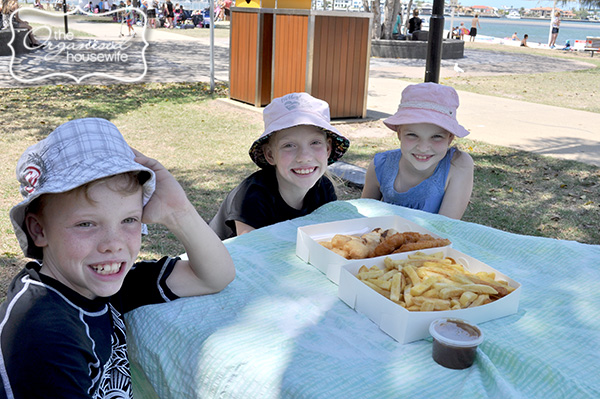 We like taking the kids to a local park at Paradise Point with a swimming inlet, near by is a great fish n chip shop and to top off the hot summer day we visit the Baskin-Robbins ice cream shop cause it's officially 'ice cream' season.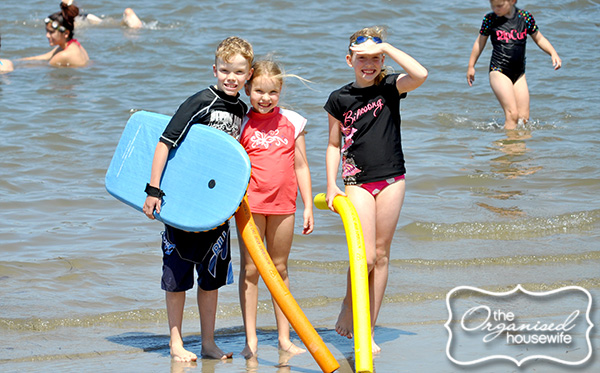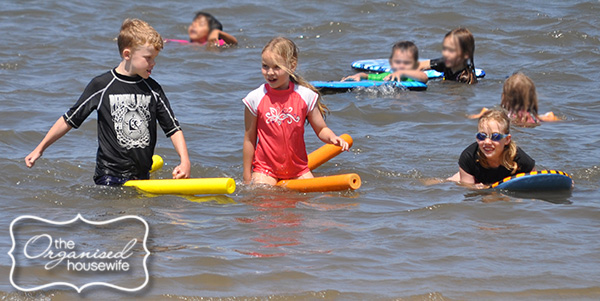 When the kids have had enough swimming we grab an ice cream.  Now I'm a big ice cream fan.  One of my ultimate favourites being a tub of Choc Chip cookie dough, preferably slowly eating it after dinner while watching a movie.  Baskin-Robbins recently did some research and they found that 1 in 4 confess to having eaten it first thing in the morning or as a midnight snack.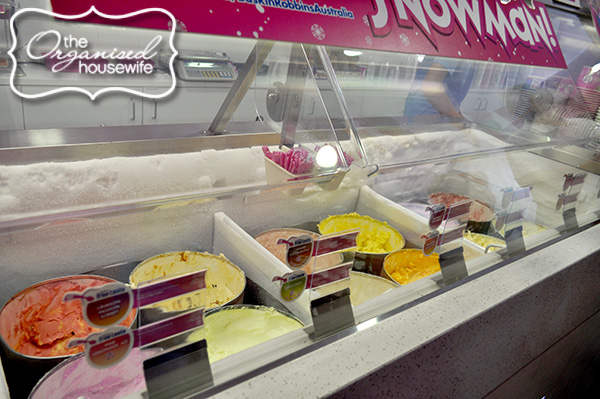 Studies also show that one in four describe themselves as 'double scoopers' who prefer to pile their cone high.  We have no excuse, rather it's just too hard to choose one flavour.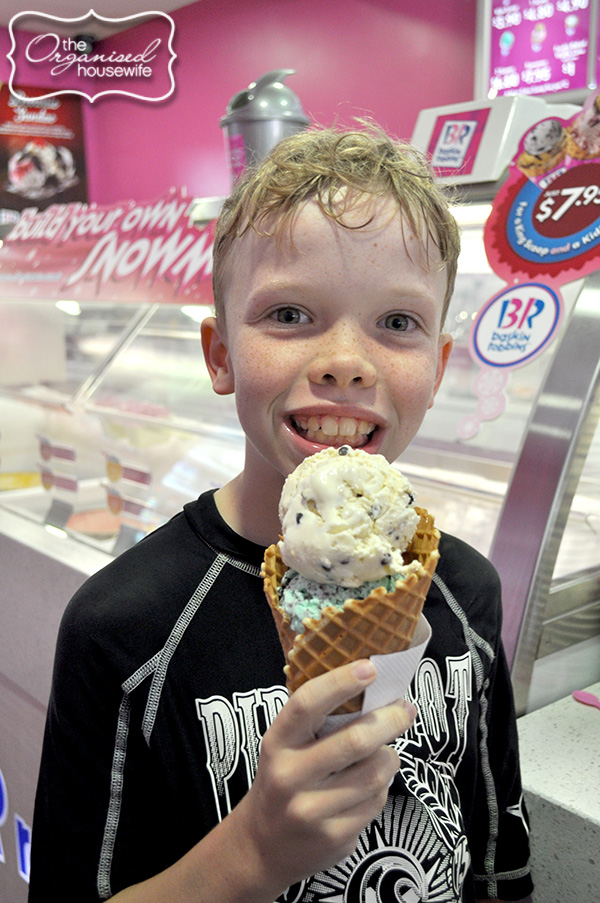 15% of those surveyed prefer a cup over a cone, hubby and I love their thick shakes.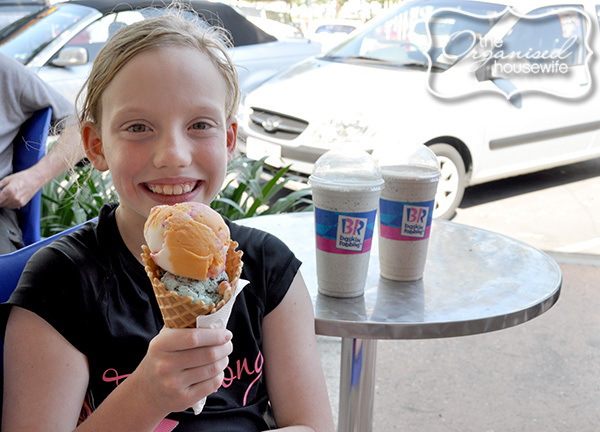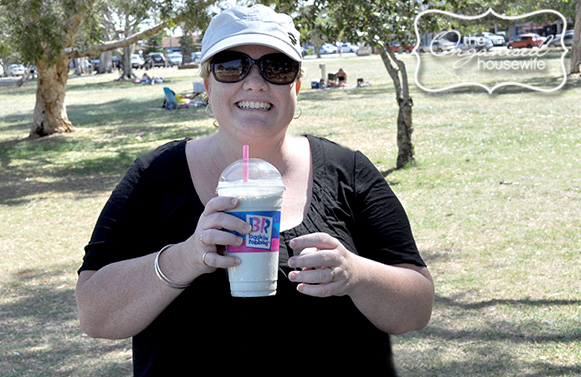 Miss 9 eats her ice cream so slowly (known as a slow slurper) and always ends up in a sticky mess.  Great excuse to have another swim!!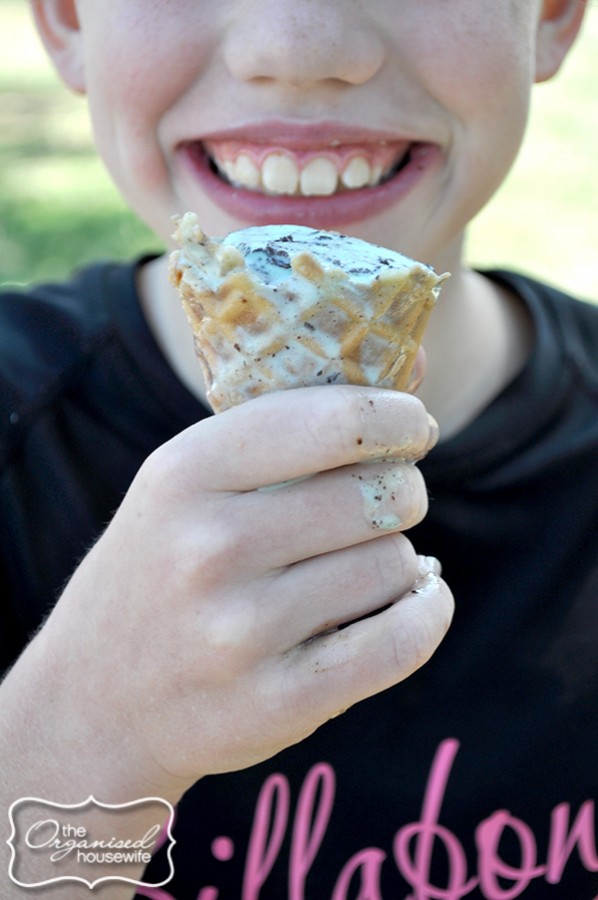 5 lucky readers will win one ice cream party pack each.  
This includes a voucher for a free Baskin-Robbins ice cream cake (valued at $40 each). It gets delivered with boys or girls ice cream candles, a 'pinky' character toy and balloons.
Plus… there are 15 $20 vouchers to giveaway as well.
To Enter answer the following question in the comments below:
Tell me how you'd describe your ice cream eating technique: Are you a slow slurper? A speed eater? Or something completely different?
GOOD LUCK!!