Wow Christmas has well and truly started here on the blog.  I am so glad that so many of you are following along in the 'Organise Yourself a Merry Little Christmas' series.  I have run this series for a few years now, helping you to create a stress free Christmas as reality is sometimes Christmas can become really hectic and exhausting. However, by following my few simple tasks each day you will create a blissful season your family will enjoy.  Through the series I am also sharing some of my Christmas recipes, some creative craft ideas, fun elf antics as well as some gift ideas.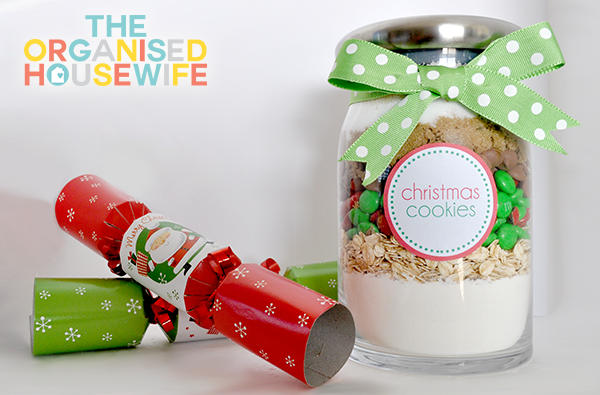 Released this month
New Look Cleaning Checklist
A cleaning checklist which includes daily, weekly, monthly, quarterly and annual tasks.  This checklist will help you remember cleaning tasks and create a routine to suit the time you have available.  Read more about the cleaning checklist here.

Personalised Letters from Santa
I will post a personalised letter from Santa to your child.  This item includes: Letter from Santa, Personalised with childs name, behaviour and 2 achievements, Envelope addressed to your child, I will post the letter to your address, sealed from Santa.  There are 8 designs to choose from.  Order here.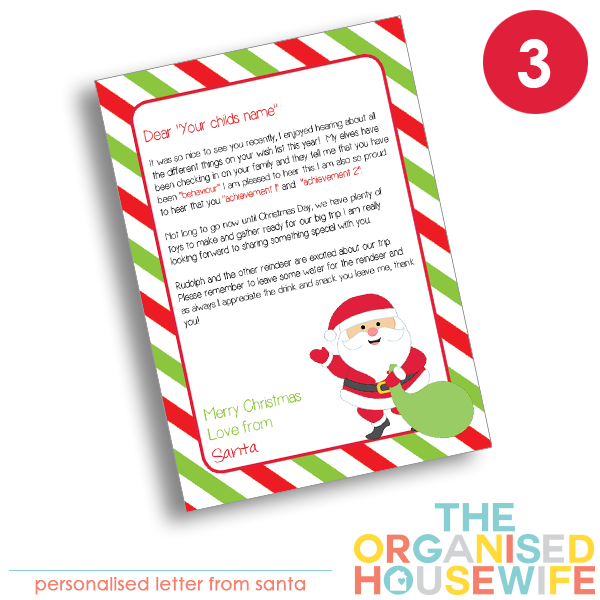 Mason Jar Labels
Thank you child's teacher with a little gift of appreciation.  Fill a jar with some colourful lollies or chocolates, cut out the label and place in the mason jar lid. Read more about the labels here.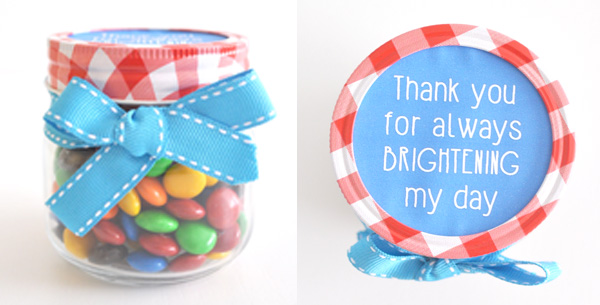 Christmas Gift List
Use this printable to help you create a gift list for your family.  When considering Christmas gifts for the kids I use this rule: something to wear, something to read, something they want, something they need.  View gift list here.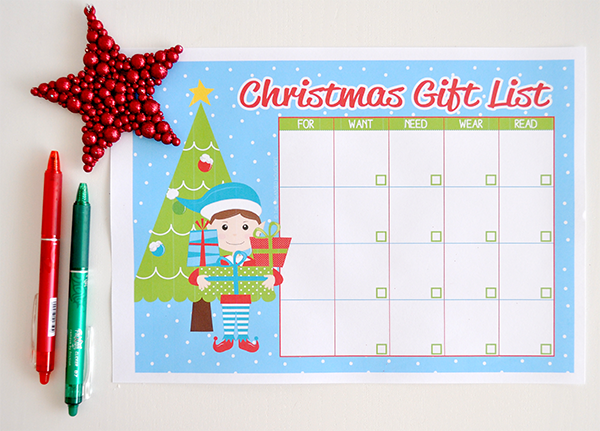 Dozens of Cookies Recipe Card
Give a jar of cookies as a gift and include the recipe in the card you give with the gift.  This very easy recipe makes over 4 dozen biscuits (or more if you make smaller teaspoon size balls). Download here.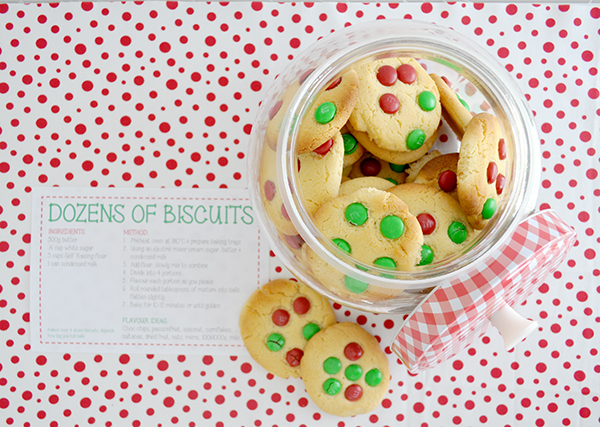 Kids Letter to Santa
Kids love writing letters to santa.  This letter includes their wish list of gifts they hope to receive, which will help Santa determine what to get them for Christmas.  2 Designs available, read more here.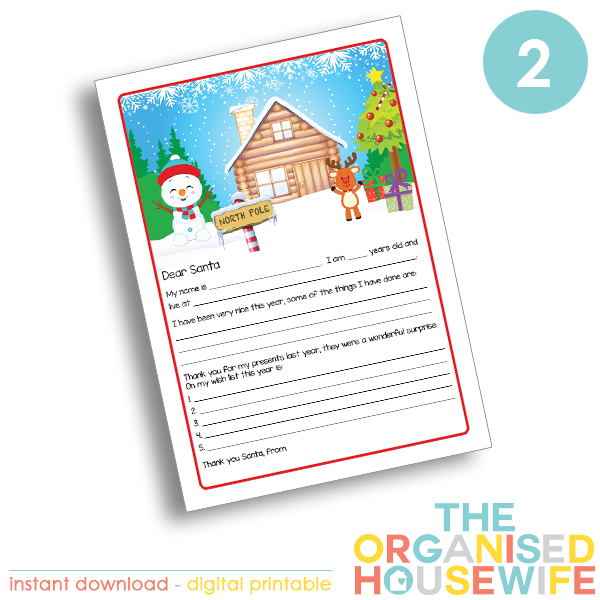 Reindeer Poo and Snowman Labels
A folding bag topper to make fun Christmas gifts.  This is designed for you to print and assemble at home.  Order Reindeer Poo or Snowman.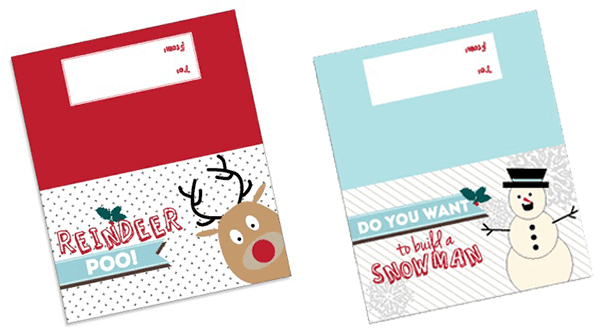 MOX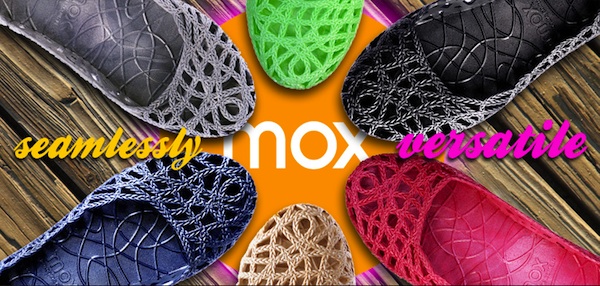 Mox shoes are a fashion forward approach to comfort and versatility. This Australian brand of waterproof shoes are made from 100% man made rubber. Mox shoes keep you looking stylish from pool to park to shops, and are available in a rainbow of colours. Whether adding the essential go-anywhere shoes to your wardrobe or just trying to simplify the holiday packing, grab a pair of Mox shoes from www.moxonline.com.au.
Website |  Instagram |  Facebook  |  Twitter  |  Pinterest

sweet sweet silver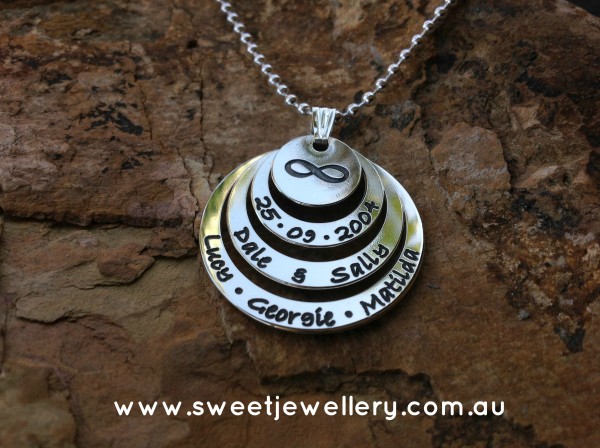 Sweet Sweet Silver specialises in expertly crafted personalised jewellery, Ferny & Tim from Bargara in Queensland will custom make a gorgeous pendant or gift to your specifications, guiding you in the design process along the way. Open for Christmas orders now, you can see the full range here.
 Instagram |  Facebook  |  Twitter  |  Pinterest

Celebrations and Occasions
Special offer: For your chance to win a gorgeous Party Styling Essentials Kit of your choice, simply: LIKE Celebrations and Occasions on Facebook and leave a comment "LET'S CELEBRATE" on their competition post. Competition runs until November 23rd. Winner will be drawn at 5pm 23rd November 2014. Good Luck!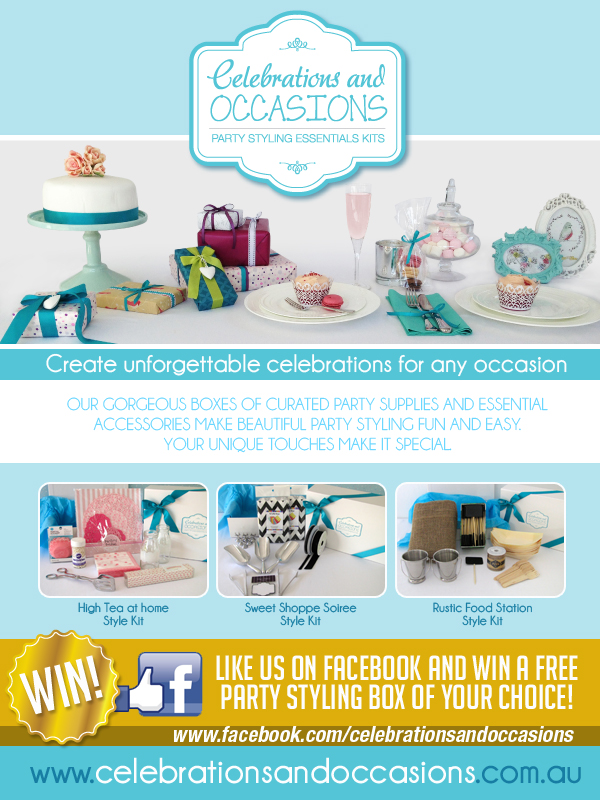 Hosting a party? Celebrations and Occasions is an Australian online boutique specialising in Party Styling Essentials Kits – carefully curated boxes of design-led party supplies and professional styling accessories from leading brands. Packed with the must-have elements you need to create a chic, coordinated look, plus 'Host Notes' with clever food and styling ideas for using the kit contents, it's the fun and easy way to host beautifully styled grown-up gatherings at home. Hip, hip, hooray! . 
Party Styling Essentials Kits are available in a range of themes inspired by popular entertaining trends including High Tea at Home, Sweet Shoppe Soiree, and Rustic Food Station. "At Celebrations and Occasions, we know that entertaining at home brings busy people together and we want to inspire others to make any gathering with family and friends really special by putting the celebration around any occasion, or making the everyday extra special for those they love."
Pinterest
Please note:  competition above is run by Celebrations and Occasions

TRENDY LIL TREATS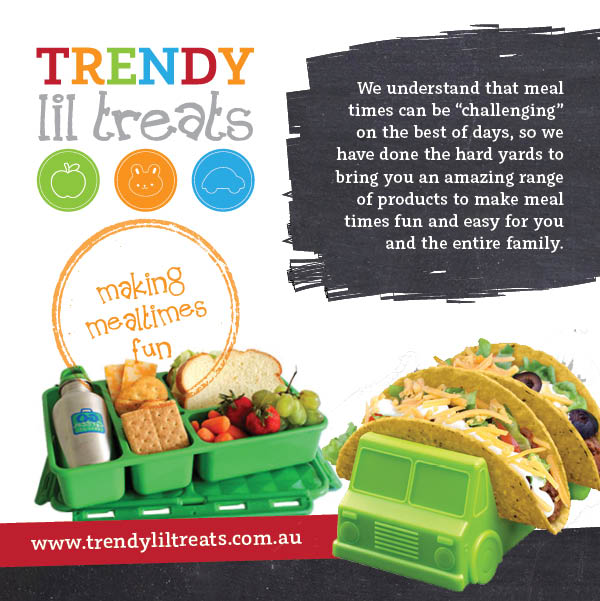 Trendy Lil Treats is a family business that was created to help a fussy toddlers mealtimes be less stress and more fun.  After seeing a market for mealtime products Trendy Lil Treats was created.  With products to assist in breakfast, lunch, dinner and snacks you will find something to suit your needs and budget.  We have a range of bento products, sandwich cutters, baking goodies, lunch boxes, fun dinner and breakfast sets, and much more.   Shipping available Worldwide.
Website |  Instagram |  Facebook

Cake Clothing
Special offer:  CAKE has recently launched it's beautiful new Nightwear range and is having a special to celebrate! For a short time buy 2 x Nighties and receive a free limited edition Nightwear bag.  A perfect Christmas gift idea for the person who has everything!  For free shipping and gift wrapping use Code : GIFT at the checkout.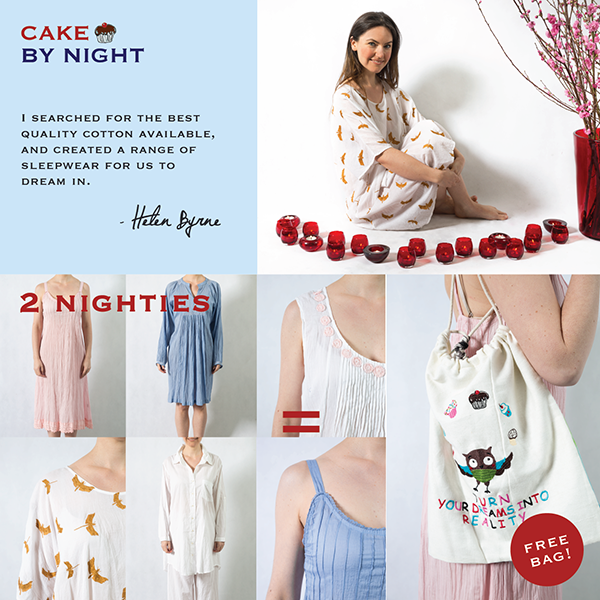 Born from freedom, colour, movement and kindness, CAKE creates clothes that tell a story. These stories belong to the beautiful, talented and intricate hands that shaped them, and they are woven into every piece. Each piece of CAKE clothing is a loving collaboration between the imagination, beauty and eclectic nature of our own designs and the colour and energy of India. They are not just gorgeous pieces created in natural materials that allow you to feel freedom of movement. They are stunning, eclectic and ethically made looks designed to make you feel beautiful, worldly and vibrant.
Instagram |  Facebook  |  Pinterest

Everything Cute
Special offer: Special code to get 10% off for your readers is "10special"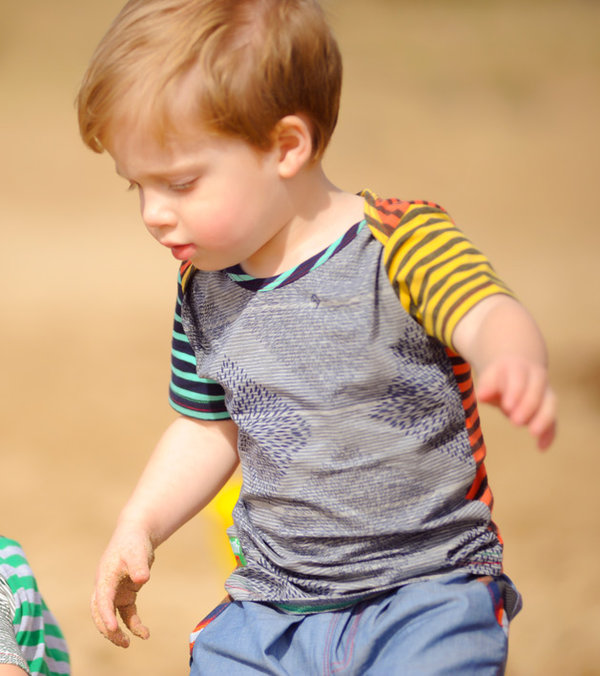 At Everything Cute, we specialize in cool gear for kids and babies. We source the best local brands as well as gorgeous nick naks and toys from all over the world. Currently we stock Munster, Minti, Salt Water Sandals, Merfins, Le Toy Van, Sapling, Hoot Kid, Oishi M and much, much more. We are not only an online store; we have a gorgeous little shop in East Gosford, NSW. Stop by and say hi some time.
Facebook  |  Pinterest

Canningvale
Special offer: 50% off Royal Splendour Towel Range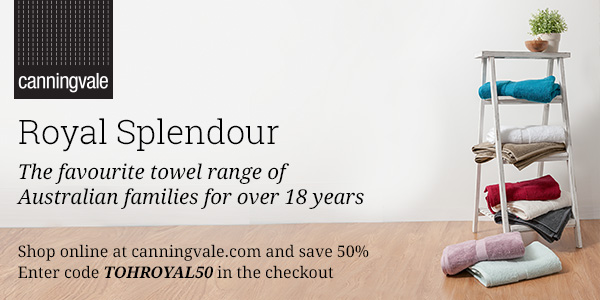 Loved since 1977, Canningvale are providers of premium Bathroom Textiles, Luxury Bedding, Beach Towels and Homewares.
An Australian family owned and operated business for over 37 years, we proudly create the highest quality and best value for money home wares for your enjoyment. Though we place great emphasis on design & colour, we never compromise on the performance of our products. For your peace of mind, our products come with our Free 5 Year Warranty.
Website  |  Facebook  |  Pinterest

FLIP LID LUNCHBOX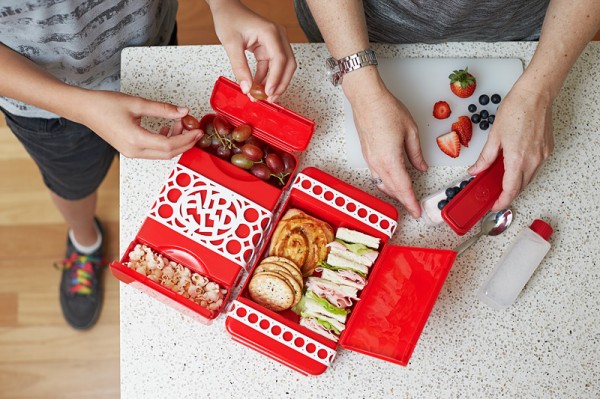 A Flip Lid lunchbox is the funkiest new lunchbox on the market and is designed to be cool enough for the older kids (8-15yrs).  The unique design, featuring 6 compartments across two double sided sections, is so much fun to use they'll want to pack it themselves.  Designed by an Aussie mum with her own two kids in mind, the lunchboxes are BPA & phthalate free and come with a leakproof container plus small drink bottle which can also double as a freezer block or sauce/salad dressing bottle. 
Website |  Facebook  |  Twitter  |  Pinterest

MY LIL POUCH

My Lil Pouch, the ultimate reusable food pouch – is environmentally friendly, dishwasher safe, durable and is a quality food-grade pouch that's free from BPA, PVC and Phthalate. It's ideal for a wide range of uses, is cheap to buy and can be used over and over again. Perfect for pureed fruit, yoghurts, custards, dressings or even freeze homemade pasta sauce, ideas are endless!

Howards Storage World

Howards Storage World's Christmas catalogue is out now.  Pick up your copy to see some great new products view catalogue here.
Win 1 of 5, $100 HSW Gift Vouchers.  Details on their facebook page.
Website |  Instagram |  Facebook  |  Twitter  |  Pinterest