It has been one very busy month with all our families birthday's over and the kids settling into school I am really looking forward to school holidays.  We haven't made our minds up if we are going to stay at home and go away, whatever we decide I'd just be happy to do something relaxing and not too adventurous.
Easter is just around the corner, I love Easter it means spending time with the family, quality time with the kids, crafting and cooking together.  I have been typing up some Easter recipes, craft ideas and more to share with you over the coming weeks, sharing some of our fun Easter activities.  I hope you have just as much fun doing them with your kids as I did with mine!
New Releases this month
Easter Bag Toppers
Cute Easter bag toppers – A lovely way to give easter eggs or marshmallow gifts to classroom friends.  Designed to fit in little 10cm cello bags which can be found at most discount stores or in the party section at Woolworths.  Four printable bag toppers per one A4 sheet of paper.  Cut out and then fold in half and staple to the top of your bag once you have filled with chocolate easter eggs or marshmallow bunny tails.  Instant download – See more designs here.
Personalised Baby Birth Print
These beautiful customised Baby Birth prints are the perfect way to treasure your baby's arrival for years to come.  These gorgeous wall art prints would also make a wonderful new arrival gift! Various designs and colours available. Various designs available.
Wall Prints
Easter Prints – Fancy up a side table decorated for Easter. Click image to view more details.
Let Her Sleep Print – These cute wall art prints are a great way to brighten up your child's room, they also make a great gift!  This print is made to fit an 8×10 frame. Read more here
Run Wild and Free Print –These cute wall art prints are a great way to brighten up your child's room, they also make a great gift!  This print is made to fit an 8×10 frame. Read more here. 
I Am The Hero of My Own Story Print –These cute wall art prints are a great way to brighten up your child's room, they also make a great gift!  This print is made to fit an A4 frame. Read more here.
View all products in The Organised Housewife Shop here.


If you would like to be a blog sponsor contact me here.
Shopper's Spree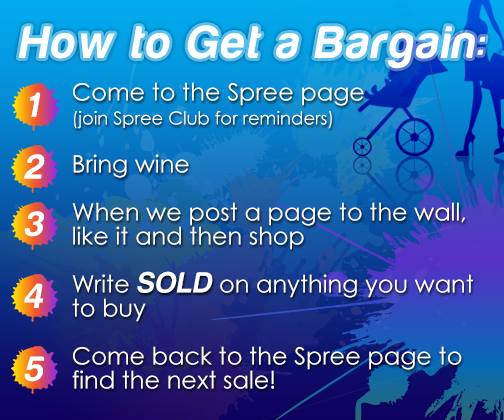 Once a month, hundreds of women get together via their computers and drink wine.  Sound good? It gets better!  Shopper's Spree is a monthly event where all your favourite brands get together on Facebook for one gigantic sale.  Beautiful kids' boutiques, gifts for babies, lovely things for mum and for the home – all packaged together and washed down with wine!  
You register at the Shopper's Spree Facebook page and then one by one, Spree reveals big bargains –  70% off kids stuff, $1 pretties… tons of clearance and deleted lines – all from lovely high end boutiques and toy stores.
To get involved, just show up, sign up and join in!  Sunday evenings monthly, to see when the next event will be, checkout www.shoppersspree.com.au or like it on Facebook.
Paradise Resort
Special Offer:  Stay 5 nights + get a bonus $400*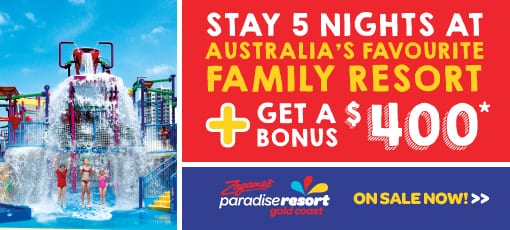 For the ultimate in Gold Coast family fun Paradise Resort Gold Coast has it all.  Voted best Family Resort in Australia, it's been described as a mini theme park or a cruise ship on land.  Where every accommodation package includes up to 4 hours of supervised care for all kids 0-12years each day in the famous Zone 4 Kids Club; it allows parents time to escape the daily routine and indulge in some holiday sightseeing or precious down time. There is also a giant Kids Water Park right in the centre of the resort, an indoor and outdoor playground, a permanent ice-skating rink plus a whole range of free daily activities and entertainment.  And while the kids are looked after parents can rediscover the art of relaxation in the exclusive Zone 4 Adults. Complete with the lagoon pool and spa, gym, bistro, cafe and bar Paradise Resort is the perfect choice for your next family holiday.  Packages start from only $179* per room per night for travel on selected dates until 31 March 2016  *Conditions apply, visit www.paradiseresort.com.au for full details.
Website |  Instagram |  Facebook  |  You Tube


TRENDY LIL TREATS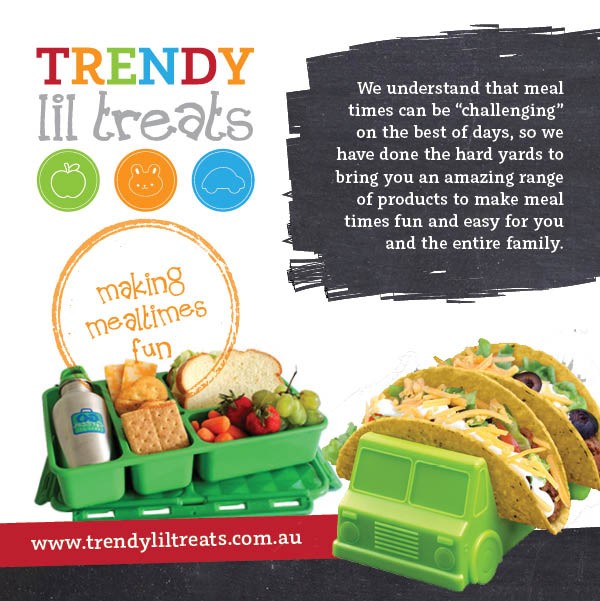 Trendy Lil Treats is a family business that was created to help a fussy toddlers mealtimes be less stress and more fun.  After seeing a market for mealtime products Trendy Lil Treats was created.  With products to assist in breakfast, lunch, dinner and snacks you will find something to suit your needs and budget.  We have a range of bento products, sandwich cutters, baking goodies, lunch boxes, fun dinner and breakfast sets, and much more.   Shipping available Worldwide.
Website  |  Instagram  |  Facebook

MOX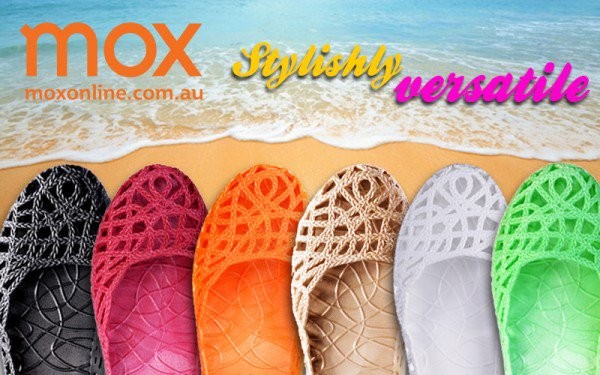 Mox shoes are a fashion forward approach to comfort and versatility. This Australian brand of waterproof shoes are made from 100% man made rubber. Mox shoes keep you looking stylish from pool to park to shops, and are available in a rainbow of colours. Whether adding the essential go-anywhere shoes to your wardrobe or just trying to simplify the holiday packing, grab a pair of Mox shoes from www.moxonline.com.au.
Website |  Facebook  |   Twitter  |  Pinterest  Instagram

HOWARDS STORAGE WORLD

Are you struggling with storage in your small space? Do you have a baby on the way, or simply need to conquer hard to store items in the kitchen, Howards NEW catalogue puts the spotlight on 'solutions for small spaces' and reveal how to get the most from what you've got. Come into store and visit us, say hello and pick up your FREE copy. See their new catalogue here.

SHOP NOW HQ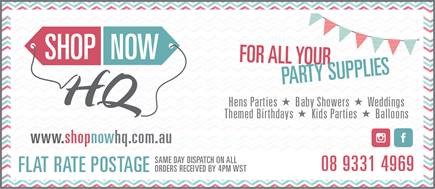 Australia & New Zealand's Fastest Growing Online Party Store SHOP NOW HQ
See what everyone is talking about – the best prices for the most popular party ranges available.  We pride ourselves on good old fashioned service, with competitive pricing and of course the best selection available on all themes we stock. Our range is growing by the day with loads of new and exciting party themes landing at Shop Now HQ.  We offer same day dispatch on all orders received by 4pm WST and deliver Australia wide and internationally.
Website |  Facebook

YUMBOX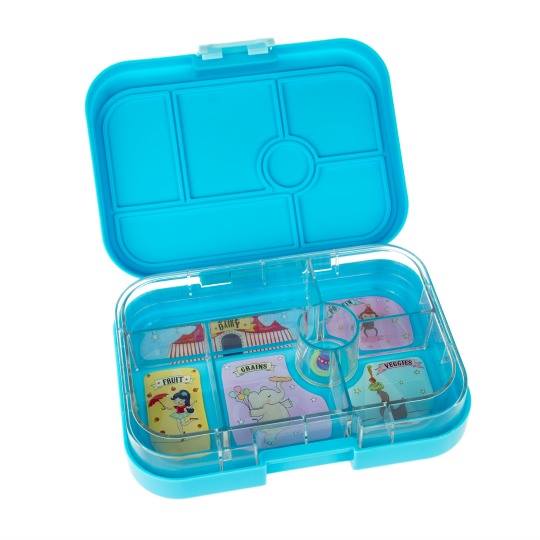 This pre-divided lunchbox illustrates the main food groups: fruit, vegetable, grains, protein and dairy, with a place for a treat or delicious dip. The 3.5 cup leakproof bento lunch box from Yumbox original will help you figure out the portion sizes and components of a healthy lunch for your child. And it will be hard to refuse a healthy lunch when the lunch box has such a great look.  Yumbox is available here.