Wow can you believe how quick this month has flown by, Christmas is just around the corner. I hope all the recipes have helped you to create some delicious food for your friends and loved ones and that you have enjoyed the Christmas craft ideas creating many special moments with your children.
I am in the early stages of creating helpful tips for our January Back to School series. I look forward to you joining me in the New Year and for plenty of great tips, recipes and much more.
From my family to yours, We wish you a Merry Christmas and a safe holiday season.
Released this month
Dinner / Lunch party meal planner
Use this planner to help you prepare for a dinner/lunch gathering with your family or friends. Decide what meals you will be making and plan your strategy for making ahead of time so you can spend time relaxing with your guests rather than being in the kitchen preparing food.
SHOP: Dinner/Lunch Party Meal Planner (downloadable)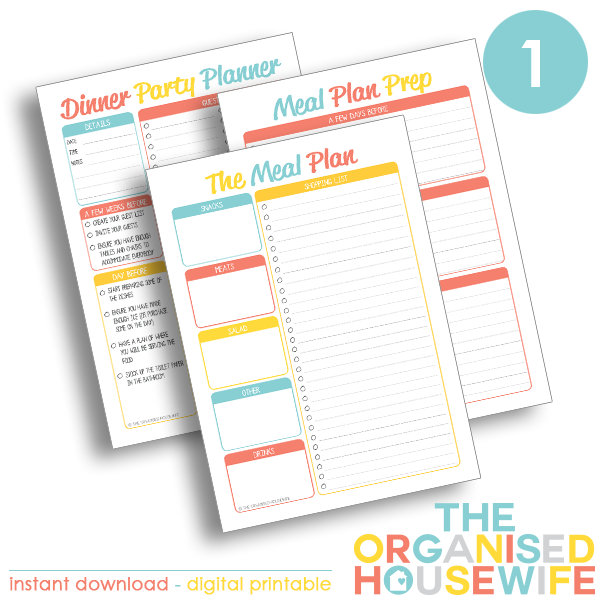 Christmas light display Thank you card
Thank those members in your community that are lighting up their homes every night with a beautiful Christmas display. I am sure they would appreciate this small gesture as they put in much time, effort and extra electricity with their displays.
SHOP: Christmas Light Display Thank You Card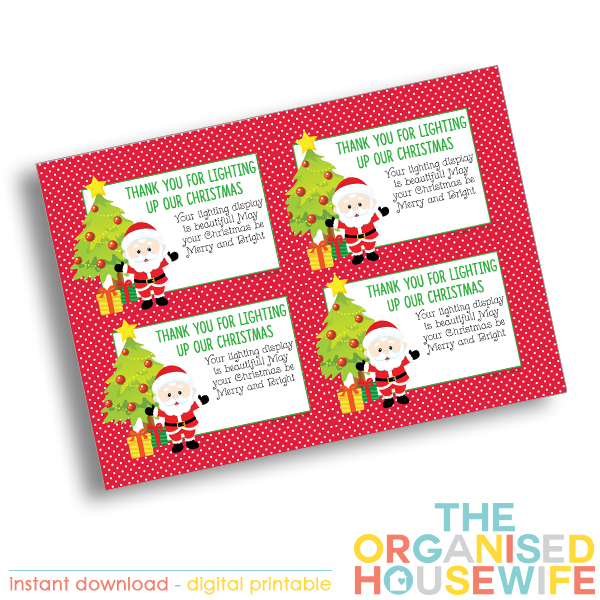 2015 Daily Planner
The 2015 Daily Planner will help you to keep track of all your appointments, daily tasks, birthday's, meal plans and more. All pages have dates included so you can easily plan ahead. Each day of the year has it's own page where you can add in your appointments and a task to do for that day. This is really helpful when planning in advance.
SHOP: Planners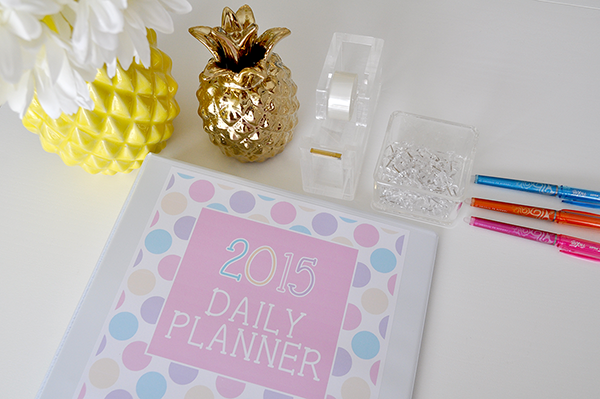 2015 Monthly Calendar Printables with to do list
Free! This product is free as a HUGE thank you for your continued support over on my blog, The Organised Housewife.This file contains blank January – December 2015 calendars. Use these monthly calendars to keep track of important dates and upcoming events.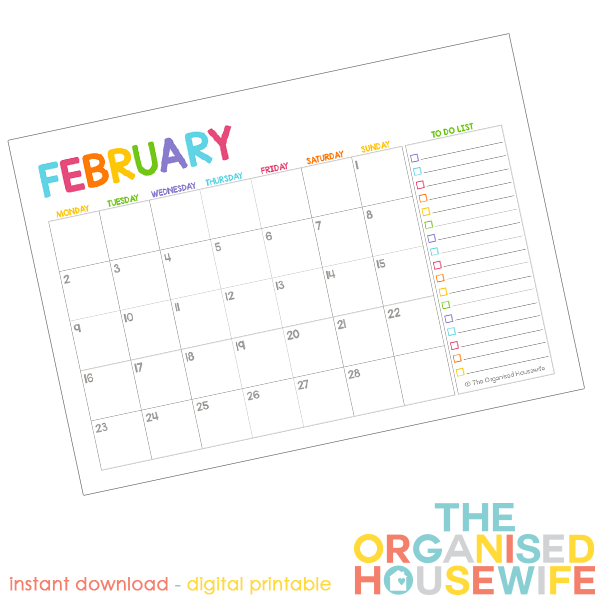 Lunch box Planner
Planning food for lunch boxes is essential. Kids need to have a healthy nutritious lunch. Using this planner will ensure we have those types of food in the fridge and pantry. At the beginning of each week, plan what food you need to add to your grocery list to fill their lunch boxes for the week. Use this planner to plan and also ensure you remember to eat the food you purchased.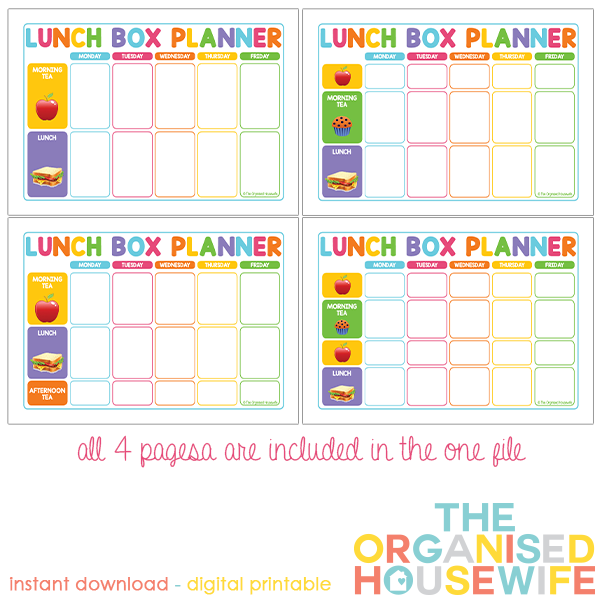 The Parenting 5: Sensory Motor Play for Little People
Experience throughout the early years lays the foundation for both neurological and physical wellbeing. An excellent early environment delivers readiness for life. Never again is there a period that is so influential on the make up of the human being. Sensory Motor Play for Little People presents sensory and motor (movement) activities, through work and play, as important to the development of the human body and brain. It is filled with activities that are inexpensive, great for the environment and for the relationship between adults and children.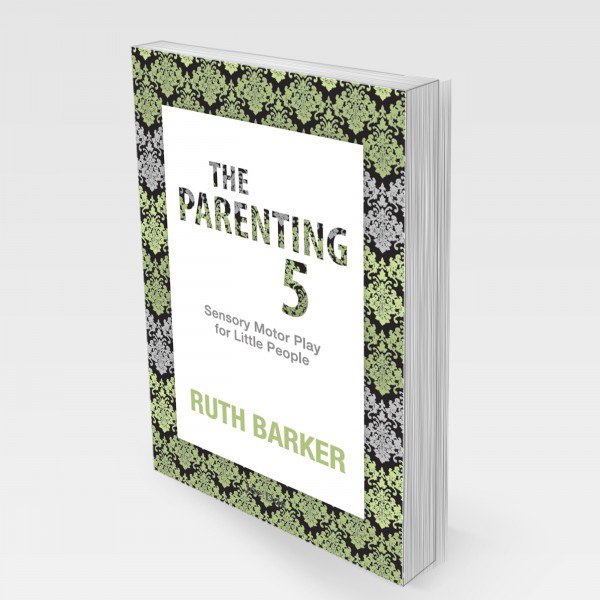 Too busy to Eat Well
Are you struggling to meal plan and get healthy food on the table? This guide reveals how easy it is to get healthy, have more energy and feel great by getting back to basics and simplify dinner time, save dollars and all that mental energy tied up with Solving the What's for Dinner Challenge!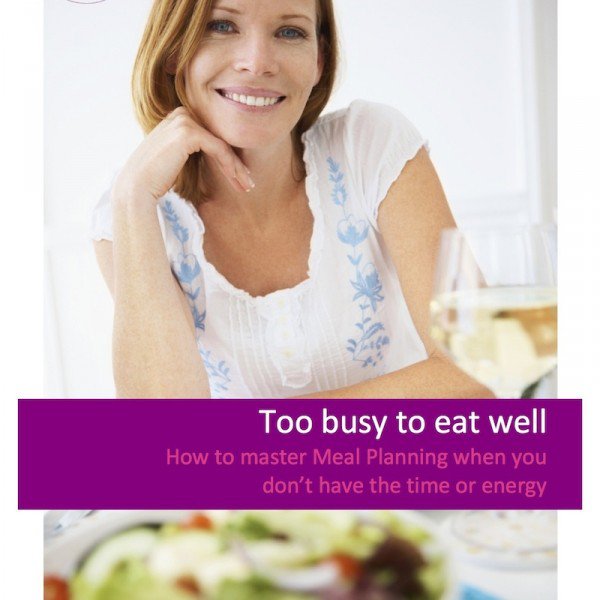 Everythings Rosie
Special: Get 20% off storewide use code sale20 at checkout – offer expires 30/12/14.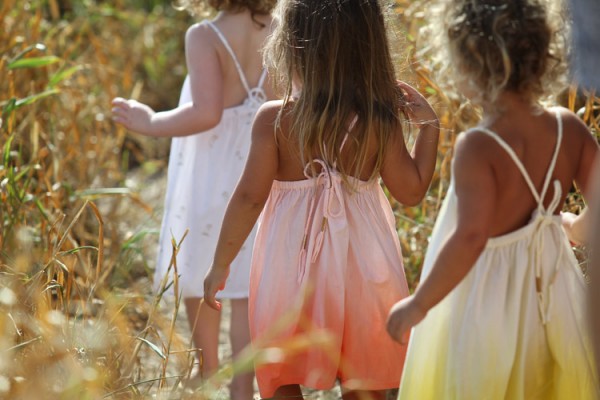 At Everythings Rosie, we stock some of Australia's leading kids wear. We also stock footwear accessories. Brands we stock are – Bella & Lace, Sweet Child Of Mine, Bobbi Sunshine, LuliLuli Bikinis, Lola Moolu, Kaftan Kids & many more. At Everythings Rosie, we simplify shopping by providing a well-researched selection of high-quality products from around the world for baby and children.
Everythings Rosie online was launched in September 2014 to provide our range of clothing and footwear to those that are in rural and remote areas as well as those who are unable to come into our shop due to the high demands of being a full time parent in today's modern society.
We aim to provide a fast, efficient and effective way of purchasing our products from the comfort of your home via our website. We strive to offer you our friendly and informative advice in conjunction with fast and efficient delivery. Furthermore we believe in prompt communication with our clients during the purchasing process to make the experience smooth and easy for our customers.
Website | Instagram | Facebook

FLIP LID LUNCHBOX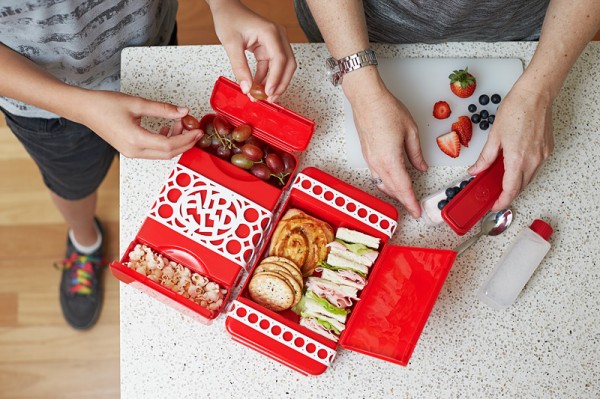 A Flip Lid lunchbox is the funkiest new lunchbox on the market and is designed to be cool enough for the older kids (8-15yrs). The unique design, featuring 6 compartments across two double sided sections, is so much fun to use they'll want to pack it themselves. Designed by an Aussie mum with her own two kids in mind, the lunchboxes are BPA & phthalate free and come with a leakproof container plus small drink bottle which can also double as a freezer block or sauce/salad dressing bottle.
Website | Facebook | Twitter | Pinterest

Moon Mama
Special offer: Grab a Take-Off Tote for just $100 using the code HOLIDAYS at checkout. That's a saving of almost $30! Hurry, expires Jan 31, 2015.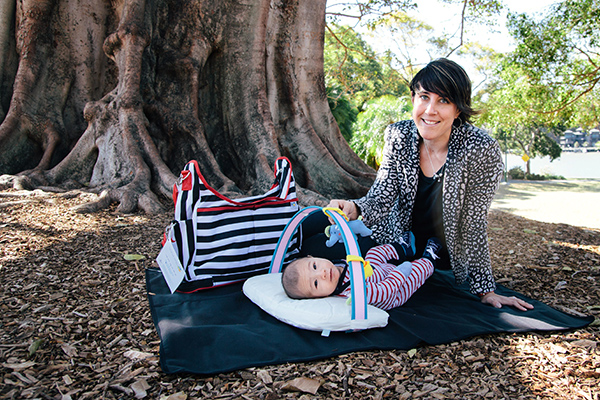 Moon Mama™ is about making life simpler for the modern family. Ditch the unnecessary baggage and use our revolutionary Take-Off Tote (TOT), the world's only all-in-one diaper bag, feeding pillow & play mat. We truly understand today's parents because that's who we are too. The TOT was designed by a nursing mother for fellow mothers to comfortably feed baby on the go. However, we soon realised the tote's potential for outdoor adventures and travellers too! Think about it…Picnics, concerts, commuting…So, what are you waiting for? Take-Off NOW! Read more here.
Website | Facebook | Twitter | Pinterest

The Hanger Bag
Special offer: $16.00 each plus delivery (checkout code – ORGANISED)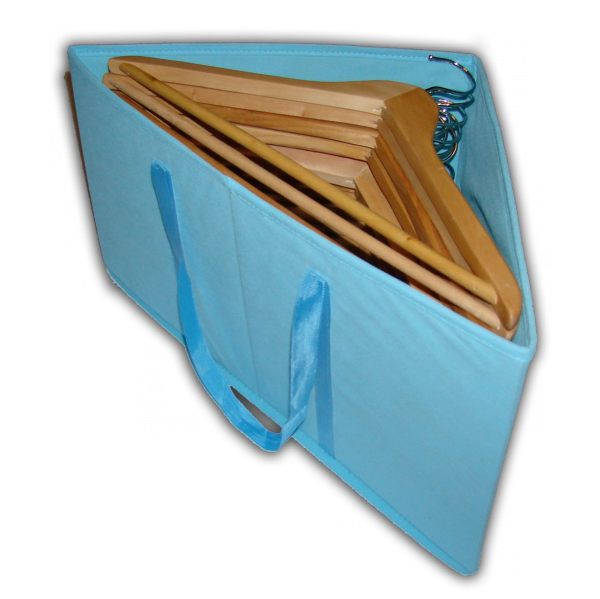 The Hanger Bag is a unique Australian patented designed collapsible bag to help organise & store unused coat hangers.This saves space in the wardrobe and no more messy unwanted hangers taking up valuable clothing space.
Website | Facebook

SWEET SWEET SILVER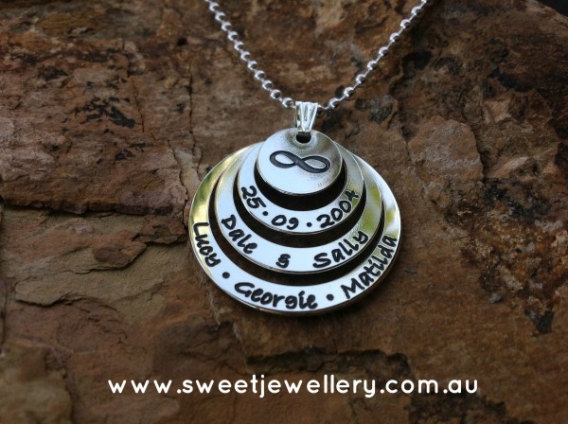 Sweet Sweet Silver specialises in expertly crafted personalised jewellery, Ferny & Tim from Bargara in Queensland will custom make a gorgeous pendant or gift to your specifications, guiding you in the design process along the way. Open for Christmas orders now, you can see the full range here.
Website | Instagram | Facebook | Twitter | Pinterest

CANNINGVALE
Special offer: 50% off Royal Splendour Towel Range

Loved since 1977, Canningvale are providers of premium Bathroom Textiles, Luxury Bedding, Beach Towels and Homewares.
An Australian family owned and operated business for over 37 years, we proudly create the highest quality and best value for money home wares for your enjoyment. Though we place great emphasis on design & colour, we never compromise on the performance of our products. For your peace of mind, our products come with our Free 5 Year Warranty.
Website | Facebook | Pinterest

CAKE CLOTHING
Special offer: CAKE has recently launched it's beautiful new Nightwear range and is having a special to celebrate! For a short time buy 2 x Nighties and receive a free limited edition Nightwear bag. A perfect Christmas gift idea for the person who has everything! For free shipping and gift wrapping use Code : GIFT at the checkout.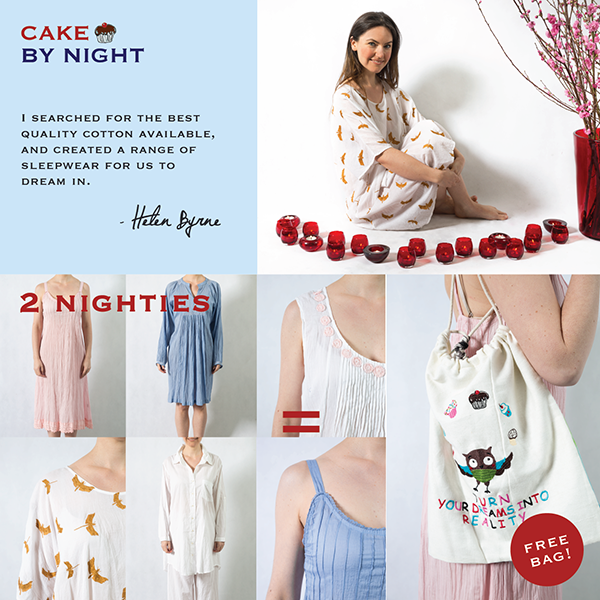 Born from freedom, colour, movement and kindness, CAKE creates clothes that tell a story. These stories belong to the beautiful, talented and intricate hands that shaped them, and they are woven into every piece. Each piece of CAKE clothing is a loving collaboration between the imagination, beauty and eclectic nature of our own designs and the colour and energy of India. They are not just gorgeous pieces created in natural materials that allow you to feel freedom of movement. They are stunning, eclectic and ethically made looks designed to make you feel beautiful, worldly and vibrant.
Website | Instagram | Facebook | Pinterest

Howards Storage World

Howards Storage World's Christmas catalogue is out now. Pick up your copy to see some great new products view catalogue here.
Website | Instagram | Facebook | Twitter | Pinterest

ShavEzy
Special offer: Free Gillette Venus Razor with every ShavEzy sold for the month of December
The ShavEzy is a foldaway foot stool that fits neatly into the corner of your shower. It is designed to make shaving your legs easier and suits all ages and shapes. The ShavEzy comes with a handy built-in razor holder, made from mould resistant plastic with a non-slip base and is extremely safe and sturdy. It is fantastic for exfoliating and moisturising your legs as it is designed at step height, particularly good for pregnant women or anyone with back problems or injuries. If you are looking for a unique gift this Christmas then order your ShavEzy now at www.shavezy.com.au. Special offer of a FREE Gillette Venus Razor for the month of December.
Website | Instagram | Facebook | Twitter | Pinterest