We believe we can do it all, when we are sick dinner still needs to be cooked, washing still needs to be hung out, we work through it, we have to. We balance family, friends and commitments, far to often having so much to do. Can we really do it all, do we have to do it all, can we delegate?
This blog has been running for over 2 years.  In this time I have had over 4.5 millions page views and have a community of over 56,000 on facebook, never did I imagine this when I started.  I am so pleased that I became a blogger, I love writing, creating and sharing with my readers.  I can now proudly call myself a full-time blogger!  Yes this blows my mind, but I am so excited because I absolutely LOVE what I do.  What is a full-time blogger you ask? My definition  is I spend 30  hours a week (sometimes more) working on my blog, similar if I was to find a job in the workforce.  I offer ad positions in my sidebar, run giveaways, work with businesses that fit well with my blog and have my very own 'The Organised Housewife Shop' to help cover the websites expenses, feed my family and pay bills.
However throughout these 2 years my one pitfall has always been my emails, I struggle to keep up, I strive very hard to reply to all the emails I can, but there are days where it has become impossible.
I recently came across the How to be a Work at Home Mum ebook. Which helped me realise I need to take my time more seriously and to delegate tasks. The author, Prerna from "The Mom Writes" has given me the kickstart I needed by teaching me how to be more productive with my time.
I need to make changes so I can reply to emails and blog comments, take a better approach at tasks, have time for opportunities that are offered to me and more.
Thank you to Prerna who is offering all The Organised Housewife readers 20% off her ebook until 25th October, enter the code ORGANISED at checkout.
Reading this book helped me in so many ways, one in particular, I am not a super-mum or a super-blogger, I can't do it all.  So I have delegated.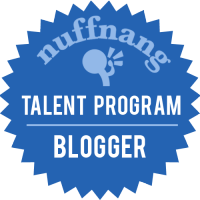 I have been on the Nuffnang Talent Team for a while now, they have seen my blog grow and have offered to help me manage my emails for all advertising related enquiries.  Today Nuffnang are launching their new Talent Blogger Program which I am very excited to be a part of. Nuffnang will be managing all my advertising enquiries, they will be liaising with me about the businesses that have contacted me and want to work with the The Organised Housewife.
I'm really happy with this as this will leave me more time to reply to comments on the blog, other emails I receive, write my blog posts and create more wonderful printables that will help you in your home!
If you are interested in find out more details of advertising or working with The Organised Housewife, please email us here.
If you have sent me an email and still awaiting a response, I apologise, could you please forward it through to me again.