The winner of the 3 month supply Bosisto's EucoFresh Laundry Powder is…….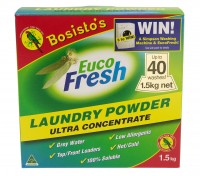 #56 – Cherie Humphries
When you washing and someone and you haven't checked pockets and especially during winter you have a tissue go through the wash.
as selected via random.org
Congratulations Cherie!!  Please contact me
[email protected]
within 72 hours with your postal address.  If I haven't heard from you the giveaway will be re drawn.
PLEASE NOTE THERE WILL BE NO MEAL PLANNING POST TOMORROW.
THE WINNER OF THE BAMBI GIVEAWAY WILL BE PUBLISHED SOON, I'M WAITING ON THE PROMOTERS TO CHOOSE THE WINNERS 🙂