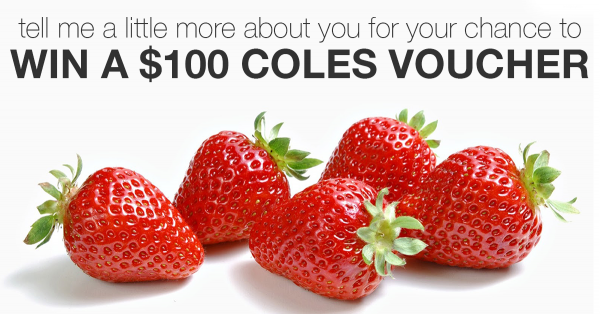 You know what I keep in my kitchen cupboards and what I cook my family for dinner each night… I would love to learn more about you! I would be very grateful if you don't mind taking a few minutes to answer this survey, it will help me with the creation of future content and ideas for the blog.
As a thank you, you will have a chance to win a $100 Coles voucher!
Thank you for taking the time, I really do appreciate your help.

I've shared a little more about me below with this fun alphabet survey:
A – Age: 37
B – Biggest Fear: Somebody taking my kids
C – Currently craving: Salted Caramel
D – Day of choice: Sunday, I love to relax with the family
E – Essential item: My iPhone, by I rarely use it as a phone
F – Favorite colour: Pink
G – Ghosts, are they real?: I'd like to think loved ones are watching over me
H – Hometown: Gold Coast
I – Important to me: My family, their happiness and health
J – Job Title: Blogger
K – Karma, do you believe?: Yes, do good things & good things will come your way
L – Last time you cried?: Recently, being sick = missing my mum and mother in law
M – Milkshake flavour?: Banana
N – Number of Siblings: 2 younger brothers
O – One Wish: Good healthy to family and friends
P – Phobias?: I can't drive in heavy rain, I shut down
Q – Quote you love: Do what you love, love what you do.
R – Reason to smile: my kids are enjoying their new school
S – Season of choice: I like Spring. Not too hot, not too cold
T – Time you wake up: 6.30
U – Unknown fact about me: I hate shopping for clothes for myself, drives me crazy
V – Vacation Destination: I'd love to venture around America
W – Worst Habit: Snacking at night time
X – Xrays had recently: My lower back, found osteoarthritis in my lumbar spine
Y – Your favorite food: I love anything salty these days
Z – Zodiac Sign: Capricorn
Winner will be announced on this blog post on 7th September, one winner only. Voucher will be mailed to winner.
Thank you again for completing the survey