This is THE Rubbermaid Reveal Mop.  This is THE mop I have been waiting so long for.  This is me getting really excited over a mop…lol.  I have had issues with my mops for sometime now, I think I have been really picky, the sponges don't pick up the dirt easy or it doesn't swivel good enough or it's too hard to find refill sponges and I just don't like the old style mops with all the dangly bits, they start to smell after awhile.  So I am so very grateful to the folk at Rubbermaid for sending me the Reveal Mop to try and review.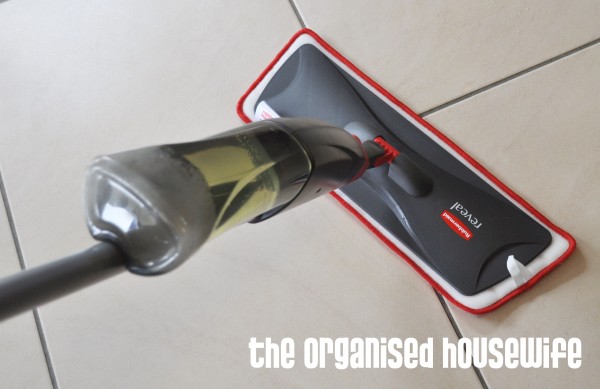 As you can see in the picture, it comes with a refillable bottle allowing me to add water and my desired floor cleaning detergent or vinegar is fine greener alternative.  On the handle is a lever to squirt the water from the base, then wipe over floor picking up all dust and dirt with the microfibre cloth.  It is so easy to use and swivel underneath the dining table, no trouble at all.  When finished I easily removed the cloth and throw in the wash (handwashing is another alternative), dry and reuse again.
I just love that I can take the mop out of my broom cupboard squirt the floor, mop up any messes quickly.  No more worrying about heavy buckets, it takes the hard work out of cleaning the floors.  I especially love that the kids toilet is smelling so much better as I can now give it a quick once over each day with the mop.  You know boy's, they can be so messy at times.
As sad as it sounds I have happily got this mop out each time somebody has come to visit excited to show them how it works and how great it is.  I'm just so thrilled to finally have a great mop to quickly clean the floor with.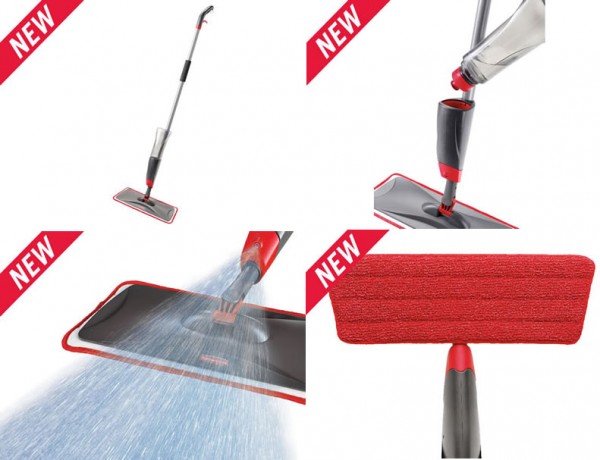 I can hear you all asking, where can I get one of these fab mops…Bunnings for $39.95 or try your luck as I have 3 Rubbermaid Reveal Mops to give away, how exciting is that, your so lucky.
Today Rubbermaid has launched their Australian website, please visit – www.rubbermaid.com.au for more details on the Reveal Mop and their other products available.  Facebook page – The Organised Home.
Giveaway:
3 Rubbermaid Reveal Mops to giveaway to 3 lucky readers!!!
HOW TO ENTER:
3 mops available so it's fitting to have 3 opportunities to enter.
Complete 1 or all 3, however, please be sure to comment for each individual entry, eg, yes I like both pages = 1 comment, visit rubbermaid website and advise favourite products = another comment etc.  Please email me at [email protected] if you have any questions.
To Enter
Visit the Rubbermaid Australia website, tell me what 2 most favourite products are.
Become a fan of Rubbermaid's facebook page The Organised Home and of course The Organised Housewife
Tweet about the giveaway, linking to The Organised Housewife [email protected]
 Note:
Winners will be chosen via random.org
Maximum of THREE posts only per person.
Entries close 11pm (QLD time) Thursday 17th February.  Any entries received after this time will not be considered.
Winner will be announced on Friday, 18th February, I will publish details on a separate blog post.
Winners are to contact me within 48 hours.  If I have not heard from winners, I reserve the right to redraw giveaway.
Open to Australian residents only.
Good luck!!