This post is sponsored by The Athlete's Foot
We all want our children to be happy and healthy and as a parent nothing pleases me more than when I see smiles on my kids faces and hear their laughter.  It has been important to me to encourage my children to be active from a young age, to teach your child healthy habits to help them to develop a healthy lifestyle to stay active as they grow.
Teach your child healthy habits
Below I have shared a few simple tips on how I have encouraged my kid to be active and healthy.
1. Lead by example
When kids see you follow healthy habits it will educate them and lead them to do the same.
2. Get active
Regular exercise is an important part of getting healthy and staying healthy. Adults may consider exercise as a gym workout, going for a run or walk.  For kids exercise is playing and being physically active by running around a playground, jumping on a trampoline, swimming, playing a sport, riding their bikes or scooters.  All children should do 60 minutes of physical activity every day.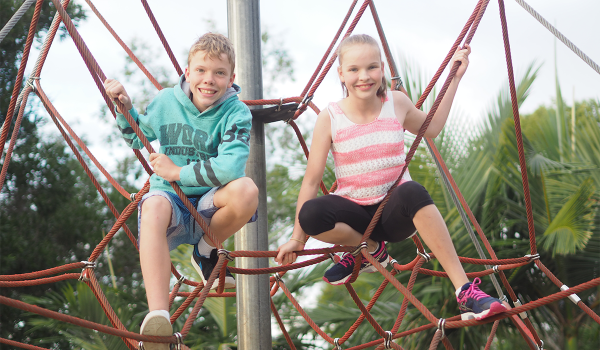 When my kids (this is 2 of my 3 kiddies above) are outdoors running around I like them to have on a pair of shoes. Especially when playing in playgrounds, to protect their feet from animal droppings and/or sharp objects hiding in the sand.
I get my running shoes properly fitted at The Athlete's Foot and I get my kids fitted there too, as they wear their shoes at school all day and I want them to have the support and comfort for their specifically shaped foot.  The team at The Athlete's Foot use the FITZI technology to examine the foot's motion to match the width and shape for the perfect fitting shoe.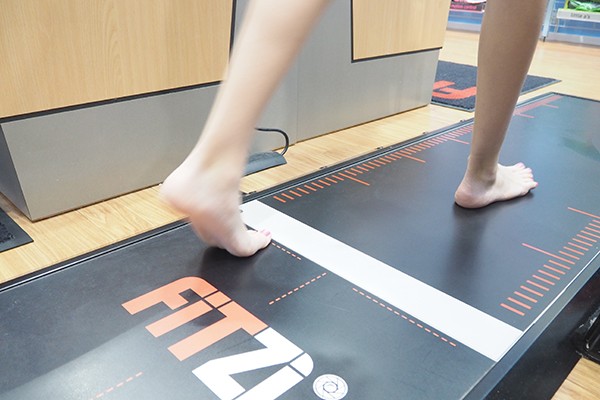 Miss 10 was fitted with some ASICS shoes, putting them both on to help her determine which one she found most comfortable and supportive.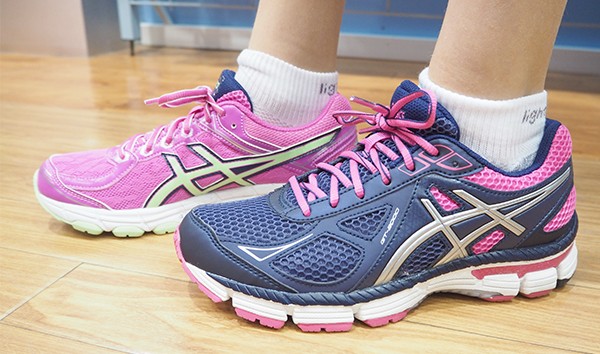 She is very pleased with her choice.  These ASICS shoes have a firm depth, designed to help her foot from rolling inward along with the combination of arch support they will hold her foot up straight.  ASICS offer gel cushioning, adding to the shock absorbency and offer a firm support around the back of the heel which helps to control the foot and keeps it stable on the base of the shoe.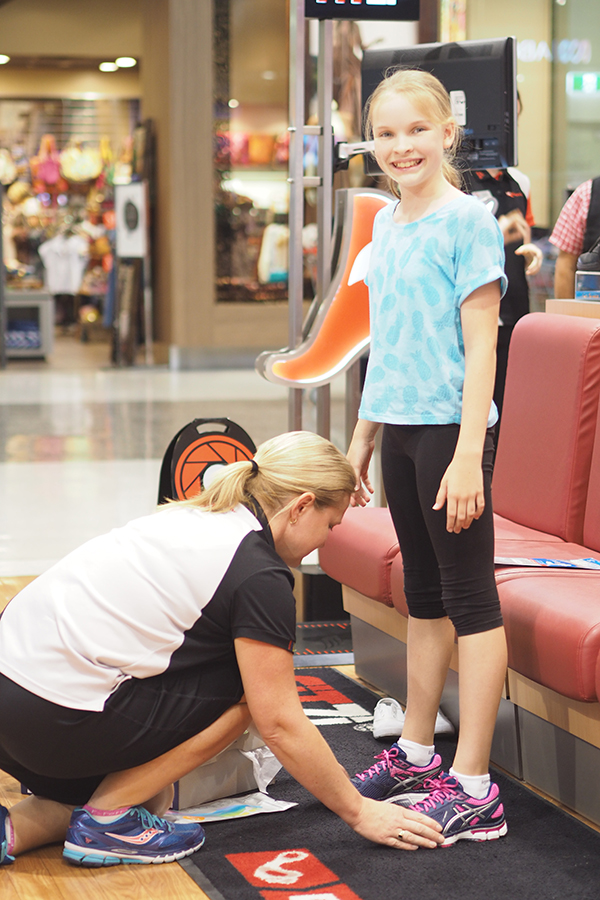 ASICS produce high quality athletic footwear for all kids, from toddlers to teens and a huge range of designs and colours, white, black and colourful!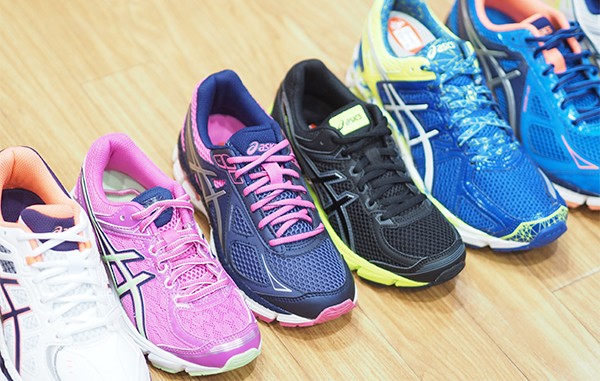 3. Independent play
Sit back and allow the kids to play in the playground.  It will help build their independence, use their imagination and creativity and improve their social skills.
4. Healthy Eating
Preparing healthy meals for the kids will give them enough of the nutrients essential for good health, growth and development.
Eating plenty of fruit, vegetables, grains, meats and dairy.
Limit the intake of fatty, sugary and salty foods.
Breakfast is important – takes little time to prepare and eat and will provide them with the energy and nutrients they need to help them through the day.
Encourage them to drink plenty of water, this will help them to stay hydrated throughout the day
5. Don't use food as a reward
The Heart Foundation summarises this perfectly: "Food is commonly used as a reward for good behaviour and academic performance in children. It is also often used as a tool for persuasion. While it may work in the short-term, using food as a reward can have some negative long-term consequences. If you encourage children to eat healthily, yet also provide unhealthy foods as rewards, children may become confused. When food is used as a reward, children may also develop preferences for those foods. Rewarding a child with unhealthy foods also contradicts the messages about good nutrition and health given to them at school and in the home. Children need to be given consistent health messages about food from all adults." Read further for the Heart Foundations ideas of non-food rewards for children.
Kids thrive on praise. I have always found that compliments and supportive words have a positive impact.


This giveaway is now closed, congratulations to Jaylee.
WIN A PAIR OF ASICS KIDS SPORTS SHOES AND A FITTING EXPERIENCE AT THE ATHLETE'S FOOT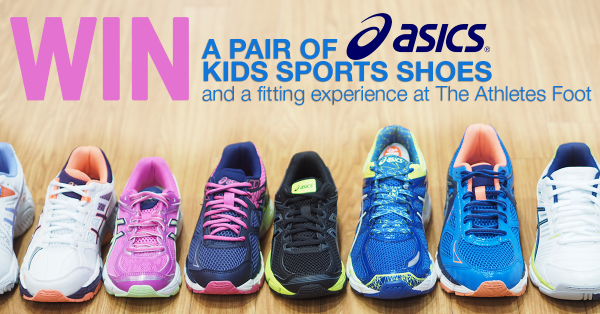 HOW TO ENTER
Both tasks below must be completed for your entry to be valid.
Post a photo on Instagram of your kids in action using the hashtag #ASICSKidsatTAF and tag @theorganisedhousewife.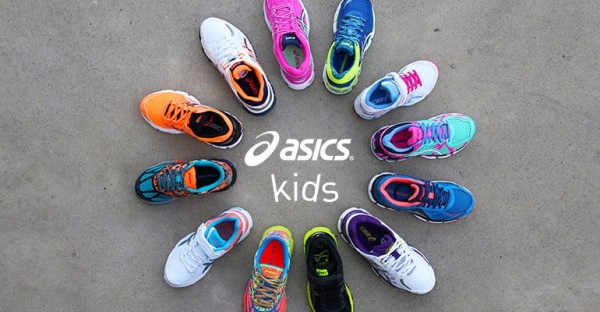 GIVEAWAY TERMS AND CONDITIONS
This giveaway run in accordance with my disclosure policy, please read the terms and conditions below

1. Entry is your picture of kids in action shared on Instagram using the hashtag #ASICSKidsatTAF and [email protected]  Entries in facebook comments are invalid.  2. Entries close 11.59pm AEST Monday 28th September 2015.   3. One entry per household, open to Australian residents only.  4. This giveaway is a game of skill. The judge's decision is final and no correspondence will be entered into.  5. The prize is one pair of ASICS kids sports shoes and a fitting experience at The Athlete's Foot. 7. Winner will be sent a DM on Instagram, so please keep your eye out.  8. If I have not received a reply from the winner within 7 days the prize will be forfeited and awarded to the entry judged to be the next best.  9.  The Organised Housewife will take no responsibility for any delay, loss or damage to prizes sent to winners.