This little beauty has helped me so much with quickly cleaning up messes under the dining table, in the kitchen and laundry.  Similar to my dislike to get out my mop and bucket for quick clean ups, I don't like constantly having to lug out the vacuum cleaner.  Despite my constant nagging to the kids, "hold your plate with 2 hands", "don't wipe it onto the floor" or "eat over your plate" , crumbs always find their way to the floor.  Like I mentioned in the Tips on Cleaning Floors  I do a quick vac daily in high traffic areas, I use my Stickvac for this.
This Hoover FreeJet 3 in 1 Stickvac is lightweight, super easy to use and clean.  The rotating neck which makes it easy to swivel under the dining chairs.  It has 18V maximum power with 30 minute running time.  The charger is compact holding the crevice tool and dusting brush in place tidily.  Perfect size for the kids to quickly whip around the house, which will be a great help to you.  I have found it wonderful for picking up dirt and pet hair on the carpet.
It's 3 in 1 functions are:
Stickvac for hardfloors
Turbo function for carpets
Detachable hand vac for the car or furniture
In our cat's litter tray we use the crystal litter, it's great for keeping odour's away but I find the crystals easily fall out of the litter tray and onto the floor.  I wanted a vac that had enough power to suck up the crystals as well as dirt.  When I visited Godfrey's I took in a little snap lock bag with clean crystals, put them down on the demo mat and tested out each of the the stick vacs.  The Hoover Free Jet worked really well.  Thankfully the owner of the store didn't think I was mad bringing in kitty litter, he knew me and my way's far too well as he is my little brother.
My little brother Mike and wife Taryn own the Godfrey's Bundall, Gold Coast, QLD store and would like to offer The Organised Housewife readers:
10% off the RRP or FREE delivery.
Phone:  07 5526 2155 and ask for Mike – mention The Organised Housewife
The Hoover FreeJet 3 in 1 Stickvac RRP $199
I store my Stickvac in a corner of the house close to a power point so it is always charged and easy to grab for quick clean ups.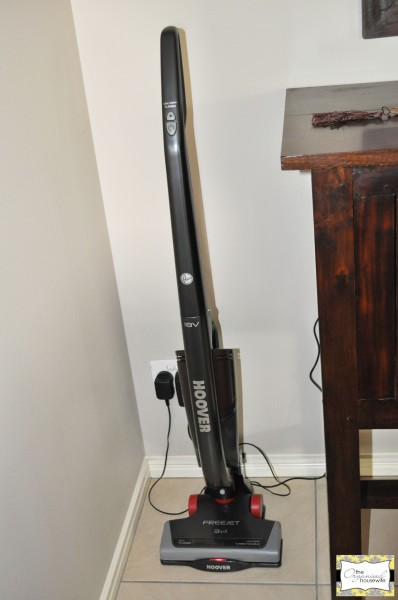 Accessories are stored compactly together as one unit