THIS GIVEAWAY IS NOW CLOSED, WINNERS DETAILS AT BOTTOM OF POST
This post is sponsored by Nuffnang
Did you know:
that almost half of australians undertake a household chore naked! Aah, I don't know about you but I am not one of those people, I'd be too scared somebody will knock on the door and see me prancing around 🙂

the average Aussie spends eight hours a year and around 14 working weeks in their lifetime cleaning the shower, yukko, I'm sure our time can be better spent elsewhere.

two thirds (68%) have enjoyed a 'eureka' moment while showering, great place to think and come up with great ideas!

australians would prefer to clean the toilet than the shower, hmm, same same to me, I like them both as clean as each other. But realise that cleaning the shower is alot more effort.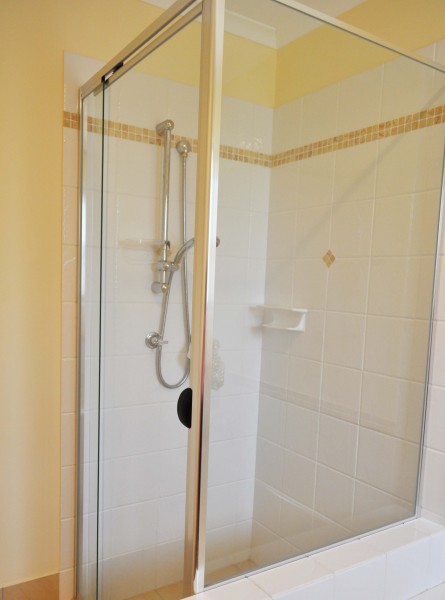 Like I mentioned HERE I have allergies which stops me from being able to give the shower a really good clean.  But…..I tried the VIVA Shower Fast Wipes and I just loved them.  Without much effort at all I was able to quickly give the kids bathroom a quick clean before our house guest arrived.  I am so happy that I don't have to wait for my darling husband to clean the shower, now I can do it as the wipes do not have a scent, and it didn't leave a horrible smell on my fingers much like many other shower cleaning chemicals.
These wipes are designed to cut through soap scum with ease, it's unique non-scratch dual textured fabric, has a 'scrub side' to lift and trap stubborn soap and a 'smooth side' to wipe away remaining grime and residue, as well as an anti-scum solution to reduce future build-up.
The giveaway
Enter for your chance to win one of 10 packs of VIVA Shower Fast Wipes.  I am so excited to be able to giveaway some of these wipes, as I just LOVE them!
How to enter
Like this blog post using the 'Like' button at the top of the post

Comment letting me know what you will do with that little bit of extra time these wipes will give you, rather than scrubbing the shower?
Entries close 11pm Thursday 9th June 2011.  Any entries received after this time will not be considered.
Note:
Winners will be chosen by the promoter, so be creative with your comments!

Maximum of ONE post only per person.

Entry comments are to be place on this blog post only, facebook comments are not considered.

Winners will be announced once I have heard from the promoter, I will publish details on a separate blog post.

Open to Australian residents only.
Winners have been emailed:
Amanda – Me: "Hubby.. do you think you could clean the shower just this once"
Hubby: "cleaning.. what is this word you speak of??"
Me: "Clean – verb – the act of making something clean"
Hubby: "With what do you use to partake of said chore?"
Me: "Well Viva Shower Fast Wipes of Course, won't take you long."
Hubby: "well if you insist.. I will help you out with this word you call
clean, if it is quick and easy and I don't have to do two things at once"
Cindy – What would I do with my free time, use it!
There aren't enough hours in the day as it is. In the time I saved I could spend quality time with my children, cook a delicious meal, exercise, read a book and sleep. But who am I kidding. I'll probably waste that time in the shower just admiring it's sparkling clean surface.
Karen – My husband says that instead of scrubbing the shower he will be able to spend some extra time mowing the lawn! I of course will have my feet up with my laptop and a coffee
Dannielle – Currently I am pregnant so VIVA wipes would mean no more waiting for Hubby to use harsh chemicals to clean away the grime. I could actually do it myself!!! No more waiting. YAY…Otherwise in my spare time… What is this Spare time thing you speak of?… I could only dream of such things. I could sit and read a book, eat tim tams and drink a HOT cup of tea while my little one sleeps OR I could just sleep.
Sheridan – I would spend the extra time with my Mum who is living with us as she has terminal cancer and try to create some memories with her and my 6 and 3 yr old.
Clare – YAY for VIVA Shower wipes!!
That's easy – I'd spent the spare time freed from shower scrubbing by cleaning something else that VIVA hasn't yet made a cleaning wipe for… like VIVA flushable toilet wipe or VIVA fridge cleaning wipes
Melisa – Extra craft time would be a treat, Viva wipes just can't be beat!
Melissa_robinson – Busy busy busy like everyone else these days. With the time Id save, I may just feel a little less guilty for all the time Ive been spending on Pinterest and not cleaning my shower!!!!!
Ebony – if i had these wipes it would give me the extra time to sit and read through all your older posts to make me even more organised and on task, and therefore able to spend even more quality time with my 4 beautful kids
Beth – With my spare time after a speedy shower clean, I would probably play cars or LEGO with my 2 boys
Beth – With my spare time after a speedy shower clean, I would probably play cars or LEGO with my 2 boys!