Artisse Organic's mission is to develop, source and offer the very best in organic and allergen free food.  When one of their kids developed severe allergies, they quickly realised the compromise consumers had to make.
The Aribars are both delicious and nutritious for children and are gluten, wheat and dairy free. The entire Artisse Organic range are food free from artificial additives, herbicides, pesticides, chemicals and genetically modified ingredients. We hope you enjoy the Artisse Organic alternative.


A healthy snack you can have on the run or add to the kids lunch boxes with flavours they will enjoy, Chewy Cocoa, Vanilla Blast and Caramel Crunch.  They contain organic whole grain rice and nothing artificial and as mentioned above are gluten, wheat and dairy free.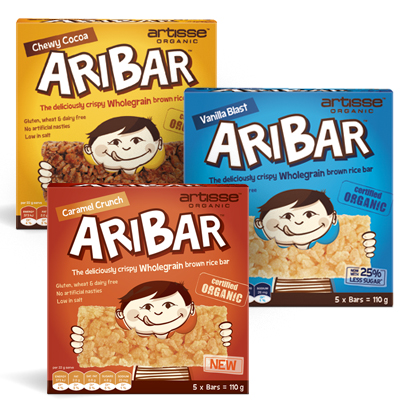 The Aribar's can be found in the health food section at your local Coles, Woolworths, IGA and healthfood stores.  There is also a list of online retailers.  See more details of where they can be purchased from here.

Find more details about Aribar: Website | Facebook | Twitter

Giveaway
Please note:  This giveaway may not be visable on some mobile devises.
GOOD LUCK!!