I love lazy day's and that's exactly what we had last weekend after our big party day. 
Here are pics of our patio decorated in yellow and white for the party.  I didn't take a final shot (woops), we added balloons to the pole as well.  The tule gave it a really soft look.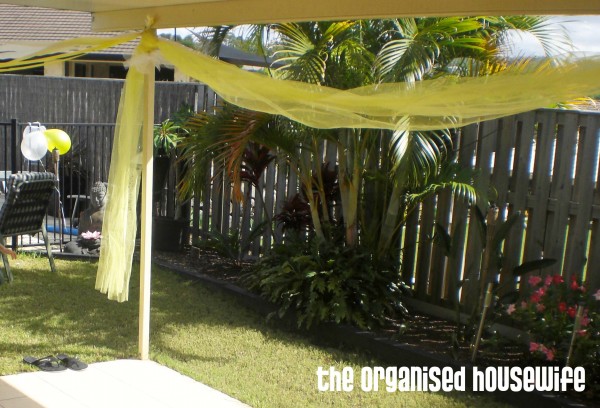 Cupcakes for parties are so much easier, Miss 6 is so shy when all the attention in on her 🙂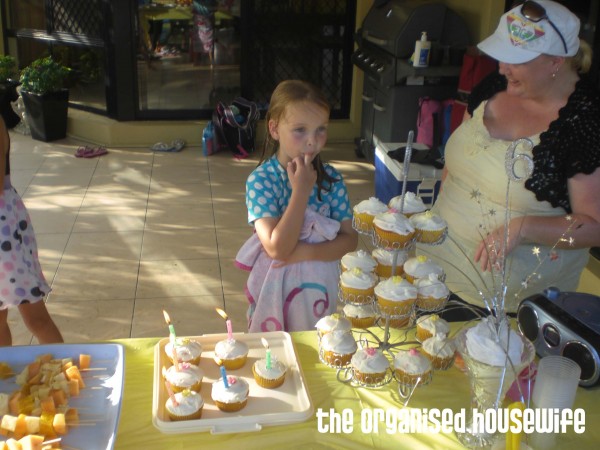 We even had yellow food.  Fruit kebabs with rockmelon, pineapple and orange.  Popcorn, pastry cheese swirls, yellow and white marshmallows, grub lollies, lemon and passionfruit jelly cups, apricot balls, cheese crackers, shortbread biscuits…there were so many possiblilites.

Sorry, back to the lazy day…..We closed the blinds, made some popcorn and set out for an afternoon of relaxation.  After awhile i became fidgetyso I did some ironing 🙂  But still it was a lovely afternoon laughing away to the newly released Beverly Hills Chihuahua 2 (thankyou Disney for sending me a copy).  Nothing makes me happier than listening to my kids laugh, and they did just that all through this adorable movie.  I wish I could of just squeezed a cuddle out of one of those gorgeous little pups, they were just too cute!
Synopsis:
Puppy mayhem turns the lives of newlywed Chihuahua parents, Papi andChloe, upside down when their playful puppies present one challenge after another. But, when their human owners find themselves in trouble, the tiny pups will stop at nothing to save them—because in good times and hard times, the family always sticks together. Papi, Chloe and the puppies embark on a heroic adventure, proving once again that big heroes come in small packages.
Everybody together….awww – how cute!
Giveaway:
The wonderful people at Disney are giving 1 lucky reader a chance to win a Blu-ray and DVD Value Pack (RRP $49.95).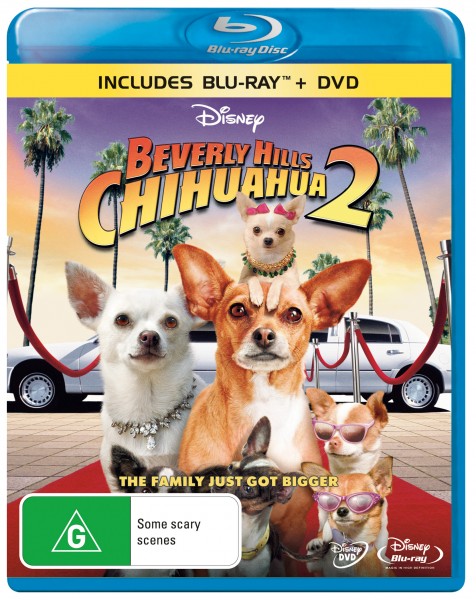 HOW TO ENTER:
Comment on this post telling me what your favourite family activity/pastime.
Note:
Winner will be chosen via random.org
Maximum of ONE post only per person.
Entries close 11pm (QLD time) Wednesday 2nd March.  Any entries received after this time will not be considered. 
Winner will be announced on Thursday, 3rd March, I will publish details on a separate blog post.
Winner are to contact me within 48 hours.  If I have not heard from winners, I reserve the right to redraw giveaway.
Open to Australian residents only.
Good luck!! 
********************************************************
I'm going to the Aussie Bloggers Conference thankyou to my sponsors – Felton Grimwade & Bosisto's Pty Ltd • Axon Education Centers • Inner B.