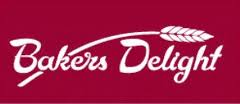 Congratulations to the following entrants, you have each won a Bakers Delight voucher.  Thankyou for sharing your kids favourite sandwich fillings:
#7  – Meaghan S
we are only at our 5th day of school but my daughter has wanted promite and cheese every day so far!
#34 – Christina
Both my kids love "Pecks" Anchovette even if their classmates complain about the "fishy" smell. I used have it alot as a kid also. Second favourite is Cheesybite.
#39 – Chrissy
At the moment my boys are loving cream cheese spread one slice of homemade bread with a filling of grated carrot sultanas and on the top side spread tahini. This is preschool lunchbox friendly as Tahni is sesame seed spread, unfortunately peanut butter isn't able to be taken to most schools.
#38 – Mellie Jane
chlid 1 = chicken and salad
child 2 = tuna and salad
child 3 = Vegemite
child 4 = Peanut butter
#8 – Jelly Bean Books
Miss 4?s favourite sandwich (or rollup) filling is peanut butter & currants, but if we are out for lunch, she will always ask for a ham sandwich. ~ Christine
If you could please contact me [email protected] within 48 hours, otherwise the giveaway will be redrawn.