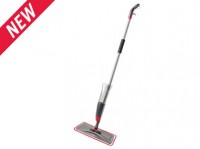 Wow,  there were 169 entries for the Rubbermaid Reveal Mop, so pleased you all see how magnificent this mop is…it's definitely an awesome mop to win.
Thankyou to the wonderful team at Rubbermaid for offering 3 lucky The Organised Housewife readers a chance to win a Reveal Mop each.
More opportunities to win:
If you didn't win a Reveal Mop today, you may have a chance to win one or another great Rubbermaid product on Rubbermaid Australia facebook page – The Organised Home.  They are giving away 30 prizes over 30 days, the competition has already started, however visit their page each day for your chance to win.
Drum roll please!!!   The winners are….
Winner 1
Kylie – comment 125
Hi there
I love the 2 Tier Cutlery Tray, I am going to be getting one of those!! Its a great website, thanks for linking!!!
Winner 2
Lyndel Rowe – comment 121
fan of both pages have tweeted and my 2 favourite items are the
1.75 Qt DuraChill™ Wheeled 6-Day Cooler-brilliant for going away.
2. the reveal Spray Mop, i so want to try this.
Winner 3
Sandra B – comment 58
i'm definitely loving the garage storage idea's and i think my new fav is going to be that awesome mop. we have ripped up the carpet and are ready for laying the new tiles…..so i think this mop might just be my new best friend!!!!